the mamba mentality
Jon Rahm pleased to discover one of his Ryder Cup teammates shares same reverence for Kobe Bryant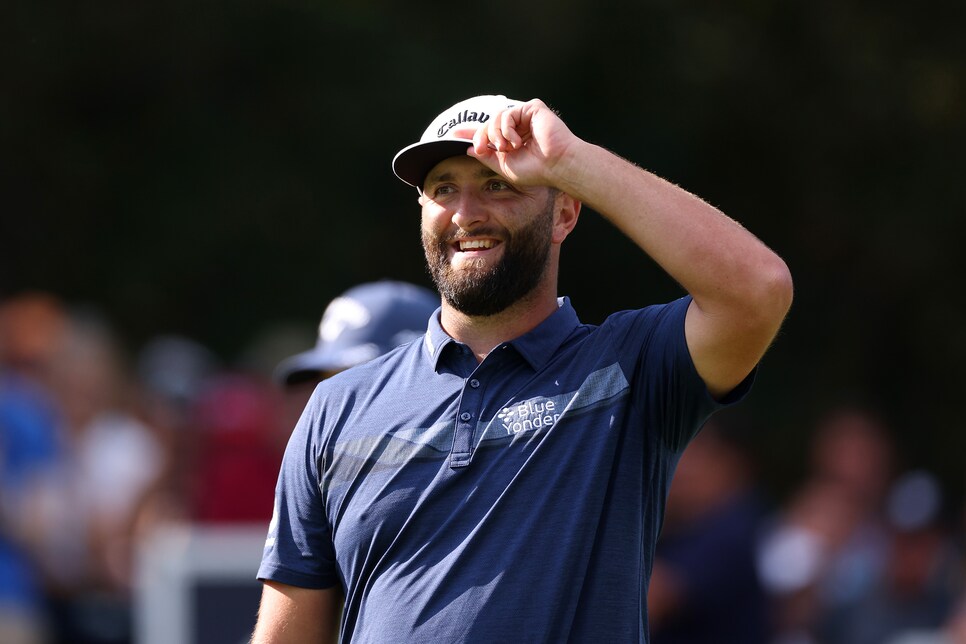 VIRGINIA WATER, England — As golfers tend to be, Jon Rahm was in fine fettle after a five-under-par 67 in the second round of the BMW PGA Championship at Wentworth. Even better, the Masters champion compiled such a creditable figure after a double-bogey-par-bogey start to his day that surely had him, at least briefly, considering the halfway cut more than adding the DP World's most prestigious title to his list of victories.
Still, a subsequent eagle and six birdies speedily put paid to any negativity and rocketed the Spaniard to six under par and only a few shots from the halfway lead when that point in the tournament is reached on Day 3. A one-hour, 20-minute fog delay early Friday has the event running late.
"I'm obviously extremely pleased," said Rahm, who shot 62 here last year en route to a runner-up finish behind Shane Lowry. "If you're going to get a start like that at least you have time to make it up. I told [caddie] Adam [Hayes] to maybe forget about the cut and other things, to maybe see if we can stand on the 10th tee even par [for the day]. I thought it was a good goal to set and I hit it a lot of great shots coming in and took advantage of enough opportunities."
At which point the conversation veered into the inevitable (the Ryder Cup) and the surprising (Kobe Bryant). Chatting with Nicolai Højgaard in Italy during the European Ryder Cup team's expedition to the Marco Simone course, where later this month the Old World will attempt to wrestle the Ryder Cup back from New World hands, Rahm discovered he and the young Dane shared a common love of the late Los Angeles Lakers star.
From which evolved an evocative tale.
"I didn't really know Nicolai before Monday in Rome," said Rahm. "I don't think I'd ever spoken to him before besides 'hello' and 'good round.' But I learned he's a Kobe fan. I'm a massive fan as well, so that's something we have in common that maybe I wouldn't have figured out until it was too late. I don't think a lot of people realize how many people Kobe impacted with his work ethic and his approach to basketball and life until after he passed. Then all the stories came out and you got to see the truth. Before that maybe he wasn't the most liked player in the world."
Ah, but there was more to come. Asked why he was such an admirer of Bryant, Rahm was off and running.
"I've no idea, because I didn't really grow up watching basketball in Spain, especially the NBA," he said. "Once I got to the U.S. I was researching people to learn from and obviously the name Kobe Bryant came up. When you search 'work ethic' on YouTube, his name's popped up. I came across him giving a talk while he was still playing which caught my eye. It was about what he thought and how he approached the game and his mentality towards the pressure moments. I became a fan. To hear his life story and what he did what was quite impressive."
Sadly, Rahm never got the chance to meet one of his sporting idols. But he came close.
"Funnily enough we finished Sunday at Farmers the day Kobe passed and I was supposed to meet him two days after that," Rahm continued. "We have a friend in common and he arranged it. I've met a lot of impressive athletes before and I'd never been this excited before in my life. I had a long list of questions for him because I'd heard from people he was very welcoming towards that and he was going to give me advice. I guess we'll never know but that's the impact he had and me. I talked with Nicolai about that a little bit on the course, just before both of us started making a couple of birdies. We both had a bit of the 'Mamba mentality' influencing us."