TAKEAWAYS
Jon Rahm closes with birdie, a near miracle, Jaeger bombs, putts that won't drop but should and Cam Champ's groovy farm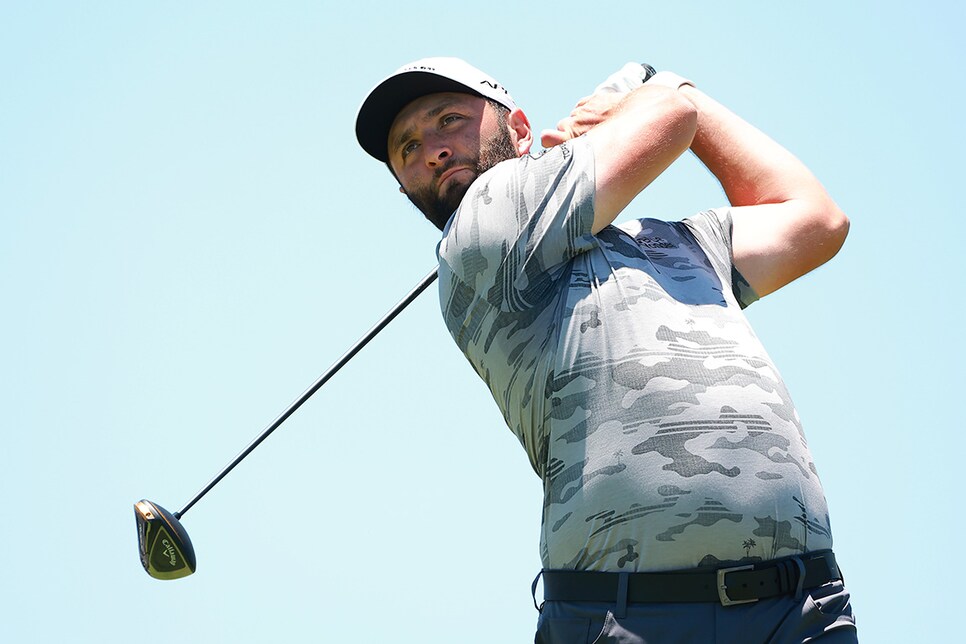 America, Ireland, Spain, United Arab Emirates, the Bahamas.
That's the list of countries in which Jon Rahm has scored a professional victory, and on Sunday, he'll have a chance to add Mexico to that roster. Rahm holds a two-shot lead after a solid but unspectacular Saturday at the Mexican Open at Vidanta, where a three-under 68 was enough to give him a hint of breathing over Kurt Kitayama and Cameron Champ.
If he can pull off the win Sunday, it will be the seventh of his PGA Tour career, nudging him closer to what seems like his destiny of becoming the most successful Spanish golfer ever on tour. (Sergio Garcia holds that distinction now with 11 tour wins.)
Rahm's third round was a study in steadiness, with five very ordinary pars finally giving way to birdie on the par-5 sixth, and this 302-yard drive on the par-4 seventh that set up a very simple two-putt birdie.
A bogey on 10 was his only blemish of the round, and a relatively uneventful back nine culminated with one last 12-foot birdie putt on the 18th to give himself a slightly bigger cushion against his two nearest challengers.
Afterward, he was ambivalent when asked whether he was satisfied with his play.
"Yes and no," Rahm said. "It's hard to say. I played really good golf. Tee to green was really, really good. The only hiccup was the tee shot on 10 and it wasn't even that bad. Maybe making a few more putts, right? That one on 18 was the first one outside 10 feet I saw roll in. If I can just keep that going and make putts like I did the first two days, I think tomorrow I'll give myself a really good chance."
As for his appeal in another Spanish-speaking country, Rahm definitely felt the love from the fans.
"The crowd loves me so far, I can tell," he said. "They want me to win, so hopefully I can do it for them."
One of those contenders is Kitayama, who followed up Thursday's 64 with a third-round 66, but finished with a bogey-par stumble, missing a golden opportunity to stand on level footing with Rahm. Prior to his indifferent ending, Kitayama put on a clinic, posting a five-under 30 on the front nine.
Kitayama has won twice on the European Tour, and he'll try to use that experience as motivation Sunday in his pairing with Rahm.
Champ, the other player at 13 under, will likewise rue his missed chances. He reached 15 under before poor drives and recoveries led to bogeys on 15 and 16, and he wasted a brilliant 324-yard drive on the par-5 18th, making a disappointing par. That said, it's already a tremendous result for Champ, who missed a huge chunk of time with an injury to his left wrist. He was inactive for so long, and under doctor's orders to rest the wrist on his farm, that he lost some muscle in his left arm.
"Probably the first four, five events I played with some pretty decent pain," Champ said. "It's got a lot to do with just the bone was healed, there was just a lot of nerve damage. So, I had to fight through it and just get the muscle back."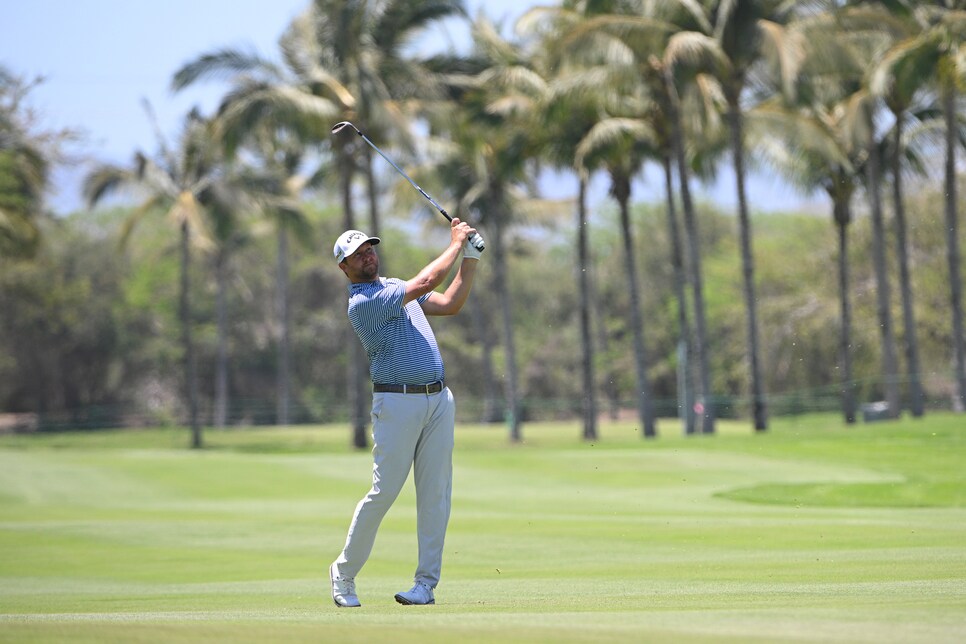 Nate Lashley (Getty Images)
Nate Lashley leads a group of four players at 12 under following a blistering bogey-free 64. He made birdies on holes 2 and 3 after putts of 25 and 37 feet, then holed out on the par-4 seventh from 41 yards for eagle. His round ended with back-to-back birdies featuring two more long putts.
"I just haven't made anything over the last three or four months, so it's nice to see some putts go in," he said.
Lashley recently switched putters—he uses a Ping MLD now—and it's tough to argue with the results. It wasn't just the putter, though; at one point in the day, he led the entire field in strokes gained/tee-to-green, approach and putting. Hard to play poorly when you manage that rare trifecta.
Elsewhere at 12 under, Alabama alum Davis Riley posted a 67 to continue his relative hot streak. He finished second at the Valspar Championship, losing in a playoff to Sam Burns, and that result almost paradoxically showed the 25-year-old that he's good enough to win.
"The biggest takeaway I took is, just be me," Riley said. "I don't need to be anybody else and just being me is good enough to compete and win a golf tournament...I always knew I could do it. I felt like my game was good enough to do it and to finally get up there and handle it the way I did was really a big turning point for me, I think. Ever since then I've just been really hungry to get back in contention and have some decent chances and I'm really looking forward to tomorrow."
Don't watch this video if you hate almost-miracles
Miracles? Miracles are great. Everyone loves a miracle. Near-miracles are something different. Near-miracles are vaguely impressive, but also frustrating, like a wide receiver dropping a 60-yard bomb off his fingertips, an outfielder leaping over the wall to rob a home run, only to drop it over the fence as he brings his glove back.
Anyway, Sebastian Munoz had 313 yards to the hole after his drive on the sixth hole, and while most albatrosses might fall slightly short of miracle level, if you dunk one from 300-plus yards, I'm calling it a miracle. This is how close it came:
Munoz made birdie there, buried an eagle on another par-5 on the back, and finished even at 71. He sits in a tie for 22nd place.
Have we coined the term "Jaeger Bombs" yet?
Germany's Stephan Jaeger joined Nate Lashley with the best round of the day (64) and on consecutive holes on the front nine (Nos. 6 and 7) he holed out from 40 yards and then 65 feet. He's just outside the top 10 heading into Sunday, but more importantly, I have a question: Why are we not calling these Jaeger Bombs? Golf is probably the frattiest sport on the planet, and a Jagerbomb (a shot of Jagermeister in Red Bull) is one of the frattiest drinks. Here you have a guy named Jaeger who is making bombs, and, well...this just feels like a huge missed opportunity.
Now, we present: Putts that have no business not going in
Jon Rahm will carry a lot of momentum into Sunday following his birdie on 18, but this putt, a few hours earlier on 15, was just agonizing.
The best PGA Tour crib we've heard about this year
Maybe it's the craziness of the last two years, but something about Cam Champ's description of his home sounds amazing. He brought up that he spent most of his injury time resting on his farm, and when reporters asked for more details, he made it sound like paradise.
"We have cattle, we have horses," Champ said. "My wife rides horses, she got back into that. We got it all, chickens, goats, you name it. Yeah, it's our little oasis at home and we love it...we have about 30 acres right now. We're about to have a little bit more. Like I said, it's my little escape from all this."