Stats
Jon Rahm has a (very good) chance of doing something only Tiger Woods has pulled off since World War II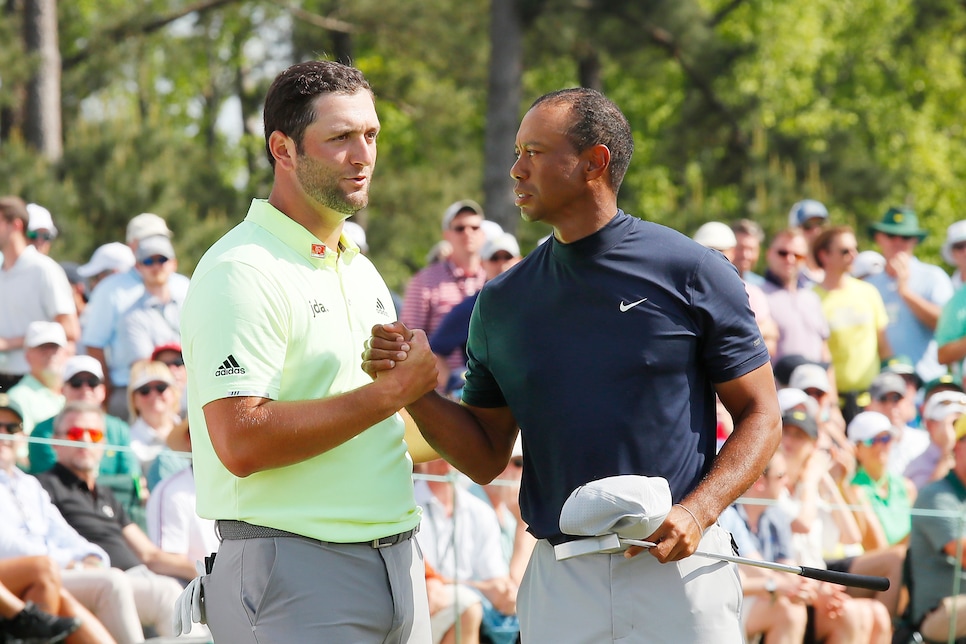 Jon Rahm shakes hands with Tiger Woods after the first round of the 2019 Masters.
Kevin C. Cox
Jon Rahm's fantastic 2021 campaign has already included a first major championship, but now he hopes to accomplish another first that would put him in even more select company.
The World No. 1 will tee it up this week at the European Tour's Spanish Open, where he's the two-time defending champ. And if you're thinking three-peats in golf are pretty rare, well, you'd be right. But they're even more unlikely given Rahm's age.
Were he to pull it off, Rahm would become just the second golfer younger than the age of 27 to win the same event on either the PGA Tour or European Tour for three consecutive playings since World War II. The other? Yeah, you guessed it: Tiger Woods.
"It doesn't matter what event it is, not many people have been able to win one three times in a row," Rahm told reporters on the eve of the tournament. "So I'm hoping I can get it done. It'll truly be my honor. It's coming back home that's most important."
Woods actually pulled the feat off twice, winning the Memorial and the WGC-Bridgestone from 1999 through 2001. He also three-peated at the same event two more times after turning 27.
Overall, only four players (Ian Woosnam, Nick Faldo, Colin Montgomerie and Sergio Garcia) have won the same event three consecutive times at any age on the European Tour since 1990. And in that same time on the PGA Tour, only Tiger, Stuart Appleby and Steve Stricker have pulled it off.
Technically, Rahm is attempting to win the event three consecutive times at the Acciona Open de España—and not years—because the tournament was canceled last year due to COVID. Either way, he's looking forward to playing in front of his home crowd—especially after playing in front of those raucous American fans at the Ryder Cup.
"They're very golf hungry in this country, especially after COVID and the pandemic," said Rahm, who turns 27 next month. "They haven't really had the opportunity to enjoy many sporting events, so I'm hoping we can put on a good show for them."
Oddsmakers certainly seem to like the Spaniard's chances of doing just that. Rahm is listed as an overwhelming 2-to-1 favorite this week at most sportsbooks.