Courses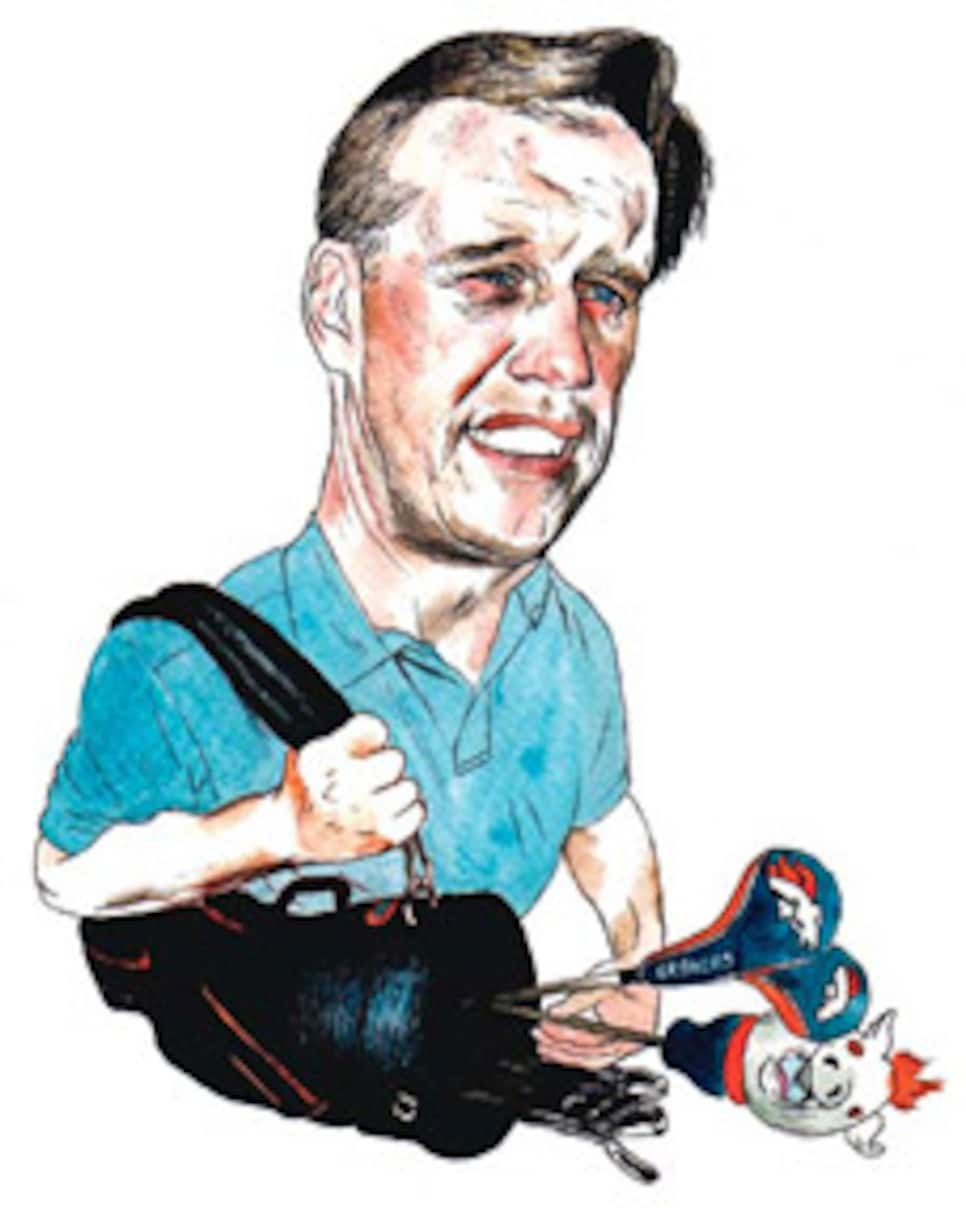 You're out at the American Century Celebrity Golf Championship at Edgewood in Tahoe this week?
How many times have you played out there?
I've been out here every year so it's been 19 years that I've been here.
Third, I think. They have the stats here. Actually, my best finish is fifth.
Who's the guy you're trying to beat? Do you have a rival on this celebrity tour?
I'd like to win the thing so I'd like to beat everybody [laughs]. There's not one guy but (Rick) Rhoden is the six-time champion so if I beat him, I know I'll be close to the top.
What score do you think you need to shoot to win?
It's a Stableford point system. Usually it's around 70 points--that's probably four or five under. I think that's what it equates to.
I'm a member at Cherry Hills, Castle Pines, Whisper Rock, Martis Camp, and The Club at Black Rock.
What's you current index?
What's the strength of your game and what are you working on right now? What is your weakness?
I'm working on my 100-yard game and in. My wedge game is what I'm trying to concentrate on this year. I'm always working on my putting. I can drive the ball well at times, that would be my strength, but I'm trying to work on those short wedges and putting.
Are you an equipment junkie? Do you stay on top of the technology?
I always think it's the Indian and not the arrow. I'm not a huge equipment junkie. I hit TaylorMade woods, A Scotty Cameron putter and I have the Ping Eye 2 as my irons.
What's your lowest round?
I actually shot it twice. Once at Cherry Hills and once at the Club at Black Rock in Coeur d'Alene, Idaho.
When did you pick up the game?
I really started playing a lot when I got out of college. I was a baseball player and a football player at Stanford so I didn't play a lot of golf in college. I really started playing a lot after I turned pro and I had some time in the off-season.
Has golf filled the competitive void now that you're out of football?
Yes, it does. There's no question. We're all looking for things we can compete at and golf is one of those. It's a heck of a lot different game than football. The mentality is totally different so getting used to that has been a big change. The patience that goes with the game, the little things that go along with the game, you have so much more time to think in golf than you do in football-you have to keep your thoughts positive. I'm not sure I've got that mastered.
Do you take a buddies golf trip every year?
Not anymore. We used to have a group that went down to Cabo to play El Dorado, Cabo Del Sol, those places down there, but we don't have an annual trip anymore.
If a group of people are coming to Colorado, where should they go for public golf and where should they stay?
I don't play a whole lot of public golf, so it's hard, but I would say Arrowhead Golf Club, which is in the southwest corner of Colorado.
Do you have a favorite resort? Sky Ranch, up in the mountains, is a beautiful place to go.
One course for the rest of your life?
One golf course for the rest of my life? That would be hard to do. I'd say Augusta.
How many times have you played there?
Do you remember your scores or your lowest score?
I actually shot 68 the first time I played it.
Do you remember any specific holes or eagles, anything of note?
I just remember having a good day.
Do you play with tour players very often?
Yeah. I've played in the AT&T several times, the Hope, different pro-ams before.
Who's been the most impressive to play with?
I played with Tiger once. It wasn't in a tournament. It was just a round of golf. That was obviously a great thrill for me.
That was at Rio Secco in Vegas.
Who was longer off the tee?
[laughs]. He was. Without a question.
Yeah, but I can't hit it like him.
I caddied for Coach Shanahan at the Edgewood tournament one year and you were going against Laimbeer in the finals of the long drive championship. I think you won it that year.
I did. I won it in '95 and Laimbeer was runner up.
You played with Natalie Gulbis at one point, which makes you the envy of most of the male population. How was that?
She was great. It was the skills challenge that NBC has every year and she was my partner. We ended up winning it. She actually won most of the events. I was just along for the ride. She played great and she's a great gal. She fit in great.
Did she teach you anything?
No. I didn't ask any questions. I kept my mouth quiet and just tried to watch.
Would you have told Brett Favre to retire and play more golf?
It's always hard to take that last step. The only person who can really do that is Brett. That's a difficult step to take because it's a game you've played your whole life and it's such a great game. It's hard to walk away from it. I understand. Even when I retired there was part of me that didn't want to retire. But once you decide it's time to move on then you have to stick with it. The thing about Brett, we've heard about it for three or four years and I know he struggled with it again this year. He's got to follow his heart and I hope it works out for him.
Do you feel lucky the way the timing worked out for you? Winning back-to-back Super Bowls and going out on top?
I think I'm lucky in life and not just in football. I was very fortunate to play for a great organization and a great team that was really good near the end of my career. We lost three Super Bowls in the 80s but we were able to get one before I walked away. That made it easier to walk away with one under my belt and then to get two under my belt, that made it even easier to walk away knowing we had reached the pinnacle of the NFL.
Editor's note: Rick Rhoden birdied the last two holes to beat NHL All-Star center, Dan Quinn, in the 2008 American Century Celebrity Golf Championship at Lake Tahoe. It was Rhoden's seventh title at Edgewood. The low NFL quarterback was Tony Romo, who finished in third place. John Elway finished tied for 10th with sack specialist, Lawrence Taylor. Rhoden ended up with 68 points. Elway and Taylor finished with 54 points.