News
John Smoltz struggles with his control ('I did not hit the fairway enough'), opens U.S. Senior Open with an 85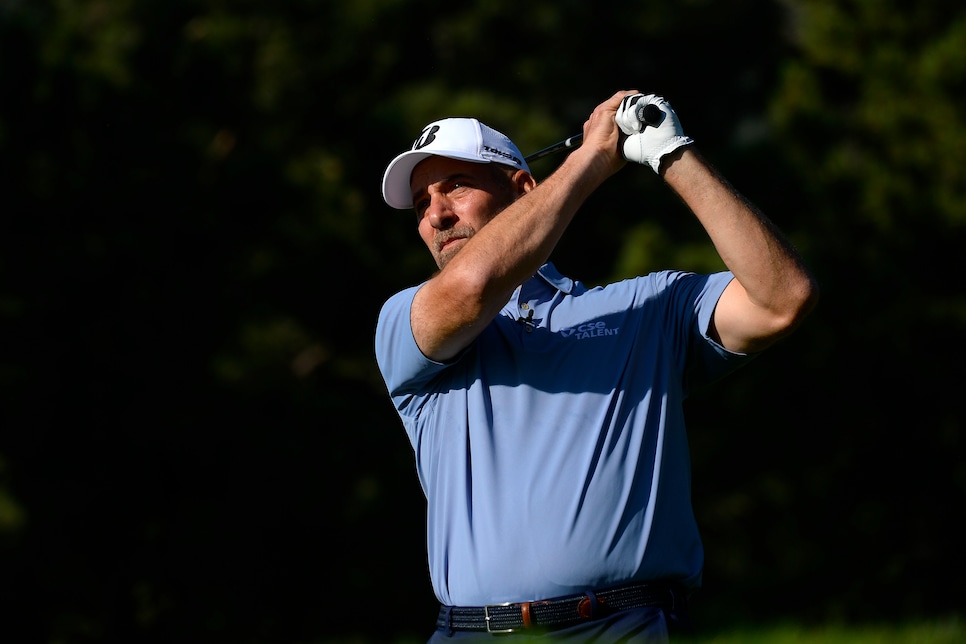 COLORADO SPRINGS, Colo. — No pitcher wants to see a stand-up triple. John Smoltz certainly didn't want to see one on his scorecard during his debut Thursday in the U.S. Senior Open.
The Hall of Fame hurler, who said qualifying for the 39th Senior Open was "probably the No. 1 thing that I've ever accomplished," drew a large gallery, including a trio of fans who wore Atlanta Braves caps and "SMOLTZ" across their t-shirts, but struggled mightily on the difficult East Course at The Broadmoor.
The former Cy Young Award winner opened with four bogeys and never really found his rhythm in carding a 15-over-par 85.
"I can sum it up: I made a lot of easy bogeys," said Smoltz, who missed a four-footer for par on the first hole that set the tone for the day. "A lot of par putts turned into easy bogeys. I did not hit the ball in the fairway enough. I thought I hit a lot of, a lot of good shots that just didn't get good results."
Well, welcome to a USGA championship.
Because he works as an analyst for FOX Sports' coverage of Major League Baseball, Smoltz agreed to wear a microphone during his round with former PGA Tour player Jim McGovern and celebrated club professional Bob Ford, who did not fare much better. McGovern shot 77 and Ford, who serves as the first-tee starter at the U.S. Open, carded 80.
Smoltz, 51, summed up his day perfectly before he even signed his scorecard. After he pulled his tee shot well left of the green at the par-3 third hole, he stood over his chip shot for an extended period and then muttered sardonically, "so, I wanted to qualify." He made a good bogey.
After a few unsuccessful attempts to qualify for the U.S. Open, Smoltz gained entry into the Senior Open by shooting a three-under 69 at Planterra Ridge Golf Club in Peachtree City, Ga., and then survived a three-hole playoff to earn the last of three spots. Unfortunately, since he qualified last month, he has had only a handful of days off from broadcasting duties for FOX or MLB Network.
It didn't help that he was dealing with back spasms for part of the round, though he refused to make excuses. "I didn't do the things necessary to play this golf course properly," he said simply.
"I figured he might struggle to break 80, but I struggled, too. I'm a better starter than a player right now," Ford joked. "Look, I know how good he is, but this is just another world. It's not his world. This is about as hard as it gets when you play in a USGA championship."
Even before he arrived on the grounds, Smoltz drew the most attention in the 156-player field. The USGA received more than 30 inquiries from entrants seeking to schedule a practice round with the eight-time All-Star pitcher. On Tuesday he played with Jeff Sluman and Billy Andrade. Fred Couples joined him on Wednesday.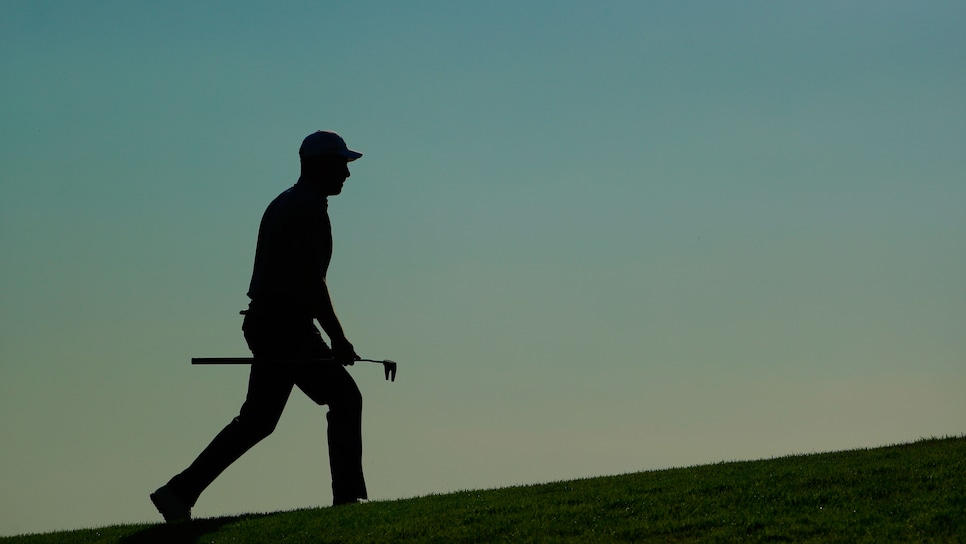 Copyright USGA/Chris Keane
In the locker room on Tuesday, Smoltz admitted feeling overwhelmed by the attention he was receiving from his fellow competitors. "I mean, I'm the one who is in awe of these guys," he admitted.
"I know he didn't play well, but how cool is it to have a guy like John Smoltz in the field," Billy Mayfair mused after shooting 69. "I was wondering how he was doing. I know a lot of us were. He brings another kind of energy to the event. It's great."
Smoltz' goal was to shoot a pair of 75s. But he spent far too much time in the gnarly rough, and the tricky East Course greens didn't allow him many easy looks. He figures he missed a dozen putts that were "makeable," in his estimation. He made only five pars, and on the triple bogey he suffered on the 15th hole, his sixth of the day, he needed three chip shots to get the ball to stay on the green and then missed a five-footer.
Smoltz couldn't deny he was thrilled to be playing, but the frustration of the day was etched on his face.
"I'm too big of a competitor to be happy about my round," he said. "But to get here was incredible. And like check off a bucket list. People have been great. I've tried to sign as many things as I can. And everyone's been cheering me on. I just hope to put on a better show tomorrow. My family and friends, I would have left if I was at the ninth hole. They stuck around. I'm happy they did. But I would have left. I couldn't have watched myself anymore."
The performance was not unlike his start in the 2011 South Georgia Classic on the Web.com Tour when he missed the cut with scores of 84-87.
"I knew I didn't have enough game for this golf course. I don't play enough," Smoltz said. I was hoping to avoid some of those areas so it didn't expose it. But that's what happens in the best tournament of the year. You know, the USGA puts on an incredible venue. And, certainly, I never expected to get that many bad lies. I got some really bad lies. Nothing I could do about it. I tried to stay patient. I got frustrated the last three holes, understandably so.
"And I had a lot of tough shots that I have not practiced or been used to hitting. If I had to go back, I had three bad shots, that's it. And I shot 85," he added, shrugging his broad shoulders. "So, it just tells you, from an amateur standpoint, people sitting at home, I don't know if you can tell how hard the course played, but how great these players are. I mean, this is their livelihood. And I will have to do a lot of work on my game to get to the level I want to get to, that's for sure."