News & Tours
Dahmen's fear and Higgs' resurgence highlight Friday action at RSM Classic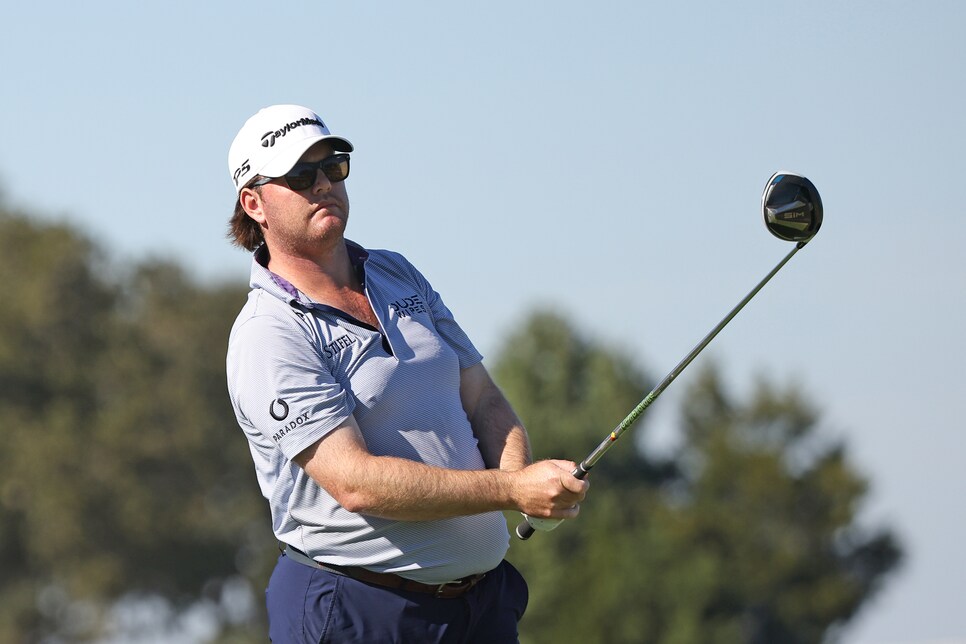 With his signature buttoned-down golf shirts and refreshing honesty, Harry Higgs is a cult hero in golf circles. So, when he speaks from the heart, or plays well, his phone lights up with well wishes. On Friday at the RSM Classic at St. Simons Island in Georgia, the last official PGA Tour event of the year, Higgs did both. He shot 63 at the Seaside course to join a share of the 36-hole lead at 12 under, then gave a candid interview about the struggles the 30-year-old endured on the course this year which resulted in Higgs losing his PGA Tour card. After a 67-63 start to the RSM, Higgs was expecting plenty of support to come through on his phone.
"Gosh, I try to be unaware, but it's so hard this day and age," Higgs said. "Thank God my phone is still in my golf bag, right? I'll turn it on, it will buzz, buzz, buzz, everybody will be so thrilled about the [past] two days."
Higgs tops the leaderboard after two cold days on St. Simons Island, alongside Andrew Putnam [65, Plantation course] and young stud Cole Hammer [66, Seaside course]. The trio hold a one-shot lead over Higgs' good friend Joel Dahmen, Beau Hossler and Sahith Theegala. Veteran Kevin Streelman and Korea's Seung-Yul Noh (PL) are a shot further back at 10 under. Here are some of the takeaways from Day 2 at the RSM Classic.
Higgs missed 17 cuts from 30 events on the PGA Tour last season, then lost his card. He missed all three cuts in the Korn Ferry Tour finals and then missed another three to start the 2022-'23 PGA Tour season. Higgs, who finished T-14 at the Masters, is now playing with conditional status [126-150 from the previous season's final FedEx Cup points standings]. He finally registered a result with a T-32 at the recent World Wide Technology Championship at Mayakoba in Mexico, courtesy of a second-round 62. Higgs was playing that event on a sponsor's invitation secured by close friend Keith Mitchell, and said the self-belief he took away from Mexico contributed to his form thus far at the RSM Classic.
"I need to stop and give a thank you to Keith Mitchell, who's a great friend of mine … with Worldwide Technologies, they're a sponsor of his, he pretty much pushed it through that I would be playing that event on a sponsor exemption," Higgs said Friday in Georgia. "Having friend like that reaching out, getting me into that event, I feel like it's really close to having changed my career [for] what I learned there about myself and how I executed it [because] it has led me to now this point through two days."
Higgs is chasing a maiden PGA Tour victory in his 88th start, having finished runner-up at the 2019 Bermuda Championship and the 2020 Fortinet Championship. "Hopefully you fast forward another couple days and it's a win that changes my life and my career," Higgs said.
Theegala's marathon golf schedule
Like Higgs, Theegala shot 63 Friday. He sits tied fourth at 11 under and is also chasing a first PGA Tour victory. Theegala came close to pulling it off during his rookie campaign last season, when he gathered five top-10 results including a share of second at the Travelers Championship and a tie for third at the WM Phoenix Open, where he led on Sunday through 17 holes. The 24-year-old Californian played a whopping 32 tournaments last season, but has no plans on slowing down.
"Yeah, I was definitely worn out after 32; I put down my clubs for seven days [after the season], which for me is a lot," Theegala said Friday. "I'm an addict and I just love to play. So I'm still going to be playing a lot I think, but definitely toning it down. I'm trying to hit like 26, 27 [events] this year."
Dahmen is scared of getting a real job
While four players shot 63 Friday at St. Simons Island, six players including Dahmen shot 64 in windy, cold conditions. After his round, Dahmen elaborated on insightful comments he made recently on the Fire Pit Collective podcast about playing professional golf with fear.
"I've been playing with fear since forever, since I got my PGA Tour card [in 2017] really; I'm scared to death of having a job," Dahmen said. "I've never really had one. I'm in a pretty good spot financially with the family right now and I just don't want to give this up. It's one of the most coveted things in all of sports is a PGA Tour card."
Dahmen has a PGA Tour card until the end of this season courtesy of his victory last year at the Corales Puntacana Resort & Club Championship. Pressed on whether he has ever held a "real job", Dahmen recalled working as a valet driver for six months. But he has never written a professional resume, having gone straight from the University of Washington onto the PGA Tour's Canadian and Korn Ferry feeder circuits.
"I believe in high school maybe like in a business class we had to build a resume," Dahmen said Friday. "[When] I worked valet for a little bit. I think I had to put a resume together for that, but not like a real resume. What do you put on that? 'I mowed lawns and I raked my grandma's leaves?' I don't know, that's not a very good resume."
Streelman, the 44-year-old veteran playing his 16th season on the PGA Tour, has put on a ball-striking clinic the past two days. He hit a career-best 33 from 36 greens in regulation. "I love giving young guys a hard time; [when they] call me 'old man' I like to hit my 7 irons inside their 9 irons," Streelman said after his round. Speaking of veterans, two-time RSM Classic runner-up Webb Simpson missed the cut for the first time in 11 starts at the event.