News & Tour
Joaquin Niemann raises $2 million for cousin's life-saving treatment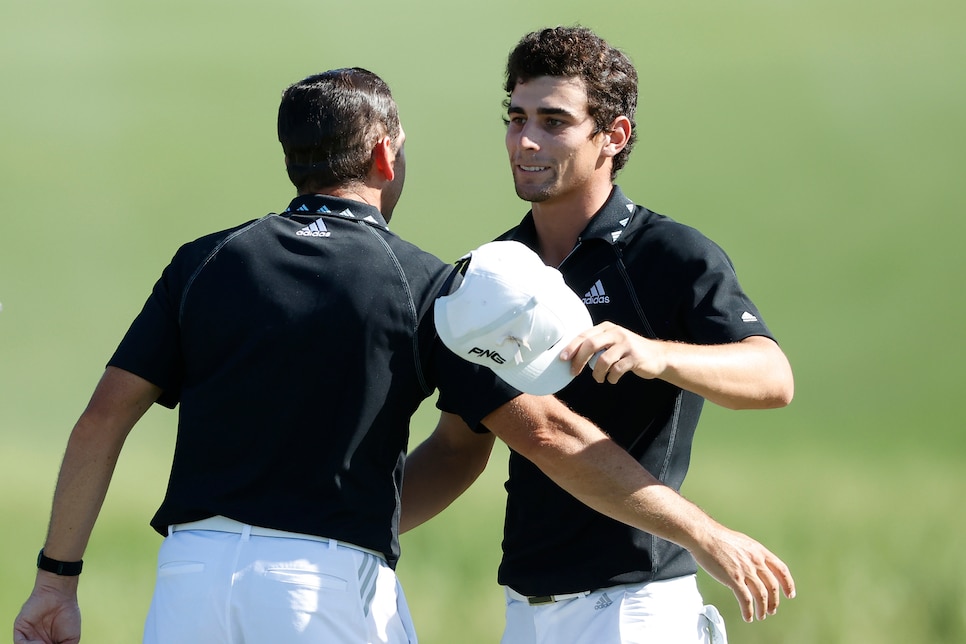 Last year, Joaquin Niemann shared the heart-wrenching story of the desperate race to save his baby cousin's life. A race, Niemann said on Wednesday, that has a heart-warming conclusion.
In November at the RSM Classic, Niemann told the assembled press that his 1-month-old cousin, Rafita Calderon, was diagnosed with Spinal Muscular Atrophy. It is a rare neuromuscular disease that leads to muscle wasting and respiratory failure and is cited as the most frequent genetic cause of death among infants. There is a new drug called Zolgensma that "improves muscle movement and function, and survival of a child with SMA." However, a one-time intravenous injection costs $2.1 million. Due to Chile's mixed private-public health insurance structure, an emotional Niemann said at the time that the best route to getting Rafita the money needed for the treatment was through charity, which is why the 22-year-old started a GoFundMe for the cause.
"When they told me [Rafita] was going to have a really bad disease, I didn't realize what it was," Niemann said in November. "I didn't put much attention on it, and then a couple days go on, they tell us the bad news, that this medicine was this much amount of money … I was in my mind going crazy, 'What can I do to help out?'"
Speaking Wednesday at Riviera before the Genesis Invitational, Niemann revealed the drive had reached its goal, and that Rafita was able to receive the life-saving treatment.
"Rafita got the medicine a couple days ago, which was amazing," Niemann said. "More than that it was, I think it was more amazing to see the whole tour, the whole, like all the people that were supporting me, all the companies, it was amazing. We raised so much money in such a short period, which it was really amazing and give us a lot of faith for Rafita."
Niemann has not played since opening 2021 with back-to-back runner-up finishes at the Sentry Tournament of Champions and Sony Open, instead spending time with his family in Chile. Niemann said Rafita remains in the hospital as doctors monitor how he reacts to the medicine, but that Rafita has so far responded well.
"Yeah, they sent me some picture couple days and he looks stronger, he looks happy," Niemann said. "It's really amazing what everybody did those couple months to raise so much money."