Short Game
Wedge It Like Tiger Woods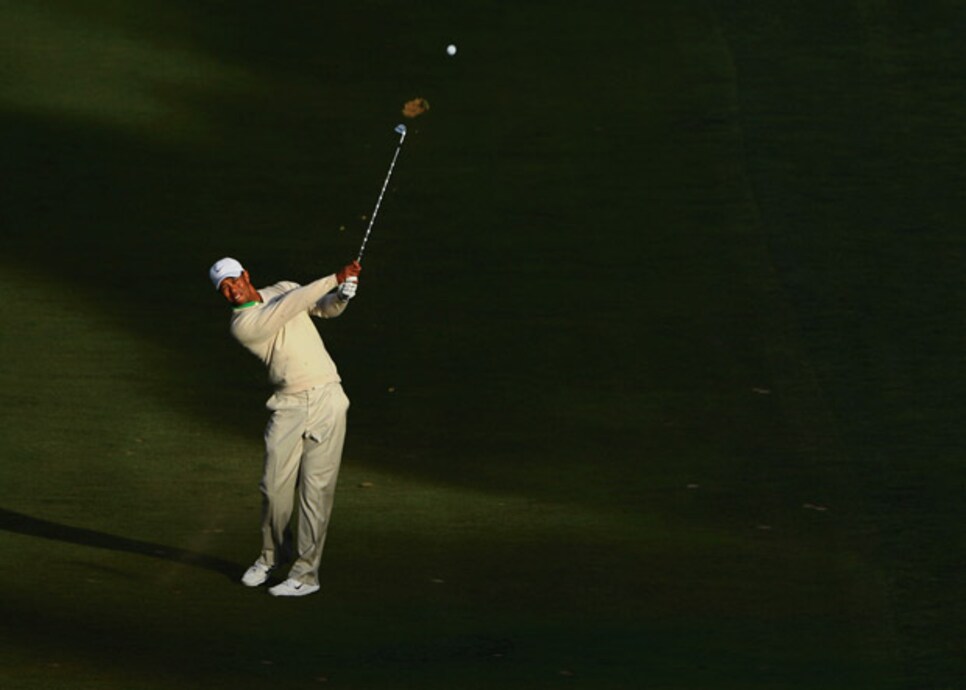 Look at Tiger's left foot: It's not flared out toward the target, which is something a lot of golfers do. Setting the front foot square at address helps the lower body shift toward the target on the downswing so you can squeeze the ball off the turf. If you flare out the foot, the tendency from a narrow stance is to spin open and not shift. I also see a relaxed right leg here. He has pushed off his right instep, indicating a good weight transfer. You feel good wedge shots with your feet.
Notice how Tiger's right arm has moved across his chest and matches his shoulder plane: This right-arm-across move proves he has maintained the width of his swing and has swung the club on the correct in-to-in path. Unlike many amateurs, Tiger has no impulse to scoop the ball, which is why you see no bend in his right arm.
3. STAY DOWN THROUGH THE SHOT
Tiger still has the same upper-body tilt toward the ground that he created at address. This is commonly referred to as "staying down through the shot." That doesn't mean keeping your head down. It means your spine angle doesn't change. If it does change, your chances of making solid contact really drop. Like Tiger, you can watch the shot fly without coming out of your address posture--simply rotate your head.
4. MAKE A THREE-QUARTER SWING
Tiger is posing in a cut-off finish. This three-quarter swing is great for any lie, but it's definitely the way to hit a controlled wedge to an uphill green, as Tiger's doing here. If you go full out on a wedge swing, the ball flight balloons, making distance control a guessing game. You want the lower, boring ball flight you get from a three-quarter swing. Just remember to take one more club and grip down slightly because you won't hit it as far with this shot. A shorter swing will help you make ball-first contact--ball then divot. After impact feel as if you're posing with the shaft pointing to the sky. Don't let it continue on and wrap around you or hit your back.
Jim McLean is ranked No. 3 by his peers on Golf Digest's list of America's 50 Best Teachers. He's based at Doral Golf Resort & Spa, in Miami.