It's Time To Stand Up For Golf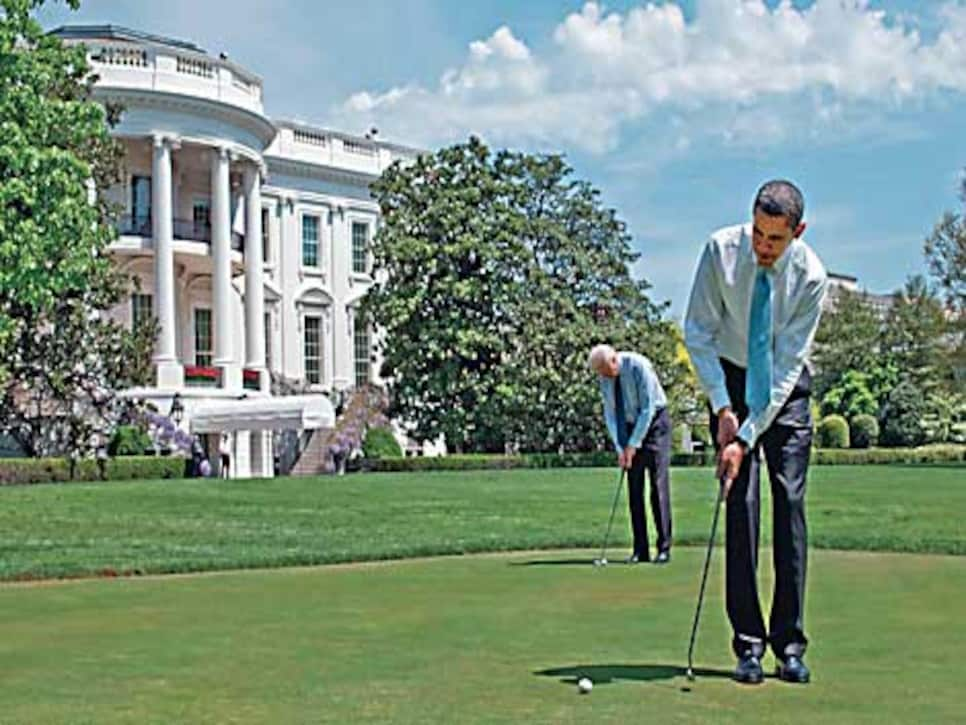 The president and the VP get some practice time on the White House green.
A putting green was first constructed on the White House South Lawn during the Eisenhower Administration by Robert Trent Jones. The architect's son Bobby rebuilt the 1,500-square-foot Southshore creeping bent-grass green for the mulligan-happy President Clinton. So President Obama and Vice President Biden followed this long tradition on a bright Friday morning in April when they grabbed a couple of putters and balls and repaired to the White House putting green before their weekly lunch meeting. Obama played golf that weekend at Andrews Air Force Base, and earlier in the week, Tiger Woods had been invited to the Oval Office.
There's another picture of Obama setting up with an imaginary golf club (click here to view photo), further evidence that golf is never far from the president's consciousness (see Steve Rushin's "In a Swing State").
My purpose here is to underscore that President Obama thinks golf is OK. These images are important as the sport is demonized of late, especially in Washington and in the media at large, where it's been taken hostage in the nation's economic crisis.
When Congress passed the Troubled Asset Relief Program, casino gambling and golf courses were expressly excluded from receiving funds. Granted, the golf industry doesn't want TARP funds, and it certainly doesn't need more golf courses (as we've just endured the third year in a row in which course closures have exceeded openings). But why equate golf with casino gambling on a blacklist?
A friend familiar with the corridors of Washington points out that golf and casinos were excluded from receiving government funding in the Gulf after Katrina, so the bureaucrats, following the path of least resistance, merely lifted and placed the same language in the TARP bill. Funny thing is, massage parlors were also banned from receiving Katrina money but were not excluded from TARP. I suspect that massage parlors have better lobbyists in Washington than the golf industry. Golf doesn't even have a trade association or a public-affairs organization representing the entire industry, and that's one thing that needs to change.
Another friend sits on the golf committee of a local country club, where Monday outings are played to benefit area charities. This year the outings are threatened because the sponsoring local banks are fearful of being connected to golf. It's not only that the economy has tightened; we suffer doubly because of this perception of being associated with corporate excess. The town's homeless shelter gets less support at a time when it needs more.
In these severe economic times, our strongest message remains that golf is a huge industry with a positive impact on the American way of life. Golf accounts for 2 million jobs with a total economic impact of $195 billion. Golf isn't just fat cats and CEOs -- they play the sport, but 95 percent of the game and industry are average-wage earners teeing it up on public courses, working in back offices and kitchens, enjoying the benefits of a sport that gives more than it receives.
The image that comes to mind is that of Maj. Dan Rooney and his Folds of Honor Foundation, which this Labor Day weekend (Sept. 4-7) will celebrate the third annual Patriot Golf Day. Last year $2 million was raised at more than 3,800 golf facilities providing almost 200 educational scholarships to the spouses and children of military-service members who have died or been disabled in the service of our country. You may donate at patriotgolfday.com.
No wonder President Obama and Vice President Biden are proud to be golfers.