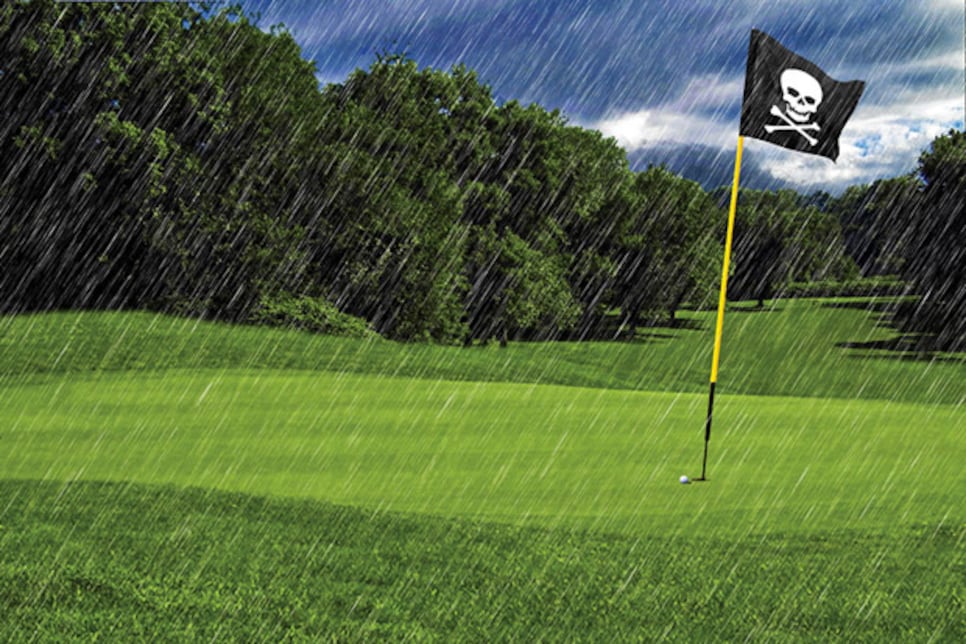 I grew up playing golf with a band of pirates who inhabited a par-63 municipal course, Juniata, two blocks from my family's row house in Philadelphia. They had pirate names like Long Hair, Tombstone and Red Bear. The most memorable of all was Cash-N-Carry, whose nickname derived from his insistence on fast pay.
He was a good golfer but better known for extracurricular sports. He'd beat you every time for 18 holes--you playing with a full set of clubs and him throwing the ball. In his 40s when I first met him, he could still throw a golf ball 190 yards onto the 10th green, a par 3 that required a 2- or 3-iron in those balata days. Once anywhere on the green, he was 50-50 rolling it in. From 10 feet, he didn't miss.
He could toss five out of six coins into a beer pitcher from across a bar. I saw him flip quarters over a row of lockers and stop them on the seat of a wooden stool. He claimed to have been the best marble shooter in Northeast Philly as a kid and played minor-league baseball. All throw, no hit, I guess. He sold Bibles out of the trunk of his Cadillac, but retired when his father kept borrowing the car and giving them away. "Dad would give you the shirt off my back," he says.
He settled into a comfort-able career, working just four months a year--wholesaling Christmas trees and Easter plants to a Dickensian army on street corners. Then he'd play golf the rest of the time. For tens and twenties, back when that was real money.
I remember the day he shot his all-time best, against the Hawaiian Brothers. He'd played 18 in the morning and was too tired to go more, but they begged him for a match. "I told them I'd take my putter, wedge and driver and play out of their bag," he says. "That day I shot 59 and won $160, would you believe? Turns out, I'm a country-club golfer--I needed a caddie and didn't know it."
As at all muny courses, Juniata's side games have nothing to do with golf. In 1969, baseball's centennial year, Joe DiMaggio was voted the sport's greatest living ballplayer, causing a legendary fight in the locker room. "Well, who wouldn't vote for Joe? He had a .331 lifetime batting average," said a regular, mundanely named Frank. "It was .325, not .331," said Cash-N-Carry. "Bet you $50," said Frank, and the insults started from there. When the proof finally arrived and it was indeed .325, Frank cried out, "Jiminy Crickets, they must have changed it."
Years later, Frank was bragging about his brother who worked out at a health club and could run a seven-minute mile. Cash-N-Carry said he didn't think that sounded too swift and bet he could do it, too, not taking into account it was the dead of winter and 18 degrees outside. Everybody piled out of the clubhouse into a caravan of cars, first to measure a mile on the avenue beside the golf course and then to follow Cash-N-Carry as he ran the distance. Not exactly pacing himself, he tore up the first half mile in two minutes when his breathing ceased and he started alternately to fall, get sick and trip forward.
"Call it off!" they shouted from car windows.
"Keep going!" screamed others, depending on the side of their wager.
But Cash-N-Carry kept rising to his feet and stumbling along. He collapsed at the finish line on my home street in just under seven minutes. An ambulance was called, and the parade followed him to the hospital. Frank wouldn't settle up until he was released, not wanting to pay a dead man.
"That last half mile I thought I was going to die," says Cash-N-Carry (real name: Vince Castagna), in his 80s today. "But I wanted to die a winner."
I love those days. I've never had more fun than playing a muny in lousy condition on a cold, rainy day, surrounded by my pirate friends. It's closer to the essence of the original Scottish game than anything played at a country club. That's the spirit Contributing Editor David Owen captures in his new column
that will take him around the country to experience municipal courses. Sometimes even golf will be played.