News
Jerry Kelly starts fund to help cancer-stricken PGA Tour rules official involved in infamous Tiger Woods Masters drop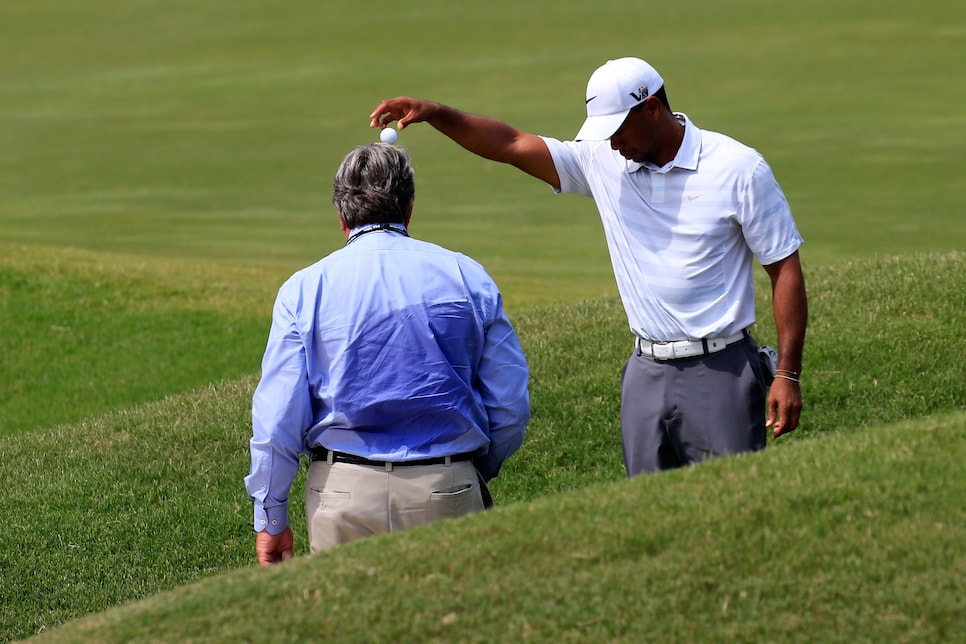 For more than a quarter century, Mickey Bradley was there for PGA Tour pros when they needed a ruling. Now, one veteran player is helping Bradley in his time of need.
Three-time PGA Tour winner Jerry Kelly has set up a fundraising page for Bradley, who needs money for stem cell replacement in his battle with cancer. Here's what Kelly tweeted on Thursday afternoon:
And here's a link to the page, which has a goal of $100,000. Under a section called "The Story," Kelly writes:
Mickey Bradley has been every PGA Tour players fav rules official for many years. He is in a battle with Cancer. Doctors have told him a stem cell replacement is his best hope. Insurance will not cover this expense. I am reaching out to all current/former PGA/Champions Tour players and friends who have been touched by Mickey and his rulings over the years! He was always there for us, now it's our time to be there for him!!
If the name Mickey Bradley sounds familiar, that's because you've undoubtedly heard it during PGA Tour telecasts through the years. He was also involved in a couple of memorable moments in 2013. First, Bradley was the person Champions Tour player David Eger called about Tiger Woods' illegal drop at the Masters (Bradley relayed the message to Masters competition committee chairman Fred Ridley and Woods ultimately received a two-stroke penalty). And second, he had a run-in with "Tripod" -- the three-legged gator at TPC Louisiana -- during the Zurich Classic that went viral.
Bradley retired as a full-time rules official at the end of 2013, but has worked more recently for the PGA Tour as an independent contractor. Bradley's work in golf landed him in both the Biloxi Sports Hall of Fame and the Gulf States Section Hall of Fame. And his work in his community, including with Habitat for Humanity, earned him the Biloxian Made Good Award in 2015.