Courses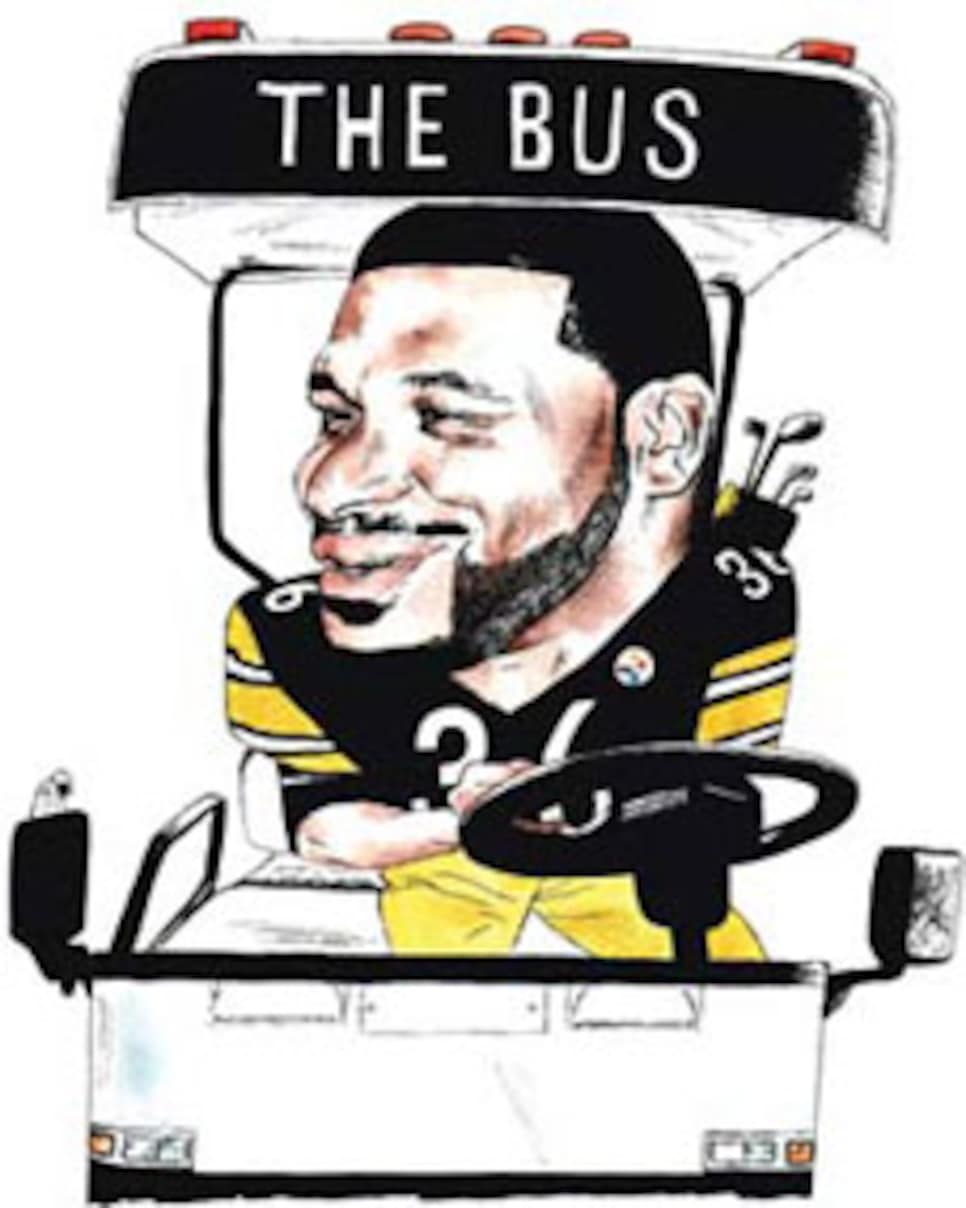 What kind of golfer are you?
I'm an average golfer at best.
Actually I don't have one. I just joined Hawk's Ridge in Atlanta and I'm in the process of getting one but I don't have one yet.
82 ... at Augusta National.
How many times have you played Augusta?
Once. I played it in May. A friend of a friend invited me. It was amazing.
What did you do through Amen Corner?
Bogey on 11, double bogey on 12 and birdie on 13.
Did you reach the par-5 13th in two?
I did, and I missed the six-foot eagle putt.
Before you tee off, do you have a goal for your round?
When I go out to play I want to break 90. Usually I'm right around 85.
How long have you been playing?
When I was growing up, my barber back in high school was an avid golfer, and he introduced me to the game. I guess he was a pro in the '70s. I always wondered why his shop would close every day at two o'clock in the afternoon. He would get there at six in the morning. He would cut from six until two and then he was gone. He was off to play golf. He took me out one day when I was 18 and I was like, yuck, I didn't like it. Years later, when I came to Pittsburgh, there were some guys in the locker room who were playing golf and I gave it a try and the rest is history. I caught the bug and that was it.
What's the strength of your game?
The strength of my game had been putting. But I recently got my driver figured out, so my driver has been my biggest strength lately. I would always be a pretty decent putter, but my drives would put me in trouble. As of late, I've been pretty solid and consistent with my driver.
I have the Nike driver. Not the square head, it's the tour driver--eight and a half degrees. The irons are Nike forged, and I have a Scotty Cameron Circle T putter.
What's the craziest etiquette rule of golf?
I'm trying to think of some of the quirky rules. The whole notion of being quiet--are you serious?
What's your bucket list of the top three courses you can't wait to play?
Bandon Dunes, Cypress and Pine Valley.
Not a bad list. Have you played with Ben Roethlisberger?
Yes I have. He's a real good golfer.
If you're starting a football team, do you pick Roethlisberger or Terry Bradshaw in his prime?
If I'm starting a team I go with Ben because of his ability to move in traffic. He's one of the best passers out of the pocket. He's a quarterback who can make plays with his feet. If you're starting a new franchise, the offensive line won't be that good so I'll start with Ben.
The Steelers are for sale. Any interest in buying the team?
[Laughs.] No, my pockets aren't that deep.
Tell me about the Pittsburgh airport?
It's pretty neat because they have a mall in the airport. The only downside is that U.S. Air pulled out of Pittsburgh. It used to be a hub for U.S. Air, so now it's a little bit like a ghost town there.
What's your favorite restaurant in Pittsburgh?
__What should I order if I go to your restaurant?
Order the fried hoagie and the carrot cake for dessert. It's one slice, but it feeds four.
Have you ever eaten one by yourself?
How many hoagies can you eat in one sitting?
__When you come to New York City for your Sunday broadcast of "Football in America," where do you like to stay? __
I usually stay at the London Hotel or the W in Times Square.
Do you have a favorite restaurant?
Do you take in live music or shows on Broadway when you come to town?
Do you take an annual buddies trip?
We call it the by the name of the guy who's hosting the tournament. The last one, my business manager hosted and his name is Jahmal Dokes, so it was called the Dokes Open. We went up to Northern Michigan and we played the courses at Treetops.
When you host it, where is it played?
I haven't hosted mine yet, but I'm debating between a couple of places. Yesterday I had the luxury of playing Wade Hampton in North Carolina. That was awesome. I'm thinking maybe a mountain course. I'm not sure. I want to give the guys something they haven't seen before. A trip we always take is to Vegas to play Shadow Creek. That's a consensus favorite.
Are there any current or former NFL players involved in the buddies trip?
Yes. From time-to-time Kordell Stewart will tag along.
If you fly commercial, do you always fly first-class?
Yes. Every chance I get I fly first-class, but sometimes it's not available, so when you're in Rome, you have to do what Romans do. It's not that I'm too big, but I'm very very uncomfortable in coach.
You played in the celebrity golf event in Lake Tahoe this past summer. You beat Emmitt Smith, Michael Jordan and Lou Holtz. Who did you take more satisfaction from beating?
Michael Jordan, because when I was first starting to play, I'll never forget it. I was playing at the Mario Lemieux event and they had a dinner the first night. Michael called me over. He immediately looked at the sheet to see what I shot that day and I'll never forget, I shot a 95, and he said, "You're not ready yet." Basically he told me to come back when I'm ready. So for me to beat him in Tahoe, that was pretty cool.
Oh, wow. It's great that Barkley is such a good person because if he wasn't such a great guy, it would be really, really easy to tell him to quit.
What's your favorite course in the United States?
Obviously, having played Augusta, that was cool. But second to Augusta, if there's one place I love to play, it's Shadow Creek. I love to play that course. I just met Tom Fazio yesterday at Wade Hampton and that was a treat. He's a very cool guy.
You took a lot of punishment on the playing field. Does that affect your golf swing at all?
Yes, it does affect the way I swing because my left knee is a little weak. So to hit against my left side is always a struggle.
You can empathize with Tiger.
I read that you spent some time with President-elect Obama in Pittsburgh recently. Did you guys talk golf at all?
No. We talked football but we didn't get a chance to talk golf.
__Where does the nickname "The Bus" come from? __
The nickname comes from Notre Dame. Someone in the student body started calling me The Bus and it stuck.
When's the last time you were on a bus?
Oh my goodness. That's a good question. I was on a bus at a golf event in Lake Las Vegas and they had a bus shuttle that took us over to the course. And everyone there started going crazy, "The Bus is on a bus." Everybody had a ball with it.