Courses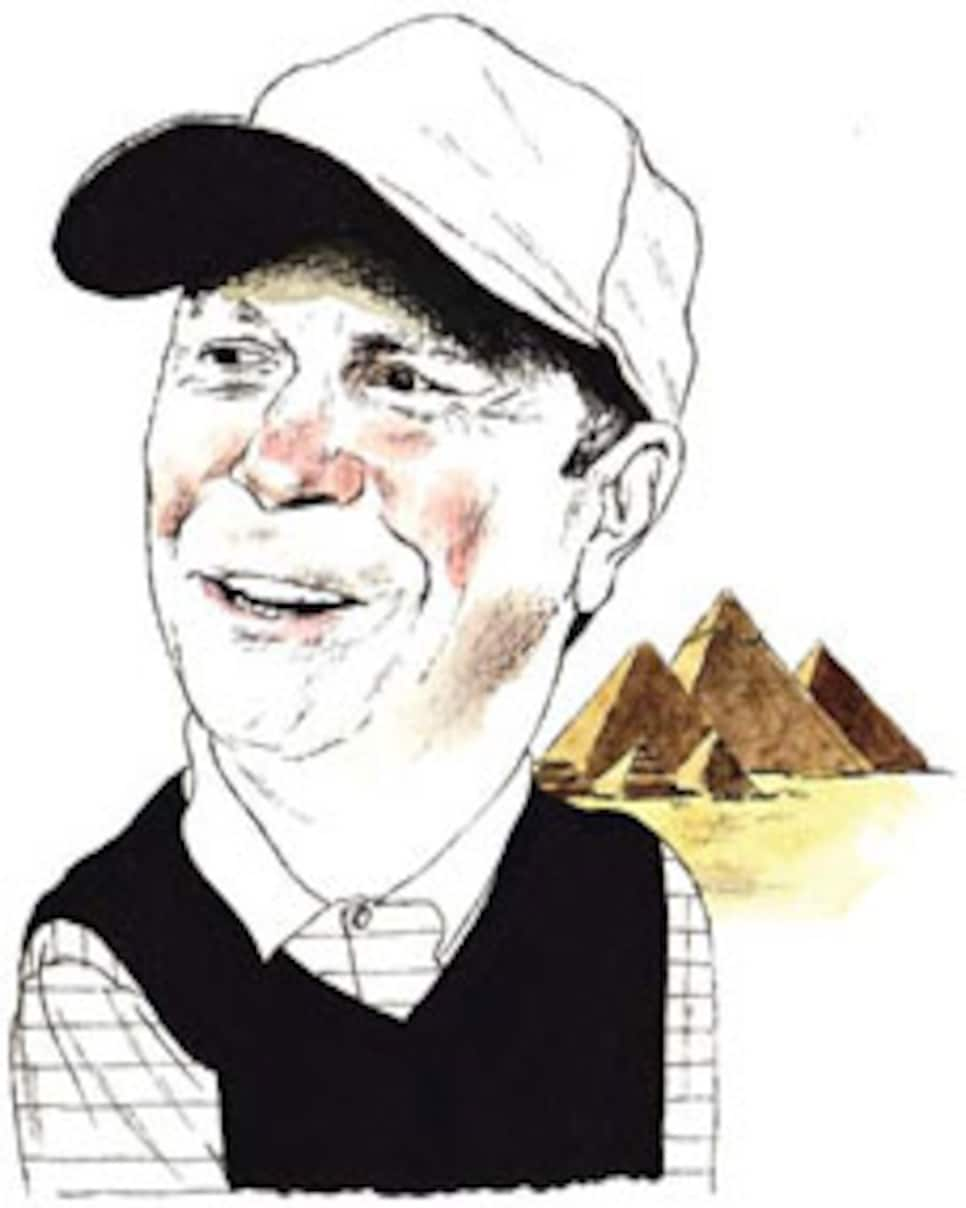 "I guess I'm not the average golfer," Jeff Sluman says of his exotic trips abroad.
Jeff Sluman, 51, has six PGA Tour victories, including the 1988 PGA Championship, and has two wins on the Champions Tour. He doesn't own a vacation home because he likes to take the family on an exotic trip every year and he doesn't want to feel tied down to one destination. From glaciers in Alaska to the pyramids in Egypt, Sluman is out to see what the world has to offer.
You live in Chicago? Yes.
What are some of your favorite restaurants in Chicago?
I always choke on these things. We go out to a lot of restaurants. I know my favorite restaurant is in Manhattan. I walked by it the other day -- the Gramercy Tavern. But I'm trying to think about Chicago ...
If three buddies came into town, where would you go for a steak?
I guess we'd go to Chicago Chop House, Gene and Georgetti or Gibson's. Those are all terrific spots. Italian, we'd go to Il Molino. They've got a restaurant in Chicago like they do in New York.
I don't really frequent music places at this age. I've shut it down for stuff like that. [Laughs.]
Have you ever been a part of an annual buddies trip?
My first one was when eight of us went to Ireland. It was my two brothers, a couple of other friends and my golf coach. We went for about eight or ten days.
I floated the idea but I was smart enough to know we should get someone who's well connected in Ireland to make sure we were playing the right courses and all that. I have a few friends over there and they helped get it done.
Is this something you're still doing on an annual basis?
It's not on a set schedule. Another time eight more of us, I think it was in 2000. Timmy Herron, Dudley Hart and myself were all in the (British) Open, so we went the week before the Open, which was at St. Andrews. We took Dudley's dad, and a few other buddies, and we went all through Ireland. We've done it twice. The first time was the Southwest part and the next time was Dublin and up -- from Portmarnock and up.
Did you get to Royal County Down?
We played there. My favorite course was a place called County Louth, which is also called Baltray. We played County Louth and County Down on the same day. We were really tired by the end of that day.
That's your favorite of Ireland courses?
Yes. I haven't played Portrush or Portstewert. And there are other golf courses over there that I haven't played. I've played Portmarnock, County Down, I've played Waterville, Tralee, and Lahinch. When we played at Old Head, it was 80 degrees and not a breath of wind. It was unbelievable. We helicoptered in from Dublin. It was maybe one of the greatest days of my life.
I played Old Head the day after Mickelson was there. We both had 60 mile-per-hour winds and I think they said he shot an 89. I wanted to quit golf. If you were to take a buddies trip in the United States, where would you go?
I think the first place that comes to mind would be Bandon Dunes. I haven't been there and everyone says it's spectacular. Three golf courses and Mike Keiser has the lodges you can rent. Everything's done perfectly. If you had the ability to get on these other courses, I think it would be great to go and stay at Sebonack, play there, go to National, go to Shinnecock and go to Friar's Head. I mean ... that would be a great four-day trip. And maybe you go play Bethpage, or Deepdale, or go over into Jersey and play Liberty National, or go up and play Quaker Ridge and Winged Foot. There are so many golf courses in the Met section, you could stay there for a month. Chicago is good too, but the great golf courses are so spread out.
Do you have a favorite architect?
I'm very much an old-style guy. From Donald Ross, to Tillinghast, Seth Raynor, Colt -- all those guys are spectacular.
Is there a modern architect you're fond of?
I appreciate what they do. And I think Jack has done some wonderful courses. I played Pete Dye's courses particularly well for some reason. I haven't seen many of Greg's, except for the one in Tiburon. And Ben has done some wonderful work, but I haven't been fortunate enough to play them. I haven't been out to Sand Hills or Friar's Head or Bandon Trails.
When you travel how often do you fly private?
Rarely. Living in Chicago it's easy to fly commercial.
What's your airline of choice?
Are you a member of the United Airlines Red Carpet Lounge?
Yes, $350 gets you a mini Kit Kat. [Laughs.]
When you travel, how do you kill time on a plane?
I read newspapers and books. Mike Hulbert got me started on Sudoku, which really helps stimulate your brain. It makes you think outside of the box.
What's the trick to those?
I don't know. [Laughs.] I'm OK at it but some of these guys are real fast.
Do you have a vacation home anywhere?
Do you have a common vacation spot?
That's why we don't have a vacation home. We like to go to different places. As a family, in 2007 we took a cruise from Vancouver to the inner passage of Alaska for ten days. It was a smaller boat and then we took a floatplane into a wilderness camp for two-and-a-half days. And then we helicoptered onto glaciers where no one has ever been. It was spectacular stuff. In 2008 we went for ten days to Egypt and cruised up and down the Nile. And then went to Dubai for a couple of days. And then home. We always try to have a great family trip each year, which is why we don't have a vacation spot because then you feel compelled to stay there all the time.
Is Dubai something we should all go see?
You should all go see Egypt. Maybe I'm different than most, but Dubai seems like it's been there for ten years and how long have the pyramids been there?
Yeah. A few more than ten. [Laughs.] The Pyramids are one of the most breathtaking things I've ever seen. My wife's claustrophobic so she didn't go, but my daughter and I went all the way up through the tunnel, up the huge ramp, and into where they had the Pharaoh buried. And you look down and see the architecture ... the fact that people could do this thousands of years ago. The symmetry inside, looking down, is like nothing you've ever seen. To me, that's what it's about. And I know everybody's different. But in Egypt we went to the Valley of the Kings, up and down the Nile, the Luxor. It's a place I've always wanted to go since I was a kid -- just to see those things. That's what we like to do for travel. We're trying to figure out where we're going this year.
Are there any leaders in the clubhouse?
I think Istanbul. I'd like to see Petra in Jordan. And Prague they say is beautiful, untouched by the war. Croatia they say is spectacular, down by the coast. We've been to Italy a number of times and you can't go wrong in Italy. I've been throughout Southeast Asia. The place I haven't been very much is South America. I'd also like to go to Saint Petersburg in Russia. I hear great things. I guess I'm not the average golfer.
You guys get deep on your trips.
Well, it's a big world out there. And you should expand your horizons. I'd love to go back through Alaska again. It's unbelievable how cool it was. And it's only truly a vacation for me when the clubs stay home.
A couple times a year, maybe. I don't know of any other places. Maybe you can help me out?
Have you done New Zealand and Australia?
I've been there. We were thinking of doing something like that. Where's the golf course Tom Doak and Michael Clayton did?
Yes. I love his work. Visually, Doak's courses look spectacular but I haven't played many of them. Didn't he also open a course near Muirfiled?
The Renaissance Club. I think he's my favorite of the modern architects. And he's from the Pete Dye mold. Have you seen what he did to Pasatiempo?
No. But I'll have some extra days after we play in Seattle and then get into Pebble on Sunday night and we don't play until Friday. I've never played Pasatimepo, but I hear it's awesome.
Doak went hole-by-hole for 10 years. He looked at old pictures and took out trees that were overgrown. For the money, talking strictly public courses, nothing beats Bethpage, but at Pasateimpo you can play an Alister Mackenzie original and a Doak redo. That's not a bad combination. I'd be anxious to hear your thoughts.
You know, in '94 I played the Open at Oakmont. And I played it really well. And I thought this is the most overrated golf course I've played in my life. And I came back a few years ago and they had taken out all the trees and I said, "This golf course is awesome." What they did, whoever made that decision, it took so much courage to pull out all those trees because it totally changed the golf course. And I could see what the architect was thinking when he developed it without trees. People are so hesitant to pull up one tree on a golf course. What did Oakmont remove, 5,000 trees? It's a thousand times better. I left there after missing the cut saying I enjoyed playing this so much more than when I played well. And that goes back to what you were saying about Doak taking out trees at Pasatiempo. It's an unbelievable difference.
Not only does it help the course get back to being played the way it was supposed to be played, it helps the condition of the course.
If you had a three-foot putt for your life, would you putt it yourself or would you call someone to putt it for you?
If it were my life, I'd putt it. Well, if I was like a cat and had a few lives, and I only had one life left, I'd have Tiger putt it.
Will Tiger break Jack's record?
I've always said absolutely, no question about it. He's got a unique ability to do what he needs to do to get it done. And I know him very well and he had no complications with the recovery from surgery. I texted him after the injury was announced. I said, "Sorry about all that. It's going to be a great time because you'll be able to spend so much time with your family." I think it might take longer than he wants, and the public expects, because he has been Superman. He has taken extended time off and comes back and wins right away. Usually when someone takes that much time off, it takes time to come back. He does things no one else has ever done and he makes it look relatively easy. And I think the public expects him to do it all the time.
One course for the rest of your life?
I guess I have to keep sticking with my answer for the last 20 years, which would be Pebble Beach.