The Loop
Jason Garrett has made multiple attempts to save the MNF broadcast this year (sort of)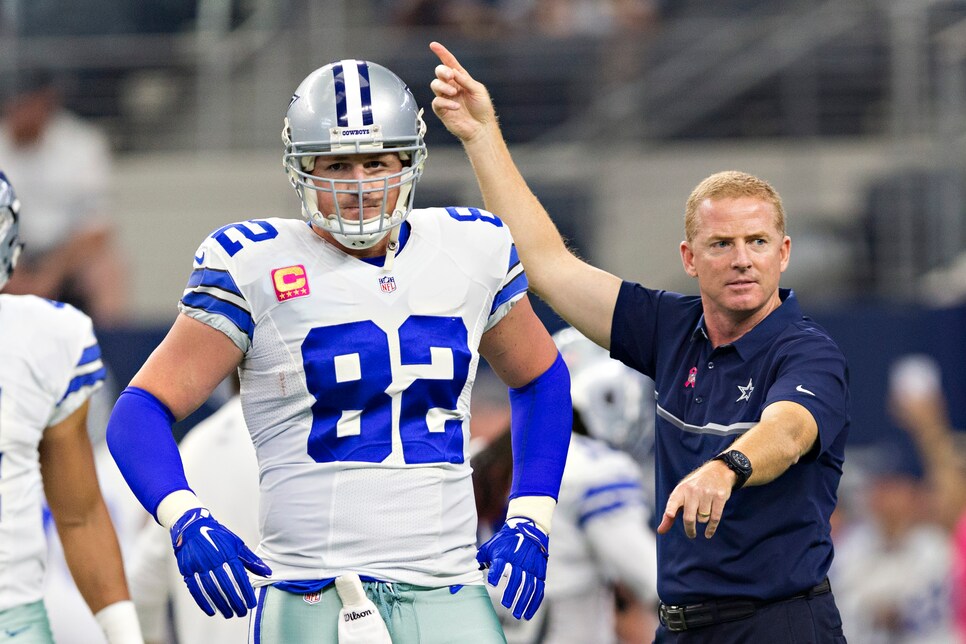 The awfulness of the Monday Night Football broadcast has been the gift that keeps on giving for NFL fans each week this season. While it should feel like beating a dead horse at this point, Jason Witten and Booger McFarland find new ways to make everyone cringe each Monday. Whether it be Witten screwing up the simplest of cliches or the Booger mobile straight up blocking fans' view inside the stadium, the two never cease to amaze. Notice how I haven't mentioned Joe Tessitore, because that guy deserves so much better.
Much to the chagrin of MNF viewers, ESPN is fully committed to the trio, though Dallas Cowboys head coach Jason Garrett of all people has made multiple attempts to break up this trainwreck of an experiment. That's right, "Coach Clap" has tried to be our knight in shining armor, according to a report from Adam Schefter:
Dallas Cowboys head coach Jason Garrett has made multiple attempts this season to get former Dallas tight end Jason Witten to come out of retirement and help the Cowboys in their postseason push, league sources tell ESPN.
Witten has resisted those overtures, some of which came in recent weeks, as tempting as it might have been to help his former team, according to sources.
Following a two-game losing streak that lead to the typical rumors ranging from Garrett's imminent firing to Dak Prescott not being in the franchise's future plans, Dallas has ripped off four straight, including their most recent win over the previously unstoppable freight train that is the New Orleans Saints. The Cowboys winning recipe during this stretch has been a heavy dose of Ezekiel Elliott, some big plays from Amari Cooper, who they acquired from Oakland, and defense, defense, defense.
What they haven't gotten is any noticeable contribution from the tight end position, one that Witten was incredibly reliable in even in his last few seasons. The four tight ends that have seen action in Dallas this year have combined for 40 receptions, 406 yards and one touchdown. Last year, at the age of 35, Witten had 63 catches for 560 yards and five TDs.
Unfortunately for Cowboys fans and NFL fans who want to turn the volume on once again when they watch MNF, Witten isn't interested in a comeback. You're stuck with him for the time being.