Monday Superlatives
Jacob DeGrom's injury is this week's evidence that we can't have nice things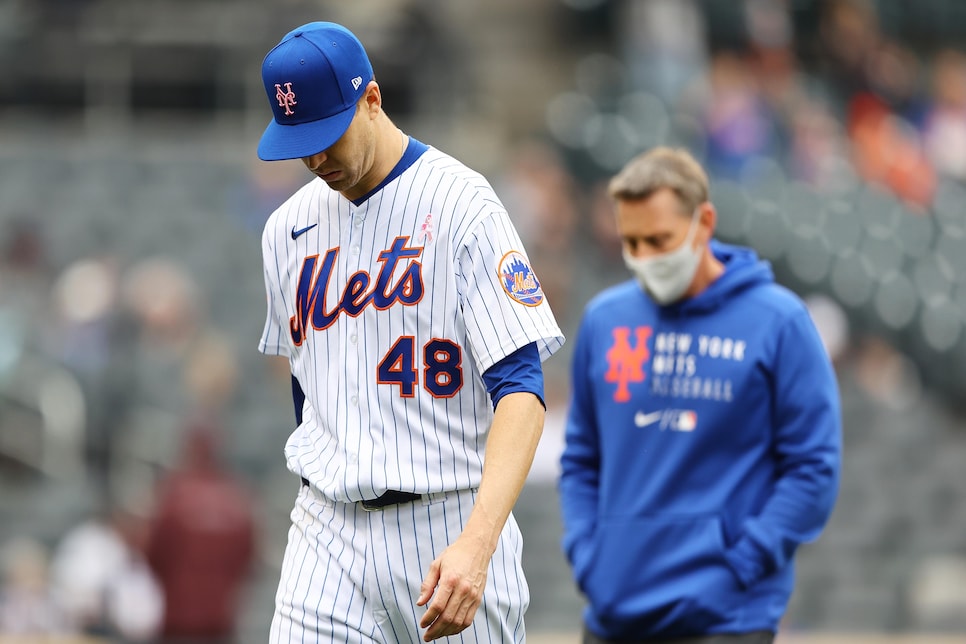 Why does he have to hurt? Whyyyyyy?
As of this moment, we don't know the results of the MRI the Mets ace underwent on Sunday after experiencing tightness late in his start, but we do know it's part of the ongoing injury scare affecting the best pitcher in baseball. I gushed about Jacob DeGrom here, in the context of the Mets giving him no run support, but that complaint seems like small potatoes now. Watching him pitch and lose 2-1 because the Mets can't hit and also made six errors was vastly preferable to this.
The story is that DeGrom pitched four perfect innings, struggled in the fifth, and then threw two warm-up pitches in the sixth before calling for the trainer. He wasn't feeling pain, only "tightness" in his lower back, but it comes on the heels of a missed start stemming from an issue in his right lat.
It sucks, and I don't mean that selfishly. Well, not just selfishly. Yes, his starts had become appointment viewing for me, and yes, I was looking forward to a full season of them. And yes, I'm annoyed at this in a purely selfish way. But I also feel for DeGrom! For one of the luckiest people on Earth—he's got the talent and the brains to make millions of dollars playing baseball—he's actually pretty unlucky. And in a broader sense, this feels like a pattern unique to the COVID era in sport. We get a tantalizing glimpse of something good, then something bad happens to take it away. I am convinced the universe is now actively screwing with us, and I wish I had the power to tell that universe to leave DeGrom alone.
And yet, I used up all my power begging them to let Rory win again. Tough stuff.
The Double Play of the Decade: Tyler Matzek, Dansby Swanson, Braves
Yes, the decade is young, but still, this is insane from Matzek:
There's a lot to be impressed by there, but the no-look catch from Matzek, done so casually as to look routine, is obviously the highlight. How did he do that so quickly, and how did he not look shocked when the ball actually hit his glove? I will watch this highlight approximately 400 more times today just for that moment. Truth is, though, I'm almost as impressed by the turn from Swanson at second best. The ball is high and away from this throwing side, and the speed with which he makes the transfer is...mind-blowing. It looks good in real-time, and then in slow-motion, it still looks ridiculously fast. It's just so clinical. How did he do that? These men are witches, and must be burned.
The Gastro-Intestinal Sports Event of the Decade: The Walker Cup
The stomach bug that ravaged the Walker Cup this past weekend apparently produced some very ugly scenes, and there were even rumblings—sorry—that it might cancel the event. The show went on, the Americans won, but in terms of GI storylines, we haven't had anything quite so prominent in the new decade. As such, the 2021 Walker Cup joins the ranks of some other legendary scenes of athletic incontinence, from Michael Jordan's flu game to Robbie Tobeck, the Seahawks center who lost control mid-game (to Matt Hasselbeck's horror) to all the marathoners who, uhhhhh, let loose before the finish line. This 2010 ESPN story documented many of the greatest hits, and now the Walker Cup joins the murderer's row.
The Justifiable Fine of the Week: David Griffin, Pelicans
Griffin, the VP of the Pelicans, is facing a $50,000 fine from the NBA for speaking a known truth: Zion Williamson gets hammered every time he's in the lane, referees don't treat him fairly, and he may have hurt his finger because of it. Whether the fractured finger Zion suffered was a result of a specific moment or an accumulation of hits, Griffin is right to stand up for his player, and if he can get the NBA and its referees to open their eyes and start treating him fairly, it'll have been worth it. There's an entire Twitter thread documenting the egregious no-calls from the season. And keep in mind, this happens all the time:
The problem is obvious. Zion is incredibly strong, his strength moves people out of the way, and he carries a lot of momentum in his body. In person, it must feel almost paradoxical for a referee to call a foul on his defender, since Zion overpowers just about anybody. Still, a foul is a foul, even if the guy getting fouled is stronger. And a foul can still disrupt a shot, or even hurt a player. Once you make a habit of failing to call those fouls, it becomes a pattern, teams take advantage, and a player is put at risk. Griffin may not have been right about the proximal cause of the fractured finger, but everything else is dead on. Money well spent.