Golf Digest Interview: Jack Nicholson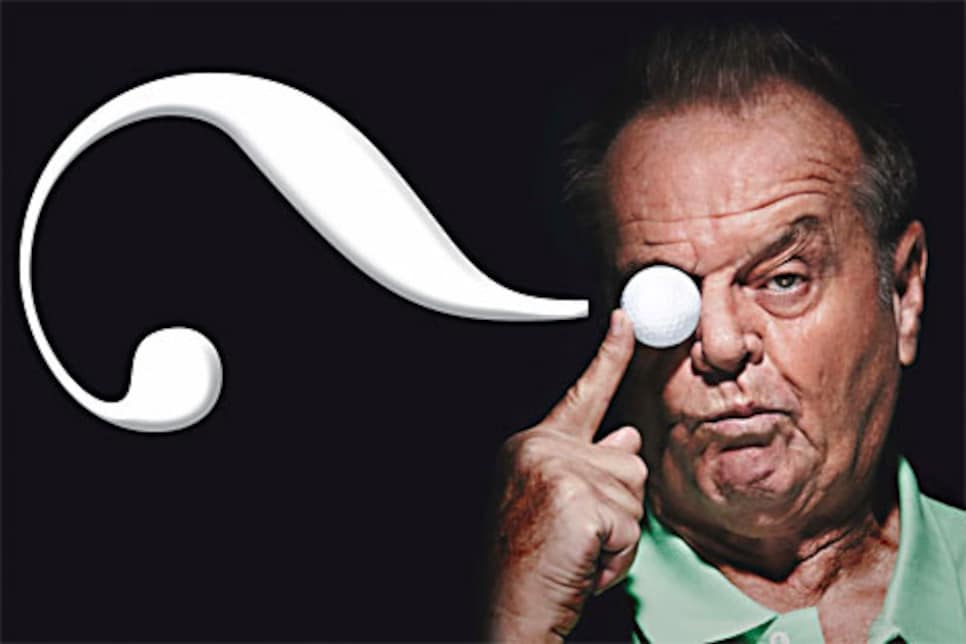 Editor's note: In celebration of Golf Digest's 70th anniversary, we're revisiting the best literature and journalism we've ever published. Catch up on earlier installments.
Jack Nicholson is to Hollywood what Jack Nicklaus is to golf—king of the major championships. Nicholson, now 83, has earned more nominations for an Academy Award (12) and more wins (three) than any other male actor.
Not exactly known for his athleticism, he has been connected to two sports—basketball, as an avid fan at courtside during Los Angeles Lakers games, and golf, through an infamous incident of road rage that he deals with handily in this Golf Digest Interview. Despite ranking T-47 with a 12.5 Handicap Index, Nicholson landed on the cover of our December 2007 issue featuring Hollywood's Top 100 Golfers.
His interlocutor was Kevin Cook, the longtime golf journalist and author of 10 books including Titanic Thompson and Tommy's Honor—the latter won the USGA's Herbert Warren Wind Book Award in 2007 and was made into a historical documentary film that was given the British Academy Scotland Award in 2016. Kevin took up golf at 10, now lives in New York City and for a brief time was editor of Golf Magazine, but we don't hold that against him. —Jerry Tarde
A cliff-side property high in Beverly Hills.
An unshaven man on the back porch. A glint of metal as he aims and fires. Bang!
Jack's practicing. Up at the crack of 1 p.m., he has padded to his private practice range out back to hit balls off an AstroTurf mat.
"Got my targets down there," he says, nodding toward the bent trees and thick brush in the canyon below. "That little pond? That's an 85-yard shot."
He takes dead aim. "I try to splash 'em in there, but it's tough. I go long with my 56-degree and short with my 60."
Between films, the King of Hollywood becomes the Jack of Clubs, a gleeful golfer whose select few friends needle him almost as much as he needles them. A member at Bel-Air and Lakeside golf clubs, he is famously relaxed about the rules. He might take a mulligan or three, but the rule-bending isn't just for his benefit. "You tried like hell there, pal," he'll tell a bogey-scraping buddy. "I'm giving you a par."
Jack Nicholson, 70, has lived a remarkable life. As a teenager he followed his older sister, June, from New Jersey to Los Angeles, where she was trying to break into movies. More than a decade later he learned that June had actually been his mother. His grandmother, who raised him, never revealed the family secret. In Hollywood the sneaky-eyed young actor struggled for a decade, rising from TV bits -- including an "Andy Griffith" episode that paired him with Sheriff Andy Taylor and Deputy Barney Fife -- to stardom. "Easy Rider," "Five Easy Pieces," "Carnal Knowledge," "Chinatown," "One Flew Over the Cuckoo's Nest," "The Shining," "Terms of Endearment," "As Good as It Gets." Twelve Academy Award nominations, three Oscars and counting. This holiday season he'll be starring with fellow Academy Award-winner Morgan Freeman in Rob Reiner's "The Bucket List."
Nicholson also has been an A-list Hollywood golfer for almost 20 years: grand marshal of the Police-Celebrity Golf Tournament to benefit the families of L.A. Police Department officers, co-host of the 2005 Jack Nicholson & Rudy Durand Celebrity Golf Classic for charity. Caddies love him for his $100 tips. Golf buddy Durand, a Hollywood deal-maker, calls him "a good golfer, a great actor and a hell of a guy -- just don't let him keep score."
"Well, I ain't king of the links," says Nicholson, "but it's never too late to improve."
Golf Digest: Where do you get all those yellow golf balls you hit off your back porch?
Jack Nicholson: I buy 'em in bulk from Lakeside. If you've ever hit range balls at Lakeside, you might have hit one that ended up on my porch.
In 1994, after being cut off in traffic, Nicholson used a golf club to smash another motorist's windshield. It was (and still is) the most famous instance of road rage meeting golf tantrum.
"I was out of my mind," he said later, referring to the rugged schedule of a film he was directing and the recent death of a friend. The case was settled out of court when he wrote the other driver a check, reportedly for $500,000. One mystery remained: What club had he used? News reports called it a wedge or a 5-iron; others said 3-iron and 9-iron. Jack had never specified -- until now.
"I was on my way to the course, and in the midst of this madness I some-how knew what I was doing," he says, "because I reached into my trunk and specifically selected a club I never used on the course: my 2-iron."
How many have you hit into the canyon?
Hundreds. Thousands. Initially I planned to retrieve them, but there got to be so many. A friend of mine, James Spader, made his way down there through the woods and weeds, and James took a picture. It looks like outer space down there, golf balls everywhere, like a planet peppered with golf balls.
You might have conked a snake or a scorpion with one of your shots.
I hope not. Live and let live, y'know? One time I lashed a ball, and a homeless guy came running out of the weeds, yelling.
You grew up in Neptune, N.J., on the Jersey shore. Did you play golf as a kid?
Miniature golf. One of my school friends' parents owned a minigolf course, and a bunch of us kids would play there all day in the summer. Two-under deuces was a good score. We'd play for quarters. That's the only time I ever played golf for money.
On a good day I'd go home with quarters ringing in my pocket.
I did. We had a couple of clubs there in Jersey: Spring Lake and Shark River. You got $4 a bag, $8 for a double-bag loop. You'd be exhausted at the end of the day, but that was pretty good pay in those days.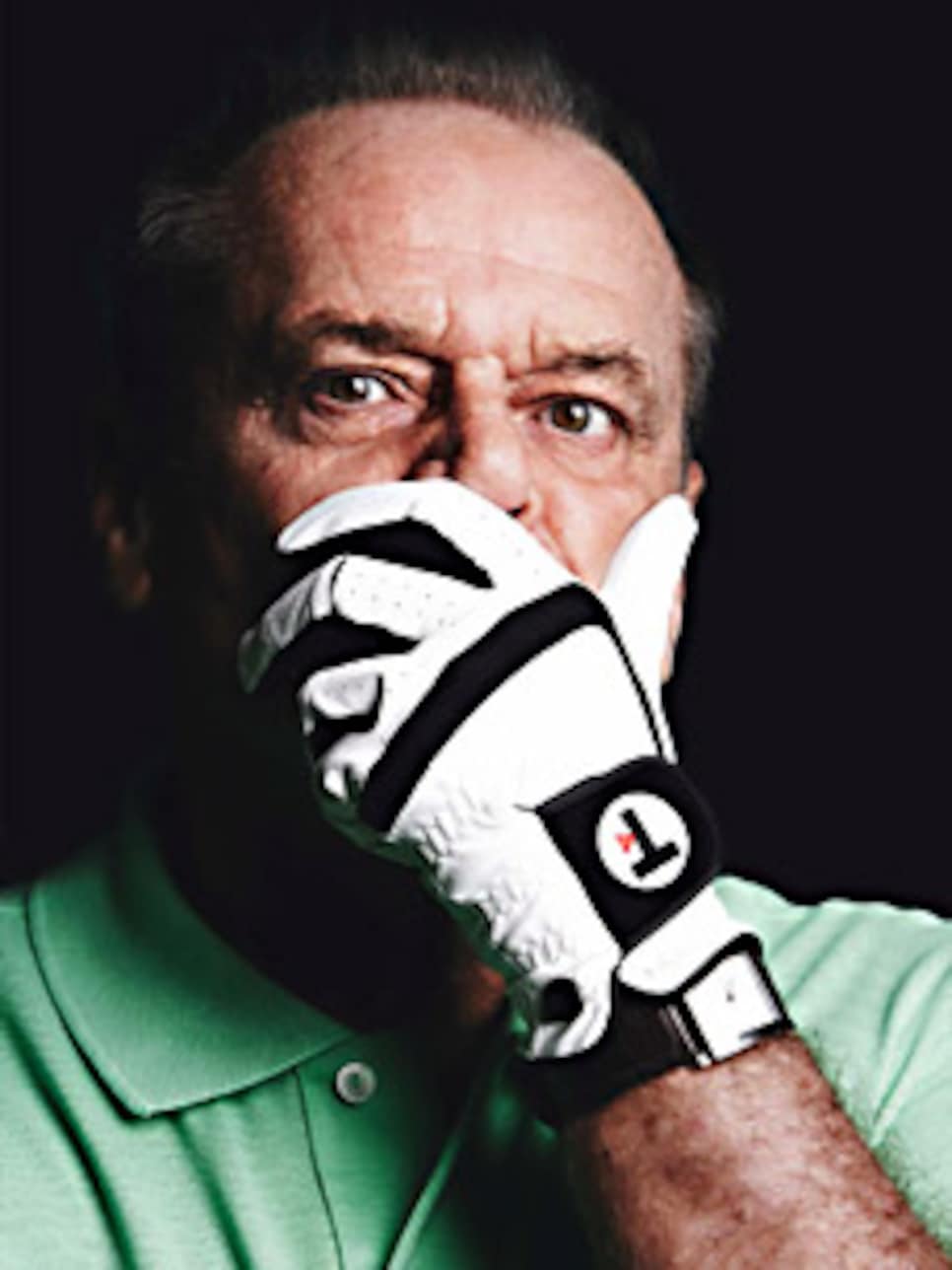 After high school you followed your older sister, June, who you later discovered was your mother, to Los Angeles.
Yeah, and when I got out here my sister-mother was playing some golf. She played with a priest friend of hers. I knocked a few balls around, too, but didn't get bit yet.
When did the golf bug bite? You had a slick office-carpet putting stroke in the "Chinatown" sequel, "The Two Jakes." By the time of that movie [released in 1990], gumshoe Jake Gittes had gotten prosperous enough to be a golfer.
I'd been more of a tennis player till then, but I needed to swing a club halfway decent for that picture. That's when I really started playing.
You and Harvey Keitel shot the golf scenes at Wilshire Country Club. His character was a 14-handicapper, and you were supposed to be a 9.
I had to look like I could play. So I went to the Studio City range and took a few lessons. The guy warned me, "Jack, you're gonna get bit. And when you're bit, that's it."
He was right, and it drove me crazy at first, trying to play this game. I kept hitting grounders, hitting everything in the hole between first and second base. Wrong game! I got better, though. Longer and a little straighter.
You were 52 when you started playing.
I'd always told myself I'd take up the rich guys' sports when I turned 50. I'd done a lot of skiing. Played tennis for years. But you can't improve at tennis after you're 50. You get to be in your 40s, and suddenly you're a doubles player. You can't cover the court anymore. But you can always improve at golf. So that's when I really took it up, when I was 52. I've spent more time playing golf than anything else the last 18 years. Just wanted to be an 80s-shooter. Got there, too.
But that's the point where you figure something out. Just when you start getting better, you realize how much work it would take to be really good. You can't do the game justice without putting in the time. And I'm not that patient.
How well did you play at your best?
I peaked six or seven years ago. Played around par for a couple months. I've always been a good putter, on a good day, anyway. That goes back to the miniature golf. My best round ever? I shot 64 at Lakeside. With witnesses, fortunately. That was a total anomaly. Missed two greens all day, got up and down both times.
I say 64, but it might've been 65. [Laughs.] But there was no way to keep that up.
I knew I'd never go crazy enough, never spend the time it took to be any sort of par-shooter. I mean, I'd gone insane for eight years to get my game together for one second. That's how golf is: It's obsession or bust. Once you get to your peak, you can't get better without playing three or four times a week. So I came to an accommodation with the game. If I could shoot in the 80s and not hold anybody up, well, that would be good enough. And it's pretty much a breeze to shoot in the 80s -- you just stay out of the water and the woods. Which I can do, partly because I'll kick it out of the woods.
Some say Nicholson is the Mickelson of the foot wedge.
Well, I do have a few rules to live by. I don't always observe them, but I use them for amusement:
So that's why we heard you've never had a three-putt. What's the toughest part of the game for you, since it's not putting? For a long time I didn't have much of a sand game. I've been known to lie down and cry and kick my feet in a sand trap.
It's Jack's world. We just play in it," says comic Tom Dreesen, a single-digit handicapper who knows the local rules. "Say you're 130 yards out, and he's 140. He hits. You watch his ball go by. Then you start to hit your shot, and zip -- another ball whizzes past. Then he'll drop another, and that one zips by.
"Why put up with that? He's Jack. It's fun. I'll never forget one time on the sixth hole at Lakeside, a par 3. Jack pushes his tee shot into a bunker. He blasts out over the green, out-of-bounds. Takes a drop in the bunker. Blasts out again -- over the green again. Chips on. Misses the putt. Finally he knocks it in, and he walks off the green with that ear-to-ear smile and says, 'These [freakin'] bogeys are killing me!' "
You get pretty emotional out there?
I'm working on that. Sometimes I get so mad at myself it's close to the assassination level. Then I get in the car and think, Why ruin other people's golf with your rotten, disgraceful attitude?
Are you a walker or a rider when you play?
I ride, and I hope what I read is true: It's eight miles to walk a round of golf, and two-something to ride in the cart. All I can tell you is this: End of a round, I'm tired.
Do you get to play when you're making a movie?
Used to. I had some medical stuff [surgery on a salivary gland] going on while we were shooting "The Bucket List," so I didn't play at all and lost my swing a little. I watched Morgan Freeman swing. He's an accomplished man, and a pilot, and now he's bit, too. He brought a mat when we were making the picture and hit buckets of balls.
What are your favorite courses?
Around here you'll find me at Lakeside and Bel-Air. I love 'em both. Riviera, too. Riviera is special, a classic. She was a beauty when Hogan played her, and she still is. Some of the holes there are getting a little long for me, though. I used to be able to get home, but it's tougher now.
I've never played Augusta or Pinehurst or Pine Valley, but I could be happy for a long time playing on Long Island. People think of Shinnecock, but there's more out there than Shinnecock.
I love the National next door. I like to play Atlantic and Maidstone. Shinnecock's a bit much, actually. By the time I'm awake you've got the afternoon winds blowing, and all the long carries just beat me up.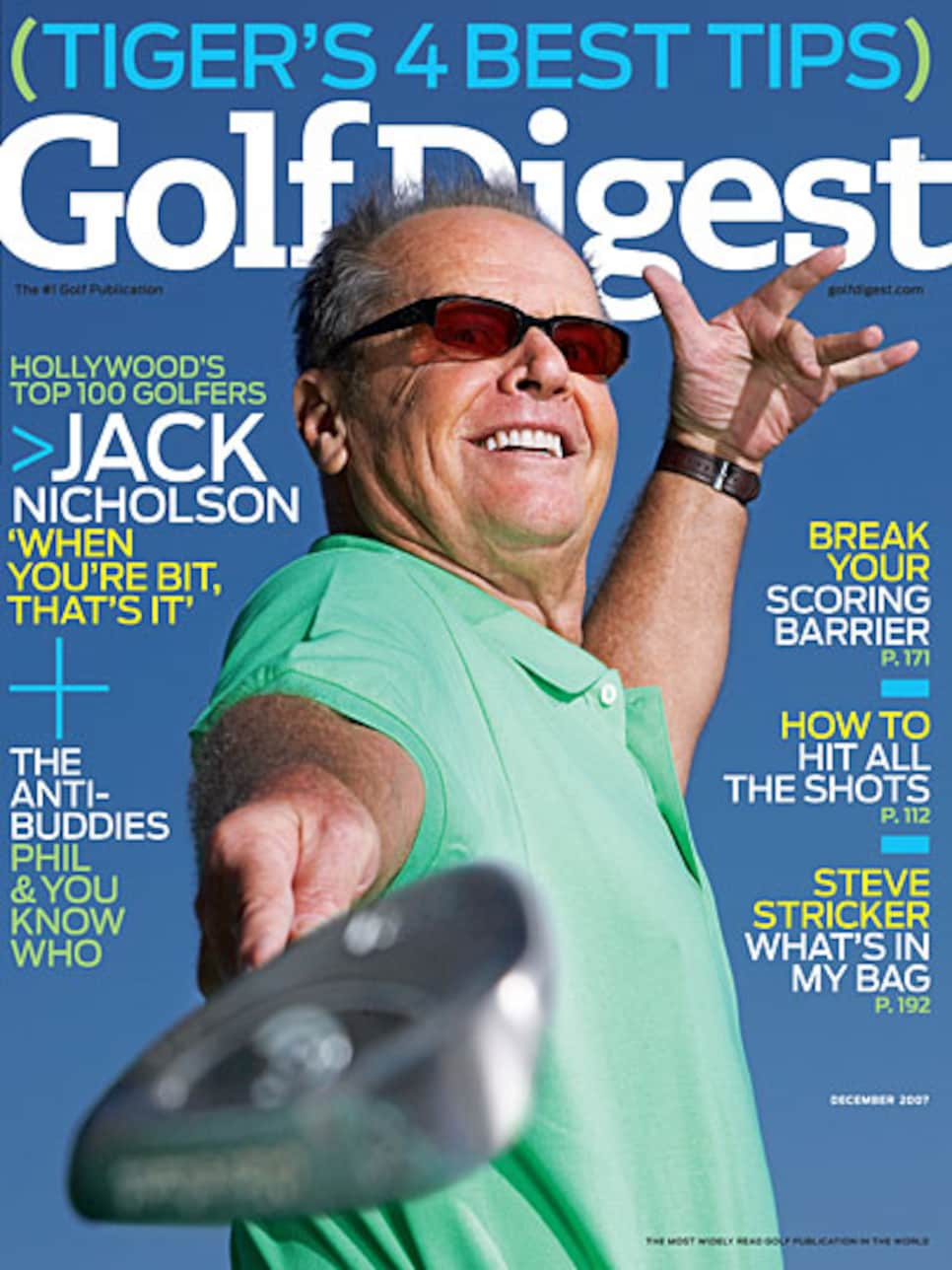 I never once three-putted at Oakmont. Got on there while we were shooting "Hoffa" in Pittsburgh. It was the first round of the year, snow on the ground and temporary greens, so I didn't have to deal with Oakmont's greens. Hit it on the green and add two -- that's my game!
Pebble's great, too. I love to go up and play Pebble Beach and Cypress, and see Clint Eastwood. Old Squint, he's a friend.
We're surprised Clint hasn't talked you into playing in the AT&T at Pebble Beach.
He's tried. But I don't do television. I've never done a talk show, never was on with my dear friend Johnny [Carson]. And I won't play golf on television, either.
I tell 'em I'm too expensive for television.
I almost got involved with Hope's tournament, though. Because I loved Bob Hope. I discussed taking over his tournament when ol' Rapid Robert retired. I would've kept the name, the Bob Hope Desert Classic. But I backed off. It was one of those things that sounds good until you realize how much would be involved in actually doing it.
What else have you passed up over the years?
Investing in sports. I could have bought into the Yankees for $41 million, and the Lakers for less, with a friend. I've been a Yankees fan since my days as a bleacher-seat kid in the '50s. Lorne Michaels ["Saturday Night Live" boss] and I go to Yankees games, and Lorne wanted me to throw out the first ball at Yankee Stadium for my 70th birthday this year. That sounded fun until I started getting nervous and then completely crazy, thinking, Should I try to throw a slider? Backed off that one, too. I've got my shy side.
Eddie Merrins, head pro emeritus at Bel-Air Country Club, says Nicholson could be a single-digit handicapper if he worked at it. "Jack is a good athlete, but he doesn't practice in earnest the way he would if he wanted to improve," says The Little Pro. "He tries to muscle the ball and gets a little wild off the tee. He doesn't take lessons, he takes bootlegs -- tips from caddies and other players."
Recently, Merrins offered a tip while watching the actor on the Bel-Air practice green. Nicholson was barely breaking stride as he knocked balls from cup to cup, so Merrins said, "Jack, try being more methodical. Read it, roll it and hole it."
Nicholson wasn't about to do putting drills, but he liked the line and repeated it all day: "Boys, you've got to read it, roll it and hole it!"
Any concessions to age now that you're 70?
In golf, I'm a club to a club-and-a-half shorter. That little bush down in the canyon used to be a 7-iron. Now it's a 6. The toughest thing for a senior player is the turn -- you just can't turn the way you used to. Chi Chi [Rodriguez] told me seniors need to take fatigue into account during a round -- always hit one more club from the 15th hole on. He also said you've got to eat a banana at 14 or 15 or you'll get dizzy over every putt, and I can tell you that's true. I'm not a banana eater, but I do get dizzy over tough putts.
The worst thing about age is you can't cheat it. You can't erase that number. The best thing is, one of these days I'm gonna shoot my age. It's good to be old!
Ever take a golf vacation?
Yeah, a good one. About 10 years ago I went to Scotland with Michael Douglas and my friend Tommy Baratta. That was some trip. We played a bunch of Open courses: Carnoustie and Troon and St. Andrews. I'm a low-ball hitter who likes to run it up onto the green, so links golf is right up my alley. You can drive it a little wild over there, as long as you keep out of the gorse. The rough wasn't bad. It was dry, not too heavy, and in the spots it was heavy, I might give it a little kick. We went over to Prestwick, too. There's a course that's not a bit flat. At Prestwick you'd better watch your ball till it stops, or it'll roll into places you didn't know existed.
I got to Turnberry, too. Bought my golf bag there, a leopard-skin bag I still use. It's so ugly nobody'd steal it. A lot of bags look the same, but you can spot my leopard bag anywhere.
Around that time you went to Augusta and saw Tiger Woods win his first major.
Nineteen ninety-seven. I try to see the big-time sporting events, and I had a feeling he was going to win that Masters. My friend Jim Gray [sportscaster] got us a golf cart, and Jim and I followed Tiger all the way around. On the front nine Saturday he blocks a drive, and the only shot he's got is to go around a tree. I'll never forget it. I'm up by the green, watching the ball curve to the flag. He must have drawn that ball 25 or 30 yards. Jim asked what I thought of that shot, and I said, "I think the guy just retired this tournament. He might win 'em all from here on out."
He's won four of them so far.
And how many more will he win? He could have won this year. Easily. He sure ain't done.
Did you watch him at the PGA in August?
I TiVo'd it. You can watch it so much faster that way. Helluva PGA, wasn't it?
The announcers kept talking about how it was his only major of the year, and I'm saying, Sure, but he coulda won three. He must have left 40 putts on the lip in the Masters and U.S. Open.
Nicholson hasn't attended a PGA Tour event since the '97 Masters, but he follows the pro game quite closely. During the Nissan Open at Riviera a few years back, tour pro Brandel Chamblee went to dinner with Nicholson buddy Rudy Durand. They wound up parking Durand's Rolls-Royce, running into traffic and hitting wedge shots off Santa Monica Boulevard.
But first, Durand called Jack. "He puts Jack on speaker," Chamblee recalls, "and says, 'Guess who I've got here with me? Brandel Chamblee!' Of course I was mortified. There's no way Jack Nicholson had ever heard of me. I thought he'd say, 'Chablis Who?' "
Nicholson's voice crackled out of the speaker: "Oh, yeah? Ask him how he missed the cut at the Hope."
Have you played golf with Tiger?
Nah. Who needs the humiliation? I've said hello to Tiger at Laker games. That was before he was married, so we talked about women. I love ol' Tiger. I know Veej, too, but I don't want to play with those guys. They're too much for me.
How about other actors? You're friends with "Happy Gilmore" himself.
Adam? Adam Sandler is long off the tee -- longer and younger than me. Greg Kinnear can play; he's very long. He loves playing with me because he finds me amusing. Billy Crystal knocks it past me, too. But these days I don't worry about the driver because I'm layin' up anyway. I'll dub a drive, hit an iron up short of the green and still make my par. No need to be greedy if you're a lay-up artist like me.
I love playing with Pesh. That's a day's entertainment. You can sprain your neck just watching Pesh's practice swing. He and Randy Quaid helped me when I was starting out. Randy Quaid -- there's a real golfer. I'd watch him hit a 5-iron out of a fairway bunker onto the green and think, That's inconceivable!
Randy's brother Dennis was No. 1 on Golf Digest's ranking of the top 100 golfers in Hollywood two years ago. Ever play with Dennis? I think I'm still playing with him. He takes a long time over the ball!
What's your favorite golf movie?
I laughed at "Caddyshack." Also liked Glenn Ford as Hogan in "Follow the Sun." But the best golf picture was "Pat and Mike." How can you beat Tracy and Hepburn?
After your layoff while shooting "The Bucket List," how hard was it to get your swing back?
It's not back yet. I'm still basically self-taught, and I know I'm doing four or five or six things wrong at any one time, trying to fix them. Lately I'm screwing around with my grip.
Last spring, after decades of using the same old off-the-rack clubs, Jack got custom-fit for some new toys. He admired a friend's Cleveland HiBores, so they drove to the Cleveland Golf plant in Huntington Beach, Calif., where CEO Greg Hopkins greeted Nicholson while employees' heads popped over cubicles like "Caddy-shack" gophers. "He walked around and chatted, shook a lot of hands -- we were all dazzled," says Hopkins.
Since then, Jack has played HiBore irons and woods, including a 10.5-degree driver and CG12 wedges -- all with regular-flex shafts. He uses a Never Compromise Exchange 7 putter and prefers Titleist balls. His are personalized with a distinctive stamp: JOKER.
What keeps you working at it?
Working at golf? You keep at it because you love it, because the game puts your head in a different place. It's totally engrossing. I mean, obviously I've had romantic setbacks. But women, career, all the things that consume you -- it all goes away on the golf course. You can't think about your girlfriend. You can't think about anything else but the next shot. It's the greatest therapy there is.
I tell people who don't play, "You don't understand golf. I can play this game as well as Tiger ... for a very short time. There's one shot a hole between me and the best golfers in the world -- and 25 million other players between me and the best golfers in the world."
You belong to a couple of clubs now, but you don't really seem like the country-club type.
When I took up golf, I joined every club that would have me. Sherwood, then Bel-Air and then Lakeside, which is the toughest par in L.A. from the back tees. I assured them when I joined that I wasn't involved in any social unrest, but frankly I was joining a golf course, not a social club. "So if you expect me to attend the fish soiree, don't have me in."
I was a guest at one club, where I was stopped on my way to the dining room because I didn't have a jacket on. "I didn't happen to bring a jacket," I said. "I'm here to play golf." They went in the back and uncrated what must have been last year's jackets, and gave me one so heavy with the smell of mothballs that I was vomiting before I got to the first tee.
Do you play in club tournaments?
Occasionally. I'm deadly in scrambles. With somebody else driving the ball, I go straight from a 15 to a 4. There's an annual scramble at Sherwood, with a bunch of NHL players who can really hit a golf ball. Last hole, all tied, I've got a long putt for my foursome. I've watched my three guys miss this 40-footer, and I saw the line. Rolled mine up there and bam -- canned it for the tourney. Before it was over, I got to watch these four NHL stars sitting 15 feet from the hole with a chance to tie us. That was the best part, watching the hockey guys get a little rattled and miss that 15-footer four times in a row.
Tell us your Tarzan story from the 12th at Riviera.
Yeah, yeah. My buddies will never let me forget that. It's the only time I couldn't take the ribbing. I call it the Tarzan hole because on No. 12 I hooked one down the left, over by the fence.
I was so furious with the 20-yard 5-iron I hit out of there that I reached up and grabbed these vines hanging from the tree and yanked them as hard as I could. They pulled back! Lifted me straight up in the air so I was flying around for a few seconds before I came down. Now I can't play that 12th at Riviera without somebody saying, "The Tarzan hole!"
Are you part of a regular foursome?
I play with friends: Rudy Durand, Ed White, Doc Steiner, guys who belong to the same clubs. Jim Gray sometimes. Billy Crystal. We have a good time, which is why I play -- not to get overly competitive, just to enjoy. And not too early. It took me years to convince my buddies to tee off at 3 o'clock instead of 1 o'clock. Everybody plays at 1, and it gets slow -- tee off at 3, and you get done at the same time.
Here's another rule: Nobody in my group gets to carry a cell phone. Doc's exempt because he's a surgeon; he's on call. But other than that, lose the phone.
I don't even own a cell phone. "The course is no place to do business," I tell them. "We're here to play golf."
"We were on the ninth hole at Sherwood Country Club. Dennis Hopper hits his ball in a creek and goes to look for it," says Rudy Durand, who played with Nicholson, Hopper and Michael Jordan that day. "He's stomping around in there and chases out a bunch of quail. Now Hopper comes running out, yelling 'Oh my God!' with this load of quail flying around his head--just as Jack is swinging! Jack's ball goes off a quail, off a tree, bounces on a rock and finally rolls into the creek.
"He watches it go in there, and finally says, 'Even I gotta take a stroke on that one.' "
Have you played with guys who got overly competitive?
NBA guys are tough. I've played a few times with Michael Jordan, and MJ is very, very competitive. I'd like to tee it up with Larry Bird, but he won't. Talk about competitive! Bird won't play with what he calls us "fat-bellies." I got to play with Charles Barkley when he was just starting, and Charles is the most fun guy you'll play with -- just all-time entertaining. He had something like 11 stops in his swing.
You want to know what foursome would suit me to a T? Charles, Bird, MJ and me. Those guys can all talk. You'd have to tape it, with a little parental advisory.
We'll try to set that up. Who's your pick to win?
MJ is a player, but Bird's good, too. It sure wouldn't be me or Charles.
Do either of your kids play?
I got my son started. Ray's 15, a high-school football player. On the ninth at Lakeside [224 yards] he knocked it on the green the second time he played the hole, which I haven't done for years. He's got a good turn, hits the ball a long way. My daughter Lorraine is a couple years older and a good athlete, but she tried golf and wasn't immediately better than her little brother, so she dropped it.
Tell us about a favorite day on the links.
St. Andrews would be hard to beat. The Old Course. Half the time I had no idea where to aim. Lucky we had caddies, or I might still be out there. But I shot 76 that day. And it was a real 76 -- the caddies kept score! Knocked my drive over the O in the HOTEL sign at the Road Hole. Parred it. Went over the green at 18, got it up and down. There were long shadows by then. The sun stays up late over there, so we'd started at 4 in the afternoon, which is just right for me.
Few hours after we finished, it's going on midnight. Relax, have a little dinner, and the NBA Finals come on TV at 3:30 in the morning. And that, my friend, is a legitimate great day.