News
In His Own Words: Competition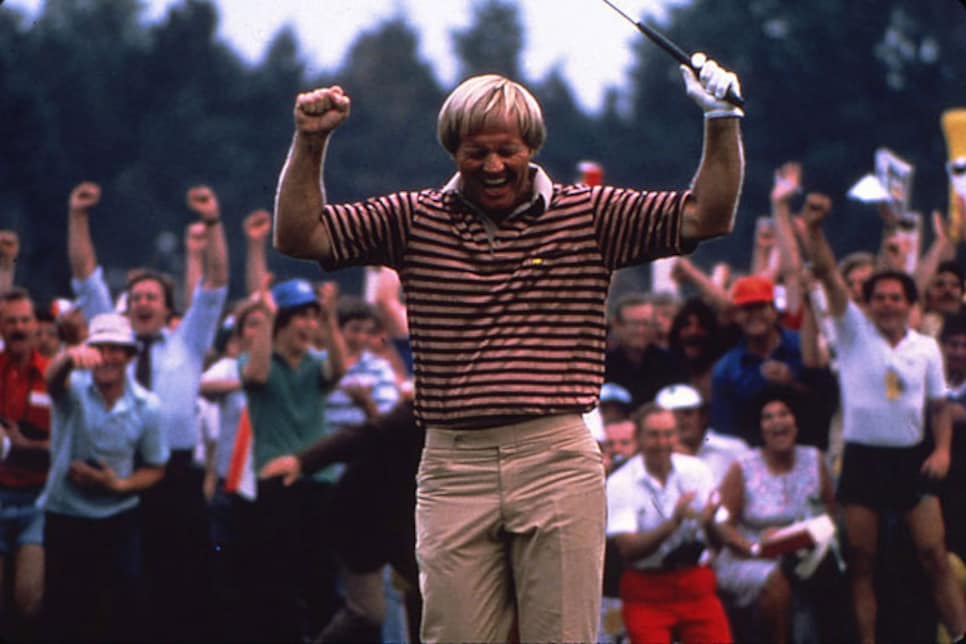 Naturally it is nice to be widely known for worthwhile achievements, but it forces you to do many things which you don't like to do and these things take up time you want for other things. Public appearances are a headache. I hold mine down to a minimum. I just don't like speechmaking and that sort of thing. It's all so new to me now. I suppose that's why I rebel against it. I hope, if I continue to play well, I will learn to like it.
I have noticed that I usually play better near the end of a tournament. Everything seems to fall in place after I play a few rounds.
As an amateur, I played nothing but good courses, with good greens and dependable grasses. But as a pro, you have to play all kinds of courses -- many of them awful. I had to find different clubs, learn a lot of new shots. I had to change my putter. I've always used one with a very light blade; it was fine for the fast greens I played on as an amateur. But as a pro, I had to be ready for any kind of green. At San Diego, I had to learn how to play frozen greens. At the Bing Crosby national, I had to play with the rain coming at me sideways. Amateurs wouldn't have considered playing under such conditions.
If you mean am I going to give up golf, no, or cry, no. I may go home and cry, but no one will see me. Honestly, I don't know how I feel. I feel very little, really.
[Greensboro Daily News, 1963, after missing the cut as defending champ in the 1963 U.S. Open]
The difference in golf today and 15 years ago, is that we don't care so much how we look as how we score.
[New York Times Magazine, 1963]
On Saturday I played Pebble Beach (during the Crosby)... it was just about the worst round I have played since turning pro. If I hadn't putted well the 77 I finally got might have been an 85. It made me sick... Understandably, I missed the cut. After I finished the round I went back to the room and watched (Bobby) Nichols and Jacky Cupit give Phil Rogers and myself a 4-and-3 licking on the filmed CBS Golf Classic. That is the miracle of television. You can see yourself play lousy golf in California and New Jersey the same day.
[Sports Illustrated, 1964]
There is also a mental problem that is quite common among touring pros and easy to understand. When you get a bunch under par you still want to play your same bold game. That is what you tell yourself. But you also tell yourself that what the hell, all you need is to par in for a 66, which is a great round, so you do not take too many chances. You decide to stay on the safe side of boldness. As you might suspect, it is hard to be bold and not bold at the same time.
[Sports Illustrated, 1964]
I've seen a lot of guys with superb physical equipment leave the tour. Many of the names wouldn't mean much to you today. Some of the players just became demoralized, I guess, because they never won a tournament or never finished very high. After a while, if you don't win anything, you don't think you ever will -- or what's worse, that you can.
[Chicago Tribune Sunday Magazine, 1966]
When I first came out here (on tour), I was excited and golf was fun. I worked as hard as anybody and enjoyed it. But I guess I had too much success early. I got bored. I had three sloppy years when I didn't want to practice. I won money, sure. But I didn't win a major championship. I certainly wasn't having any fun. Then, when Dad died, it made me think. He lived just to watch me play golf. It was the only thing he got any fun out of. I felt like I'd let him down. So I went back to work and golf became fun again.
[The Sporting News, 1972]
I read the papers just like everyone else. [Johnny Miller] has shot some fantastic scores. But I think it's good for me and good for the game to have someone playing well. It's probably good for you to have someone beating your brains out once in a while.
[Golf World, 1975 Masters game story]
I'm a better player than I've ever been before, a much better player than I was in 1972.
[Golf World, 1975 U.S. Open preview]
One of the reasons I like Pebble so much is that when I've played it well I've usually been rewarded with a good score. And when I've shot a good round, there weren't 20 other guys coming in with low scores, too.
[Frank Deford: It is a verity in the game that the putting touch is the first casualty of middle age.]
There is no logical reason for that. But putting is the least manly thing in golf, and therefore, when a player gets older and he does not win as much, he blames it on his putting. He does not want to admit that his power may be leaving him.
[Sports Illustrated, 1978]
What is too old? I've been around and playing this game on a national basis since I was 13. If you believe that everyone can play and compete for only so long, then I'm very old. But 39 in golf is not old. [Ben] Hogan -- good gracious, he didn't play well until he was 40. Lee Trevino got a late start. No, I'm not too old. I kid around a lot and say, 'I'm getting too old for this game.' I don't really believe that. If I did, I wouldn't say it.
[Sports Illustrated, 1979]
I did everything well [in 1981] except win. Therefore, I have to say it was disappointing.
In 1961 and 1962, I was very pleased with the way I hit the ball. I hit it long and straight during those two years. In the middle 60s, I wasn't quite as good with the driver, but I was very sound with the irons. Then, toward the late 60s, my iron play went off. I played on power for several years. In the 1970s, I had some new problems. When I lost 20 pounds in 1969, I lost 20 yards. Being lighter was only incidental -- I lost distance because my swing was starting to deteriorate. It got too upright. During the 70s, I wasn't a good striker of the ball at all. Oh, I won a lot of tournaments. In both 1972 and 1975, I won two major championships -- my game happened to be at its best in those important weeks.
I'd just love to go ahead and tell TV we're going to have a 6 p.m. finish and if they want to televise it [instead of playing the Memorial earlier to accommodate the Lakers-Suns seventh game in the NBA playoffs], go ahead, if not, so what? The amount of money we get from television is not a big factor with us. The national exposure, sure, is very nice. But I don't give a rats about basketball this week. I don't care about the money. It's the people working here on this tournament who get short-changed.
[Columbus Citizen-Journal, 1984]
It is hard to swallow when you play well one day and the next it feels as if you've never held a club before.
If all I did was play golf, I may have won more tournaments in the early years, but then I probably would have retired 10 years ago from boredom.
I don't know which [regular or senior] tour I'm supposed to be on either. I find myself sitting in the locker room thinking that the kid walking toward me is going to pick up my shoes and clean them. But then that kid opens his locker, takes out his golf bag and goes out to play. That kid is a tour player.
[Golf Digest-Senior Tour Journal, 1989]
I think that any player who has been dominant in his time would be dominant today. I don't care what sport you are playing; what game you are playing, an athlete who has been dominant will probably be dominant at any time. May not be as dominant because of the number of players, but there are very good -- if you brought Byron Nelsons, Ben Hogans, if you brought Bobby Jones, Walter Hagen, I think all these players would have been dominant players. They may not have been -- there may have been four, five dominant players rather than one or two dominant players, but they certainly would have been there. I certainly feel that Arnie and I would probably fall in the same category.
[ASAPSports, which prepares tournament interview transcripts, 1994 U.S Open]
Following my good showing at Cherry Hills in the 1960 [U.S.] Open, then at Merion in the World Amateur Team Championship -- both of which greatly increased this line of questioning -- some writers saw fit to appoint me "The next Bobby Jones." When I finally did begin seriously considering professionalism in the second half of 1961, those effusions provided me with a light response that often nicely persuaded all but the most persistent inquisitors to change the subject. "How, if I turned pro," I would ask in return -- hopefully with a twinkle in my eye -- "could I become the next Bobby Jones?"
[My Story, which went on sale in April 1997]
I feel for a lot of the young guys on the tour today in this regard. Seemingly in retaliation for them not becoming instant superstars, a part of the media has taken to branding them as a bunch of zombies. No color, no charisma, no personality, is the accusation. Well, baloney. Those writers would find some pretty interesting young men out there if they made the effort to get to know them -- to get past the cocoons most of them have to wrap themselves in during their developing years to play their best golf. If we put the shoe on the other foot for a moment and had the players evaluate writers only as they went about earning their livings -- as they pounded away en masse on those little word-processors every evening in the tour's media centers -- the impression would surely be that they were a pretty dull-seeming group. Join them in a social atmosphere later, though, and some great characters would emerge. The same is true of the tour players.
Although they are night and day different in most aspects of their personalities, I believe Johnny Miller has a lot in common with Tom Weiskopf in this one regard [placing their families ahead of golf]. After his three years at golf's pinnacle, John's priorities swung around more toward his family (he has six children), his faith (he's a devout Mormon), and the pleasures and contentments of a free and easy western lifestyle in and around his home. In other words, golf to him became a means to an end rather than the center of his existence. Having first developed the self-knowledge to recognize that fact, he then had the guts to live happily with it. In light of this, plus his success at golf television commentary, it will be interesting to see what he does on the Senior Tour. Both of these men have frequently been criticized for not being "more dedicated to golf" or "true to their talent." In my opinion, what they really deserve is applause for being true to themselves.
Even more unfortunate to my mind than the impact of equipment advances on our finest courses is their contribution to the homogenizing of the players. Simply put, the more forgiving the tools, the tougher it becomes for the best to rise above the rest. Much as Seve Ballesteros and Nick Faldo, for example, stood out from the crowd in their peak years, I believe their talent and dedication would have separated them even more had all the players still competed with the equipment of my early professional years.
The fact is that, to be able to hold onto their cards and earn a decent living, the golfers in the middle of the pack today have had to become as good as the players at the top were when I started out 30 and more years ago, while those at the top have become the equals of the superstars of my generation. To further illustrate how much the standards of play have improved during my time in the game, let me offer a couple of personal statistics. Beyond major-championship victories, the best measurement to me of any golfer's long-term capabilities is his scoring average: all of his tournament rounds added together, then divided by the total number played. If I relate my scoring averages to high tournament placings, I think the picture will become pretty clear. During my first 11 years on tour, I won 44 tournaments, finished second 33 times, and placed third on 24 occasions. Excluding an exceptionally bad year in 1979, during my next 11 years I achieved 26 victories, 22 seconds and nine thirds, or barely half the previous total of top-three placings. And yet, compare my scoring averages for those two periods. From 1962 through 1972, I averaged 70.40 in U.S. tournaments, and from 1973 through 1984, again excluding 1979, 70.49.
I'm often asked since Tiger hit the headlines how such a slightly built person can generate so much power. Beyond fine physical conditioning and superb swing fundamentals, the key lies in the speed with which Tiger releases the immense torque he creates in the backswing by winding his upper body so forcefully against the resistance of his lower half. A friend of a friend of mine who owns professional videotape-editing equipment that measures motion in thousandths of seconds compared the speed of Tiger's hips unwinding from the completion of the backswing to impact with a dozen or so other top tour players. Tiger was 20 percent faster than anyone else, and as much as 50 percent quicker than some players.
[John Daly] doesn't care what his golf clubs are. That kid picks up anything and goes hits it. Hits it great. He is a tremendous talent. He never worried about that. Watch what he does. You ask him, what is it. He says, I don't know, they just gave it to me; I like it. Maybe he is far better off that way. Everybody else knows to the half of degree of everything, I mean, you know, he doesn't know any of that stuff. He doesn't care. Just goes and hits it. Pretty good way to be, actually.
[Transcript, 1996 Memorial]
If [Woods] wins every time it's going to get awfully boring. He'll get beat just like everybody gets beat. But he'll win a great number of them. And they'll come and go and someone will come along and take the throne from Tiger some day, that's the way it works.
[Transcript, 1997 Memorial]
The guys that came before us looked at us and say: "Look how tough we had it and look what you guys have got." And of course the guys my age look at what the guys have got today and it's probably going to be 20 years from now the guys from today are going to say, "Shoot, look what the guys have got." But I think most sports are that way, and I have no problem with that. I've played my game. I've played my golf and made my contribution to the sport and enjoyed what I've done. I would not trade it for anything these guys are playing for today. The game has been very, very good to me and I certainly have no regrets. And I'm not sorry I didn't quit early.
[Transcript, 2000 U.S. Open]
I think -- 6,900 yards even by the senior tour standards is not a particularly long golf course anymore unless it's totally wet.
__[Transcript, 2003 Senior PGA] __
Once you can't play, and once you feel like physically you just can't do it, and then you get away from it and all of a sudden you try to play a little bit, and you say, "Wow, this is an ordeal." I went out there in a pair of shoes I think I've played 25 rounds of golf in, I've got Band-Aids on every toe from Saturday. It was ridiculous. I said, "What is this?" I've worn these pair of shoes a bunch of times, I had blisters all over the place.
[Transcript, 2006 Memorial]
The pro game used to be 80 percent shotmaking and about 20 percent power. There were certain courses where power was a bigger factor, when the rough was down or the fairways were wide, and I absolutely tried to take advantage of it, because I had that element. I remember one round in New Orleans I drove the ball on the green of three par 4s. I used power when it was prudent, and I could switch gears in the middle of a round. But from what I see, the pro game has switched to where it's about 80 percent power and 20 percent shotmaking. Today, a Gary Player, a Ben Hogan, as talented as they were but with smaller statures, would have much less of a chance of being the best in the world.