News
It took nine extra holes over two days, but Kevin Sutherland wins the Charles Schwab Cup Championship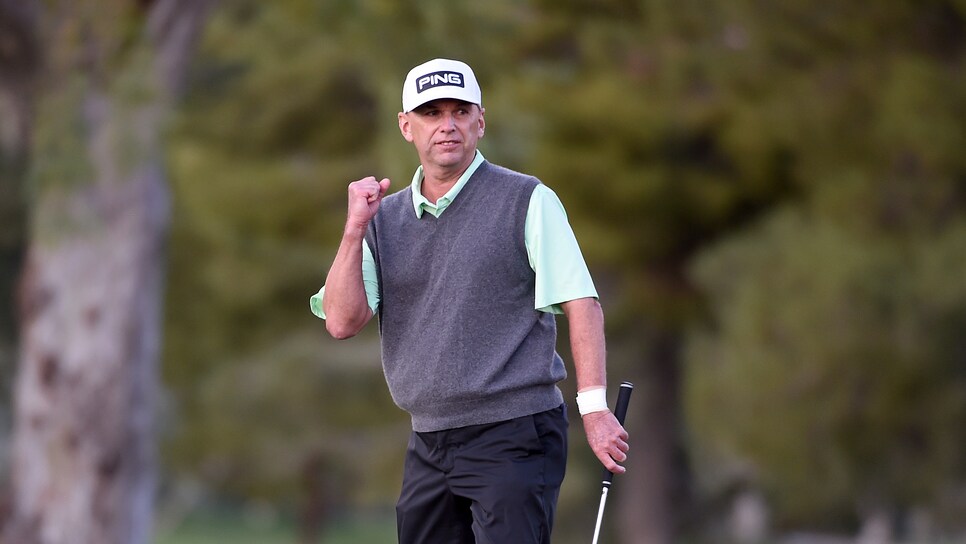 The finish line for the tournament and the year kept moving, from one hole to the next, from one day to the next, before Kevin Sutherland's 7-iron said enough is enough on Monday morning.
Sutherland won the last PGA Tour Champions tournament of the year, the Charles Schwab Cup Championship, by making a three-foot birdie putt on the ninth playoff hole, the par-4 17th at Phoenix (Ariz.) Country Club, to defeat Paul Broadhurst
"It was 163 [yards] if I remember right," Sutherland said. "One thing that helped is we realized how long that second shot was playing. I hit a good 9-iron [the first time playing the hole on Monday] and it still wasn't enough. It was just a full 7-iron. Felt like a good number, made a good swing. I was aiming a little left of the pin so it kind of cut in there nice for me. Underneath the hole, which was even better."
It came on the morning after the playoff was suspended because of darkness following six extra holes on Sunday. Sutherland and Broadhurst returned early Monday morning. Each parred the 17th hole and birdied the 18th, the seventh and eighth holes of the playoff.
Back to 17 they went, and Sutherland hit a 7-iron second shot stiff, while Broadhurst came up short of the green with his 8-iron. Broadhurst made his par, moments before Sutherland holed his birdie effort to win the tournament for the second time in four years.
"It's obviously a lot colder, so the holes are playing a little bit different," Broadhurst said. It was a good 8-iron. I thought I hit a good shot, but it just hung up in the cold breeze and came up a yard short. Another yard it might have been 10 feet.
"It was a good playoff. There's nothing I can do about that. I'm proud of the way I played all week and, you know, Kevin won and that's fair enough. He hit the shot when it mattered and it was a great shot he played into the 17th."
It was the fourth senior victory for Sutherland, who took a five-stroke lead into the final round on Sunday. But an eight-under par 63 by Broadhurst gave him a one-stroke lead, with Sutherland playing the 18th hole.
Sutherland then holed a 30-foot birdie putt on 18 to send it to an overtime that was threatening to equal or surpass the PGA Tour Champions record for longest playoff, 10 holes.
The season thus concluded, the tour having played 15 tournaments, an abbreviated schedule, because of the pandemic. There was no Charles Schwab Cup champion crowned as a result of the tour deciding to roll over the 2020 season into 2021.
As it stands, in maybe the least surprising news, Bernhard Langer, 63, concludes the year leading the Schwab Cup, which he has won five times.