News
Is Dustin Johnson a smart bet in the U.S. Open? Who knows, but smart money won't bet against him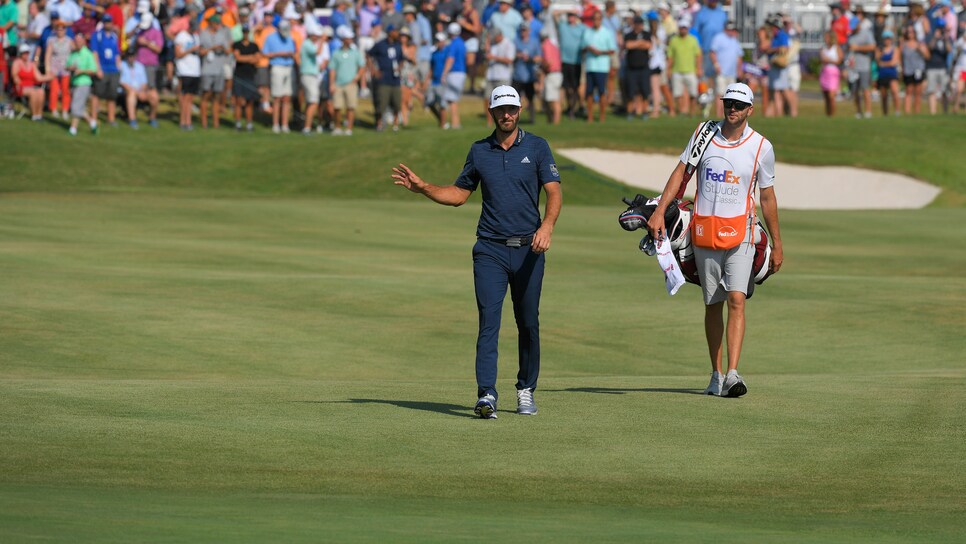 We're not in the prognostication racket, preferring instead the wisdom dispensed by the notable sage Casey Stengel, who cautioned against making predictions, especially about the future. In golf, betting on anyone has always been a crapshoot, more so once Tiger stopped winning major championships, or anything else. But what we do know heading into the U.S. Open on Thursday is this: We know who not to bet against.
In a final walkthrough before heading off to Shinnecock Hills and the Open, Dustin Johnson sauntered to a six-stroke victory in the FedEx St. Jude Classic on Sunday, reclaiming from Justin Thomas the No. 1 spot on the Official World Golf Ranking.
As though to emphasize the fact, he holed a 9-iron for eagle at 18 at the TPC Southwind in Memphis, Tenn., capping a four-under-par 66.
"Cool way to end the day," he said, this representing ebullience for one who typically is inscrutable. He even smiled briefly, though not broadly, en route to the 18th green, yet another departure from the norm. He might even have registered a pulse.
Johnson will be traveling light to Long Island, unburdened by anything remotely negative that might impair his ability to win a second U.S. Open in three years. He wasn't necessarily issuing a warning to others in the Open field with how he was describing his game over the weekend, but it could be construed that way.
"I've got a lot of confidence in the golf game right now," he said on Saturday. "I feel like I'm swinging really well. I've got a lot of control of my golf ball, and that's what you're looking for going into any week. But yeah, especially going into [Sunday] and then obviously next week."
Though he did not do anything extraordinary on Sunday until his walk-off 9-iron shot at 18, he reiterated the state of his game.
"Winning this week, I think, is a bigger confidence booster than being number one in the world," he said. "For me, playing the way I did all week, playing the way I did today knowing everything that was on the line, gives me a lot of confidence going into next week. I think it was a big win, it was a big statement by myself and I'm proud of the way I played, the way I handled it."
Obviously, it's inadvisable to bet against the best player in the world, but there are other reasons not to bet against Johnson, notably his form chart and its historical context heading into the U.S. Open. Johnson finished third in the Memorial and fifth in the FedEx St. Jude Classic in the run-up to his Open victory in the 2016 at Oakmont.
Last week, he tied for eighth in the Memorial and followed with a victory in Memphis. Incidentally, he did not play in Memphis last year and missed the cut at Erin Hills. Coincidence?
"It was a very good decision for me to come here and play and keep my game really sharp," he said. "I knew I was playing well coming into it. I felt like I putted better this week, but I really hit the ball well. So that definitely gives me a lot of confidence going into a U.S. Open because you've got to drive it well, you've got to control your distance well, and you've got to hit really quality golf shots at a U.S. Open. I'm really looking forward to next week."
For those who are, in fact, looking for reasons to bet against him, here's all we've got: No one has ever won the U.S. Open a week after winning a PGA Tour event.
Johnson was made aware of this on Sunday and shrugged it off, predictably. For those looking for a sure bet, this is it: he won't overthink it.