The Loop
I'm just going to say it: I am a fan of the Jacksonville Jaguars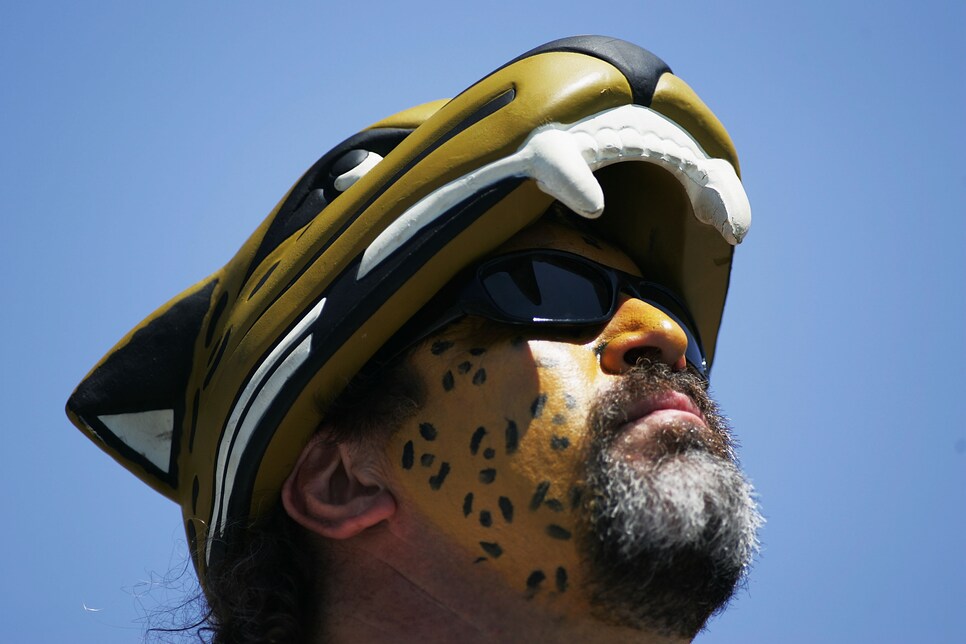 Like most Jacksonville Jaguars fans, I never actually attended any Jacksonville Jaguars games while I lived in Jacksonville.
I only visited (speedily clicks over to Google) EverBank Stadium years later when another, better team arrived for a road game. That team was the Chicago Bears — so let's all agree that I'm stretching the word "better" to within an inch of its life. But regardless of quality, it was the team I grew up with. I watched them with my father and grandfather, selected them every time I fired up Super Tecmo Bowl (largely because Neal Anderson was unstoppable when you ran him in lengthy zigzgas), owned their football cards for some reason and, needless to say, parted with a good portion of my allowance every time they produced a hit hip-hop record. (I also required the accompanying VHS documentary too, as if I need to tell you that.)
Having never delivered the requisite three million dollars for a Bears Personal Chair Sitting Approval Certificate or whatever, I hadn't seen the team in years, so I took the occasion of this infrequent visit to north Florida to sneak onto StubHub, pick up four remarkably affordable tickets for myself, a friend and our sons, and spend a fine afternoon in the upper deck, where I quickly divined the reason for the our seats' remarkably reasonable prices: They were absolutely, 100% directly within the suicidal rays of the Florida sun, and maybe 50 or 75 feet from it.
The game was a blowout: 41-3, the Jaguars failing to achieve anything against what we Bears fans warmly remember as "a functional defense." The lopsided score, coupled with Jacksonville's intermittent interest in ticket-buying, made it so we could spend the last three quarters sampling new and increasingly exciting sections: from the upper deck to the lower, from the 10 to the 40, to what I remember as basically sitting close enough to hear Jack Del Rio's headset, which I'm pretty sure was tuned to 96.9 The Eagle: Jacksonville's Classic Hits. (Three guesses what band dominated that station.)
Still, something about that day broke me, aside from the sun, from which I am still partially tan. It could have been the sporadic attendance, which brought to mind the Cubs games my family would attend in the early '80s, before the Sandberg/Sutcliffe playoff run of 1984, when a good guess-the-crowd game could reach all the way up into the 4,000s. It could have been the warm experience of hanging out with friends and sons at a ballgame, which we attended, incidentally, via a slick water taxi. It could have been the fact that the guys on the field — absurdly compensated though they were — were marching through motions to an exceedingly disinterested audience, part of some Charlie Brown Model of People Nobody Likes for Reasons That Are Entirely Not Their Fault. These guys make 40 teachers' salaries a week to throw a ball around, but that still can't feel good. And I remember one thought ringing through me, clear as day, thick as the Florida humidity: God dammit, I'm gonna be a Jags fan.
And I am! I am a Jags fan. I admit it. I say it. Just, y'know, maybe not in the way that involves watching games or following personnel or "knowing what their record is." But this weekend, in what history will actually refer to as a "Bills/Jaguars playoff game," I made a point to check the score (while refinishing the cabinets, but still), and they won! 10-3! The Bills couldn't score more than a field goal against the Jaguars, which makes sense! Good on you, Jacksonville.
I found myself in Jacksonville slightly by accident in about 2005, and though I can't claim any emotional resonance to the city, the following things happened during our year-long stay: We made several lifelong friends, took a toddler to the ocean with enviable regularity, attended approximately 350 Kenny Chesney concerts and I witnessed Lynyrd Skynyrd's induction into the Rock and Roll Hall of Fame, which, I assure you, is a very big civic deal. (The sight of Artimus Pyle's enormous gold RV chilling next to the Waldorf-Astoria and emblazoned with a surfeit of enormous eagle decals remains one of my fondest memories.) At the time, the city was just beginning to feel the fade of the Super Bowl afterglow, an event which, by all accounts, brought the town to life until the clubs fell away and bars closed and (scrolls up) EverBank Stadium was left on its own, out by a minor-league ballpark and an underutilized arena. It's a fine city, filled with good people and plenty of pluck. Tons of pluck. Not much to do, but it's covered in pluck. Pluck and Artimus Pyle RVs. And they deserve a playoff win or three.
And with the Jags' 10-3 win over the Bills, which I am compelled to remind you came in a playoff game, Jacksonville advances for the first time since 1865. And I can say, with no small amount of pride, that this fan, this guy right here, will be proudly and sporadically checking his phone, while getting these damn cabinets under control.