News
1,000+ Reasons To Like Ike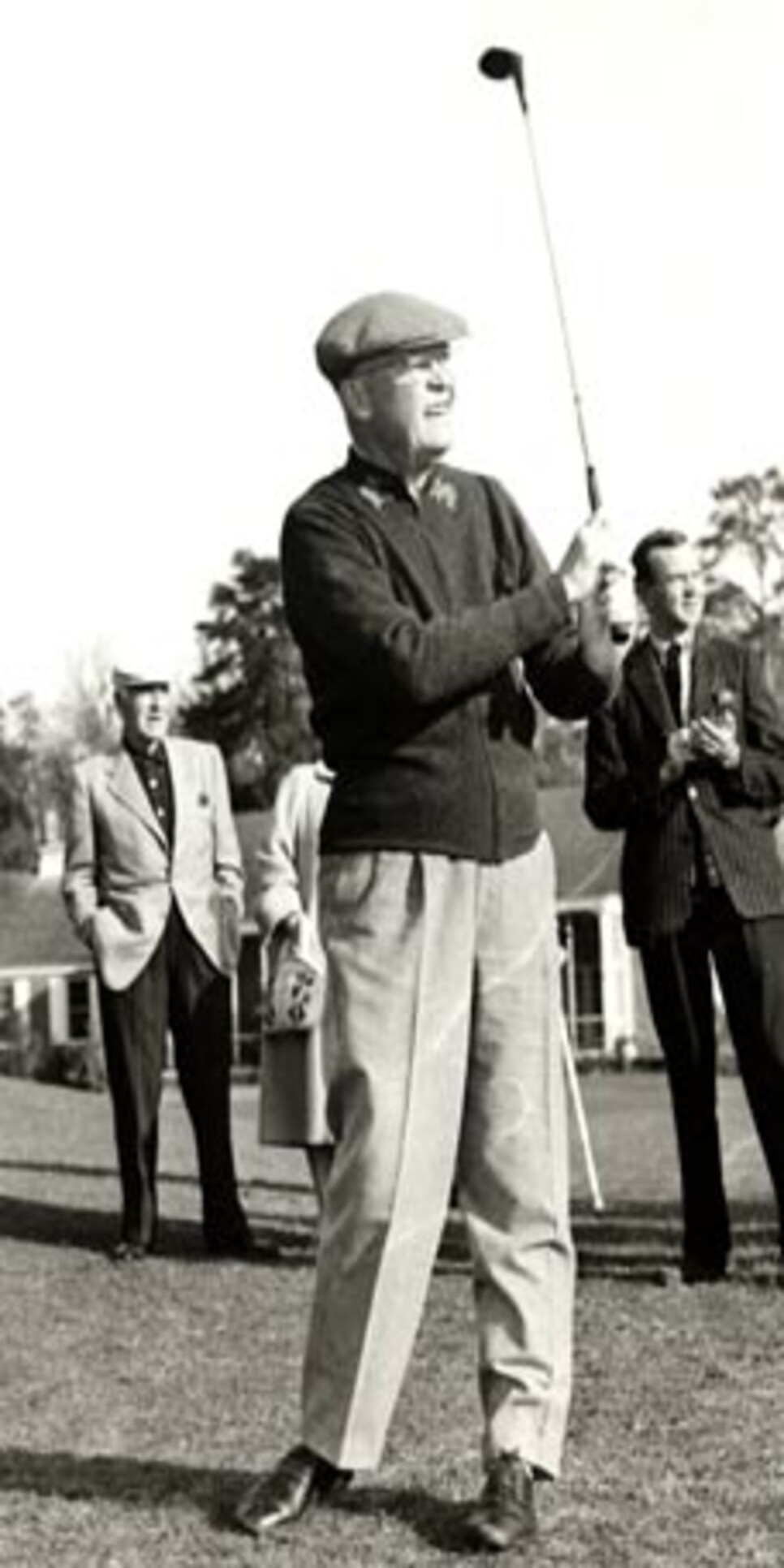 Dwight David Eisenhower got in his share of golf, and then some. A study of the 34th president's daily itinerary during his eight years in office from 1953-'61 turns up a staggering 1,000-plus days of golf, including almost 800 rounds everywhere from Augusta National to Cypress Point to Turnberry and beyond.
Not that playing 100 rounds a year was a bad thing. But no president before or since played so avidly, and we're now in an age where there's intense pressure on politicians to avoid being perceived as slackers. (See our latest rankings of D.C. politicians/golfers)
"I like Ike" buttons were a part of Americana, and Eisenhower's passion for golf didn't keep him from being a wildly popular chief executive. Though he didn't start playing the game seriously until he was in his 40s and was constrained by a football knee injury that contributed to a galling fade, Ike never stopped trying. After one particularly frustrating round, Eisenhower declared, "If I don't improve, I'm going to pass a law that no one can ask me my golf score." When Golf Digest made buttons with the words, "Don't Ask What I Shot," Ike got the joke and mugged with one for the cameras.
Though Eisenhower was afflicted with a balky putter on occasion, a 1964 Golf Digest story credited him with rounds of 77 at Cherry Hills and 79s at Augusta National, Burning Tree and Gettysburg. In more than 200 rounds at Augusta, where he became a member and was an 18-handicapper, plenty of people got a chance to be part of his party.
"He never acted like a president," former Augusta National chairman Hord Hardin told Golf Digest's Peter Andrews in 1993 (see "Ike and the Gang). "There was no ceremony. At the first tee, we'd throw up four balls, and the two closest were partners, the way we did with everyone else." Arnold Palmer, who met Eisenhower after winning the 1958 Masters, remembered Ike as "a regular guy on the golf course and a regular guy, period."
On Eisenhower's frequent afternoon golf forays to Burning Tree -- when he wasn't practicing on the South Lawn of the White House -- playing guests included generals, representatives, senators, businessmen, visiting dignitaries and, occasionally, Vice President Richard Nixon. (Ike's daily itineraries -- see the links on right -- also include tantalizing references like "hosted off-the-record stag party," but with no details.)
Days at Augusta might include appointments spaced around 36 holes, bridge and other diversions. Eisenhower began painting during World War II at the suggestion of British Prime Minister Winston Churchill, which eventually prompted Ike's surprise visit to Palmer's home in Latrobe, Pa., for Arnold's 37th birthday.
"The president presented me with the painting of a field and barn on his farm in Gettysburg," Palmer says.
"I consider it one of my most prized possessions."
Accounts say that Ike prohibited talk about business on the golf course unless it was an emergency, and he had his reasons. Author Don Van Natta Jr.'s book First Off the Tee describes a meeting after Nixon was elected president in 1968 and Eisenhower was convalescing after another heart attack: As Nixon began to select his Cabinet, one nominee, labor secretary-designate George P. Shultz, met with Eisenhower at Walter Reed Hospital in Washington, D.C.
"I was astonished about how much he knew about the Department of Labor," Shultz said. "He was a very sociable guy and fun, and we talked about a lot of things, including golf.
"The doctor came in to tell me it was time to go. And then this genial man, Ike, got adamant. He wagged his finger in my face, and he said, 'Young man, let me tell you something. You are going to work 14 hours a day, seven days a week for the government, and you are going to think you are doing your job. Here is what I want you to know. If that's what you do, there is no way you'll be able to do your job.' "
For Ike -- and us -- the escape, and a sense of perspective, has come through golf.
*Dwight David Eisenhower died on March 28, 1969.