View from the mountain top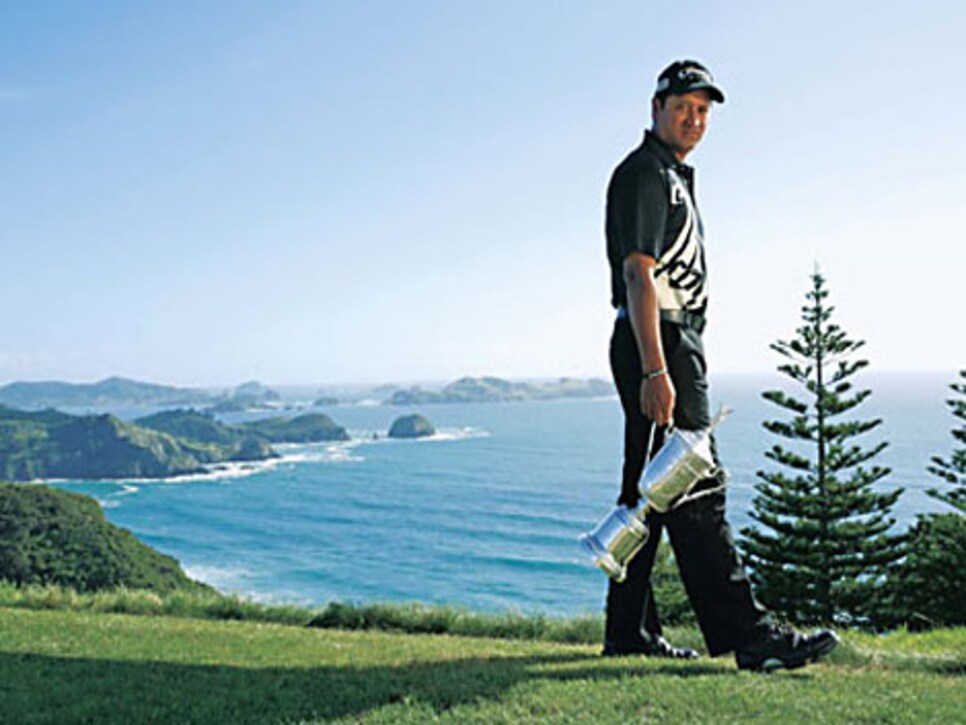 The U.S. Open champion back home in New Zealand at Kauri Cliffs Golf Club overlooking Matauri Bay.
No one like Michael Campbell had ever won the U.S. Open. One of New Zealand's indigenous Maoris and also the great-great-great grandson of Logan Campbell, a Scottish immigrant who became mayor of Auckland, Campbell stood up in class at age 13 and said he wanted to be a professional golfer. "Everybody started laughing. In those days, golf just wasn't played by people with my background," he says. "It was a rich man's sport. And I wasn't rich."
__It has never been easy for Campbell, who left school at 16, spending five years as a telephone repairman in and around his home town of Wellington, on New Zealand's North Island. "I know what it's like to work for a living," he says. __
__This is a guy who cold-topped his first tee shot as a professional in 1993 but two years later led the British Open at St. Andrews after three rounds. By his own admission, he wasn't prepared at the time to take the claret jug won by John Daly, and in the years that followed, Campbell endured a massive slump. "I was struggling like a pig under a gate," he says. __
Campbell, 37, spent hours during the past six months sharing his story with Golf Digest. We saw him in New Zealand, California and Florida, learning why he's tough enough to win a U.S. Open but sensitive enough to tear up about the highs and lows of his career.
Golf Digest: There are many ways to finish first in a golf tournament, but you truly won that Open last year, didn't you?
Michael Campbell: I did; nobody screwed up to let me win. I remember sitting on the 10th tee on Sunday--a shot ahead, or whatever it was--and saying to myself it was mine to lose. I had a choice: I could decide I wasn't good enough and throw it away, or I could say I was good enough and go do it. Every breath and every step I took from that moment on was as if I had won it already. I was telling myself, Michael Campbell, you are the U.S. Open champion. I said that about a million times.
Sounds easy, but 10 years earlier you led the British Open on Sunday and didn't finish it off. Not long after that, your game disintegrated.
Do you know why I struggled?
I'm a shy person, and I didn't like the attention. It's that simple. I was not ready to win a major event. I wasn't ready as a person or as a player. I wasn't good enough. Subconsciously, I played badly so that everyone would just go away. That's the honest truth. Then, of course, I hurt my wrist. My body couldn't take it, never mind my mind.
But how bad did your game get?
I had no chance of breaking par. I couldn't break 75. I was probably a good 3-handicap.
That would be around mid-'97. I lost my card and had nowhere to play. At the French Open that year, I can't remember what I shot, but I could have shot 86-86 the way I was hitting the ball.
I got back to the room after the second round and started throwing my bag and clubs right across the room; I remember being surprised at how far they went. It was pure adrenaline and frustration. Then I started crying for maybe 10 minutes. I was punching the pillows, just in despair. I was so disgraced by my performance.
I had done so well in '95, and now I could barely break 80. I got to the point that I used to pack only three shirts and three pairs of trousers--I knew I'd be home after the pro-am and the first two rounds.
Did you learn anything during that period?
People jump on the gravy train pretty quickly, and they jump off just as quickly. It's human nature, and just the way it is. People love you when you're doing well, but they discard you quickly when you start shooting 80s. I lost a few people I thought were friends.
Don't worry, I took note of all those people. When they come 'round again, I'll know who they are. And, most important, they know who they are, too.
When's the last time you've cried?
It was a month after I won at Pinehurst. I was back in England and went to the gym to work out. When I was done, I felt great. I was driving home, and all of a sudden I felt this overwhelming sense of sadness. I have no idea why. But I had to pull over to the side of the road for a few minutes, I was crying so much. And I felt great afterward. It was obviously some sort of release for me, a bit like switching from one energy source to another. It was a weird feeling.
How do you analyze those days when you were struggling so much?
I thought that to get better I needed to change. I look back now and wonder why I was trying to change my shape of shot or my ball flight. Why the hell would I do that?
Take today. I shot a great score, and people have been saying I'll have trouble doing it again tomorrow. Why is that? There is no reason I can't do it again.
It's like being a child at school and being told you can't spell or count or whatever. I remember a teacher at school who didn't like me. She told me I couldn't spell. That still affects me. I'm a good speller now, but that sticks in my mind and affects my confidence.
What was your wife like through all your problems as a player?
Oh, she was strong. She helped me get rid of my garbage. What do you do when you accumulate garbage in the house? You pack it up and get rid of it. That's what I did with the stuff in my head.
In '98, she was pregnant. That helped me in two ways: It made me more responsible and took my attention away from the game a bit. Before that, I thought golf was the only important thing in my life. Then you hold your child for the first time and you think, Golf? Who cares about golf?
Fast-forward to Pinehurst. When did you think you could win there?
When I holed the putt on 17 [in the final round], that put me three shots clear. But I have to admit, on the tee the name Jean Van de Velde did occur to me. I was lucky there was no water in front of me. The funny thing was, over that third shot, I was thinking, Don't shank it; don't thin it. I told myself not to be so stupid and just hit it. Anyway, I hit it to five feet.
Is it extra special because you beat Tiger to do it?
I remember hearing the roar when he made birdie on the 15th. I had to pull away from my shot to the 14th green, but I regrouped and hit one of the best shots of my life, to about 10 feet.
You and Tiger ran in to one another in the locker room afterward. What happened there?
After I won I spoke to my wife on the telephone. It was obviously an emotional call, so afterward I went to splash some water on my face. Tiger was at the next sink washing his hands, and I asked him how he did this so often. He'd won nine majors at that point to my one, and I had found it so hard. He just smiled and said it was all down to luck, really. I said, "Uh-huh; it takes a bit more than that." It was a nice moment.
You two have a little history. When you were paired in the first round of the Match Play at La Costa in 2000, the story is that words were exchanged on the first tee. Go through what that was all about.
That's a bit of a myth, really. Just before that I had won a couple of events and was playing really well. When the draw came out I was asked if I was looking forward to playing him. "Bring him on" was all I said. [Woods' response on the tee before beating Campbell, 5 and 4: "I hear you want a piece of me. . . . Now you've got me."]
So there's no lingering animosity?
None. Quite the opposite, really.
How about you and David Duval? Tell us what happened back at the Eisenhower Trophy in 1992.
[Laughs.] David and I are good mates now, and this is going back years. That was the pinnacle of amateur golf. The American team was Justin Leonard, David, Allen Doyle and Jay Sigel. Not a bad team. And we beat them; they basically fell apart the last day. Anyway, David and I played the last round together. I was a bit nervous and sculled my 3-iron into a bunker, then came out. The ball had a mark on it, and I told David I was going to change it. He told me he couldn't see any scuff on the ball. I was like, "What? It's right there in front of you."
After a bit of toing and froing, I had to put the ball back down. And I made the putt. He had hit a great shot to about six feet, and he missed. At which point a few more words were exchanged.
[Laughs.] I said something like, "Well, that's justice for you." And his reply is not for publication. David and I laugh about it now. For a couple of years we didn't talk, but it's all history. We've both moved on.
Vijay and you are pals? He gave you a bunker tip early in the week of the Open at Pinehurst.
I treat people how they treat me. He's always been great to me, so I'm the same with him. He's always been there with advice if I've needed it. Always. If you get onside with Vijay, he's great. But if you cross him, you're gone. There's no way back.
Take us through the immediate aftermath of your Open victory.
It was a bit of a blur. Bob Charles [New Zealand's only other major golf champion] somehow organized a bottle of Dom Pérignon in my locker. I was amazed until I heard that his son, David, was working there and had put it in there for me. I cracked it open with Frank Nobilo and his wife. I poured it all into the trophy, and we drank the lot.
The other moment I remember was when I left the course at 11 p.m. after doing all the interviews, I got into my car and was driving back to Pine Needles. I had the trophy strapped into the passenger seat beside me. I looped the seat belt through the handles. It would have made a great picture. Anyway, I was driving along, and I started laughing. Then I started screaming. Then I started crying. All at the same time. It was an amazing experience to have time out, just me and the trophy.
Tell me about the eye exercises you did during the final round.
When I was at ChampionsGate in Florida, where David Leadbetter is based, he recommended that I see Jay Kiss, who is an osteopath. Jay works with a fitness instructor, Paul Gagne, who tested my eyes. He put a reflector over one eye, and I closed the other one. He shines a beam of light through the reflector, and you look toward him. Then he asks where the light is. One eye was low and left, and the other eye was high and right. So my eyes were out of alignment, which is apparently quite common. When they're not in alignment, it's easy to misread putts.
He gave me exercises to do, all to get my eyes back in alignment. I started doing them every morning. All I do is get a tee or a pen. Keeping my head stationary, I pull the tee or pen toward my eyes until I see two of them. Then I move it away until I see one. Another exercise is moving the pen or tee in a figure eight and following it with my eyes. I've been using both for about a year. And I'm definitely putting better.
The exercises actually achieve one more thing: If I'm in a Port-O-Let doing them, it takes my mind away from the moment. I try to do them every six holes, which is what I did at Pinehurst. On the last day I hit my second shot onto the 12th green, ran to the toilet, did the exercises, then holed the putt. The 17th was the same thing. Right after doing the exercises, I holed a putt.
And during all this, New Zealand came to a standstill.
It did, almost literally. A friend of mine was in a bar in Auckland watching me live at 7:30 on Monday morning. When he arrived, there were five people there. But by the end of the round you couldn't get into the place.
They were spilling out onto the street, all drinking, screaming and crying.
It's so nice to hear that what I did had such an impact. We're a very proud people who come from a very small country. My dad sort of prepared me by saying it had been huge at home, but still I was surprised. I had no concept of how big it was until I got there. It was just incredible.
You received a letter from Jack Nicklaus. Can you share what he wrote?
It was a lovely, handwritten letter. In it Jack told me I had new responsibilities as a major champion, that I must always take time to promote the game as much as possible. Now I always try to stop and talk to spectators. They're the reason I have the opportunity to make the money that I do and live the life that I do. Just making eye contact or talking for five seconds is all it takes. Some of them remember it for the rest of their lives. And that's what Jack was talking about in his letter. I was so flattered when he said I would fill those shoes very easily.
But you've had your ups and downs in America.
I tried to play there in 2003, full-time, but we didn't go about it the right way. Not having a house was the biggest problem. Thomas was 5 years old, and Jordan was 3. You can imagine them running around in hotel rooms; it wasn't easy. At one point we had 11 weeks in a row on the road, and I don't think I made a cut. A lot of how I play is dependent on my home life. If my wife and kids are happy, I usually play great. But I could see the strain on them as the weeks went on.
So I struggled. I struggled with the environment, as many foreigners do. I just found it hard to mingle and feel at home. It wasn't that I wasn't made welcome. The spectators and the players were great. It's more a cultural thing.
I know Ernie Els feels the same. He lives in London because he's more comfortable there. He has his rugby and his cricket, things you can't really get in the U.S. I like to talk about cricket and rugby, too. I'm not into baseball or basketball or American football. So the lack of common interests was a problem for me. I had no idea who the 49ers were. America is a hard place to feel a part of if you're not American.
What else draws you to Europe?
We have good friends there, nongolfing friends, which is nice for me. It's good to talk about something else. That's why I chose not to live around Sunningdale and Wentworth, where so many of the European players have homes. I see those guys all the time, and much as I love them, it's nice to get away from the tour bubble. We've met people through the kids, too. It's been great to sit and talk to people about them, rather than about me all the time. That's one of the unhealthy things about my job, and it's why, at dinners, I always divert the conversation away from myself. After a while, I get bored with me.
You're a long way from where you were years ago. Tell me about your job with the telephone company.
My father worked there and suggested I work as a technician. I went there straight from school. It was part of a plan, though. I sat down with my parents when I left school and told them I wanted to be a golfer. They wanted me to get qualified first, so that I had something to fall back on.
How did working affect your golf?
I didn't have enough time to practice. I was working 9 to 5, and in the winter I was restricted to practicing weekends only. It was better when I started traveling around to fix problems. I had a car, a beeper and a radio, and I was on call all around Wellington. I'd go out around 8:30 in the morning, fix something, then sneak off to hit a few balls on a rugby pitch or somewhere. I'd do that until I was contacted for the next job. One time the batteries on my pager went flat. I was hitting balls for about two hours; it was great. Then, all of a sudden, my boss arrives.
Did he know what you were doing?
He told me off. It was, "Michael, come on, don't let this happen again." And as soon as he left, I went back to hitting balls. My passion was golf, not being a telephone engineer.
You turned pro early in '93. 'I had money in the bank, and I was in London for the first time. It was no wonder I spent it all.'
All of a sudden I was making money and had so much confidence. It was so quick, almost too quick. Looking back, I thought it was too easy. I was only 23, and so green. I thought I was good. So I went over to Europe after being a professional for four months. All of a sudden I was faced with the top Europeans, guys like Faldo, Langer, Torrance and Montgomerie. They were all playing great then. I was just a cocky kid. But I thought I could beat them.
I soon learned. I missed a cut. Then I missed another one. Then another. It was a real slap in the face to realize I wasn't good enough yet. Plus, I got around some of the wrong people and socialized too much. Which, looking back, is maybe understandable. I was 23. I had money in the bank, and I was in London for the first time. It was no wonder I spent it all.
It sounds like you need a good kick up the backside now and then. Has that been a common theme in your life?
It has. I get comfortable. I hate to generalize, but a lot of Maoris are that way. It's a mind-set thing, and I've broken the mold, if you like, by becoming successful in golf. A lot of my people at home are very comfortable with their lives-- happy, too--but I decided to get away from that. I wanted more than to be comfortable.
I remember back when we had a three-month lease in this dark, horrible little place in Sydney that didn't even have a back yard. We had this active little boy running around, too, but we couldn't afford anything else. Anyway, I flew from there to Thailand and had a think to myself on the plane. I was determined to start thinking about providing for my family rather than my swing or my game in general. And it worked. I won my first European tour event that week. Getting my family out of that place was a great motivation. I need triggers to help me, and that was one.
Thomas is, especially. He is so into golf. I was on the range with him and was explaining how important visualization is. He didn't understand at first, so I told him to get behind the ball and imagine it flying through the air, landing and rolling to the hole. He had his chipper out and was maybe 30 yards from the hole. I put a bucket on the ground at the point where I thought he should try to land the ball. Then I told him to see the ball landing in the bucket and rolling toward the hole. He got up and, first shot, holed it. It was scary. He was jumping up and down, and we were high-fiving. I think I was more pleased than he was.
So he goes to do it again. And next shot, he lips out. It was freaky. Jordan is more a grab-the-club-and-hit-the-ball kind of guy. He plays more by feel.
Take us back to St. Andrews in '95 and contending for the Open at age 26. What do you remember?
That was my introduction to the world stage. It was scary how well I played that week, a bit like an out-of-body experience. Max Cunningham, my caddie at the time, said Saturday was the best round he'd ever seen. The average score that day was something like 73.5, and I shot 65. It was windy. At the end of that I was leading by two shots. Writing down my score, it hit me that I had shot 65. I hadn't noticed until then. All I could think about was the amazing bunker shot I hit on 17--which I fluked.
The famous shot at the Road Hole bunker was a fluke?
Absolutely. Of course it was. I remember asking Max what I should do. I couldn't go sideways. I couldn't go backward. The only way was up the wall in front of me. His response was something along the lines of, "Don't ask me; you're the player."
I remembered being in there with Craig Parry in practice, and we had been trying shots from a similar position. It was Paz who suggested trying to scoot the ball up the wall. So I did. And it worked maybe once out of 10 shots.
Anyway, I had the same shot. I had no other option. It hit the face and skidded over the top and stopped maybe a foot from the hole. So, although it was a fluke, I knew what I was doing. Sort of.
You're leading the British Open by two shots on Saturday night. How'd you sleep that night?
Terribly, terribly. I used to play "Minesweeper" on the computer. I was on there until maybe 2 a.m. My mind was racing a million, trillion miles an hour. I slept for maybe three hours and woke up at about 7 a.m. Bing! So I was sleep-deprived, my mind was racing and the people around me were nervous. I changed maybe three or four times. I was like a kid on a big day out.
I was helpless, to be honest. [Campbell shot a final-round 76 to finish a shot out of the John Daly-Costantino Rocca playoff.] No one in the Campbell group knew how to handle the situation, because we had never been there before. My heart was pounding so hard on the first hole it felt like it was coming out of my chest, like you see on cartoons. I was struggling to breathe. And the tension in my chest spread to my whole body. It's a feeling I will never forget, because I learned from it.
In the last round at Pinehurst I used a lot of deep breathing to help me stay relaxed. I was so much more in control. No psychologist can prepare you for that feeling the first time 'round, though. I don't care how good they are.
Despite winning the Open, you've been in conflict with the PGA Tour over how many events you can play on the U.S. tour this year. Give us your side of it.
I'm very disappointed. I'm a free bird, and I feel like my wings have been clipped. I know they have rules, but this is the U.S. Open champion talking, not some guy who just made his card at qualifying school. Guys want me to play in their tournaments. The tour says I can play in only 10 in 2006 because I didn't play 15 in 2003. I wanted to play in the Memorial this year, and [tournament officials] wanted me there. I had to tell them I couldn't, because the PGA Tour won't let me. It angers me. You've got me revved up now!
__But if you earn the equivalent of 150th place on the 2005 money list [$485,343], you can get unlimited sponsors' exemptions the rest of the year. __
It's too late. My schedule for the year is already set. I asked back in September if anything could be done, and they said no. So it's a done deal.
Basically, you feel they're punishing you.
Yes. They're punishing me for being the U.S. Open champion. Write that!
Have you ever hurt anyone?
I've thrown a few punches on the rugby field, but it's all part of the game. Then there's the foot-on-the-throat thing. [Laughs.] People will be thinking I'm a complete ruffian, but if you play rugby at a decent level you have to stand up for yourself. If you don't, you'll get run over. Even when the ball isn't there. It's like a game within a game. You have to make your opponent think he can't beat you physically.
Who on the tour would make the best rugby player?
[Laughs.] It has to be me, doesn't it?
Angel Cabrera's got the perfect stocky build. I hear Darren Clarke was a good player when he was younger. Ernie, too.
Which tour player would you least like to fight?
Goosie. He had me in a headlock after a few drinks, and I had no chance of escape. He's a strong lad. The baby-faced, quiet assassin.