Branded Content
Watch Review: Hublot Big Bang Unico Golf Orange Carbon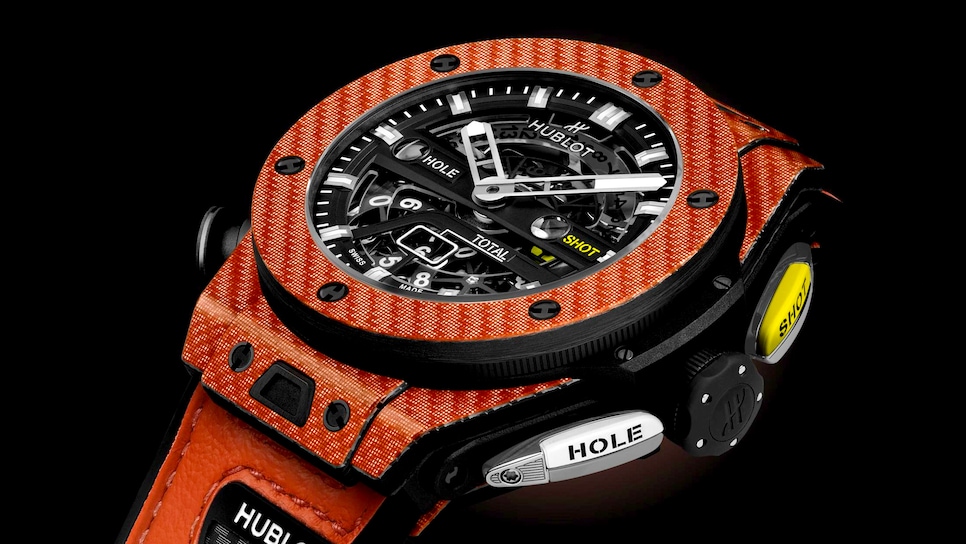 Watch enthusiasts often find themselves at a crossroads regarding choices on the golf course. Unfortunately, the market for golf watches is saturated with digital faces and a lack of style beyond the plethora of ordinary rubber wristbands that can be switched out.
Hublot, a Swiss luxury watchmaker, has set out to change that by combining style, craftsmanship, and function with the newest addition to its Big Bang collection, the Big Bang Unico Golf Orange Carbon.
Introduced at the 2022 LVMH Watch Week, the Big Bang Unico Golf Carbon is the world's first entirely mechanical golf watch with three separate apertures to help players keep track of their score over 18 holes. The new Orange Carbon version introduces a welcome splash of color to compliment its exquisite styling. This watch is an ideal way for golfers to make an on-course style statement.
Beyond its obvious visual appeal, the watch packs plenty of mechanical and practical punch. After sinking a birdie putt, you can enjoy the art of watchmaking mechanics by pushing different putter-shaped external buttons to engage the Hublot MHUB 1580 automatic movement and keep track of three key on-course stats: which hole you are on, your total shots on each hole and your overall score total. Because the face is skeletonized, the mechanical inner workings are visible with each button push, a feature watch enthusiasts can truly appreciate.
However, style doesn't matter if a watch's features don't function. Digging into its golf-specific elements, Hublot paid close attention to several unique details. The shot-counting mechanism is activated by a yellow button at 2 o'clock, which advances the yellow stroke counter visible through an aperture at 3 o'clock. When you move to the next hole, push another putter-shaped button at 4 o'clock to reset the shot indication to zero. This also automatically advances the hole indication at 9 o'clock by one hole. In turn, the cumulative score goes up by one with every recorded shot, and this total is shown through an aperture at 6 o'clock. When you finish the round, you can easily reset the display to zero with a quick button push at 8 o'clock. Worried about accidentally resetting your score during a round? Easily lock the reset button by rotating it 45 degrees.