News
How your worst practice session can lead to your best golf (No, seriously)
On Sunday afternoon, Hideki Matsuyama walked off the practice range in a daze. His warm-up session before his 1:55 p.m. tee time was a mess, and it was fair to assume his final round in the WGC-Bridgestone Invitational would follow suit.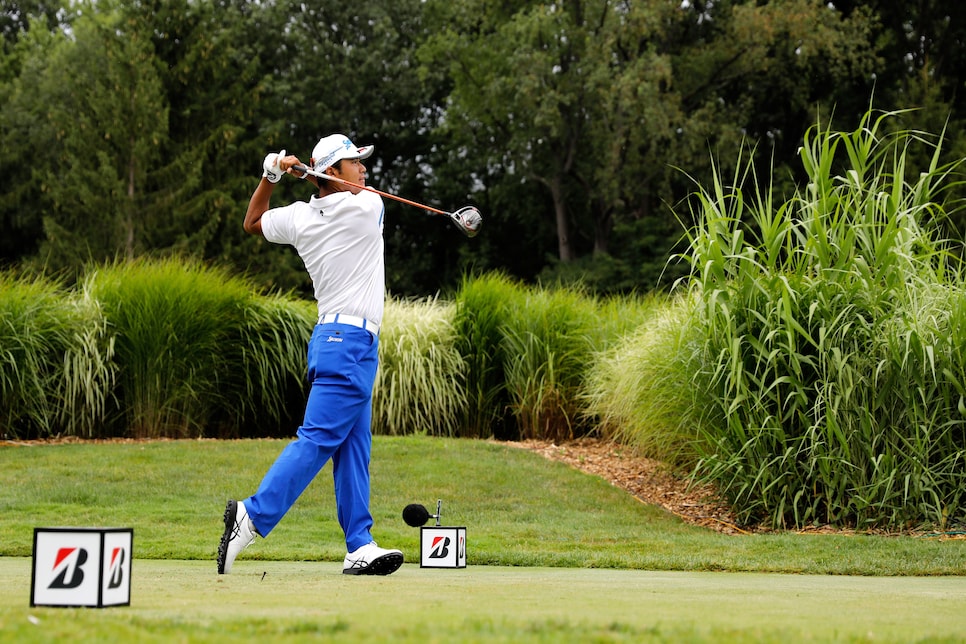 Gregory Shamus/Getty Images
The fact that a player could spray balls on the range one moment and then piece together arguably the best round of his life the next might seem like an abrupt turn of events, and in some ways, it was. After all, there are countless examples of players who have terrible range sessions and proceed to have terrible rounds (which in some cases could be a reflection of their being terrible golfers).
But for some players, there can be a direct correlation between episodes of real struggle and an ensuing, profound breakthrough. Matsuyama described this dynamic on his first hole at Firestone Country Club on Sunday, when he seemed to carry his poor range form to an opening tee shot that squirted left into the rough. But the bad swing carried with it a small revelation.
"Something clicked," he told reporters through an interpreter. "And from that point on, I was able to find it again."
The concept of a golfer feeding directly off his worst golf is something we discussed in a feature story in Golf Digest's July issue called "Confidence Kills." As the title suggests, the story also discussed the idea from the other side, which is that a player who feels like he's "striping it" on the range can be injected with more self belief than is helpful. The former U.S. Open champion Geoff Ogilvy described this mindset as a "lazy head space. You just assume you're going to play well all the time."
On the flip side, Ogilvy tells the story of winning the Match Play after fighting his swing badly most of the week. Hardly confident, Ogilvy at least developed a heightened sense of what wasn't working, which eventually led to the same type of eureka moment Matsuyama enjoyed Sunday.
"On Wednesday, Thursday and Friday I couldn't play at all, and then Saturday and Sunday was the best I ever played," Ogilvy said. "It all came out of complete desperation and not much sleep."
According to Dr. Fran Pirozzolo, a sports psychologist and mental skills coach who works with a number of professional athletes, the value in the type of struggle that both Matsuyama and Ogilvy experienced is it forces the athlete into a problem-solving mode. Not only does it illuminate the type of swings you don't want to make, it helps foster the type of discovery that is very often elusive.
"You are suddenly a little sharper," Pirozzolo added. "You're not careless in the way a player with illusions of competence who thinks he can control everything would be."
As Pirozzolo said, a player coming off such a mediocre range session can also be humbled to the point where expectations are minimized. No longer thinking about winning, or a specific score, you're happy to get the ball moving in vaguely the right direction, and that leads to small gains that suddenly take on greater meaning. In addition, you're more likely to focus on an external target -- a hazard down the right side, an opening to the left -- as opposed to crippling attention on the self.
"It helps you focus on the right things and on what you can control," Pirozzolo said.