The Loop
How to practice like a pro
When you go to a tour event on a Monday or Tuesday, like at this week's Cadillac Championship at Doral, you see what real practice is all about. We're not talking about a quick warmup before a round. We're talking about truly working on your game, as if it's the most important thing in the world. In a day, the average tour pro spends about three to four hours concentrating on the full swing and an equal amount of time on the short-game.
But tour pros are not just beating balls or blindly rolling putts. They make their practice productive by using props--shafts, yardsticks and other devices--to check their alignment, their ball position, their swing plane, their putting path. Sometimes it's with their teacher, most often with their caddie, so they have another set of eyes to check them. This is work. It's what they do for a living. And if done correctly, it pays dividends.
Want to practice like a pro? Here's what you do: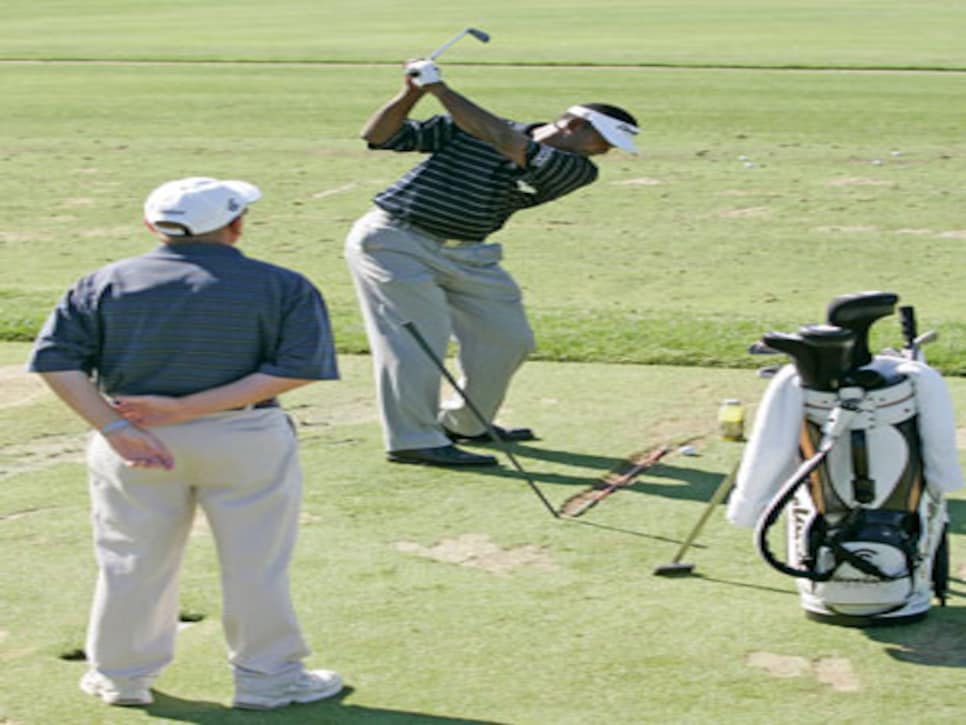 Make yourself a practice station on the range. Always put shafts or other clubs on the ground to check that your stance line is square to your target line. Jim Flick, who coaches Tom Lehman and Jack Nicklaus, likes to have players put the alignment shaft along their heels, not their toes, because if you like to flare out one foot, it will not alter your alignment. Then place another shaft perpendicular to your target line to indicate your ball position. Finally, put a shaft in the ground to the side of your body on the same angle as your clubshaft at address. This will help you determine if your swing is on plane. Note the photograph of Vijay Singh (above), who always practices with such a "plane check."
Now if you really want to practice like a pro, always place the ball you're about to hit directly behind the divot you just made (note the Singh photo again). Try to eliminate the smallest amount of turf from the range so the superintendent has the least amount of area to reseed. Also notice that tour pros take shallow divots. Only
higher handicappers gouge large pieces of turf (guess that's why they're known as "choppers"). Tour pros also try to replicate real-round situations on the practice ground. Hank Johnson, Golf Digest's No. 1 Teacher in Alabama, says in his book *How to Win the 3 Games of Golf*, that on the range you should practice "golf shot" not "golf swing." In other words, if you start thinking mechanically on the range, you should get away from your pile of balls, work out your mechanical thoughts by making practice swings and checking your positions by either stopping and looking at your club, hands, arms, etc., preferably in a mirror, maybe without a club, and then go back to your balls to hit shots. Johnson says that every shot should be played at a target, as if you are hitting a real shot on the course. This is where you work on trajectory and shot shape, not whether your hands are in the correct position at the top. Then when you get on the course, you put those shots into action by playing "golf score." On the course, you should think only of the conditions, your target, strategy and non-mechanical thoughts, like maintaining a smooth tempo.
Nick Faldo would often go even a step further, replicating entire rounds on the practice tee, never hitting the same club twice in succession. According to David Leadbetter in the December 2010 issue of Golf Digest, Faldo played a game with himself on the range at the 1996 Masters. "He was working on every shot he'd face on the course, complete with his caddie, Fanny Sunesson, saying things like 'The flag is 10 paces right, five from the back.' This routine made Nick work the ball instead of hitting it dead straight. It made the course more familiar when he got there."
Try some of these thoughts. You'll make your practice time more efficient and you'll become a better player. If you have any other tips to make your practice more productive, I'd like to know about them. And remember to follow me on Twitter @RogerSchiffman.
(Photo by Chris Condon/PGA Tour)