The Loop
How much does "home soil advantage" really matter in the Ryder Cup? An exhaustive analysis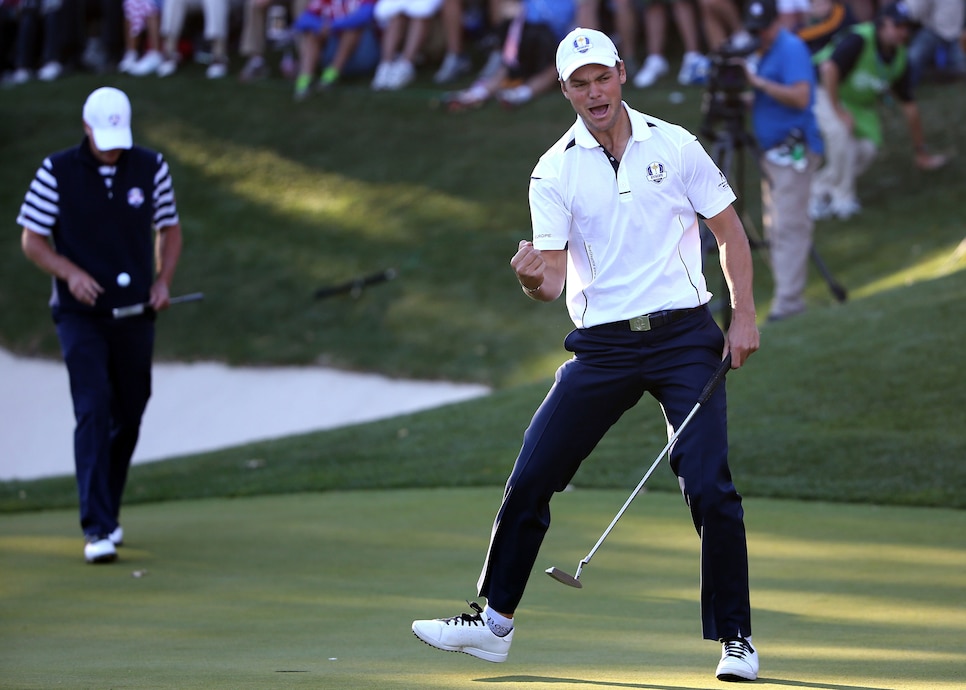 In every sport that has ever existed across space and time, the home team has held an inherent advantage. The reasons are manifold—supportive fans, the comfort of familiar surroundings, and the fatigue associated with travel, to name three—and the premise has been borne out statistically and anecdotally for so long that it's become athletic scripture.
But what about the Ryder Cup? It occurred to me that in a sport like professional golf, where there is very rarely a "home team" (or any "team" at all), the situation might be a bit more complicated. The U.S. is seen as a favorite at the 2016 Ryder Cup, and part of that assessment is based on a superior roster. Another part, though, is based on the fact that this year's Cup is being held in Minnesota—home soil advantage—and it's worth examining whether that's a legitimate argument.
Any valid statistical analysis of the Ryder Cup has to begin in 1983. That's the year Tony Jacklin first captained the European team, and it's the beginning of the modern competitive era as we know it. Before that, the U.S. had an absurd 21-3 record in the competition dating back to the first incarnation in 1927, and the only real surprise is that the whole enterprise wasn't condemned as a biannual humiliation ritual and canceled. But instead of giving up hope, the Great Britain team incorporated Ireland in 1973, and then all of Europe in 1979. Yet it wasn't until Jacklin took the reins in 1983 that things started to get interesting. So, in order to avoid horribly skewed numbers from a Ryder Cup era that bears no similarity to our own, the study of home course advantage begins with Jacklin.
Let's start simple: Since 1983, there have been 16 Ryder Cup matches—eight here, eight in Europe—and the home team has compiled a record of 10-5-1. That "1" came in 1989, when Europe and the U.S. tied 14-14 at the Belfry, but since Europe retained the cup, some would call it an outright victory. If you subscribe to that school of thought, the home team's record is 11-5.
The U.S. does not enjoy an outright home course advantage, but it does enjoy a relative home course advantage.
Over that same period, the home team has amassed 232.5 points, while the visitors have notched 215.5—a difference of 17 points over 16 matches, or almost exactly one point per Ryder Cup match. (1.0625, to be exact.)
Clearly—just like in every other sport—there's a distinct home soil advantage. Since the Ryder Cup is a zero-sum game, with one team gaining what the other team loses, we have to split that average difference in half to arrive at our grand conclusion:
The average Ryder Cup team improves by .53125 points at home, and worsens by .53125 points on the road.
Great. We have our answer, and we can all go home, right? WRONG. This nerd-out isn't over yet.
An interesting corollary to these numbers is that Europe's record over that same stretch almost perfectly mirrors the overall home team record. Like the home teams, Europe is 10-5-1 since 1983, and where home teams hold a points advantage of 232.5—215.5, Europe's lead over the U.S. in that same timeframe is 237.5—210.5.
Which raises the question—is there really a home course advantage, or is Europe just better?
Let's break it down a little further. Here are the respective home records of each team since 1983:
Europe: 6-1-1 (or 7-1) America: 4-4
Hmmm...it's a little less clear now. Europe definitely looks amazing at home, but what about the Americans? As it turns out, we're not so hot even on our own turf. Here's how the two teams stand on points in the eight matches played in the U.S. since 1983:
Europe: 114.5 points America: 109.5 points
I don't know about you, but those numbers shocked me. Sure, I understood that Europe has dominated the competition for the past 23 years, but I still didn't expect that they had out-scored the Americans in matches played on U.S. soil.
As you might guess, things are a little more lopsided in the European Cups:
Europe: 123 points America: 101 points
At this point, we can draw three conclusions:
1. Europe enjoys an outright home course advantage.
2. The U.S. does not enjoy an outright home course advantage.
3. However, the U.S. does enjoy a relative home course advantage.
In plain English, that means that even though the Americans still play worse than the Europeans in the U.S., they play less worse. It's still a boon for the Americans to play at home, even if it's not enough of an advantage to make them the better team.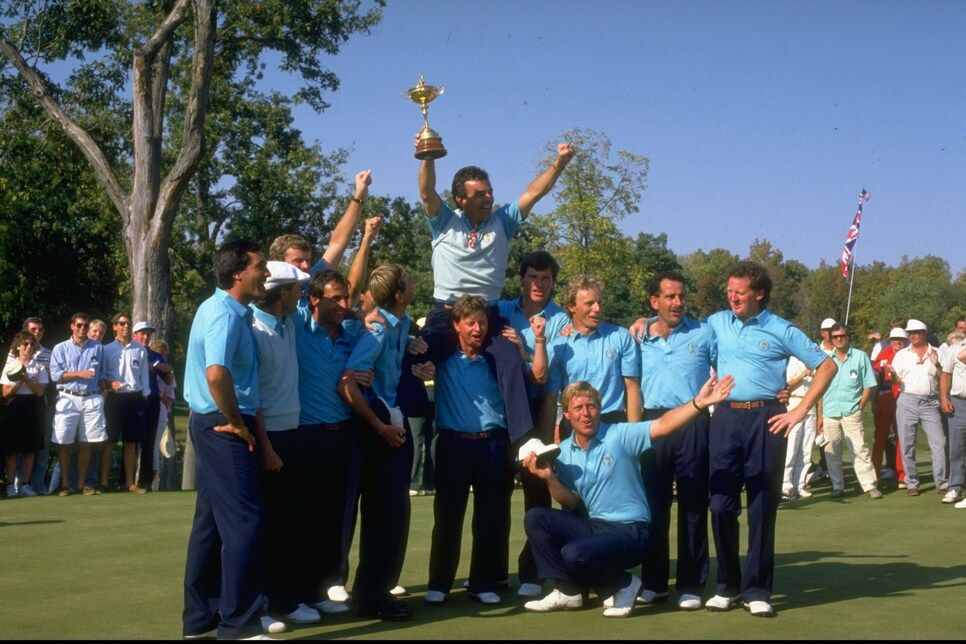 If we divide the point totals by eight (there have been eight matches in the U.S. and eight in Europe since 1983), we can arrive at an average score for Ryder Cup matches on both sides of the pond.
Average score of a European Ryder Cup: Europe wins 15.375 — 12.625
Average score of an American Ryder Cup: Europe wins 14.3125 — 13.6875
And of course, the average score of a hypothetical neutral-course Cup can be calculated using total points over the last 16 years, regardless of venue: Europe wins 14.84375—13.15625
We've now confirmed that Europe is really good, but can understanding these numbers help the Americans in any way? To answer that, we have to examine the format of the Ryder Cup itself. Each consists of eight "foursomes" matches (alternate shot), eight "fourball" matches (four player plays his own ball, and the best score wins the hole for that player's team), and 12 singles matches. We've heard for years, from pundits, announcers, and fans, that Europeans excel in the team matches while the Americans are better at singles. To see if that's true, let's take a look at the points breakdown for each format since 1983:
Foursomes: Europe 69.5, America 58.5
Fourball: Europe 72.5, America 55.5
Singles: America 96.5, Europe 95.5
It turns out that conventional wisdom is correct as far as team matches go—Europe dominates the U.S. in foursomes and fourball. But the talking point about Americans being better at singles? The numbers say it's bogus—after 191 matches, the two teams are almost dead even.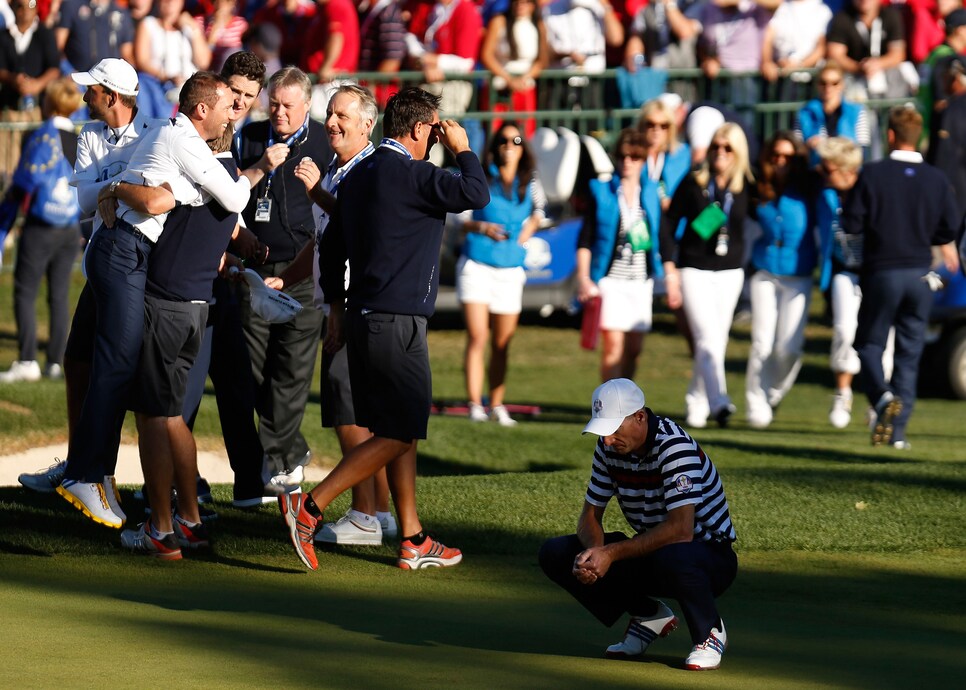 However, the stats confirm that Europe's huge advantage in the Ryder Cup—and the reason for their 10-5-1 record—owes itself completely to team play. Sunday singles is a wash since 1983, but the Europeans own Friday and Saturday. Remember how they've outscored the Americans by an average of 1.6875 each time the teams meet? That total comes entirely from foursomes (.6875 per Ryder Cup) and fourball (1.0625).
Since the 2016 Ryder Cup is in America, let's go even deeper into those formats and see how they've played out in the eight matches on American soil:
Foursomes: Europe 32.5, America 31.5
Fourball: Europe 35, America 29
Singles: America 49, Europe 47
As we'd expect, the advantage comes in team play, fourball in particular. What does that mean for Hazeltine? On paper, you'd expect that if the Americans can come through Friday and Saturday with a lead, they have a great chance to win. If they're trailing, they'll likely lose.
But here's the part where I invalidate everything you just read—16 years of data is meaningless in the face of the fluctuations of one weekend. The U.S. trailed 10-6 in Brookline heading into Sunday, and still managed to win. They led 10-6 in Medinah, and still managed to lose. The only real conclusion to draw from any of this is that Love's players better win on merit. Playing at home will help, but it won't be enough.