How Golf Fueled An Olympics Run For The U.S. Women's Hockey Team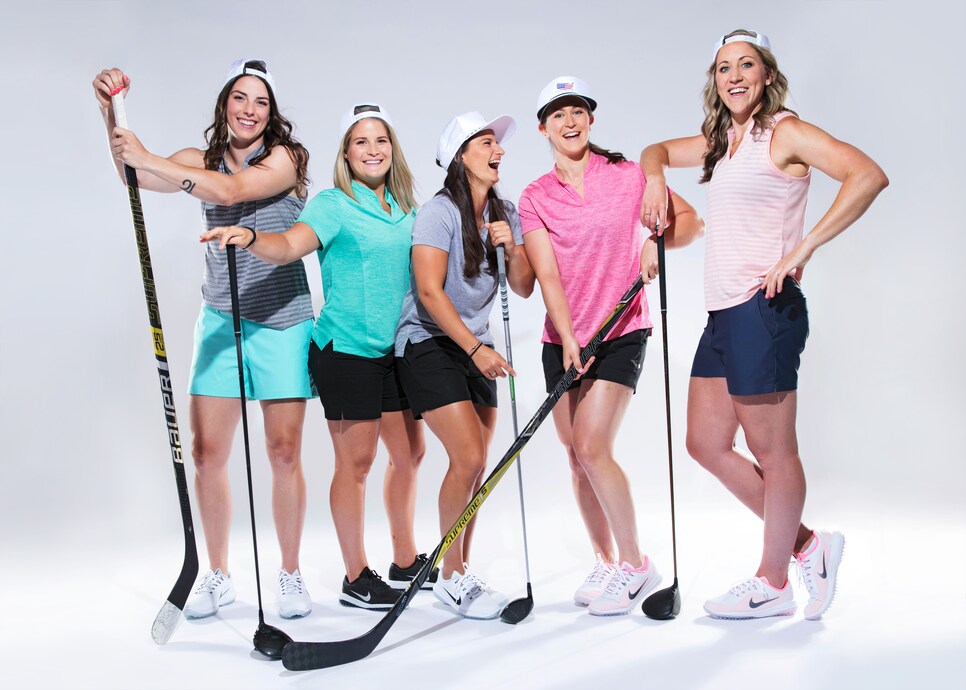 The foursome—all top-rated women's hockey players—watched in awe as Meghan Duggan's tee shot landed on the green and started rolling toward the hole 150 yards away. When it dropped, "we went crazy," says Duggan, recalling her ace on the ninth hole at the Newton (Mass.) Commonwealth Golf Course on July 4, 2017. "One of my friends took her club and threw it because she was so excited."
It might have been an omen. About a month after that Independence Day hole-in-one, Duggan and the rest of the U.S. women's hockey team headed to Tampa to train for the 2018 Winter Olympics, where they would win the gold medal.
The hockey players took up residency at Saddlebrook Resort, eight miles from the rink and about eight yards from Saddlebrook's two golf courses. "Over half our team brought their clubs," says Duggan, the captain. "In September and October, I was playing almost every day after training."
Golf helped the players unwind. To keep their competitive spirits at bay, they rarely kept score. After all, there was only one score that mattered to them, and that was the gold-medal match in Pyeongchang—the one where they'd eventually defeat Canada, 3-2, in a shootout.
"IF THE CART GIRL IS GOING AROUND, WE'RE FLAGGING HER DOWN."
Post-Olympics, the golf-loving hockey players continue to tee it up. This summer a group of them met up at Boston-area courses, posting scores in the low 90s and having a big time. Run into their group and you might find Tom Petty blaring from the speakers, wagers for who's buying dinner, and Bloody Marys.
"If the cart girl is going around, we're flagging her down," says Haley Skarupa, a forward. "I like to keep it fun. Generally, I'm a pretty competitive person, but when it comes to golf, I like to enjoy the experience."
Naturally, "Happy Gilmore" moments are unavoidable. "I feel like every time I play golf, I tie in a Happy Gilmore comment or celebration," says Brianna Decker, a forward. Amanda Pelkey, another forward, can't get through a round without quoting her favorite line from the hockey-player-turned golf pro's coach: "It's all in the hips."
Hilary Knight has learned the iconic Happy Gilmore shot—a slapshot-inspired drive with a running start. She and LPGA player Daniela Iacobelli practiced it at this year's KPMG Women's PGA Championship.
Knight, a three-time Olympian, attended the tournament to speak at the KPMG Women's Leadership Summit, where she discussed the team's battle for gender equality. In March 2017, team members threatened to boycott the World Championships. In the past, USA Hockey paid the players for only the six months leading up to the Olympics, leaving them struggling to make ends meet for the other three and a half years of training. Three days before the tournament, USA Hockey finalized a four-year agreement for fairer compensation and more investments devoted to growing the women's game. The team went on to win the tournament.
When the players aren't advocating for equality or training for the 2022 Olympics, golf remains a welcome change of pace.
"We can't play hockey forever," Knight says. Golf is "a great non-contact sport, so it gets us out of our element to have fun and be competitive at times, but mostly just to have fun and hang around."