News
Hollywood's Top 100 Golfers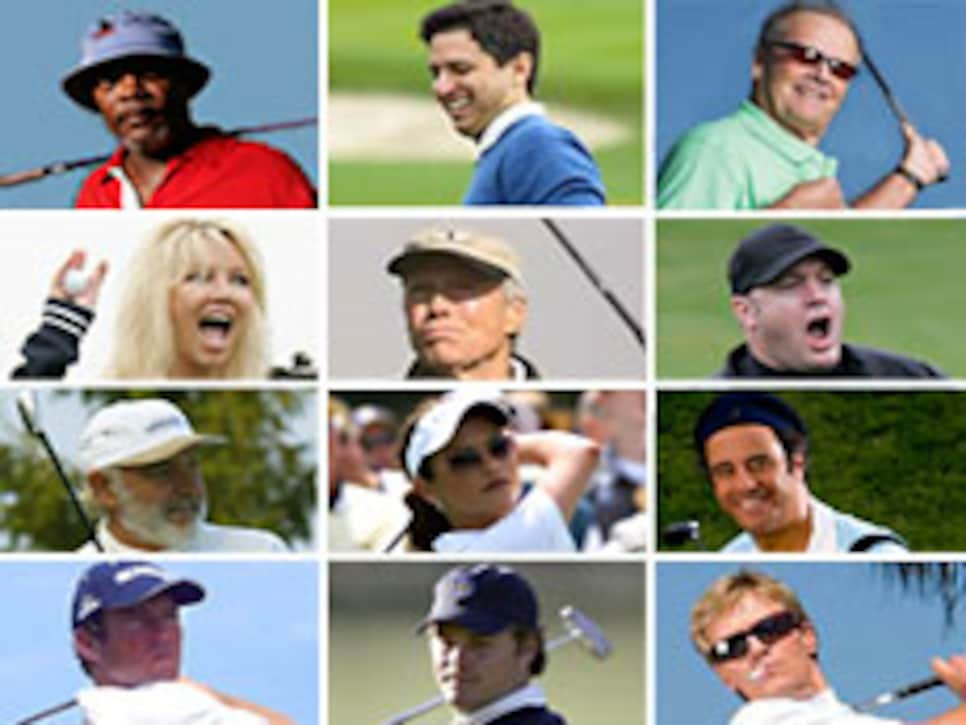 In an encouraging sign for the game, Golf Digest's 2007 ranking of the Top 100 Golfers in Hollywood reflects growing interest in golf among actors from all generations. "High School Musical" star Zac Efron, 20, and Academy Award-winner Morgan Freeman, 70, have been sharpening their swings this year. So have Jessica Alba, 26, and two-time Oscar winner Sally Field, 61.
Our list features 30 new names from our inaugural ranking two years ago. Two of them, Lucas Black ("Sling Blade," "All the Pretty Horses," "Jarhead") and Billy Crudup ("Almost Famous," "The Good Shepherd") are longtime golfers who have been happy to play under the radar. They're Nos. 2 and 3, just below our new No. 1: six-time Bel-Air Country Club champion and soap-opera icon Jack Wagner. Veteran actor and former "Coach" star Craig T. Nelson moved up four spots to No. 4 after lowering his handicap to 4.7 from 6.9 in our last ranking.
Because our 2007 Hollywood ranking includes only golfers whose primary job is acting—whether on television or in films—stand-up comic Tom Dreesen, a 4.1 and T-3 in 2005, isn't on the list this time. Dreesen has guest-hosted "The Late Show with David Letterman" and would have been joined by other TV host/golfers including Maury Povich (1.0), Matt Lauer (5.6) and Carson Daly (7.8).
Wagner can play to his handicap of plus-0.3, and he's unquestionably the best actor/golfer in Hollywood. Even Dennis Quaid, who was our No. 1 last time (he's No. 9 this year), gets three a side when playing against his Bel-Air buddy.
Wagner was 11th on our list in 2005 (when he joked he was playing to a 10), and he says he used the ranking as motivation. "It actually inspired me to win the next Lake Tahoe event," he says. (For more on Wagner's game, see the Final Exam.)
Though some actors on our list would have a difficult time playing to their handicaps (we used U.S. Golf Association Handicap Indexes for some, and estimates from the actors or from people with knowledge of their games for others), Wagner's take is that many Hollywood golfers are social players used to gimmes and not counting every stroke. He never used the term "vanity handicapper," but other observers suggest that ego prevents some celebrities from admitting they aren't good at everything. This, presumably, explains why some actors who we know play golf aren't willing to talk about where they'd fit on our ranking. Truth is, our Hollywood 100 reflects interest more than excellence.
As for who isn't telling the truth, we can only guess. It all comes down to entertainment.
NOTES: Handicaps were determined in a number of ways: the U.S. Golf Association's Golf Handicap and Information Network, state associations, the actors, publicists, friends and playing partners. Handicaps without a decimal point are unofficial estimates. Handicaps assigned based on the USGA recommended maximum of 36.4 (40.4 for women).
1. Jack Wagner +0.3
Soap star plays for pay on celeb tour, for fun with Heather Locklear
2. Lucas Black 2.3
In "Sling Blade" and "Friday Night Lights" with Billy Bob Thornton
3. Billy Crudup 4.5
"Almost Famous" rocker plays at Bayonne G.C., near Manhattan
4. Craig T. Nelson 4.7
TV's "Coach" played a coach in Will Ferrell's "Blades Of Glory"
5. Chris O'Donnell 5.2
Playing more after "Grey's Anatomy" and "The Company"
6. Joel Gretsch 5.6
Bobby Jones in "Bagger Vance"; Tom Baldwin in "The 4400" on USA
7. Scott Wolf 5.7
Bailey from "Party Of Five" lives and plays in Park City, Utah
8. Dougray Scott 6
The Scot in "Desperate Housewives" and upcoming film "Hitman"
9. Dennis Quaid 6.1
No. 1 on our ranking in '05; Index has climbed 5 shots since then
10. Flex Alexander 6.4
Before "Snakes On A Plane," He starred on UPN sitcom "One On One"
11. Samuel L. Jackson 6.9
Highest-grossing actor of all time, according to Guinness Book
12. Thomas Gibson 7.0
Regular at Pebble Beach with "Criminal Minds" (CBS) doing well
T-13. Bill Murray 7.2
Needed no-cart rule in Sweden, where police detained him
T-13. Kevin Sorbo 7.2
From TV's "Hercules" to "Andromeda" to making movies
15. Kevin Dillon 7.3
Johnny Drama from HBO's "Entourage" is show's top golfer
16. Hugh Grant 7.4
Puts game on display often at Dunhill Links in Scotland
T-17. Matt Craven 7.8
Character actor an "Disturbia" and with Goldblum in "Raines"
T-17. Andy Garcia 7.8
Improving game at Lakeside G.C. despite busy film schedule
T-19. Greg Kinnear 8.0
Oscar nominee In '97 ("As Good As It Gets"); Plays at Bel-Air
T-19. Bruce McGill 8
More than 100 credits since he was D-Day in "Animal House" in '78
T-21 James Caan 8.2
Returning to films after four seasons on "Las Vegas"
T-21. Kurt Russell 8.2
Former caddie was Stuntman Mike in Tarantino's "Death Proof"
23. Don Johnson 8.3
Back in movies again, this fall in "Moondance Alexander"
T-24. Matthew McConaughey 8.6
Played high school golf; says he's made four holes-in-one
T-24. Aidan Quinn 8.6
"Dark Matter" with Meryl Streep won '07 prize at Sundance
26. Mark Wahlberg 8.7
Oscar nominee ("The Departed") making more films, fewer birdies
27. Peter Gallagher 8.9
"The OC" dad is doing films again; played with Sabbatini in AT&T
28. Kyle MacLachlan 9
Dale Cooper from "Twin Peaks" is on "Desperate Housewives"
29. Eric Close 9.5
FBI agent Martin Fitzgerald on CBS' "Without A Trace"
30. Haley Joel Osment 9.6
Teen actor plays at Oakmont Country Club in Glendale, Calif.
31. Cheech Marin 9.8
Down from 14.4 index in '05 despite busy acting career
T-32. Dave Annable 10
Plays Justin Walker on Sunday ABC drama "Brothers & Sisters"
T-32. Carmine Giovinazzo 10
Detective Danny Messer co-stars with no. 76 Sinise on "CSI: NY"
T-32. Gregory Itzin 10
Emmy nominee in '06 for recurring role on "24"
T-32. Richard Karn 10
Al from "Home Improvement" was also "Family Feud" host
36. Bruce Greenwood 10.6
Canceled "John from Cincinnati" means more golf in Malibu
T-37. D.L. Hughley 10.8
Comedian was Simon Stiles on "Studio 60 on the Sunset Strip"
T-37. George Lopez 10.8
Host of Bob Hope Chrysler Classic is down from 14.2 index in '05
39. Kevin Costner 11.2
Filming "Swing Vote"; still plays in the AT&T at Pebble Beach
T-40. Sylvester Stallone 11.4
Star and director of "John Rambo," due out in January
T-40. Luke Wilson 11.4
Active film career explains handicap climb from 7.4 in '05
42. Ray Romano 11.6
TV project and "Ice Age 3" in works; plays mostly at Lakeside
43. Robert Wagner 11.7
Mr. Wilson in upcoming "A Dennis the Menace Christmas"
T-44. Eddie Cibrian 12
TV roles in "Third Watch," "Invasion" and "Vanished"
T-44. David James Elliott 12
After 10 years on "JAG," he practices law on "Close To Home"
T-44. John O'Hurley 12
Hosts "Family Feud"; was King Arthur in "Spamalot" in Vegas
T-47. Richard Kind 12.5
Known for "Spin City" but getting lots of movie roles
T-47. Jack Nicholson 12.5
Started playing 18 years ago; Fond of Lakeside, Bel-Air, Riviera
T-49. Brian Baumgartner 13.0
Kevin Malone in Emmy-winning sitcom "The Office"
T-49. Carlos Bernard 13
Tony Almeida on "24"; Dr. Richmond on "Nurses"
51. Don Cheadle 13.7
Got serious about golf in 2000; played in first AT&T in '07
T-52. Michael Chiklis 14
"The Shield" lead worked with No. 81 Alba in "Fantastic Four"
T-52. Zac Efron 14
"High School Musical" kid could play in high school, his pro says
T-52. Bob Einstein 14
Super Dave Osborne is Marty Funkhouser in "Curb Your Enthusiasm"
T-52. Jon Hamm 14
Multiple TV roles led to lead on AMC hit series "Mad Men"
T-52. Mark Moses 14.0
Paul Young on "Desperate Housewives"; Also on "Mad Men"
57. Clint Eastwood 14.4
Hollywood Legend, 77, Plays mostly at Tehama in Carmel, Calif.
58. Michael Douglas 14.7
Keeps index current in Bermuda; hosts celebrity golf event
59. Dennis Haysbert 14.9
Had a commanding presence on "24," now on "The Unit" (CBS)
T-60. John McGinley 15
Perry Cox On NBC's "Scrubs" Did TV ads for Champions Tour
T-60. Will Smith 15
Sherwood C.C. member played with his wife in Los Cabos
62. Joe Pesci 15.9
Pals with several tour players, including John Daly
T-63. Anthony Anderson 16
In Fox's "K-Ville" after roles in "The Departed," "Transformers"
T-63. Josh Duhamel 16
Danny Mccoy in "Las Vegas"; Captain Lennox in "Transformers"
T-63. Adam Sandler 16
Member at L.A.'s Hillcrest C.C.; Plays Sony Pro-Am in Hawaii
66. Keith Carradine 17.5
Special Agent Lundy on Showtime series "Dexter"
67. Kevin James 17.9
Nine-year run for "The King of Queens" ended in the spring
T-68. George Clooney 18
Plays occasionally with pals Richard Kind and Matt Damon
T-68. Larry David 18
Worked on moves with "Stack & Tilt" Swing Gurus in the fall
T-68. Jerry Ferrera 18
Shares love of the game with "Entourage" pal Kevin Dillon
T-68. Cheryl Ladd 18
Charlie's Angel has appeared on NBC's "Las Vegas"
T-68. Neal McDonough 18
"Flags Of Our Fathers" in '06; "I Know Who Killed Me" in '07
T-68. Michael O'Neill 18
Busy actor in "The West Wing," "The Unit" and "Transformers"
74. Charlie Day 19
Actor, writer, producer on FX's "It's Always Sunny In Philadelphia"
75. Dennis Hopper 19.3
Multiple film projects in works after NBC canceled "E-Ring"
T-76. Christopher McDonald 20
Busy since "Happy Gilmore"; DiMaggio in "The Bronx Is Burning"
T-76. Gary Sinise 20
"CSI: N.Y." Top man hosts annual Steppenwolf Golf Classic
T-78. Sean Astinl 21
Rudy in "Rudy"; Sam in "The Lord Of The Rings" films
T-78. Andy Richter 21
Managed to get golf into an "Andy Barker, P.I." episode
80. James Woods 21.1
Three emmys, two Oscar nominations and star of "Shark"
T-81. Jessica Alba 22
Loves the game, says she can drive it 200 yards
T-81. Sean Connery 22.0
Oscar winner ("The Untouchables") plays in the Bahamas
T-81. Richard Schiff 22
Filming "Last Chance Harvey" with Dustin Hoffman
T-84. Joe Mantegna 23
Emmy Nominee Joined CBS' "Criminal Minds" this year
T-84. Kevin Nealon 23
"SNL" funnyman has found home on Showtime's "Weeds"
86. Tim Allen 24.4
"The Six Wives Of Henry Lefay" is his next comedy film
87. Billy Crystal 25
Likes to play at his club, Riviera, with Jack Nicholson
88. Catherine Zeta-Jones 25.4
Plays in Bermuda and at hubby Michael Douglas' tournament
T-89. Jeff Garlin 28
Larry David's sidekick on "Curb Your Enthusiasm"
T-89. Sharon Stone 28
Played on boys' golf team at her Pennsylvania high school
91. Morgan Freeman 29
New to the game, enthusiastic and improving rapidly
T-92. Matt Damon 30
Learned game for "Bagger Vance"; playing more lately
T-92. Brad Garrett 30
Admits he's a chopper; belongs to El Caballero C.C. in California
T-92. Patricia Heaton 30
Played in Golf Digest's Celebrity Invitational at Riviera C.C.
95. Tom Cruise 32
Playing while in Telluride, Colo., rather than at Bel-Air
96. Cameron Diaz 34
There's golf after Justin Timberlake ... with surfer Kelly Slater
T-97. Halle Berry 36
Stopped playing this year while expecting her first child
T-97. Sally Field 36
Attended U.S. Women's Open; took lesson from Peggy Kirk Bell
T-97. Heather Locklear 36
No. 1 Wagner, her boyfriend, should help her game
100. Will Ferrell 36+
Made it to Augusta this year ... as a spectator, of course