The Loop
Here's what happened with 10 equipment company acquistions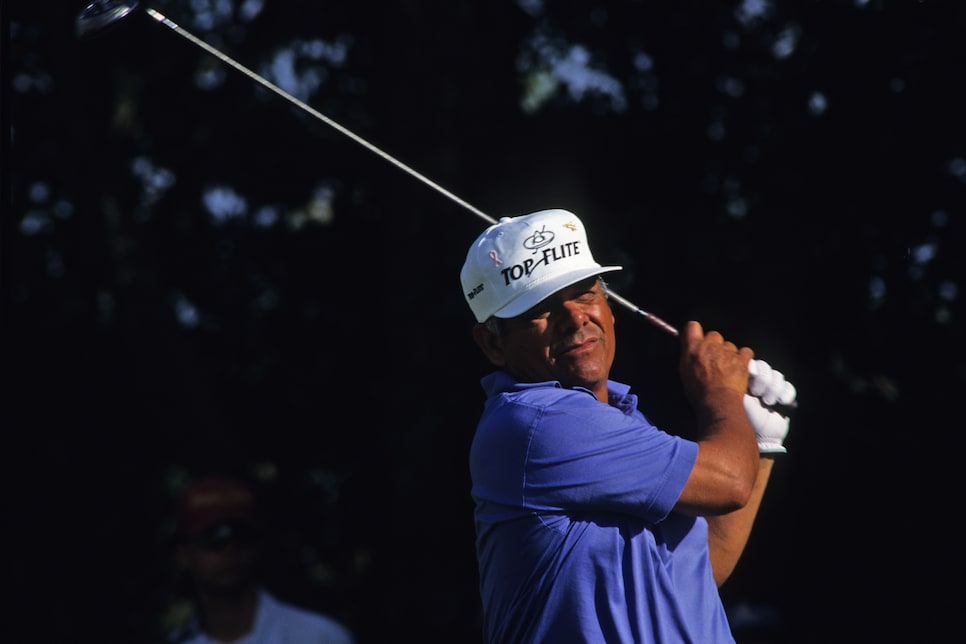 With yesterday's news that Adidas is actively shopping golf-equipment giant TaylorMade, there will be speculation as to who will buy it, how much they will pay and what will become of the TaylorMade brand. As usual, history can offer some clues. Here's a look at 10 acquisitions of golf-equipment companies over the past 20 years and the ensuing effect it had on each company (note: this article was updated from the original to add two additional acquisitions).
Spalding/Evenflo to KKR In 1996 noted private investment firm Kohlberg Kravis Roberts acquired a majority interest in Spalding and Evenflo, renaming the company Spalding Holdings Corp. Wall Street estimates pegged the amount between $900 million and $1 billion. Although Spalding was a massive sporting-goods company with strength in golf, including the Top-Flite and Etonic brands, the company floundered to service its monumental debt load as an increasingly competitive marketplace in golf along with some business missteps put the company in a precarious position. Eventually the company sold off all its non-golf businesses (to Russell Athletic) as well as Etonic, renaming the remaining the entity Top-Flite.
Cobra to Titleist When American Brands, then Acushnet's parent company, bought Cobra in 1996 for $700 million it was thought to be a win-win for both companies. Cobra was a leader in the oversize iron market and in graphite-shafted irons for players with slower swing speeds. Titleist was a leader in golf balls and gloves and in footwear with its FootJoy brand. Thomas C. Hays, then chairman and chief executive officer of American Brands, deemed it a "high-return acquisition that fits exceptionally well with our strategy to further enhance the value of our great brands." It certainly was a high-return acquisition for Greg Norman, who is estimated to have made between $45 million and $50 million off the sale. Cobra, however, struggled as part of the Acushnet Co., partially due to an uptick in Titleist's golf-club business, and was eventually sold to Puma AG in 2010.
Odyssey to Callaway In July 1997, Callaway Golf purchased putter maker Odyssey for $130 million, or nearly four times the company's annual sales of $35 million at the time. "[We] decided that by the end of 1997 we wanted to provide the golfing public with the best-performing putter in the market and we believe with this acquisition we have accomplished that goal," said Don Dye, Callaway's president and CEO at the time. Since the acquisition Odyssey has continued to be among the leaders in the category, with introductions such as its iconic 2-Ball. In 2015 Callaway's annual report noted that putter sales accounted for $86.3 million in revenue.
Maxfli to TaylorMade
In 2002, TaylorMade purchased Maxfli and its patent portfolio. Several issues followed as the company could not re-establish the Maxfli brand. A relationship with John Daly as its flagship spokesperson failed, while the ball's premium reputation took a hit with less-expensive models such as Fire and Noodle making up the bulk of its market share. Six years later TaylorMade—opting to focus on its own ball business—pulled the plug on Maxfli, selling it to sporting-goods chain Dicks, while retaining the Noodle name as a standalone entity.
Ben Hogan/Top-Flite to Callaway
In September 2003, Top-Flite Golf (whose assets included Top-Flite balls and clubs, Ben Hogan balls and clubs and the Strata name, a ball plant in Chicopee, Mass., and a healthy number of desirable golf-ball patents) went up for auction with two equipment heavyweights, Callaway and TaylorMade, slugging it out. After 33 bids, Callaway emerged victorious, offering $174.4 million in cash plus assumption of debt. Over time the win has proven valuable to Callaway as it was able to shift business from its costly ball plant in Carlsbad, Calif., to Chicopee, utilize some ball patents and also leverage Hogan's Apex name on Callaway-branded golf clubs. It also kept all that from its biggest competitor.
Cleveland to Sumitomo Rubber/Srixon
In the fall of 2007, the long-rumored sale of Cleveland Golf came to fruition, although the buyer came out of the dark, with SRI Sports Ltd. (parent of Srixon) landing Cleveland (which was owned by Quiksilver) for $132.5 million. SRI (Sumitomo Rubber, which owns the Srixon and Dunlop brands in Japan) had net sales of $2.2 billion for the first six months of 2007 and was the largest equipment company in Japan at the time. The acquisition was made to try and help Srixon gain traction in the U.S. market while bolstering Cleveland's business. Although Srixon has made slight inroads in the U.S. market since, especially in golf balls, Cleveland's business has been on a steady decline since, even in its strongest market segment, wedges.
Cobra to Puma
After Acushnet (parent of Titleist, FootJoy and Cobra), signed an agreement to sell Cobra to Puma AG in 2010, two questions being asked were "Why would Acushnet sell?" and "Why did Puma buy?" When Acushnet-parent American Brands (now Fortune Brands) purchased Cobra in December 1995 for $700 million, Cobra was to become the flagship club brand. Although Cobra enjoyed some success in the club category, Titleist-branded clubs began to present offerings appealing to a wider range of players, putting them in competition with Cobra rather than complementing them. With the acquisition, Puma, meanwhile, became a major player armed with an equipment company that had a large distribution base to go with its footwear line, as well as a tour staff with international appeal (Camilo Villegas and Ian Poulter were among Cobra players at the time). Since then Cobra has grown as a lifestyle brand in golf and on tour, with players such as Rickie Fowler, Lexi Thompson and, recently, Bryson DeChambeau.
Yes! to Adams
In January 2011, Adams CEO Chip Brewer landed putter maker Yes! Golf with a bid of $1.5 million ($1.65 million including administrative costs) in a U.S. Bankruptcy Court auction. "We've wanted to get in the putter business in a significant way for a long time," Brewer said at the time. "We've flirted with a number of different opportunities and for various reasons we've liked the Yes! brand and now seemed like a good time to go for it. … It's a strong international brand, with some 70 percent of its revenues coming from the international market and that helps us because Adams' primary strength is domestic. There are a lot of positives." Unfortunately, with Adams being sold to TaylorMade a year later, and Brewer leaving for Callaway, the Yes! brand never had an opportunity to really get a fair shake after the acquisition.
Titleist to Fila Korea
The largest-ever purchase of a golf-equipment company occurred when Fila Korea Ltd. and Mirae Asset Private Equity purchased the Acushnet Company (comprised of the Titleist, FootJoy and Pinnacle brands) for $1.225 billion in 2011. Acushnet remained a standalone operation in Fairhaven, Mass., while also expanding in Asia where golf was growing and even greater potential was possible. Acushnet chairman and CEO Wally Uihlein helped engineer the deal that kept intact the company and brands he nurtured for 20-plus years and allowed him to remain in charge. "If I could have achieved anything when I started here, it would be to get the company in a position where it can sustain the brands, and today that is dictated by the globalization of golf," said Uihlein at the time of the sale. "Companies that are U.S. centric will be roadkill on tomorrow's scorecard."
Adams to TaylorMade
In March, 2012 TaylorMade announced it had reached an agreement to acquire all of the outstanding shares of Adams Golf for $10.80 per share in cash, or roughly $70 million. At the time, Herbert Hainer, CEO of adidas Group, TaylorMade's parent company, said the move, "reflects our commitment to continued growth in the golf category." The idea was that the acquisition brought together two highly complementary sets of brands, combining Adams' focus on game-improvement as well as senior and women golfers with TaylorMade-adidas Golf's focus on the younger and the low-to-mid handicap golfer. The move had several ripple effects, including Adams CEO Chip Brewer leaving shortly before the announcement to head up TaylorMade-rival Callaway. TaylorMade, for its part, received access to several patents related to slot technology in clubheads, which it used expertly in its RocketBallz line of clubs. Unfortunately, the Adams brand has gotten lost over time and now is a mere afterthought at TaylorMade.