News
Here's the prize money payout for each golfer at the 2019 U.S. Women's Open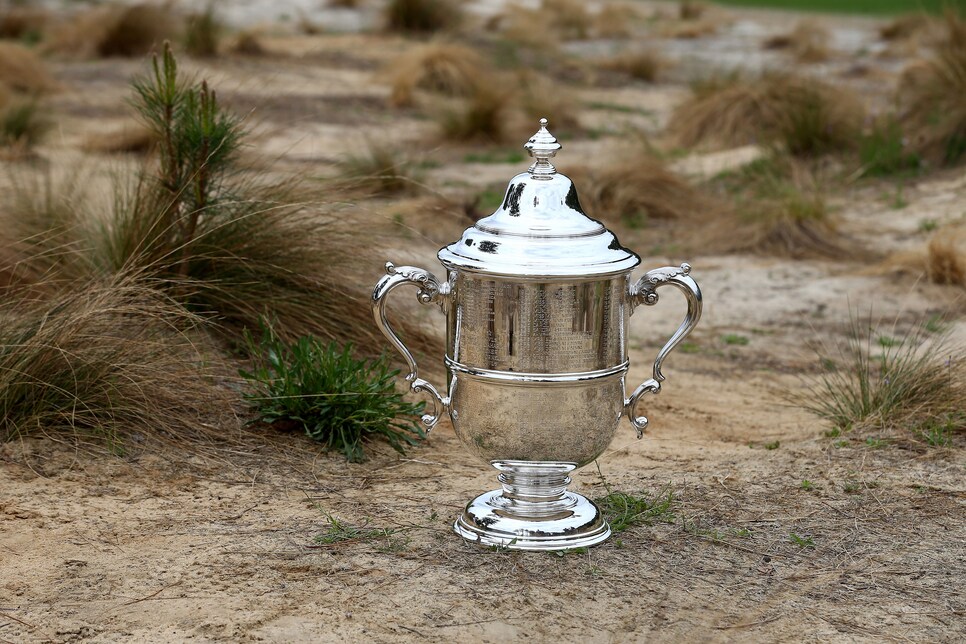 Streeter Lecka/Getty Images
It is considered the biggest event in women's golf. It's only fitting, then, that the U.S. Women's Open have a purse that reflects the event's status. Earlier this week, USGA officials announced that they had bumped up the prize money for the national championship by another $500,000, bringing the overall purse to $5.5 million. For the first time, the winner, Jeongeun Lee6, received $1 million, up from the $900,000 that Ariya Jutanugarn earned last year when she won in a playoff at Shoal Creek.
"The USGA is committed to providing an unparalleled experience to every player competing in its championships," said John Bodenhamer, USGA senior managing director, championships. "Through strategic investments in our player relations program, we are continuing the effort to create a competitor experience commensurate with the game's most prestigious championships, and that includes an increased purse and a continued commitment to make playing in an Open championship unforgettable for the world's top amateur players."
Here's a look at the overall purses for the other four women's major:
ANA Inspiration: $3,000,000
KPMG Women's PGA Championship: $3,850,000
Evian Championship: $4,100,000
AIG Women's British Open: $3,250,000
The only women's tournament with a larger prize for the winner is the CME Group Tour Championship, in which the sponsor announced last year that it was increasing the winner's payment to $1.5 million for 2019 and doubling the overall purse to $5 million.
Beyond just the winner at the U.S. Women's Open, here's a breakdown of what each player can win for their efforts this week at the Country Club of Charleston.
WIN: Jeongeun Lee6, -6, $1,000,000
T-2: Angel Yin, -4 $412,168
T-2: So Yeon Ryu, -4, $412,168
T-2: Lexi Thompson, -4, $412,168
T-5: Gerina Piller, -3, $178,633
T-5: Jaye Marie Green, -3, $178,633
T-5: Mamiko Higa, -3, $178,633
T-5: Yu Liu, -3, $178,633
T-5: Celine Boutier, -3, $178,633
T-10: Ally McDonald, -2, $125,518
T-10: Jessica Korda, -2, $125,518
T-12: Maria Fassi, -1, $103,465
T-12: Sung Hyun Park, -1, $103,465
T-12: Gina Kim, -1, Amateur
T-12: Minjee Lee, -1, $103,465
T-16: Inbee Park, E, $76,124
T-16: Pornanong Phatlum, E, $76,124
T-16: Charley Hull, E, $76,124
T-16: Jin Young Ko, E, $76,124
T-16: Sei Young Kim, E, $76,124
T-16: Nanna Koerstz Madsen, E, $76,124
T-22: Jing Yan, +1, $54.935
T-22: Minami Katsu, +1, $54.935
T-22: Carlota Ciganda, +1, $54.935
T-22: Ai Suzuki, +1, $54.935
T-26: Lindy Duncan, +2, $42,951
T-26: Lizette Salas, +2, $42,951
T-26: Ariya Jutanugarn, +2, $42,951
T-26: Chella Choi, +2, $42,951
T-30: Mi Hyang Lee, +3, $35,724
T-30: Esther Henseleit, +3, $35,724
T-30: Caroline Masson, +3, $35,724
T-30: Gaby Lopez, +3, $35,724
T-34: Hannah Green, +4, $28,751
T-34: Patty Tavatanakit, +4, $28,751
T-34: Katherine Kirk, +4, $28,751
T-34: Hina Arakaki, +4, $28,751
T-34: Jeong Eun Lee, +4, $28,751
T-39: Eri Okayama, +5, $19,492
T-39: Anna Nordqvist, +5, $19,492
T-39: Lydia Ko, +5, $19,492
T-39: Megan Khang, +5, $19,492
T-39: Aditi Ashok, +5, $19,492
T-39: Jenny Shin, +5, $19,492
T-39: Eun-Hee Ji, +5, $19,492
T-39: Wei-Ling Hsu, +5, $19,492
T-39: Brooke M. Henderson, +5, $19,492
T-39: Ryann O'Toole, +5, $19,492
T-39: Nelly Korda, +5, $19,492
T-50: Peiyun Chien, +6, $12,757
T-50: Morgan Pressel, +6, $12,757
T-50: Moriya Jutanugarn, +6, $12,757
T-50: Wichanee Meechai, +6, $12,757
T-50: Austin Ernst, +6, $12,757
T-55: Brittany Altomare, +7, $11,870
T-55: Rose Zhang, +7, Amateur
T-55: Ashleigh Buhai, +7, $11,870
T-55: Haeji Kang, +7, $11,870
T-55: Azahara Munoz, +7, $11,870
T-60: Andrea Lee, +8, Amateur
T-60: Maria Torres, +8, $11,589
T-62: Jiwon Jeon, +9, Amateur
T-62: Jennifer Kupcho, +9, $11,303
T-62: Tiffany Chan, +9, $11,303
T-62: Misuzu Narita, +9, $11,303
T-62: Jennifer Chang, +9, Amateur
T-62: Dottie Ardina, +9, $11,303
T-68: Jodi Ewart Shadoff, +10, $10,962
T-68: Brittany Lang, +10, $10,962
70: Jasmine Suwannapura, +11, $10,791