The Loop
Here's how Joe Buck assesses Fox Sports' first year covering the USGA
It was last Friday afternoon, and the quarterfinals of the U.S. Amateur at Olympia Fields Country Club outside Chicago were in the books. However, that didn't mean Joe Buck was done with golf for the day.
One of the customs for Buck and other members of the new Fox Sports golf crew is to retreat to a local driving range after the telecasts. Friday, Buck, along with Brad Faxon and Scott McCarron, went to nearby Glenwoodie Golf Club, a public golf facility, to beat balls. And the emphasis is on beat when it comes to Buck.
"You should see Joe go at it," Faxon laughed about their 90-minute session. "It's cardio golf."
"My game is on life support," Buck said.
Buck's single-digit handicap has suffered in the wake of a full summer covering rather than playing golf. However, he isn't complaining.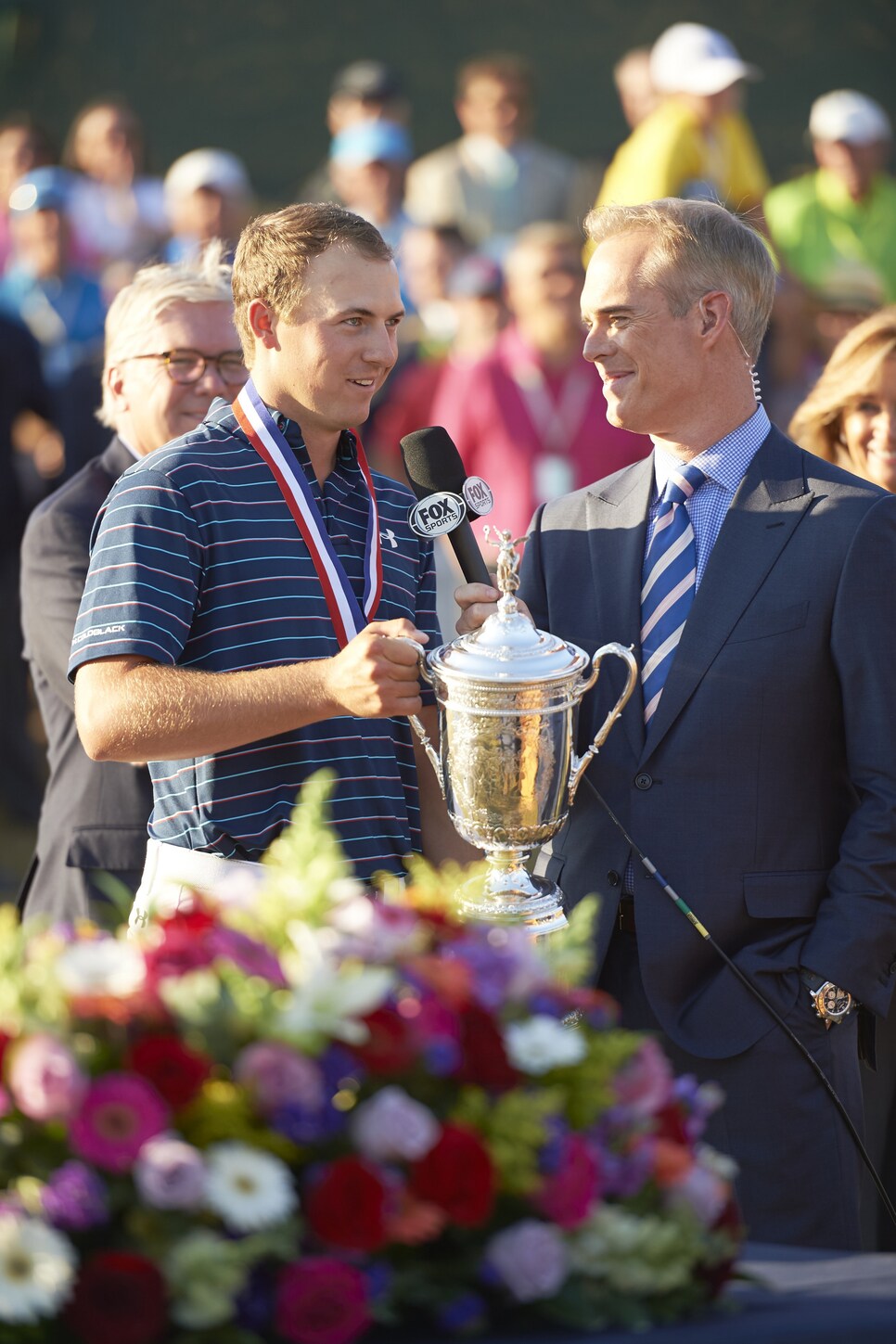 Sunday's final round of the U.S. Amateur saw Buck and Fox Sports complete the first year of its 12-year deal with the USGA. Buck insists he already is looking forward to next year's USGA slate and that viewers can expect to see an improvement in the quality of Fox's golf presentation.
Buck is well aware of the knocks against Fox's golf coverage, largely stemming from negative reactions to the U.S. Open. However, he maintains the crew made great strides this year. In an ideal situation, he says Fox would have been better served if the U.S. Open was its last tournament of the year, rather than one of its first.
"Absolutely," Buck said. "We didn't have that luxury. Everyone talks about reps. There's no substitute for reps. Now that we've done four or five events, there is more of an ease with the timing. It's gotten a lot better. I told everyone [before the U.S. Open] that we would be better on Friday than we were on Thursday. I know we will be better next year than we were this year."
While acknowledging Fox's coverage of the U.S. Open at Chambers Bay wasn't perfect, Buck said it was his "proudest moment" during his years with the network, which has featured him calling multiple World Series and Super Bowls.
"I'd put that up against anything we've done on Fox," Buck said. "Technologically, it was a major undertaking at Chambers Bay. It put everyone under the gun. We were picking up sound on the greens, things that carried the story. Everyone was clicking beer bottles when we went off the air. It felt that good."
As for Buck, covering golf was a new experience for him. He said he had to learn to make the transition from having the best seat in the house from his stadium perches for football and baseball to having the worst for golf. Unlike other sports, the action isn't directly in front of the announcer in golf.
"The pace is way faster than I thought," Buck said. "You're bouncing around so much, it's grab the bottom of your chair and hang on. When I get information coming into my ear, I have to trust that it's right. It's a leap of faith every time we do another hole. But I like that. I like piecing it altogether."
The summer, Buck said, only served to deepen his obsession for golf. When asked if he would do a similar schedule of USGA tournaments again in 2016, he gave an emphatic yes.
"I told my wife before we started that I didn't know what I was getting into," Buck said. "This has been beyond my hopes and expectations. To be around this game has been invigorating to me. I love being around these people. When you show up to a course and you drive past the first tee and to the driving range, all you want to do is grab your clubs and start hitting balls."