News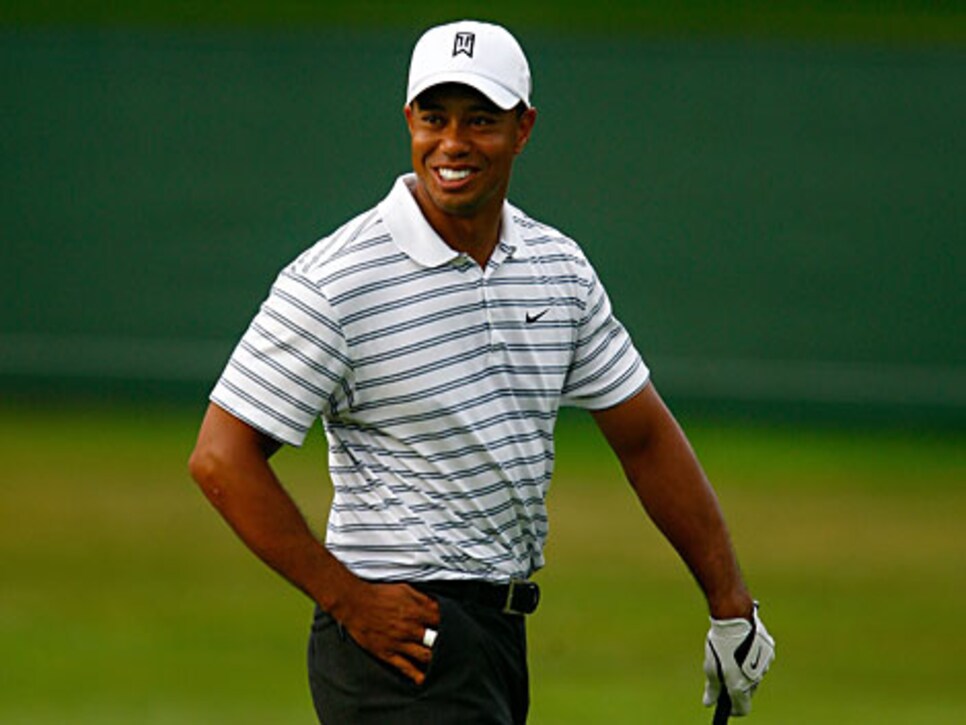 Tiger Woods' comments on Sunday were uncharacteristic, but they also underscored his competitive nature.
Instead of coming into Hazeltine National riding high off his second straight victory, Tiger Woods arrived in Minnesota on Monday amid reports he was being handed a bill.
Fined for public criticism of a PGA Tour rules official, the AP story said.
The implications were priceless. Here's Woods, a guy who took some ESPN heat this summer for his behavior, just a week ago worried about his image being tainted by what the New York tabloids called "Fartgate," the corporate pitchman who gets criticized for not taking a position or never putting himself in the midst of a controversy, found himself in the middle of one going into the 91st PGA Championship.
Woods denied the fine in his Tuesday news conference, calling the story erroneous, but that only tamped down the outer flames to a fire that still burned inside Woods throughout his pre-tournament news conference—especially when the subject of slow play and the judgment behind the decision to put him and Padraig Harrington late in the final round of a riveting WGC-Bridgestone Invitational came up. Clearly he wasn't backing off and if he wasn't fined before Tuesday, he might have been afterward.
First, it's good to see Woods have Paddy Harrington's back in a story that's going to become to the'09 PGA what the Pay For Play controversy regarding the Ryder Cup was in '99 at Medinah. Woods won that one, his first in 10 majors. He's 0-for-three going into Hazeltine, and quietly burning inside.
The way he took the issue to his news conference in Akron, putting it out there by saying, "I don't know if you guys know or not, but we were both put on the clock," and laying it all out clearly and with conviction, showed that he had consciously stepped out of his role as golf's most careful quote.
In defense of tournament director Slugger White and his committee of officials, the rules may be rules, and the final group of Woods and Harrington was a full par-5 hole behind when notified they were "on the clock."
But, c'mon: this is the par-5 16th at Firestone, Woods almost unbelievably one stroke down to Harrington in a Sunday thriller. A potential classic at a landmark location.
Even Jim Nantz was adding editorial comment to a CBS show that was building to a climax, only to have the legs pulled out from under it in a blatant case of not getting the big picture.
The big picture being a prime time audience, with the potential of Woods-Harrington going into a playoff: Instead, Nantz was saying after Paddy's rush job triple bogey killed the drama just when it was building, "I've never seen curtain dropped so soon before the end of the story."
Everybody in the game knows that Harrington is a lot faster than he used to be, but reputations die hard for a guy who once he gets up over it, pulls the trigger fast.
"Yeah, he's been on the close a couple times this week, but we're pretty much right on the money, right on time," said Feherty.
Tiger wasn't mad because of ratings. And the irony, according to White, "We're trying to hit television. We're trying to finish at 6 o'clock."
Tiger was mad because the battle was altered or called short by an outside agency. He wanted this one to go all the way, because he wanted to test himself against the guy who won two majors while he was away last summer, a grinder who right now commands more respect from Woods than anybody in the game.
The end product, instead of focusing on Woods' fourth come-from-behind victory this year, was the interjection of European Tour rules official John Paramor into the script as the bad guy, and a dust-up involving the highest profile athlete in the world.
There is a Machiavellian side to Woods. He wants to take the power, but he doesn't want the power given to him. And this one was given to him. As he pointed out, had Harrington enough time to think this one through, slowed down a little, made no worse than bogey, it's still a golf tournament -- a one-stroke lead for Woods going to the 17th tee box.
It's been since last summer's U.S. Open that Tiger was challenged the way Harrington came back after Tiger's front-side 30. No disrespect to Rocco Mediate, but this was the three-time major winner, the guy Golf World called "The Closer" after Harrington closed out Sergio Garcia in the PGA last year.
Not that he needs more to be stoked about other than coming back one year after knee surgery to win a major, but whether he was fined or not, this is that last piece of motivation in the craw of a motivational freak. They might as well hand him the Wanamaker Trophy now.
"Yes, I've heard from the tour and there's no fine," Woods said.
For Tim Finchem, that's either good news or positive spin. For if Woods was fined, it would have been double jeopardy for the FedEx Cup. Tiger might not have won the PGA and say goodbye for the rest of the season. But in his world, there are only four playoff games, and the fourth is being played this week under an unusual air of intensity -- with Harrington and Woods paired for the first two rounds, at least.
It should go off like clockwork.