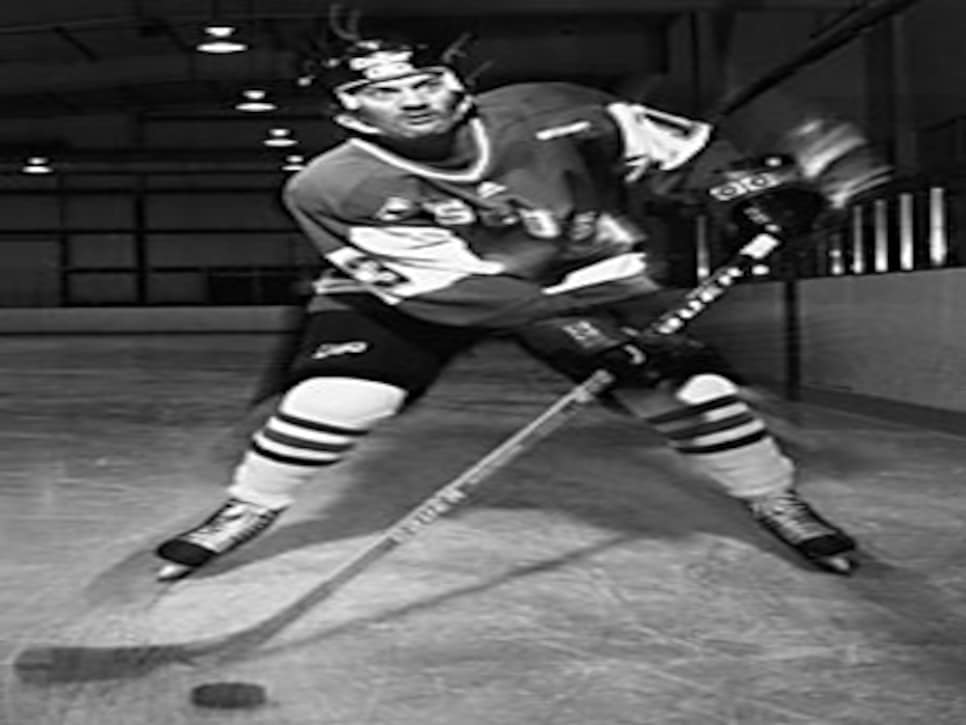 Kelly skated with some of the NHL's best, but he wasn't quite as good at hockey as he is at golf.
Jerry Kelly does not back down. Not to a rattlesnake on his driveway or a flurry of fists on a hockey rink, much less to Tiger Woods, whom Kelly made a point of studying while both men represented the United States at the 2003 Presidents Cup. After toiling for six years in golf's minor leagues—he failed to make it through PGA Tour Qualifying School six times—Kelly has surprisingly emerged as one of America's top players.
The guy would like you to think he's half-crazy, which may be true, but he's also bright, personable and opinionated. And since winning the 2002 Sony Open in Hawaii for his first tour victory, Kelly has been consistent—22 top 10s and more than $5 million in earnings. Not bad for a mutt who barely made a ripple as an amateur, and whose first $100,000 season as a pro didn't occur until his late 20s.
It's not nearly good enough for Kelly, a player whose inadequacies have always fueled his desire. Few are so harshly candid about their shortcomings, yet Kelly, at 37, sees his best golf ahead of him. A lifetime of swing flaws didn't receive serious attention until instructor Rick Smith intervened in 1997. To that point, Kelly, an all-city hockey center in high school, had gotten by largely on hand-eye coordination and trinkets of advice from his wife, Carol, without whom he might be selling insurance in his hometown of Madison, Wis.
Golf Digest hardly had to badger Kelly for lengthy interviews on four separate occasions in early 2004. Qualifying for September's Ryder Cup matches would mark another personal milestone in a career few saw getting this far, although Kelly, for all his physical limitations and competitive insecurities, didn't get to where he is by believing he couldn't.
Ten years ago you were on the Nike Tour with nothing more than a victory at the 1992 Wisconsin State Open on your résumé. A decade later, is this what you had in mind?
Absolutely. My brother is eight years older than I am, and I told him and his buddy when I was 12 that I was going to be a pro golfer. We were all watching golf on television one afternoon. I don't remember this, but they do. I pointed at the TV and told them, "That's what I'm going to do for a living someday."
That's a pretty lofty ambition at age 12.
[Laughs.] My father is a big insurance guy, and he tried to get me interested in the insurance business. He had me doing odd jobs around his office at an early age, but he also realized golf was something I really wanted to do, so he let me pursue that. He did things to give me structure early, which made it like work. Still, he never forced anything on me. It was more like, Hmmm, not practicing? He'd shame me a little bit. I could always hit a 1-iron high and low, things like that, but he knew it would take so much more.
Hockey was also a big part of your youth. How good were you? Scratch? Best player on your high school team?
No way. I played with NHL-bound guys in high school. No way was I turning pro. I was fast and fearless, a center who would go into the corners, but this was a time when the physique of hockey players was changing. It went from 5-feet-10 and 165 pounds to 6-feet-4 and 220, from [Wayne] Gretzky to [Mario] Lemieux. And I was starting to get hammered.
I didn't study hockey like I studied golf. I had a natural instinct for getting around the golf course, but in hockey, I didn't have a vision for the ice.
Hockey was my first love—;maybe I loved it more because I wasn't as good at it.
Give us your starting lineup of the best hockey players you've ever skated with.
That's tough, because I did the summer-league thing once and had my butt handed to me. Chris Chelios was on the ice, Mike Richter was on the ice. Kevin Dean, my best friend growing up, got a Stanley Cup ring with the New Jersey Devils. There were probably a dozen guys from my neighborhood who went on to play pro hockey.
What was the wildest hockey fight you were ever involved in?
That's easy. I remember it very well. Midget traveling team, Madison Capitals. I was 16.
I'm about to take a face-off, and the other team is huddled up just to the right of the goal. I'm like, Are they calling a play or something? So they drop the puck, and every single one of them jumps on me. Every single one of them! I'm underneath the pile just laughing, maybe trying to take a swing. My teammates come, and the whole thing is a mess—they ended up calling the game because we'd been fighting all day. It was absolutely comical.
I did some bad things that day, going after guys and missing them. One guy hit me in the neck with his stick out by the blue line. I went down, couldn't breathe. It was like my trachea was crushed. I got up and saw him in front of the net, started skating as hard as I could, right at him. At the last second, he ducked, and I went right over the top of him. I looked pretty dumb. But you know what? It was kind of fun. That kind of emotion didn't transfer very well into golf. I've learned how to control that [rage] pretty well.
A man of your intensity surely has thrown some five-star golf tantrums. What's the maddest you've gotten?
That's a tough call, because in the past I could really let it fly. My best one had to be the first time my wife [Carol] caddied for me. I'm leading a T.C. Jordan tournament at Ocean Isle, and I've got a flyer lie out of the first cut, a 6-iron in. My ball comes out hot and right, takes two bounces off the cartpath and disappears. I reload just in case, and hit it long and left, then proceed to bury that 6-iron well into the ground and start walking. I ended up making a double. I get to the next tee and Carol says, "Aren't you going to go get your 6-iron?" I haven't buried a club since then that I haven't picked up myself.
Kelly with his son at the 2004 Masters Par-3 Contest.
At the start of your career you moved from Wisconsin to Florida so you could play in the winter, only to find out after buying a house that you'd moved in with a den of snakes. What happened?
Oh, it was unbelievable! New community in Stuart. There's construction everywhere, and pygmy rattlesnakes all over the place. We spent two, maybe 2½ years there, then built another house in the same community. Great house. We loved it, and if we could have picked up that house and taken it back to Wisconsin with us, we would have.
The fire ants would not leave us alone. One day I walked outside, and there's a water moccasin probably three feet long waiting for me. I went after it with a shovel but missed it, and the next day, the mama shows up. She's about five feet long, nice and thick. I killed it, held it up like the Crocodile Hunter, and said, "Isn't she a beauty?" We went for a walk around the neighborhood that afternoon and found a pygmy rattler on our driveway when we got back. I got that one, too, but our house was up for sale the next day.
It's funny, because I won twice the first year [2002] we came out of the winter in Madison. I was so at peace with getting back, but now I'm back to being a madman again.
You've always been a scrapper, figuratively as well as literally. What are your goals?
Making the Ryder Cup team, winning a major, and finding the ability and consistency to lead the money list for a year. The goal of becoming No. 1 in the world, I'd have to admit, is a little out of reach. That said, those are three huge goals.
Nobody said aiming high was a sin.
I know people will read this and go, He's going to lead the money list for a year? Yes, I see myself doing that. I see myself getting so much better in the next five or six years.
Do you ever look at what happened to David Duval and Ian Baker-Finch and worry that the same thing could happen to you?
How about today—*every *day? I'm not stable. I look at mini-tour results every single day. I love paying attention to Q school—I love paying attention to everything I never want to play in anymore. I don't have the natural talent other guys have. I definitely think about it, and it drives me. When I get into a slump and miss the cut, I'm the worst player who ever lived. I'm a fairly negative person, a lot more than I should be, and that's where lot of my anger and motivation comes from.
One player recently told Golf Digest that he's content finishing in the top 30 on the money list; he doesn't have the drive to be like Tiger, Ernie, Phil or Vijay.
Come on—someone from the top 30? Especially somebody in the top 30, who's been there, where they can taste it. I hated where I finished last year. I finished 26th or something [after finishing sixth the year before]. I couldn't stand it.
Making the Presidents Cup team in 2003 was quite an achievement. How much did that mean to you?
I'm getting chills just thinking about it. One of my main goals when I turned pro was to be on a team again, with the best players in the world, so making that squad was huge.
And Jack Nicklaus was the captain. Did you already know him?
Yeah. [Laughs.] I had always known Jack, being friends with Gary. But the first time I played with him was at the Bear's Club not that long ago. I think it was the year Gary almost won in Atlanta [2000 BellSouth]. On the first hole I just bomb it by Jack about 20 yards. Now I can relax the next shot up there on the green. He had 7-iron from about 170 and knocks it on the green. Here I am in the middle of the fairway and so proud of myself—but still shaking in my boots—and I just choke the next shot. I get up and chunk it 60 yards short of the green. You look over at him, and all he does is give you the look. He's too much. He knows it's all about him.
He's probably seen his share of chunked shots by tour pros before.
Oh, yeah. It was a classic Jack story. So don't think I wasn't thinking about that every time he came up behind me while following my matches in the Presidents Cup.
Past U.S. teams have been maligned for their inability to gel as a unit. You're a big rah-rah guy who, prior to heading to South Africa, promised to make sure this group was a team. How'd that go?
I'd heard the same stories—that these guys didn't play together, didn't do enough together, didn't have any fun. So right from the start, I had some fun. I tried to assign them numbers, or let them pick their own. Let's take the names and the egos out of the equation and just be numbers out there. It was my way of breaking the ice and getting a chance to talk to each guy.
Which number did Tiger pick?
He said, "Can I be No. 1?" So I said, "You can be 01; right there, 01."
At the end of the week, Tiger said that Fred Funk, Chris DiMarco and I had a lot to do with making this a great group of guys, and I don't think he was blowing smoke. He said, "This is the closest I've felt as a team, the most fun I've had."
You talked about how much you'd like to make a Ryder Cup team. How did you feel about "The War by the Shore," the 1991 matches at Kiawah Island where things got so intense that the very spirit of the event was questioned?
The Ryder Cup needed that. It was languishing. I know Europe had won two or three straight times going into '91, but [U.S. captain] Dave Stockton did everything he could to let the public know we weren't going to lose again. I thought he did a fantastic job. Obviously, everyone got caught up in the emotion and excitement, and it changed the Ryder Cup forever. Good thing? Bad thing? It did a lot for golf. Hey, some of the best fights in hockey are between friends. They beat each other's brains out, then go have a beer together. That's what sport is all about.
Could golf use a bit of a hockey attitude?
I think the personalities have been taken out of the game—a lot of golfers are portrayed as stiff. If something bothers me, people are going to know it. I can't hide it. I try to hide it, but then it's Oops, I need to blow a little bit, and then I come back to center. A lot of these guys haven't been around other sports. Maybe golf was the only thing they played, and they were taught not to show emotion. I've always been told to calm down, but never to not show it. I suppose some guys couldn't play a lick if they were as emotional as me.
Craig Stadler might never have made a cut if he'd been required to be a robot.
It's funny you mention him. It's a double standard. A lot of players slam a club into the ground, and you hear, Oh, that's terrible for the game; I hate to see that. Then when Stadler slams a club, it's, Look at that. All those years out there and he's still got the fire.
At a players' meeting this year, the tour said it wanted you guys to show more emotion on the course. Can you see yourself manufacturing a reaction to appeal to people watching at home?
I know they like it. One thing I've had trouble with is my language. I consider it unprofessional and ungentlemanly, and the fines are getting bigger and bigger. That part of my temper is something I still need work on.
Davis Love III was harassed at the WGC-Match Play Championship by a spectator who didn't use profanity. Who was in the wrong there?
Davis is the Bobby Jones of our time. He is the truest gentleman of the game and was brought up that way by his father from a very young age. Should he have shrugged it off, like a lot of players would? I don't know. Davis gets extremely emotional out there. He is not the stoic figure he appears. He plays with serious emotion, and in that case, he let the emotion get the best of him.
I've gone under the ropes to approach fans who have been disrespectful. I've been there. I want to go tear the guy's head off.
When's the last time you felt like you had to take the matter into your own hands?
I went under the ropes in New Orleans about five years ago to chat with a guy on a cell phone. He wouldn't hang up. The guy held his finger up to me, like, OK, give me just one more minute. Then he turned back around. In fact, his back was still turned to me when I got about a half-inch from his ear and said, "Get off the phone." One of my shining moments.
At the 2003 Match Play, I pulled a wedge shot into the bunker on 15 against Phil [Mickelson] and a guy yelled, "Kelly, you're gonna choke!" I kept on playing, but I said to my caddie at the time [Tom Janis], "T.J., take care of that guy." Same as the deal with Davis—it had gone on for a bit. After a while, you get fed up.
So you'll do something about it.
Yes. I've been told by my wife, my caddie, everybody, "Let somebody else handle it. You just go on; don't let them get to you." So I've tried to take that route.
Carol comes from a golf family—her brother Jim Schuman played on the Nike Tour, correct?
Yes. She also said she'd never marry a golfer, and she doesn't play.
Other than that, she's perfect.
She's extremely smart and has a terrific sense of the game's personality and mental side. And let me tell you, there's nobody I trust with my swing more than her. She's seen me play my best golf, and now she knows what works. I know a lot of caddies don't like to see wives get involved, but Carol has made a believer of every caddie I've had. There have been at least five times this year already when she's fixed my swing. My swing! She does almost as good a job as Rick Smith.
When did you start seeing Smith?
On the range at Winged Foot during the 1997 PGA Championship. I'd shot 81 the day before, and Rick was on the range working with Lee Janzen, who was playing in the final group that Saturday afternoon. I said, "Rick, I need your help." He's like, "Jerry, I've been watching you. You've been playing really well. If you can play well with the swing you've got, you could be a great player with a little bit of help." And I'm like, "Uh, thanks? I guess that's a compliment."
Without having been a player, what does Carol see in your swing?
It's amazing how simplified she sees things. Bad posture, quick takeaway, lifting the club up, things I absolutely have to avoid. She's saved tournaments for me, and that's not even getting into the mental game.
I remember a conversation we had when I was going bad last year. I still have the piece of paper in my wallet—all the things I scribbled down during the 90-minute phone conversation we had. When I'm going bad, I pull that thing out of my wallet and hear her talking to me. I also appreciate that Paul [caddie Paul Tesori] sees the importance of the role she plays. He'll say, "Man, I can't believe she sees that."
You've come so far. Three years on the Nike Tour. A little different world out there?
It was great. Carol and I would turn on the tunes and drive from tournament to tournament. We were out there almost 35 weeks each year, so we didn't really have a home to miss. It was a tough grind, but those years are the reason I've gotten to where I am now. I went 0 for 6 at qualifying school, then realized that if you work your butt off on the Nike Tour, you don't have to deal with Q school. We got married, and I began seeing Dr. [Bob] Rotella right before I won.
What did Rotella give you?
Just a method. A methodology to practicing, practice rounds, pre-shot routines. When things work, stick with it. He talked about how when Nick Price had his first great year [1993], he never shot at pins. He divided the green into thirds and made a ton of 30-footers that year. Why? Because he gave himself so many chances. I latched onto that and played incredibly consistent that year ['95]. To be honest, I don't think I've had a year that good since.
Any traveler's tales of woe during your six years in golf's minor leagues?
Well, I never broke down, but I did run out of gas a time or two. This was before Carol was traveling with me, and I'd always push it, push it, figuring I could go one more exit before filling the tank. All those people you worked so hard to pass, now I'm giving it right back. The last time I ran out of gas, I had my mountain bike strapped to the top of the car. I pulled the bike off the roof and rode about two miles to the gas station.
How tough did things get financially?
I was lucky enough to have my dad sponsor me in the early years—he liked the tax break he was getting when I was losing money.
You make it sound as if you were a 6-handicapper, when in fact you were the Nike Tour player of the year in 1995.
Yeah, and they sent the wrong vase [the award] to my house. Greg Norman was PGA Tour player of the year. I ended up getting Greg Norman's vase, and he got mine. I remember my parents wanting to keep his.
As a tour rookie in '96, did you have any uncomfortable moments when a security guard or maybe a volunteer on the range wondered who you were?
I knew nobody knew me. My first tournament, I walked up to Curtis Strange on the range and said, "Mr. Strange, my name is Jerry Kelly. Nice to meet you." He looks at me and says, "Who are you, calling me Mr. Strange? My name is Curtis. Now go hit balls." It may not have been exactly like that, but he was basically saying, You're out here now.
And now you've earned more than $10 million in your career. How much has life changed as a result of that?
Zero. I've always been a guy who extended himself past his means. It gives me the drive to reach a goal. Wow, you're building a house? You don't even know if you'll keep your card. Hey, it will make me keep my card. Now I've gotten to a spot where I'm really enjoying this.
What do you spend your money on? What's the most expensive thing you've bought in the last year?
Building the house in Madison is what we wanted—we spent seven years tearing out magazine articles that would help us build exactly the house we wanted. I'm not into crazy cars, and I got over my watch phase. They were a big thing for me for a while, but now I've got a nice one, and that's all I need. I enjoy wine, like filling my cellar. I don't have more than a couple of hundred bottles, and the cellar can probably hold 1,800 to 2,000, so I'm going about it the right way.
Every year I buy three or four cases of good stuff. You can spend $12,000 on a case to get something drinkable right now or $3,500 for something worth $10,000 down the road, but I'm not doing it for profit. It's just something I like. I've got a keg of Guinness on tap downstairs. We can walk across one fairway [he lives on Maple Bluff Country Club in Madison] and go swimming, so we've got everything we could possibly want here.
You play in the ATT Pebble Beach National Pro-Am every year with your friend Bob Halmi, and this year you guys won it. But within a couple of days we began receiving e-mails regarding the validity of Halmi's handicap. Give us your take.
He's gotten as many as 14 shots in the six or seven years I've been playing with him, and he got 11 this year. Honestly, Bob considered not coming because he'd been playing so poorly. He had no expectations. This is a guy who practices for several days before coming to Pebble. He'd play well in the practice rounds, but by the time the tournament starts, he's got no chance. I hit it terribly but made 14 birdies for the week. We made only one bogey as a team all week, and that was when he missed a one-foot putt.
Literally a foot on No. 7 at Pebble?
I mean, it could have been eight inches. It's not like he backhanded it, either.
But he helped you by 32 shots in the team competition. Isn't that a bit much?
No question, everything fell into place for us—we couldn't have performed any better as a team. I made three doubles that week, and Bob helped us by 10 shots on those three holes. Take those holes away and we don't even sniff it. Anybody who knows Bob knows he doesn't have a fake handicap. For a guy to play great like that and win, then have to answer to that, really sucks.
Halmi got his USGA Index down to 1.4 last summer, then soared back to high single digits at the end of the year. You've got to admit, it does look fishy.
Bob is not a 1.4. I'll stake my tour card on that. He posted some scores from Pebble in 2003 that he shouldn't have posted because he wasn't putting everything out. You don't need to walk 18 holes with him to see he's not a 1.4, I can assure you that.
I've had more fun playing that tournament with Bob than at any other tournament. He's taken care of us so well. Right when you get there it's like Hollywood week for us. Living at a different level.
Oh, absolutely. There were a lot of times he'd give us a suite, and then we'd bring Carol's sister. Plus all the food and all the wine—that wine list. I've been born into enjoying life with him more than focusing on the tournament. So I've been having the glasses of wine and staying up a little later and having some fun. Could be some of the reasons I haven't done very well there, but you always know that it's a fun week.
But you know when to turn on the competitive switch, reflected by your performance at the WGC-Match Play. In the last two years, you've beaten Thomas Bjorn, Mike Weir, Phil Mickelson, Sergio Garcia, Chad Campbell and Vijay Singh. Pretty impressive list of victims.
There are a few Ryder Cuppers in there, huh?
How much does mental toughness help you in a match-play situation?
It's huge. When I'm hitting second and the guy I'm playing walks out in front of me, I feel like I'm hunting him down. I was burning a hole in Darren Clarke's back [in the 2004 WGC-Match Play quarterfinals]; he just didn't feel it. It's a totally different mentality than in stroke-play golf. When you can focus on a specific competitor, that frees you up a little. I think it helps me.
How about practice-round matches? What's the most money you've won betting on the golf course?
I'm a consistent loser in practice-round money. John Maginnes was always my partner because I made birdies in tournaments, but he soon realized I play on adrenaline. I can't turn my adrenaline on and off, and it's not there until Thursday. I'll shoot 78 or 82 in the pro-am and guys are like, "Maybe you need to take some time off. It'll get better." I'm like, "Hey, take a look in the paper Sunday morning. See how I'm doing then." So I stopped playing money games. By the time I had some money, I knew not to play for it. I'm not a gambler in any way, shape or form except for the business I'm in. I'm terrible in Vegas.
__We talked before about the big player meetings with the tour. What happens there? Like the one you have every year at the Players Championship—do they get heated? __
The meetings aren't productive?
No. The issues that are raised get no follow-through.
I can give you a classic line: "We'll take that under advisement."
You get about six of those a meeting?
Yeah. "We'll take a look at that."
You're not exactly a rebel. You understand who butters the bread.
I understand the business aspect. I'm a finance major. When they send the annual report, some guys will just take it out of their locker and put it in the trash. I understand all those numbers.
You switched caddies last summer, replacing Tom Janis with Paul Tesori, who played briefly on the PGA Tour and recently worked for Vijay Singh. Do you believe the tour should do more for caddies in terms of health benefits and other perks?
Absolutely. I've been pushing for that for years—I tried to get my brother, who was doing group health [insurance] at the time, to draw up a plan for the caddies, but the PGA Tour wouldn't allow it.
Really? Were you given a reason?
No. I guess they're looking into it. I'm a huge caddie advocate. If we took some money allocated to our retirement plan and put it into a caddie fund, they'd all have health benefits. I mean, we're making so much dough out here. The tour's making a lot of money—this has to happen. My old caddie, Pat Fitzgerald, had a heart attack in an airport. He needed open-heart surgery, and he's still trying to pay off his medical bills.
The caddies' belief that they've been neglected helps explain their resistance to helping the tour with ShotLink [an Internet service that provides subscribers details like comprehensive stats]. Many caddies have refused to provide necessary data to the tour after a player's round has been completed. Your take?
I don't mind them using that leverage, because some accommodations should have been made before all this. When the tour said at the beginning of the year that it's the player's responsibility to provide the information, I gave the card to Paul and told him to fill it out. He told me a bunch of other caddies had gotten together and decided not to turn the cards in. Then he found out a lot of them chickened out, so he went ahead and did it. The caddies screwed themselves on that one. If you're going to take a stand, you have to be prepared to go the distance.
So to anybody who wonders why some of these guys earn six figures, you'd suggest strongly that top-of-the-line caddies are worth the bread they're making?
I hope my guy makes as much as I can possibly give him. There are plenty of guys who are bag toters, and there are plenty of guys who work their butts off and know everything about the course before you even take the club out of the bag. If a caddie can give me a feel visually of what that slope is going to do or what the ball is going to do and where I shouldn't be, then I can visualize the correct shot. That's key to me.
We mentioned that Paul used to work for Vijay. How well do you know Vijay?
Pretty well. I consider myself a friend.
He's helped you a bit with your golf swing.
Absolutely. Veej has done nothing but try to help me. On a lot of occasions. We rib each other, but I can always tell when he's really meaning to help. He could just be watching me and say, "Hey, you know, try a little tape on the toe of that thing; don't let it turn over as much." Or, "You're a little flatter than normal. You know, get the thing back up there and swing through." The best thing I can do for Veej—because he's not going to listen to me swing-wise—is just be his friend. Step up for him when people say he's not a nice guy, because it is the farthest thing from the truth.
We hear Vijay's party was the social event of the week at the Players Championship. Since we weren't invited, can you give us a little taste of the atmosphere?
They had a good band, and it was a lot of fun. A great bunch of people, a wide range. All the European players were there—that's my kind of pub-drinking crew.
You're a huge fan of the Green Bay Packers. Ever met Brett Favre?
I played with Brett and Frankie Winters [former Packers center]. There was a lot of back and forth, lots of give and take—he's such a regular guy. Now that's a guy I can get to know and have a good time with. I'm guessing when our schedules are better, we'll hook up again. I'd rather hang out with Brett Favre than the quarterback of the Green Bay Packers.
Who's the coolest celebrity you've ever played with?
Bobby Orr [NHL Hall of Famer] was awesome. Another guy who has helped me mentally is [former NBA star] Billy Cunningham. He talked me into working out before going to play—the idea is to get the adrenaline up and keep it up, because it isn't going to go away. He was the first to tell me to take advantage of the adrenaline, to enjoy it and not be afraid of it. A big step for me mentally.
What's the most pressure you've ever felt on a golf course?
Definitely the Presidents Cup ... but that's not the most nervous I've been. That would have to be the first hole of the Par-3 Tournament at the Masters. It's a totally different element for us. I thought I was going to shank it or stick it in the ground.
You played in the final round of this year's Masters with Sergio Garcia, who shot a 66 but acted as if he shot an 86. What was he whining about?
I don't know, but I consider myself a friend, and I'll find out. I told Carol something very strange was going on there. I'll find out, trust me.
Let's finish up with more on the majors: Your first was the 1997 British Open at Royal Troon, and that's where you're playing this year. What do you remember about the place?
I remember the Postage Stamp [the tiny par-3 eighth]. I remember 9, 10 and 11, that corner back there is just incredible. I had a local caddie that week, and he really got me around nicely [Kelly tied for 44th]. I love the British Open. It's one of my favorite tournaments.
The Open last year at Royal St. George's ... too much?
The worst golf course I've played in my whole life. There is no way you can have turtleback fairways like that and call it a golf tournament. I mean, come on! I was one of the straighter players out there, and I couldn't hit the fairway. It's a terrible golf course, and they should take it right out of the rotation.
Tough to forget the first hole last year, where you began the championship with a nice little 11.
It's like me to get a little too jacked up for a major. I get to the first tee and hit my drive exactly how I wanted, down the left side, and the wind pushes it into the rough. No big deal. I get to my ball and the heavy stuff is laying over it, but I'm thinking I can skate it down there. I don't know whether I went under it or over it, but I moved it like four feet. Now I've got a bad lie. I think it's not coming out, but it does—it shoots across the fairway into the far-side rough. I moved the next one about two feet, and my fifth stayed there, too.
At this point it gets a little fuzzy. I took a drop for an unplayable lie in there somewhere—I might have taken three swings on the left and four on the right. The last shot I hit might have gone a foot, and we needed three minutes to find it. I finally pulled it way left of the green, hit a bad chip and sank a 30-footer.
Did you know Jerry Kelly...
Didn't win a state amateur tournament (the Wisconsin State Match Play) until he was a senior in college. ... That victory came after Kelly suffered a compound fracture of the arm ("in about seven pieces") while wrestling with a friend on the Fourth of July. "You could hear the pop from a couple of miles away," Kelly says. "Getting hurt was actually a key point in my development, because I spent the rest of the summer practicing my chipping and putting with one hand. I went from hitting it really hard to being the smarter, straighter player I am now." ... Kelly attended the University of Hartford on a golf scholarship. He also planned to play hockey, but the school dropped the program.