News
The silent, stunning resurgence of Harris English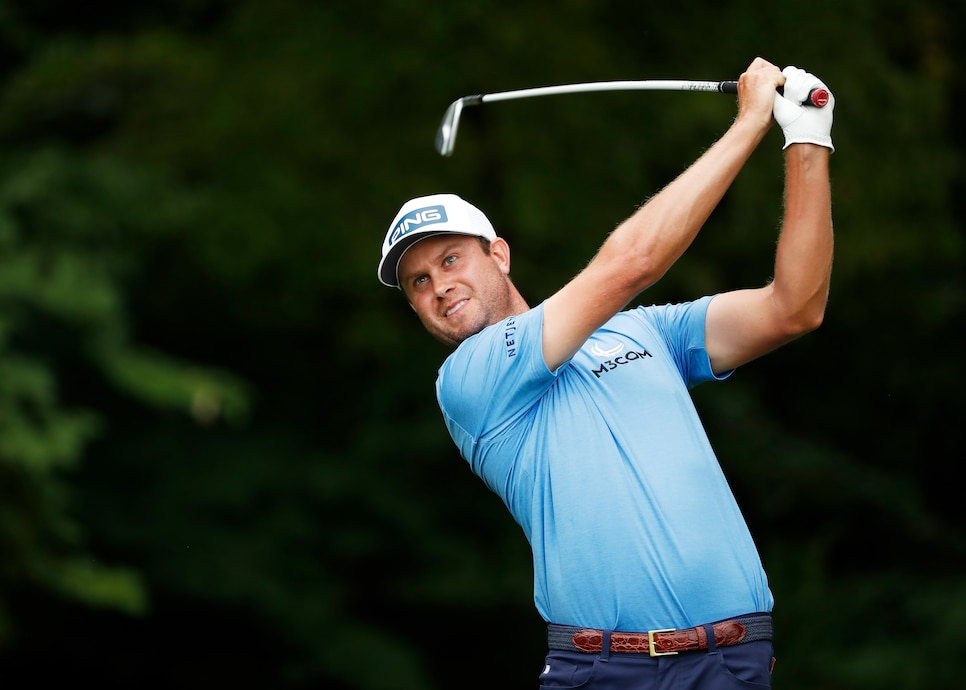 Harris English plays his shot from the second tee during the final round of the Wyndham Championship.
CHRIS KEANE
One of the most successful 2020 PGA Tour campaigns—and definitely the quietest—belongs to 31-year-old Harris English. With his second-place finish at The Northern Trust last weekend (thanks to Dustin Johnson, it was a distant second), he moved up to sixth in the FedEx Cup standings, clinched his spot in the Tour Championship and has a legitimate chance to win the $15 million first-prize bonus in Atlanta. This is a shocking development, to put it mildly, and the fact that he's done it despite testing positive for the coronavirus in late June turns English's story from surprising to jaw-dropping. He's the ultimate dark horse among the current top 10, which becomes abundantly clear when you consider the names:
Dustin Johnson. Justin Thomas. Webb Simpson. Daniel Berger. Collin Morikawa. Harris English. Bryson DeChambeau. Sungjae Im. Jon Rahm. Patrick Reed.
If you played the game "which one doesn't belong?", even a casual golf fan would have a quick answer. It's not just name recognition, either; English is the only man on that list who hasn't won in 2020, and despite being older than everyone but Johnson and Simpson, he's had, by far, the most modest career.
Yet there he is, buoyed by a huge result in Boston. Since the restart, English has made six of seven cuts, only missing narrowly in his first tournament back at Colonial, and his worst finish is T-23 at the Wyndham. In fact, you could argue that this stretch actually began at the Wyndham, but not in 2020. One year ago, in the final round at Greensboro, English shot a 64 that moved him from 151st to 149th in that year's FedEx Cup standings. I was there that day, and his big Sunday merited a mention in the story I wrote, but just barely. It only granted English conditional status, which he failed to improve at the Korn Ferry Tour finals series, narrowly missing out on the 25 last-chance cards. Far from a triumph, Greensboro represented the end of his worst season on tour.
But the conditional status mattered quite a lot, and he parlayed it into a spectacular fall season that was overshadowed by Brendon Todd, another University of Georgia alum making a comeback from the depths of the sport. Unlike Todd, English didn't win, but he strung together four top 10s in six fall starts to mitigate some of the conditional stress. He still had to fight for sponsor's exemptions to some tournaments but gained entrance to others by virtue of his fall success.
In fact, that was the best stretch of golf English had played in years, and even a pandemic and a positive test couldn't stop the good times. To date, the 2020 season represents the first signs of life for a career that began with the promise of something great.
In the 2014 season, I followed English closely. Then 24, he fit nicely into the category of emerging young star on the PGA Tour, and his past year had been a dream. Following his first tour win in 2013 at the St. Jude Classic, where he held off Phil Mickelson on Sunday, and another at Mayakoba the previous fall, a serious breakthrough seemed imminent. He started January ranked second in the FedEx Cup standings, posted three top 10s through Riviera, and beat Rory McIlroy at the WGC-Match Play in Arizona.
This was uncharted territory for English, who played with McIlroy in the final round of the Honda Classic in 2012 as a rookie and tumbled down the leader board with a 77. Less than two years later, he stood toe to toe with one of the best players in the world and won. Every move he made that day spoke of power, right down to the way he pounded the earth with his driver, hammer-like, after each practice swing. This was a star on the rise.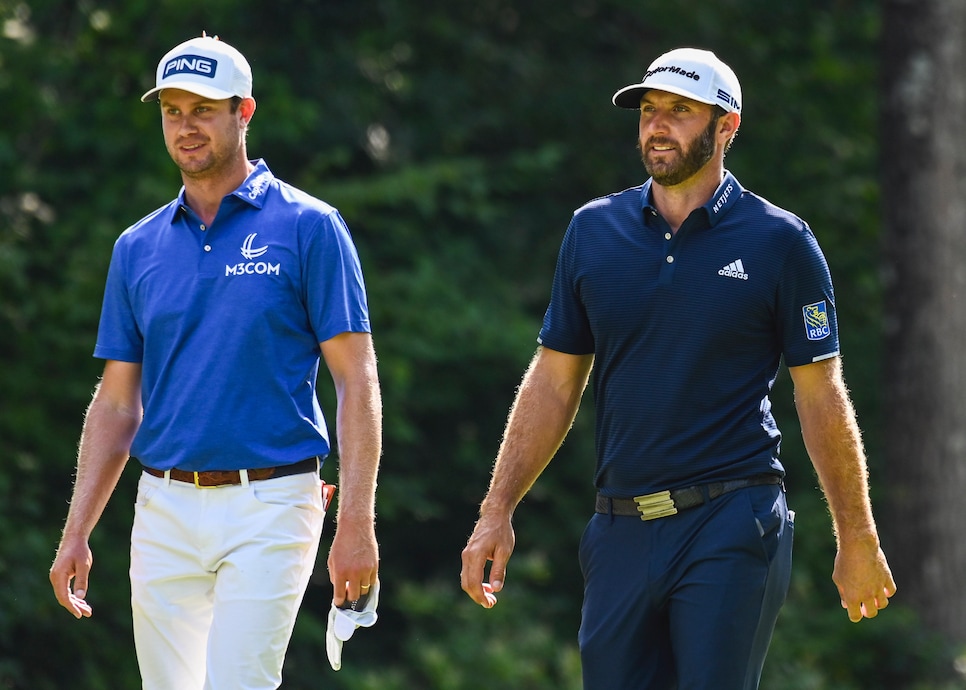 Harris English (right) walks with eventual winner Dustin Johnson in the final round of the Northern Trust. English placed second.
Keyur Khamar
English grew up in Moultrie, a small town in southern Georgia about 40 miles north of the Florida panhandle and Tallahassee. There was just one golf course in the entire county—an old-school track called the Sunset Country Club dotted with small, humpback greens, where English first played with his father at age 6. Ben English played basketball at Georgia and recognized the high-level athletic instincts in his son. He made more than enough as a cotton broker, buying from the farmers and selling to the gins, to give Harris every chance to develop his game.
In the summers, English played at the Sunset Club with friends, and it wasn't long before he was traveling around the southeast to junior tournaments. He presents a calm facade to the world today, so it was almost hard to believe him when he spoke of his terrible temper as a child. It got so bad that he'd become angry if he saw his parents watching him play, and he forbade them to walk with him during his competitive rounds. Finally, at 13, when he "showed his ass" on the course one too many times, his mom sat him down and read the riot act: This is embarrassing, and it's not how I raised you. When she told him to watch Davis Love III and Fred Couples, and notice how their reactions looked the same after a good shot or bad shot, he began to improve.
English was a good student, and his parents knew that the education and athletic opportunities in southern Georgia's public-school system left a lot to be desired. When he turned 15, his mother suggested a boarding school where he could focus on academics and try to gain golf exposure with an eye on a Division I scholarship. They chose the Baylor School in Chattanooga, Tenn., and to ease the transition, his mother moved with him into a condo near the school so he wouldn't have to be alone. Ben visited on the weekends, and the competition at the school—Baylor sent golfers to big universities almost every year—pushed him to improve.
He made huge strides, and quickly became one of the school's best players. As a junior, at the Tennessee state championship, English hit a miracle 40-foot birdie putt and watched his opponent miss one from five feet to give Baylor the title.
Like almost every other golfer of his generation, English was inspired as a child by Tiger Woods. Unlike some of his fellow pros, though, it took a long time before he saw himself as someone who could play golf for a living. It didn't help when he went through a high school growth spurt that threw his entire game off kilter. Chris Haack, the head coach at Georgia, remembered watching him shoot in the high 80s in a junior tournament during the recruiting phase, and how depressed the teenage English felt in the parking lot afterward. Colleges that had been monitoring him backed off, and it was Ben English's connection to Georgia, and the fact that Haack liked Harris personally, that kept them interested. He signed with Georgia, he finished growing, and his game began to return.
English put together a solid college career, but was forced to leave on a bitter note, when Augusta State—led by Patrick Reed, who had played at Georgia for a season before transferring under unfriendly circumstances—won national titles during English's junior and senior seasons. In the spring of 2011, English's last round as a college golfer was the opposite of a fairytale ending. Facing Reed in the national championship match, with their teams tied 2-2, he lost the decisive point.
"I think if you were to go back in history and ask Harris if there was one match that he wanted to win," Haack said, "that was the match."
He recovered quickly. In his final summer as an amateur, English earned an invitation in July to the Children's Hospital Invitational on the Nationwide Tour. It was just his third "pro event," but two rounds of 66 to open the tournament, followed by a 68, put him in a position to win. On Sunday, he came down the stretch neck and neck with John Peterson, the LSU grad who had just won the NCAA individual championship. English trailed by one heading into the last hole and caught a break when Peterson's drive ran through the fairway, forcing him to chip out. He made bogey, and English drilled a 12-footer for birdie. Almost unbelievably, he had won a high-level professional event as an amateur.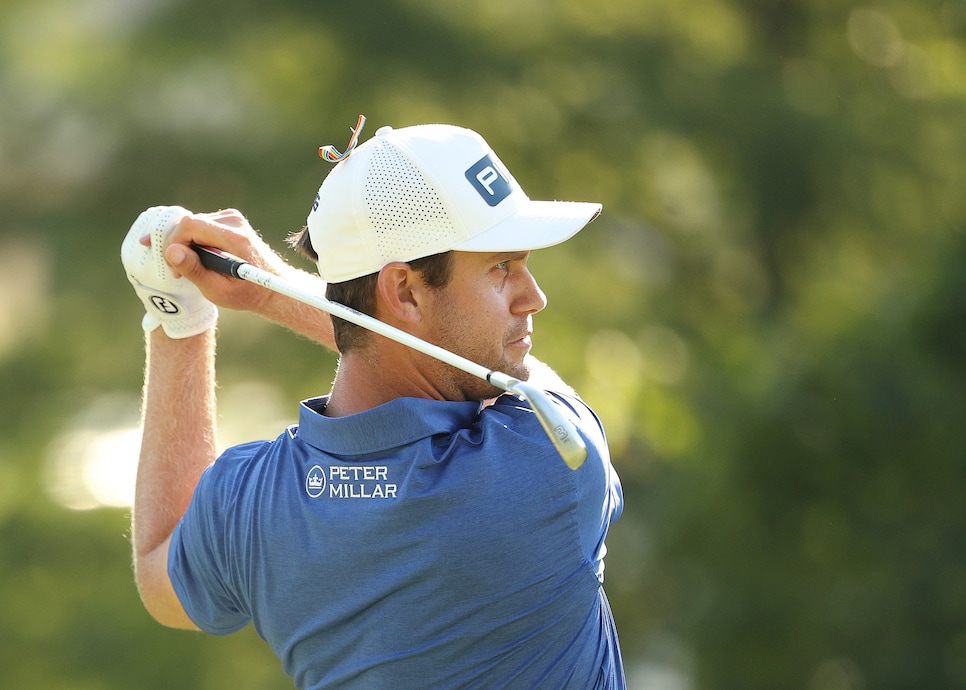 Harris English plays a shot on the 10th hole during the final round of the Northern Trust.
Maddie Meyer
He turned pro after the Walker Cup, finished top five twice more on the Nationwide Tour, and qualified for his PGA Tour card at Q school. Then came the wins in 2013, and the hot start in the winter of 2014.
He cooled off that spring, and as early as Hilton Head, I watched him slam his driver on the 12th hole in frustration, clearly upset at more than a single shot. He managed one more top 10 at the Travelers, but the season devolved into a series of missed cuts and mediocre finishes, and for the second straight year, he narrowly missed the Tour Championship—a situation he remedied the next season, when he made the final for the first and, until now, only time in his career.
That was a last hurrah. Unlike Todd, who fell off the map, English's descent after 2015 was a slow fade. From 47th in 2016, to 118th in 2017, to 125th in 2018, to 149th last year, the shine of the early days wore off slowly, and English reached his 30th birthday toiling on the fringes, far from stardom.
As Jim McCabe wrote from Boston, English spent those years in the wilderness seeking out "a bevy of teachers," and searched a little too hard for the perfect guru to lift his malaise. Last spring, he finally found the right man in Justin Parsons, a teaching pro from Harris' home on St. Simons Island, Ga., who has helped build up English's confidence in tandem with his game over the past year.
When you drill down into the numbers, Parsons starts to look like a miracle worker. In comments made throughout the year, English continually refers to "going back to what I did well," and a look at the tour's strokes gained statistics shows that while English remains one of the best putters on tour, he's grown by leaps and bounds in strokes gained/off the tee (from 153rd and worse in 2017 and 2018 to 40th this year) and strokes gained/approach (from 168th and 171st in 2018 and 2019 to a stunning 20th this year). The combined stat, strokes gained/tee to green, tells the full story: In a single season, English went from 147th to 16th. With his driver and irons, he has been transformed.
In fact, the numbers in every category go beyond vast improvement. Up and down the list, they're even better than the prime years of 2013-'15. By almost every metric, English has done far more than return to his former glory; he's playing the best golf of his life.
"It's a battle year after year," English told reporters in Boston. "I've never taken it for granted. I know it's always hard work. It's always tough, and that's what I love about it."
It's no surprise, here in 2020, that English loves the battle. He knows how to struggle—he learned the lesson too well—but for the first time in years, he's remembered how to fight.