News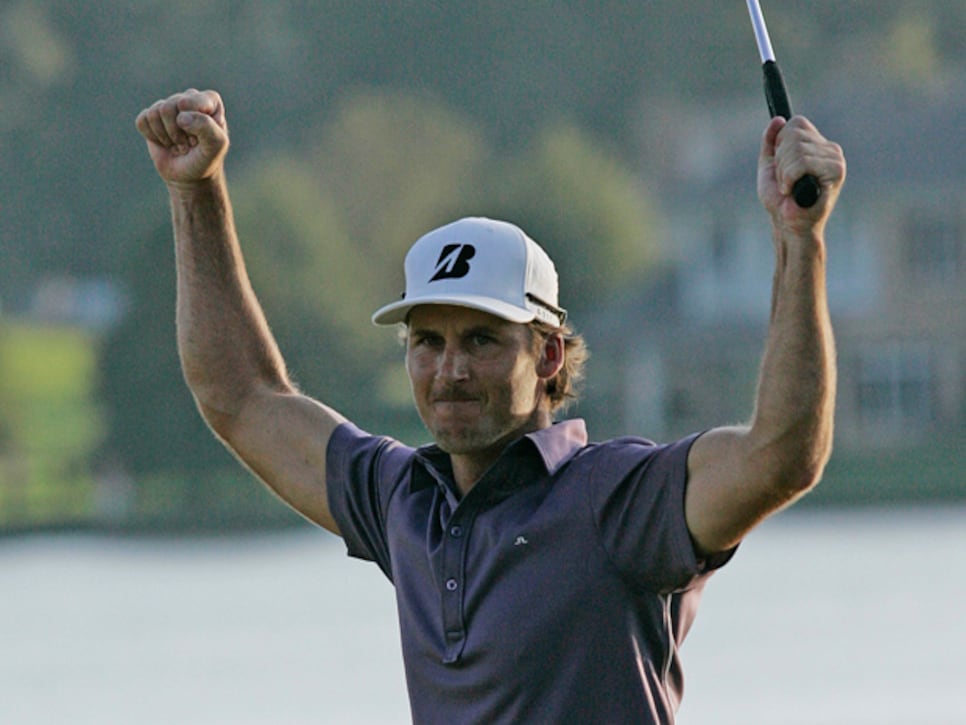 When Will MacKenzie came off the course Sunday at TPC San Antonio, playing partner Jim Furyk wrapped an arm around his back, just another show of love for MacKenzie this year. "I'm really proud of you, to come from where you've been to where you are now," Furyk said to MacKenzie after his second-place finish in the Valero Texas Open.
MacKenzie told this story while changing planes in Houston. He was headed home to Jupiter, Fla., after the latest of his five top-10s this season put him at $1.78 million in earnings and 11th on the FedEx Cup points list. On Monday morning he started a two-week vacation by driving sons Maverick, 5, and Nash, 4, to school. "I look forward to packing them lunch and two weeks of being a dad," MacKenzie said.
To hear the golfer tell it, Maverick and Nash are just like their dad. Maverick wants to catch snook (a game fish) at night and surf during the day. Nash can't wait to put on his "Chucks" (Converse Chuck Taylor sneakers) and skateboard in the afternoon. 'They're doomed," laughed MacKenzie when I had him on the phone a couple weeks ago.
Their father was the first extreme sports athlete to make it on the PGA Tour, regaling the media with stories of sleeping in a van in Montana for five months and talking like a refugee from the X Games. "Willy Mac," as he was known on tour, used words like "dude," "gnarly" and "stoked," bringing a new lexicon to the golf culture.
A place on the Loxahatchee River became his Florida home for all the reasons his boys love Florida today. He played the Golden Bear Tour and roomed with Hank Kuehne. He married an FHM model, Alli Spencer.
Now he's a nearly 40-year-old single parent, going through the pains of a divorce, trying to balance the career demands of a professional golfer with the two most important people in his life. "It's all about raising the boys," he said.
Instead of focusing on keeping a marriage that was not working, MacKenzie focused not only on his sons, but also on saving his career. After winning twice on tour (2006 Reno-Tahoe Open, 2008 Viking Classic), MacKenzie found himself back on the Web.com Tour in 2012 and 2013 with all the nimble-bodied kids like he once was.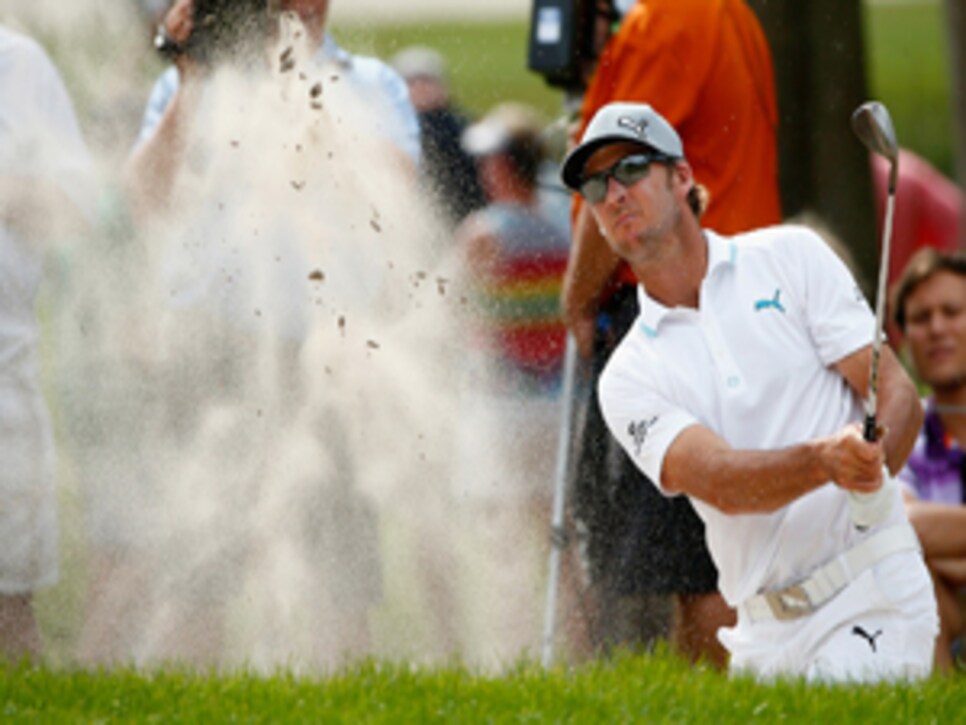 "We all know he's a free spirit," said close friend Steve Marino. "That's how he plays golf. When there's other stuff going on, he can't be a free spirit."
MacKenzie didn't get his tour card until he was 30. Burned out on golf early on, he turned to snowboarding, kayaking and rock climbing from ages 14 to 25. He played five years on the mini-tours before breaking through in 2005. At one point in his adventures, MacKenzie lived in a cave and went 30 days in Alaska without showering. Payne Stewart's riveting final-hole win against Phil Mickelson in the 1999 U.S. Open inspired the North Carolinian to fall in love with the game again.
"I was always the guy who had the talent who … wasn't making anything of it," he said of his realization that there weren't too many top-tier kayakers and snowboarders in their late 30s or early 40s.
There also weren't too many players making barely over $100,000 in 24 events as MacKenzie did combined on the PGA and Web.com tours in 2012. Looking in the mirror, MacKenzie told himself, "There's no way I can be this bad at golf."
Bouncing between teachers, going from David Leadbetter disciple Kevin Smeltz in Orlando to the stack-and-tilt philosophy filled his head with multiple swing thoughts, until he found an instructor who lived near his home, Jeff Leishman.
Leishman simplified the process by giving MacKenzie a game plan that allowed Will to rekindle his athletic ability. "I'm working on the right things," he said. "I'm not searching. For the first time in my career, I'm not a hamster on the wheel searching for things the way I used to be."
Luke Donald also played a role in the resurgence with a putting lesson at The Bear's Club. MacKenzie had what he described as "the full-bore yips," saying, "I couldn't putt it in the ocean. It was Yip City. I was scared of it to the point where I was borderline yipping chips."
Dr. Gio Valiante, the sport psychologist, applied tough love after Will missed the cut in the opening event of the Web.com Tour Finals. Instead of cajoling MacKenzie, Valiante said: "Sacrifice now or regret later. Pick one."
MacKenzie lost in a playoff the following week, locked up his card and turned around his career -- along with his life. Maverick and Nash are getting to see what type of game their dad has, and not just in his Chucks.
"He's just happier than I've ever seen him," said Marino of a friend he has known since the Golden Bear Tour. "He's enjoying every day, everything he's doing and he's just got a clearer head, so he's loving life. He's back to being the Willy Mac we all know and love."
Charl Schwartzel initiated talk of a Chubby Slam in 2011 by winning the Masters. The South African isn't the first to leave the camp created by Andrew (Chubby) Chandler at International Sports Management (ISM), but he's the latest to change management groups, announcing March 31 that he was joining former Chandler client Ernie Els at International Management Group (IMG). Rory McIlroy left after winning the 2011 U.S. Open and ended up in a legal battle with his next agent, Horizon Sports Management. Chandler has retooled by signing Peter Uihlein, Chesson Hadley and other young international players like Tommy Fleetwood, Joost Luiten and Seung-Yul Noh. His clients include Lee Westwood, Darren Clarke and Louis Oosthuizen. "I haven't got a lot to say," Chandler said from his home in England. "It's part of what we do. There's a culture now in golf management where people poach other people. We're good targets because our clients don't have contracts with us. We may have to look at that."
Kris Blanks was in Houston last Monday morning, but not to play in the Shell Houston Open. That's where he flew a week earlier to see his new instructor (Mark Miller) on the way to San Antonio for what he hoped was a spot in the Valero Texas Open. After moving up the alternate list, Blanks realized he wasn't getting in and drove to Lafayette, La., for the Chitimacha Louisiana Open on the Web.com Tour. It was a good call. Blanks shot 62 on Sunday and topped Brett Stegmaier in a playoff. "I'm behind the eight ball," said Blanks, who started the wraparound season on a major medical extension, but used up those starts. "I made money [in Louisiana] but didn't shuffle up, so I'm still in the back of the bus, waiting for my number to be called."