News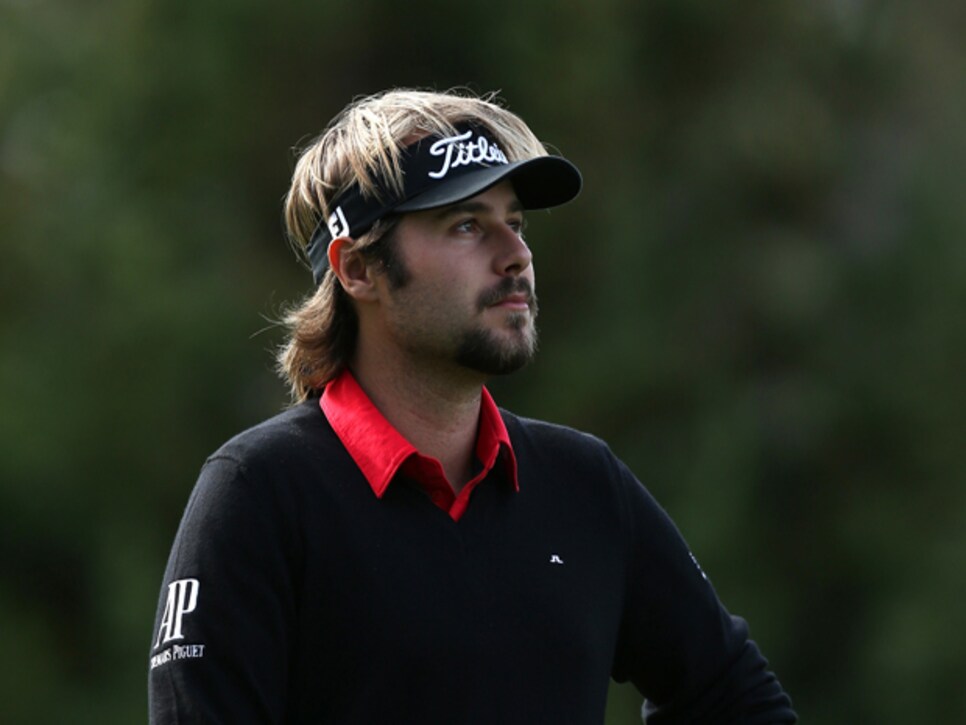 When he was a teenager growing up in Cannes, Victor Dubuisson idolized Thomas Levet, a fellow Frenchman who was in the four-man playoff for the British Open won by Ernie Els at Muirfield in 2002 and played on the 2004 European Ryder Cup team that dominated at Oakland Hills.
"He had a poster of me in his room," Levet said when I caught him the day after the 23-year-old Dubuisson fin-ished runner-up to Jason Day in the WGC-Accenture Match Play Championship. "We met when he was 14. He told me things only my kids told me."
That's saying something because in his encounters with the media at Trump National Doral during the WGC-Cadillac Championship, Dubuisson mostly demurred when asked about his personal life, especially talking about the relationship he had with his parents. In the second language that he is still working on, he told David Livingstone of Sky Sports, "There are things I just don't want to remember. I don't like to talk about my childhood."
Already, Dubuisson is a reluctant celebrity with a mystique. Part of it is where he comes from. France's only male major championship winner has been Arnaud Massy, the Open champion at Royal Liverpool in 1907. Dubuisson was 9 when Jean Van de Velde had his infamous meltdown at Carnoustie in 1999, a moment he admits he only saw for the first time recently on YouTube. With his beard and impassive eyes, Dubuisson gives off a feeling of inward smoldering that is reminiscent of Björn Borg.
He has grown close to the 45-year-old Levet, a six-time winner on the European Tour, who made the trip from his home in Palm Beach Gardens to Miami last week for a reunion. They talked at lunch about the upcoming Masters, Victor's first, and made plans to reunite at Augusta (where Levet will work for French television) on the Monday of the tournament. "He has so much passion for the game," Levet said. "We talked about caddies, hotels, the little things. He doesn't ask too many questions, but when he asks they are direct ones."
Levet was among a group of French friends who kept Dubuisson company at the Trump resort. Dubuisson lives up to his shy, loner image by making his home in Andorra, the tax-haven microstate with a population of 78,000 tucked in the Pyrenees between France and Spain. Instead of staying in America between WGC events, he flew back to his adopted home and spent the week in relative anonymity. "I don't know many people there," Dubuisson explained. "But all the people watching golf were happy with what I did and yeah, I didn't really have a celebration. I just took a rest."
At 15, Dubuisson played in the 2005 French Open. At 19, he was the No. 1 amateur in the world. Last November he burst onto the world stage by winning the Turkish Airlines Open against a field that included Tiger Woods, Justin Rose and Henrik Stenson.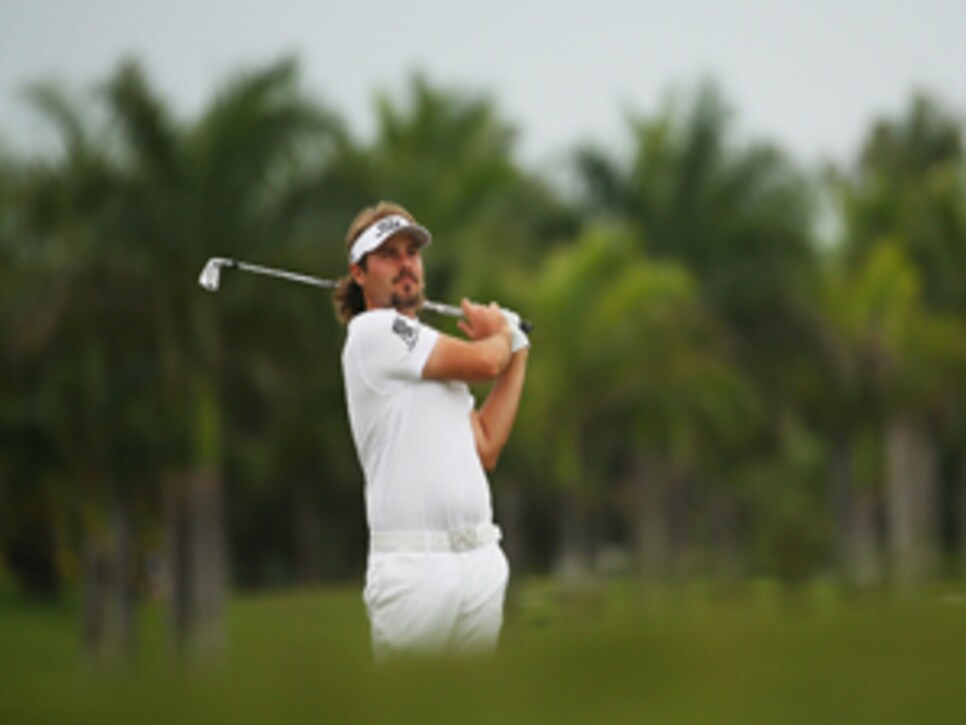 That got European Ryder Cup captain Paul McGinley's attention, as did the breakout performance in Tucson. What impressed McGinley most was not the power created by Dubuisson's swing or the incredible up-and-downs he pulled off from the cacti, but the mental strength he showed in match-play victories against Bubba Watson, Graeme McDowell and Ernie Els on his way to losing the final on the fifth extra hole.
"This guy has shown he can play the game physically," McGinley said. "But with somebody so young you question the mental fortitude. It's absolutely astonishing how competitive he's been against the best players in the world."
Those who remember Dubuisson from his younger days -- including McGinley -- admire the way he has harnessed what was a volatile on-course nature. Part of that was maturation, part of it was his relationship with Benoit Ducoulombier, a longtime member of the French Golf Federation who became his coach after the BMW PGA Championship at Wentworth in 2013.
Dubuisson was not bothered when his clubs didn't arrive at Doral until Tuesday. He hardly hits balls anyway, so Titleist made him three wedges and a putter he could use until his clubs were delivered. Friday morning, he warmed up by hitting three 7-irons and three 5-irons before walking out to the eighth hole with Ducoulombier to complete the final two holes of his suspended opening round.
Dubuisson was still contemplating his loss to Day, and how the European Tour honored him as its player of the month even though he did not win the tournament. "We spend more time together speaking about life than practicing," said Ducoulombier, who coached Frenchman Grégory Havret to a second-place finish in the 2010 U.S. Open. "I tell him: 'You still have 20 years to play, so take your time.' He's a very sensitive man. He's cool, but inside he's moving a lot."
Part of what's going on in Dubuisson's head is locking up a spot on McGinley's team. At the Cadillac he accepted special temporary membership on the PGA Tour but plans to focus on the Race to Dubai, the majors and the WGCs. His next stop before the Masters is the EurAsia Cup, where he hopes to get to know his potential teammates better -- and they him.
McGinley sees him fitting in and so does Thomas Björn, a fixture in Ryder Cups and on the European Tour.
"The way he is on the golf course is the way he is off the golf course, very quiet," Björn said when we spoke at Doral. "He's a little bit different, but I get on nicely with him. He's one of those things that happened so quick everybody is trying to jump on it. That happens with kids his age, and he is only a kid, you have to remember."
Everybody in the Henrik Stenson camp seems to be worried about his motivation -- except, that is, for the man that doubled up by winning the FedEx Cup and the Race to Dubai in 2013. "We're working our way into it," Stenson told me before the WGC-Cadillac Championship. "I'm looking at this spring like last spring when not much happened. My game is moving in the right direction, but I'm not quite there mentally yet." Stenson's run in 2013 did kick off with a T-8 at the Arnold Palmer Invitational followed by a T-2 in the Shell Houston Open. His T-16 at Trump National Doral concluded with a 69, which is his best finish this year. Playing late-season events for big money in South Africa and Thailand, plus moving into new homes in Sweden and Lake Nona in Orlando, are to blame. "It takes a while to reboot the engine," said Pete Cowen, Stenson's swing coach. "To be fair, he only had two weeks off and he was knackered."
The remaking of Trump National Doral includes eight villas at the resort named for golf greats. Tiger Woods took part in a ribbon-cutting for the one named after him prior to the WGC-Cadillac Championship, and Gary Player was there for the dedication of his villa last month. Next up are the units named in honor of Arnold Palmer, Ben Hogan, Sam Snead and Phil Mickelson. Jack Nicklaus' and Bobby Jones' names have been assigned to the double villas, but Trump has some flexibility. He told Rory McIlroy on Saturday night that if he wins a couple more majors, he would get a villa in his name too.