News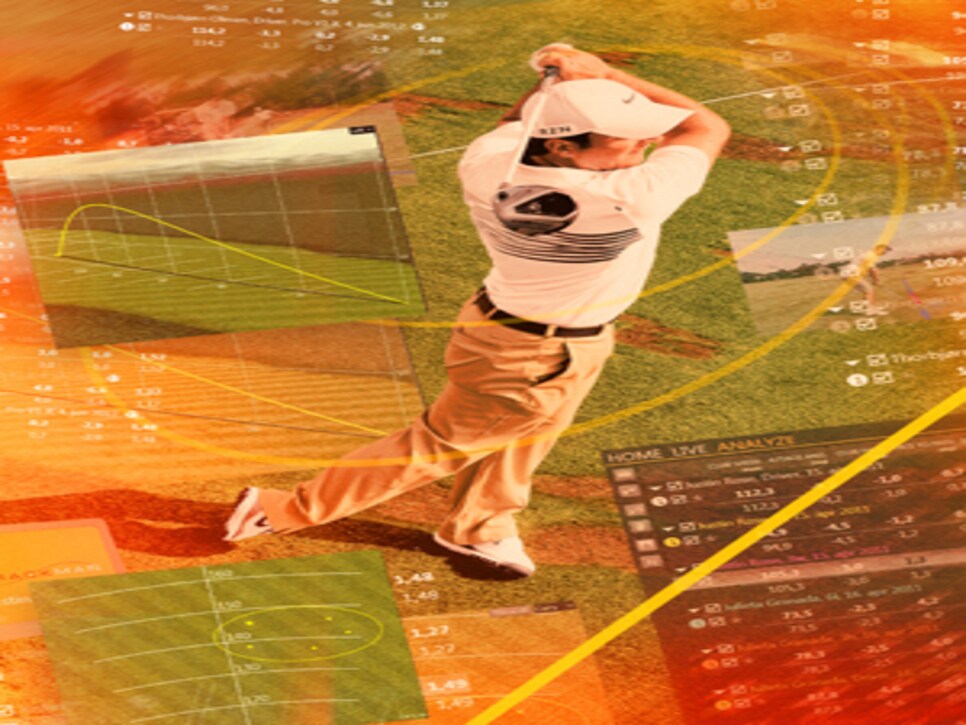 On Monday of the 2013 U.S. Open, Sean Foley was casually standing behind Tiger Woods at Merion's makeshift range when an email from Justin Rose appeared on the swing instructor's phone.
"I looked at the email and a friend who was next to me said, 'What is that?' " Foley says.
Foley explained that Rose was sending a reading of TrackMan-recorded numbers following a final practice session at home before traveling to Pennsylvania. "And my friend goes, 'Isn't that too much thinking? They don't send videos anymore?' "
The instructor told him no, just the opposite. "His path was zero and his face was two degrees open," he explains. "So the ball was starting a little right with a little bit of cut. I wrote back, 'Rosie, awesome, love those numbers, can't wait to see you tomorrow.' "
Foley's friend was stunned, saying, "That seems too technical to me." Foley countered that it was only "technical if you do not understand TrackMan. If you understand TrackMan, this simplifies things."
Known as a ball-flight analyzer for revolutionizing clubfitting, TrackMan has become a vital tool in the teaching arsenal of a growing number of instructors thanks to its portability, the constant refining of its software parameters and a better understanding of what to do with the information provided.
"It's a moderator, somewhere between pure science and Harvey Penick," says Foley.
Contrary to first impressions and what TrackMan critics say, in the right hands the tool simplifies the way players adjust their swings, makes practice sessions more efficient and breaks down longtime swing models by emphasizing swing path and face angle at impact. TrackMan's growing influence is not just relegated to PGA Tour ranges. College programs are using it, and more than 350 TrackMan-licensed facilities in the United States are making the $25,000 device increasingly accessible at rates usually starting at about $100 an hour.
In a nutshell, TrackMan is becoming a must-have piece of equipment in every elite player's arsenal, with widespread use by top golfers rapidly transforming the game. Just as TrackMan's inventors had hoped.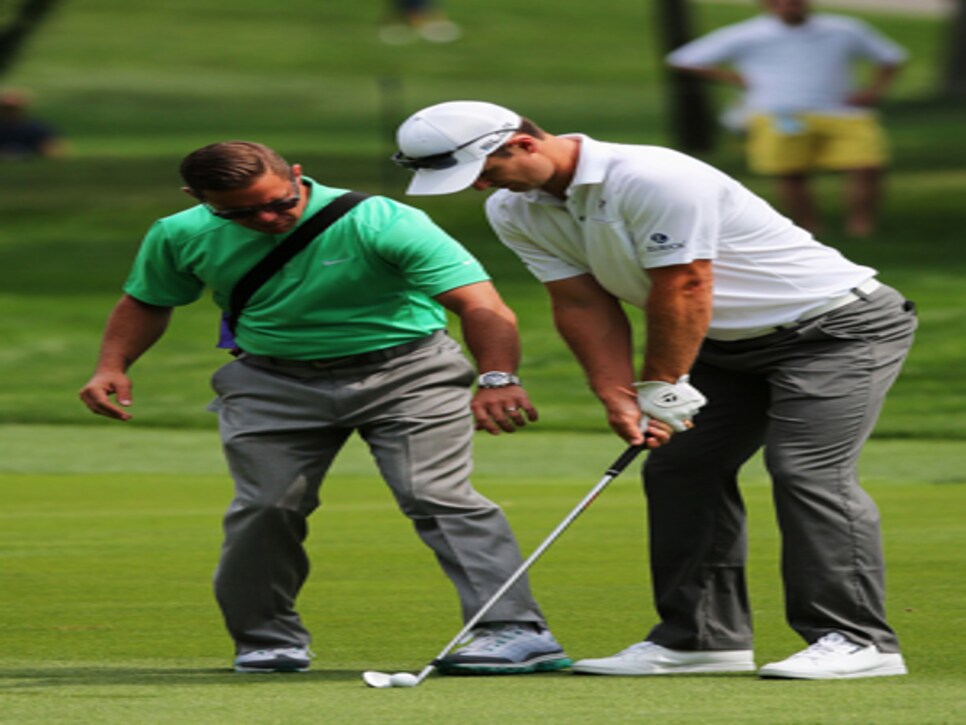 calls TrackMan "a moderator, somewhere between pure
science and Harvey Penick." Photo: Rob Carr/Getty Images
DR. KLAUS Eldrup-Jorgensen played on the Danish National Team and built a career in the medical-device world, focusing on research. He was also curious about ways golf could be analyzed. Along with brother Morten, Eldrup-Jorgensen joined leading radar engineer Fredrik Tuxen, a designer of missile-tracking applications. The trio formed TrackMan in May 2003. After a few years of trial and error honing the system's ability to track a golf ball, they eventually sold versions of TrackMan to five major manufacturers for approximately $200,000 apiece. By 2006 the PGA Tour was a customer, and TrackMan devices began appearing on at least one hole per tournament round, tracking ball flight while providing unprecedented feedback on tee shots.
Although TrackMan wasn't the first launch monitor, it was the device that made them fashionable, spawning a number of competitors, including Foresight Sports GC2, a small, highly portable tool used by many retailers, tour reps and tour pros. In TrackMan's early days, however, not many people even knew of its existence.
Foley says the first TrackMan device he bought looked "like a homemade bomb" when run through an airport X-ray and got him stopped so regularly that he had the TrackMan website ready to show skeptical TSA agents. Since that first version, the company has developed a streamlined, wireless system that looks and feels like something straight out of Jony Ive's Apple design lab. Unveiled at the 2013 PGA Merchandise Show, TrackMan IIIe is a sturdy-looking gray box featuring TrackMan's distinctive orange logo, a small built-in camera and metal stand. As with Apple's products, there is full integration via phone or tablet apps allowing a golfer to study his progress and review swings past or present.
With a burgeoning online community and constant input from the company's software team utilizing user data, those who have signed up for free on MyTrackMan.com can read case studies, look at past swings, attend seminars or compare scores in the TrackMan "combine" standardized test with golfers across the globe.
While there are other products on the market, TrackMan is easily the most popular on tour despite its high cost, which comes with almost no discounting except for tour pros who get about 20 percent off. In return, they must submit TrackMan combine scores as well as allow the use of their swings for comparisons. All TrackMan owners get constantly updated software and service. Michael Pinkey, a Scottsdale-based disciple of David Leadbetter's IMG Academy and one of the world's top TrackMan experts, handles West Coast tour events for the company and recently counted 43 players bringing their devices to the range on Tuesday of the 2014 Humana Challenge. Ping, the earliest adopter among manufacturers, has since purchased 66 TrackMans for worldwide clubfitting.
As expected for something that provides 26 data parameters on club delivery and ball flight along with numerous analytic tools both on-screen or recorded in a user's account for posterity, skeptics insist that TrackMan will breed a generation of cloned robots with nary a clue how to play the game. In fact, the opposite is happening.
"It only clones at impact," Foley says. "If Jim Furyk hits a two-yard draw and Tiger hits a two-yard draw and you put them side by side on video, sure, it looks way different. But in most cases, if you look at the numbers that matter, they're dead similar. So how they get there is different. But they're obviously getting to the same point to make the ball do the same thing."
Woods is a convert after purchasing his own TrackMan. "A lot of times in this game, what we're feeling that we're doing is not exactly what we're doing," says Woods. "I just think that you're trying to match up 'feel' and 'real.' And as you make swing changes, you make slight alterations, you start realizing what [the club] does at impact, and what that can translate into in the performance of a golf ball."
Foley believes the device is eliminating preconceived notions about swing positions and methods. He points out that there are only two fixed positions in the swing -- setup and finish -- and that the only moment that genuinely matters for all swings is approximately half a millisecond at impact -- which can't be seen by the human eye.
"As soon as I started using TrackMan, it helped me to not be didactic and get way off into things like, 'The arm is here, if we could get it here, etc.,' " Foley says. "Now, if I just change ball position, tee height, maybe make the stance a little wider and we go from an attack angle of 4 degrees down to 1 degree up, and the player is at the same exact clubhead speed, we can be hitting it 25 yards farther and we haven't had to do much of anything."
By figuring out what the ball is doing in reaction to the swing, any instructor versed in TrackMan no longer focuses on how a swing looks. Instead, the task is often about making minor adjustments to setup or ball position to maximize impact. Pat Perez recently chalked up his strong West Coast Swing to this approach imparted by instructor Joe Mayo. And the modern poster child for TrackMan confirmation may be Jordan Spieth and his fundamentally unsound-looking swing that serves up beautiful TrackMan numbers.
"No one cares anymore how a swing looks," says Alex Galvan, who runs a TrackMan Training Center in Los Angeles where golfers can rent time on the machine or receive instruction from a certified instructor.
Woods is almost ready to declare the device transformational for all golfers, with a caveat.
"Is it transformational? I think it is if you understand how to do it," Woods says. "But also not to get embedded in it where you start losing your feel and your touch. Seeing the ball the right number, the right shape, and controlling the right traj[ectory] and all the other things. You can't just get locked into just hitting for the numbers. You have to still go out and play off uneven lies, deal with wind, deal with adrenaline and a lot of different components."
Even though Justin Rose was emailing his numbers on the eve of majors, he says he doesn't "get too caught up in TrackMan, but it's nice to know that there's more than one way to square a clubface, and there's more than one way to change your path and your plane."
Other "feel players" are buying and traveling with TrackMan to make practice more fun while confirming what they are feeling. This is done through the TrackMan software's combine, where players can structure their own test or use already-scripted exams to test themselves on the range.
"You can make your own tests; you can judge yourself and get instant feedback," says the self-taught J.B. Holmes, who purchased a TrackMan only to improve his practice. "So for a feel player, it's really good to get that instant feedback. As a guy who is competitive it's really nice to play and have a little competition with yourself. And their website has scores posted so you can see where you rank for the week, month or year. It's just something else that makes it a little less boring than hitting balls all day."
Geoff Ogilvy, on the fence about buying the device, is intrigued by its ability to make practice more efficient. "It makes you accountable for your practice session," he says.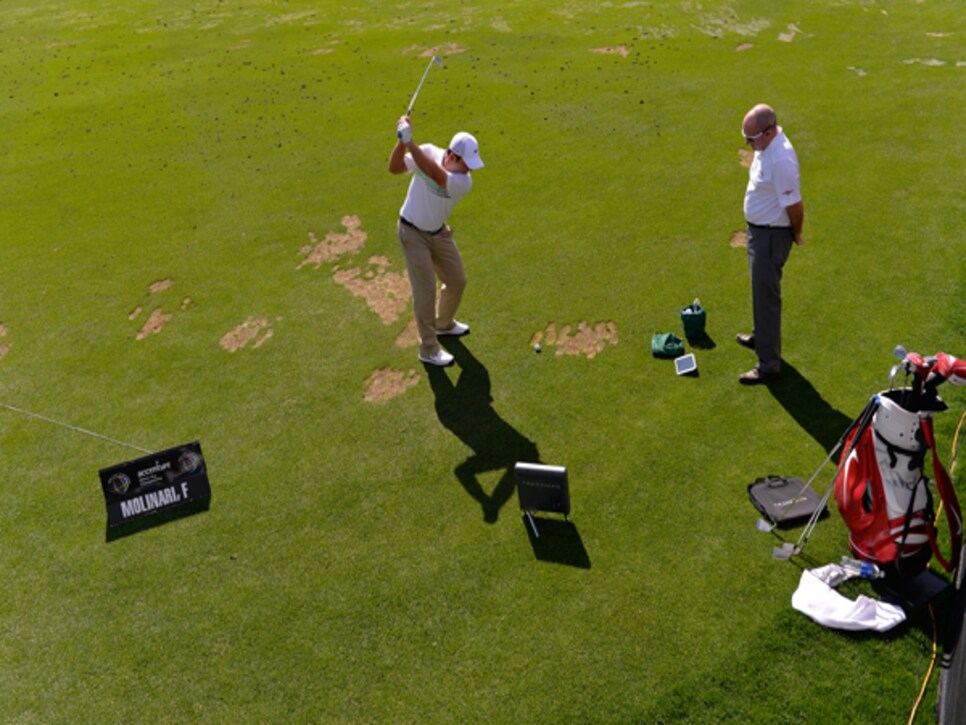 MyTrackMan.com's peer community has given the combine an added element of practice-session intensity that Foley believes will only make players stronger.
"I've watched some of my students leading NCAA tournaments choke," says Foley, "and I've seen them choke the same way on the range in the combine."
The combine can be a precursor for great play. Recently, Jason Gore posted the eighth-best combine score of all time and five days later qualified for this year's Northern Trust Open. And as the device is accessible to more players, Foley sees a day when juniors are reared on TrackMan and taught how to make adjustments based on the feedback.
"If I took a kid who is a really great player, really skilled, 12 years of age and I taught him everything about TrackMan, until he was 15, he'd never need a coach," Foley contends. "If I said, 'Look, this is how you move it to the right, this is how you move it to the left. If it gets too steep, this is how you get it out of the ground, this is how you can hit farther, this is how you can hit it lower,' then he would just be able to find it in the dirt the way Ben Hogan did. And all the learning experts are saying that's where true learning is done. From just doing it. Trial and error. TrackMan tears down method-and-model instruction."
College golf coaches increasingly lean on TrackMan to help players make swing adjustments or to enhance practices. In Stanford's case, a recent effort was made to improve par-3 distance proximity after studying the huge scoring impact one-shotters had on the team's play compared to par 4s. Men's coach Conrad Ray, whose program received a grant to buy one of the first TrackMans and has since updated to the current version, says both the men's and women's programs use the device daily.
"At first glance it appears too technical," Ray says, "but you quickly learn it's the opposite. Understanding the relationship between attack angle and face path leads to efficiently delivering the club at impact."
As much as he loves it, Ray is not requiring recruits to submit TrackMan numbers or combine scores because he is cognizant of the cost and access factor. However, recruits are free to share TrackMan information, and Ray anticipates more college coaches leaning on the data in a variety of ways.
Of college programs with just four and a half scholarships to give out, Foley puts it bluntly: "It's just another way to check. They're putting money into this kid."
Although Golf Channel's Brandel Chamblee is one of TrackMan's biggest naysayers -- "Not one tour pro needs a machine to tell him how to hit a fade or draw," he says -- colleague Frank Nobilo envisions a radical change akin to other sports where players make adjustments to their game based on data, all to suit, say, a particular course where firm ground might dictate different ball flights.
"Guys are worried about the angle at which the iron shots are coming down because if you're setting up for Augusta or setting up for an Open Championship you can pretty much tailor‑make your game before going to that venue," Nobilo says. "ShotLink gives you stats on greens missed and all that, and you put that together with the technology of a TrackMan, and they've got that whole thing sorted out. It's like Moneyball."
Only unlike baseball's stat-driven Moneyball, TrackMan has the power to tangibly change how well a player strikes the ball. Just ask 2013 U.S. Open champion Justin Rose.