News
Hoylake's 'Ageless' Wonder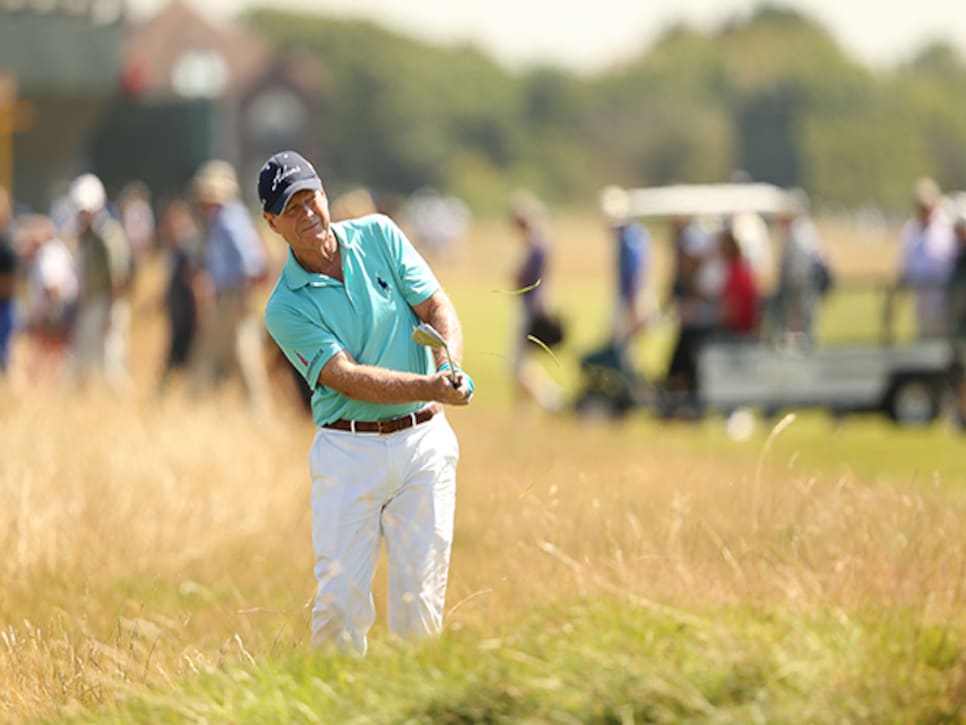 Tom Watson is getting sentimental in his old age. His eyes still well up with tears thinking about his walks across the Swilcan Bridge with Arnold Palmer and Jack Nicklaus in their last British Opens at St. Andrews, knowing his day will come next summer on his 40th anniversary in the championship. "I just hope I can hold back enough of the tears to make it presentable," he says, grateful to the R&A for its invitation.
As a baby boomer living in the high-tech age of millennials, he talks about the HD scoreboards and the Wi-Fi on the course, nostalgic for the manually operated yellow scoreboards that were a trademark of this event since he began playing the Open in 1975. The U.S. Ryder Cup captain reminisces about the "Duel in the Sun" with Nicklaus at Turnberry in 1977, the 2-iron he hit into the last at Royal Birkdale in 1983 and the ill-fated approach on the 72nd hole at Turnberry that cost him his sixth British Open at age 59. He apologized twice for getting "sugary."
Friday in Hoylake there were no tears in Watson's eyes -- just the look of determination. His 65th birthday is seven weeks away but on links courses and the Champions Tour, he is very much relevant. In March he bettered his age by shooting 63 in the Toshiba Classic. At Royal Liverpool he broke his own record for the second time as the oldest to make a British Open cut. Two days later he played well enough tee-to-green to shoot his age, but his putter failed him and he signed for a 68 in his 127th round at the Open.
"There is no age when I'm out there," he likes to say, but of course it's all about age at this point in his career. Watson's 36-hole score of two-over 146 tied the likes of 20-year-old Jordan Spieth, 26-year-old Jason Day, 38-year-old Tiger Woods and 41-year-old Stewart Cink, the man who broke his heart in the '09 playoff at Turnberry. Watson, the grandfather, relished it, beaming through the wrinkles on his face, as he did on Sunday when told players like Henrik Stenson were trying to beat him. He downplayed beating Woods by seven strokes in the final round (and five overall), saying it was just a snapshot.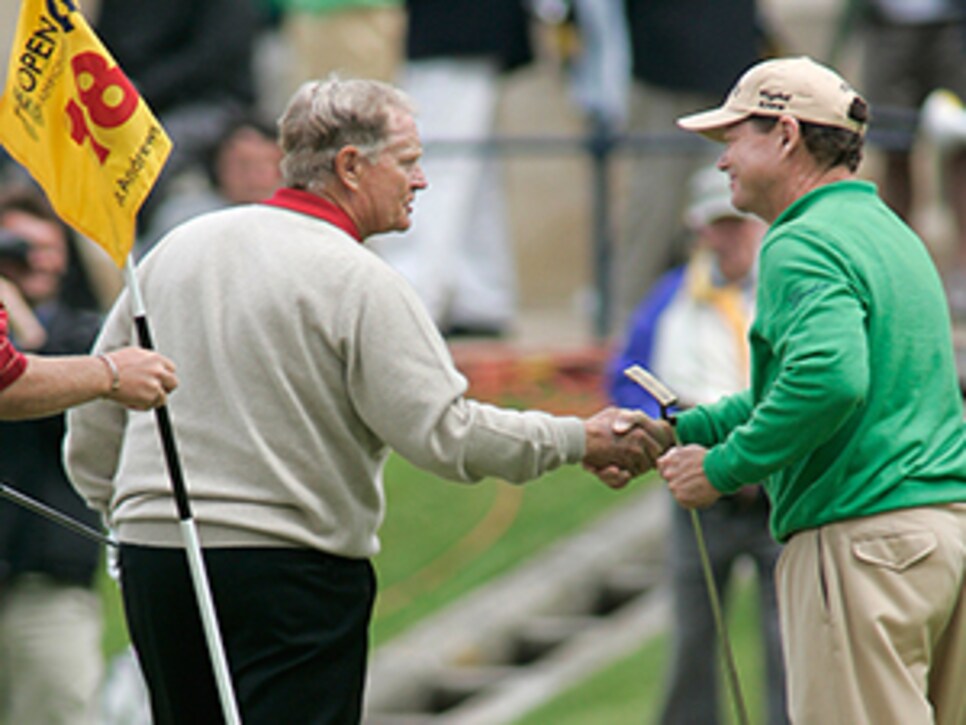 But it was hard not to look at the big picture. For the week Watson made 15 birdies, the same number as Tiger. On Sunday, he hit 12 of 14 fairways, two more than Tiger. Just to get to Sunday, Watson told caddie Neil Oxman with eight holes to go on Friday that he was going to hit every fairway and every green on the way in -- which he almost did -- while Woods needed to birdie the 18th hole after making triple bogey by driving it out-of-bounds at 17.
Playing partners Jim Furyk and Darren Clarke, both in their mid-40s, were equally amazed. After playing with him four times in six days, including a scouting trip to Gleneagles the previous weekend and a Monday practice round, Furyk talked about admiring Watson for being such a great bad-weather player. "It's pretty impressive to see a guy at 64 go around here and make the cut," Furyk said. "Quietly, I was pulling for him down the stretch. He played like a champ the last four holes."
Clarke, the Champion Golfer of the Year in 2011, first mentioned the way Watson got on with it, in a brisk manner of play. "Brilliant, just brilliant," the Northern Irishman said. "There are a lot of guys who would love to be playing on the weekend." Among them were potential members of Watson's Ryder Cup team, including Webb Simpson, Patrick Reed and Masters champion Bubba Watson.
Asked on Saturday the secret to staying healthy -- and competitive -- Watson credited good family genes and walking 36 miles over the course of a week. Looking ahead, he sees more golfers in their 60s making Open cuts. "Look at Sam Snead," he said. "I marveled at Sam's swing. He could hit the ball a long way until he was 75."
When the Woods question came up, he dodged any potential controversy by sticking to his speaking points about "playing well and being healthy." He admitted to saying hello to Tiger, but not talking Ryder Cup. On Sunday he did step out and say that taking Woods or Phil Mickelson was not a lock.
"I'm looking at all the players and how they're performing every week," he said. "One week doesn't necessarily make it. You've got to confirm."
Watson writes down his thoughts on yellow legal pads; otherwise he would forget. He backs up the notes on an iPad and his computer, protecting himself from a crash. He's an old-school guy in a modern world -- except the week of the Open. For Tom Watson, that's when time stands still.
"I'm thinking about picking the captain," he said. "Not really."
Jason Dufner played the British Open with a heavy heart following the death of a former Auburn tight end who lost his life in a car accident the last week of June. Philip Lutzenkirchen played on Auburn's national championship football team in 2010 and loved both Dufner and golf, playing regularly at the Auburn University Club golf course and attending a fundraiser for Dufner's foundation in March. Although Dufner has tweeted about his friend and has a No. 43 patch on his golf bag in Lutzenkirchen's honor, he didn't want to talk about it at Hoylake, saying it was too personal.
Ben Crane spent $11,000, invested his frequent flyer miles and traveled more than 10,000 miles just to play nine holes at Wallasey GC in England last week. Was it worth it? "One hundred percent," Crane said when I caught up with him. The winner of this year's FedEx St. Jude Classic was the first alternate when he left his hometown of Portland, Ore., on the Tuesday night before the British Open. Connecting through Seattle and JFK in New York, he made it to London's Heathrow Airport on Wednesday night, riding the last three hours to a hotel in Liverpool. A car picked him up at 5 a.m. the following morning to be on the tee in Hoylake awaiting a withdrawal. From 6:25 a.m. until 4:06 p.m., he waited and waited until no player withdrew. With that, Crane and caddie Joel Stock headed back to Portland on Friday morning for Crane's 20th high school reunion. "I've played this game 10 times, and I've probably gotten in seven [tournaments]," Crane explained. "It was a gamble, but I wanted to go. I wanted to win this tournament."