News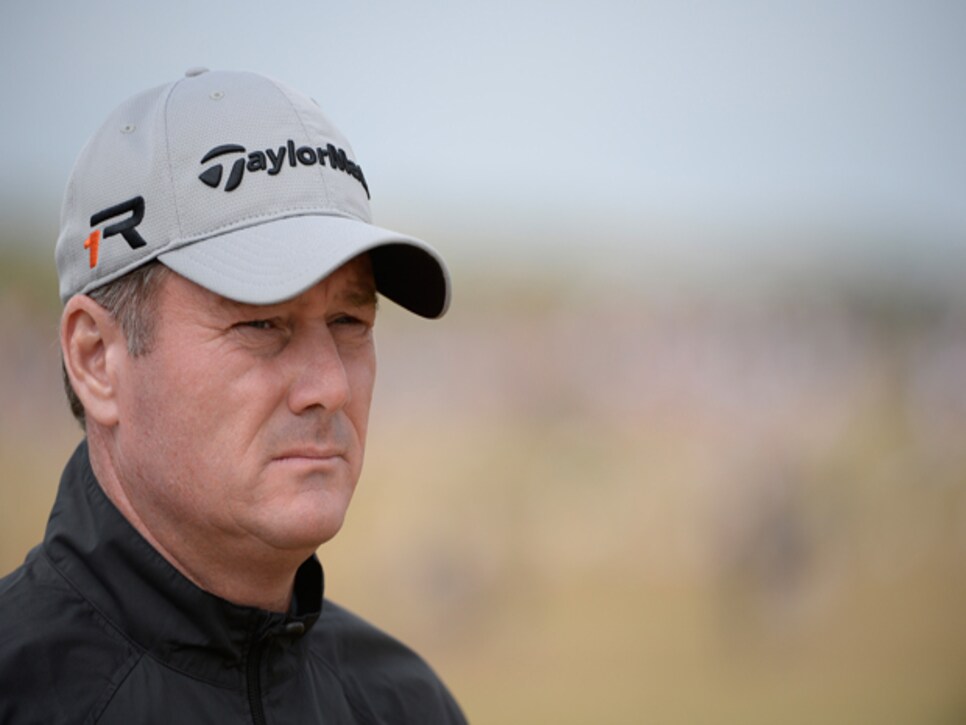 Todd Hamilton says he gets recognized more in Scotland than he does back home in the United States. That was the case a couple nights before the British Open, when he was out for fish and chips with his caddie in North Berwick and could hear two Scottish boys whisper, "That's Todd Hamilton. He won the Open."
Scenes like this are certainly different than one Hamilton recalled from 2004, shortly after he had beaten Ernie Els in a playoff at Royal Troon in one of the greatest upsets in Open history. Hamilton was drinking champagne out of the claret jug with some friends at a trendy Dallas restaurant when Jerry Jones, owner of the Dallas Cowboys, stopped by the table.
"What's that there?" Jones said, pointing to the trophy before introducing the next NFL commissioner, Roger Goodell. Hamilton laughed again about that evening behind the 18th green last Thursday after capping off an impressive two-under 69 in the first round. "Like he hadn't seen a trophy before," Hamilton says.
That was nine years ago, and the world has changed for Hamilton. At 47, he now calls the Web.com his "home tour" (he lost his full-exempt status on the PGA Tour in 2010) and is hoping it will be his bridge to the Champions Tour. Sometimes, though, he wonders if he'll really get there. Hamilton's opening-round score at Muirfield was his first sub-70 round in the Open since the final round in 2004.
Asked to reflect on the journey since his upset playoff victory, Hamilton says quite simply and bluntly, "Terrible." Without prompting he adds, "It's been trying, I guess. There have been days where I didn't want to play."
Hamilton, who had his first PGA Tour win earlier in 2004 at the Honda Classic, made the cut in the five remaining tour events he played that year after winning the Open. In 187 subsequent tour starts, including Muirfield, he has missed the cut 111 times and had just three top-10 finishes.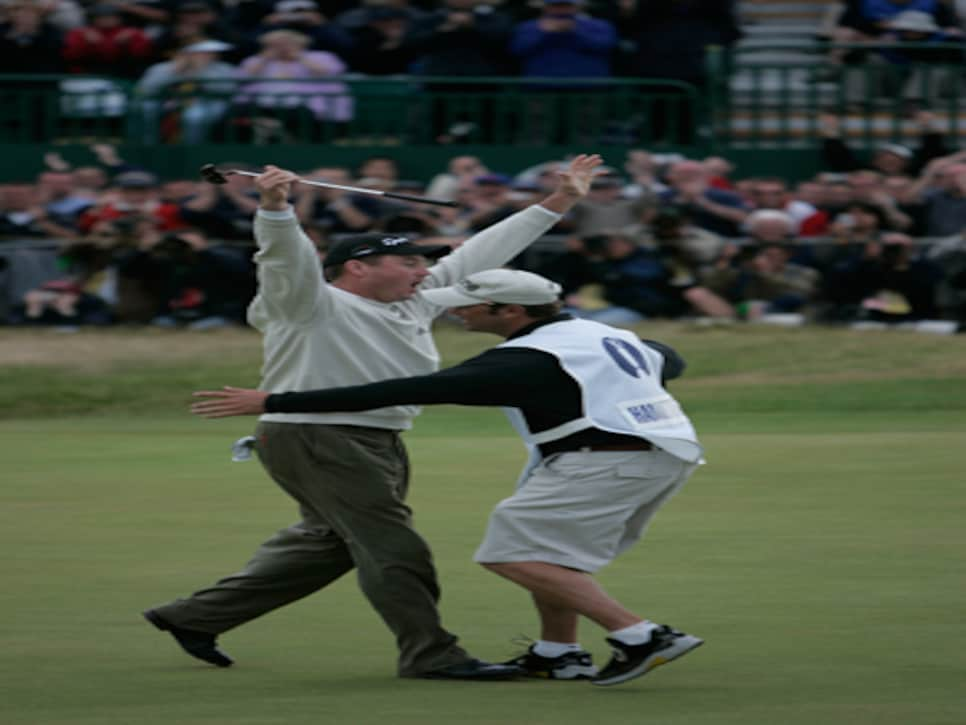 Still, the replica jug sits above his TV in the family room of his suburban Dallas home. His boys, Tyler, 15, and Drake, 10, are more into hockey than golf. Hamilton has tucked away a fortune not only because of his Open victory, but also through 11 wins on the Japan Tour, where he made a name for himself on another continent a decade earlier. He just wants to show his sons he can still play the game. That's what this is about, and days like last Thursday make the grind seem worthwhile.
Coming off seven missed cuts in his last eight events, ranked 818th in the world, Hamilton compared his 2013 season to that of an NBA player who has a lot of 1-for-15 shooting nights. "I've seen a lot of good things," he said, "but I off set that with a lot of bad things and a little bit of mediocre stuff in between."
In his bag were a new driver and putter, pulled from the equipment trucks at Muirfield. As frustrated as Hamilton often feels, he can't ever truly give up looking for a cure that might turn it all around. The never-ending search is like a worker going paycheck to paycheck. Sometimes bending a club a little open or finding a putter in the back of a closet might buy a few months. "There's always something you can find," he says.
What he found to beat Els is in the back of one of those closets: a Sonartec 17-degree hybrid he had bent to 3-wood loft. Hamilton knows where it is, with a marked headcover to identify it from all the other clubs in his closet. He used that hybrid more around the greens than from tee boxes, but for this Open he came back with a bent 2-iron.
Hamilton sees Els from time to time, and says the Big Easy has always been "very cordial" to him. Last year at Lytham he stayed at the same hotel but missed the after-party. He had an early flight back to the States, back to anonymity.
There are times on the Web.com Tour when he will drive rather than fly, like he did from Dallas for two events earlier this year in Georgia. There are shots he can't let go, like the blocked tee ball that led to a triple bogey at TPC Wakefield Plantation, wrecking an otherwise solid week at the Rex Hospital Open that still resulted in his only made cut since April.
"I may shoot 79 tomorrow and miss the cut," he said. Instead, he opened Friday's second round bogey-bogey and shot an 81. In the players' dining room afterward, eating a KitKat bar and reading text messages, Hamilton started checking on flights home for Sunday morning, mentally getting ready for the Web.com Tour stop in Boise, Idaho.
Yet within an hour "the carnage started," the cut at Muirfield moving to eight over. Hamilton texted his wife to make the reservation for Monday as he survived to play another two days. Still, he wasn't quite sure if that was payback or reward. It turned out to be a little of both, with a 70 on Saturday and a closing 79 to finish T-73.
"It would almost be easier mentally if it was all bad rather than I think I found something and then crash," Hamilton said. "It's tough to play golf like that. I should just not do anything for a month."
Before he finished the sentence though, the competitor that remains in him returned: "It would probably last for about two days."
With the Presidents Cup at Muirfield Village on the horizon, Louis Oosthuizen plans to take nine weeks off to get treatment on his recurring neck injury and strained hip flexors. "Withdrawing three of the last five tournaments is just not me," said the 2010 British Open champion Saturday at Muirfield, two days after pulling out of this year's Open following his tee shot on the ninth hole. "I need to give this time." Oosthuizen, who is currently second behind Adam Scott in the International Team's points race, does plan to play one week prior to the Presidents Cup, at the Dunhill Links Championship in Scotland, to show captain Nick Price he'll be ready to go. The South African's hiatus means he will miss next month's WGC-Bridgestone Invitational and the PGA Championship at Oak Hill, but he wasn't even looking at the FedEx Cup playoffs, since he ranked 140th in points going into the Open. "I can't keep going on like this," says Oosthuizen, who traces the problems back to the HP Byron Nelson Classic in May. "I want to be ready for next year."
Andy Prodger came out of semi-retirement last week to caddie for the only Chinese player in the British Open field, 28-year-old Ashun Wu. Prodger, 62, was on the bag for Nick Faldo at Muirfield in 1987 for the first of Nick's three Open victories and was a longtime caddie for K.J. Choi before settling down with his wife and 21-year-old daughter near Gleneagles, Scotland. While he wouldn't mind caddieing part-time on the European Tour again and hopes to be working at the British Open in 2014, he says the time at home in the Scottish Highlands has been everything he had hoped. "I've been playing dad," Prodger said. "I'm enjoying life."