News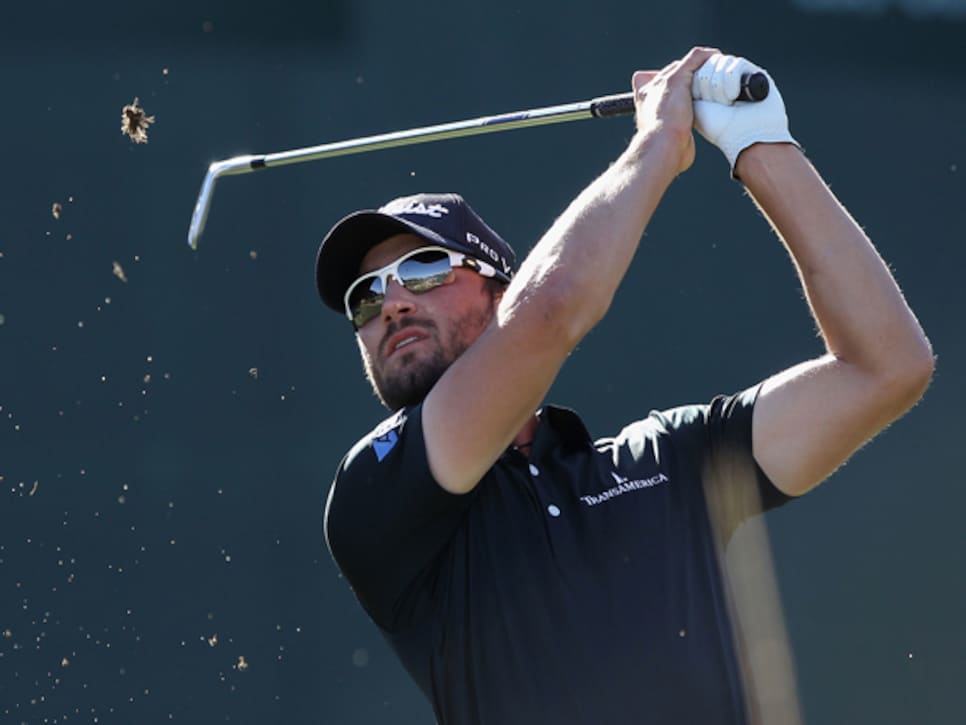 Kristen Stanley says there are two sides to her younger brother, Kyle, one on the course and one off. The one off the course has a fine sense of humor and a wry smile. He comes from Gig Harbor, Wash., overlooking Puget Sound and grew up a Gonzaga hoops fan. There's a trick-shot YouTube video taken early last year to prove it, Stanley swishing a shot from the stands at the McCarthey Athletic Center in Spokane.
To imagine him in such a carefree moment, however, is difficult if you've seen the other Kyle Stanley, the high-compression golfer who seems to shut out the world behind his shades when walking inside the ropes. Particularly so if you remember the icy glare he displayed during his final- round meltdown at last year's Farmers Insurance Open, a seven-stroke lead after two holes evaporating into a playoff defeat to Brandt Snedeker.
The dichotomy is striking. When we sat down for an interview at Kapalua earlier this month, the 25-year-old admitted his favorite TV show growing up was "The Bachelor." "I just love the show so I guess I just believe in true love," he said, delivering one of those subtle lines he's known for when he puts his clubs away and just relaxes. This is the Kyle Stanley his sister knows and loves.
As he returns this week to play again at Torrey Pines, back to the scene of the toughest day in his young professional career, Stanley appreciates that he'll be asked to relive what happened and explain what he learned from it. The answer, in part, stems from allowing that private sense of humor to get him past the triple bogey on the 72nd hole, the off-course yin teaching the on-course yang to handle failure.
After talking with family and friends in the immediate aftermath, Stanley did what for him is a challenge: embrace the idea there was no point in dwelling on the negative. One miserable afternoon didn't change the fact he is a highly skilled golfer, a former All-American at Clemson and U.S. Walker Cupper who weighs all of 165 pounds yet ranks in the top 10 in driving distance (averaging 306.9 yards in 2012).
"I just kind of hung around my core group, my mom, my dad, my sister, my caddie," Stanley says. "They were just support, just love really. They were proud of me and how well I handled myself, and they kept reminding me of how well I was playing and I believed it."
Seven days later at the Waste Management Phoenix Open, Stanley flipped the script, coming back on Sunday at TPC Scottsdale from eight strokes behind to claim his first tour title. He made it look so easy, shrugging off his wicked defeat with an improbable victory.
Yet therein lies the rub for Stanley, the part the third-year tour player wrestles with as he tries to establish himself among the game's young elite. He's still trying to figure out how to balance his two personas.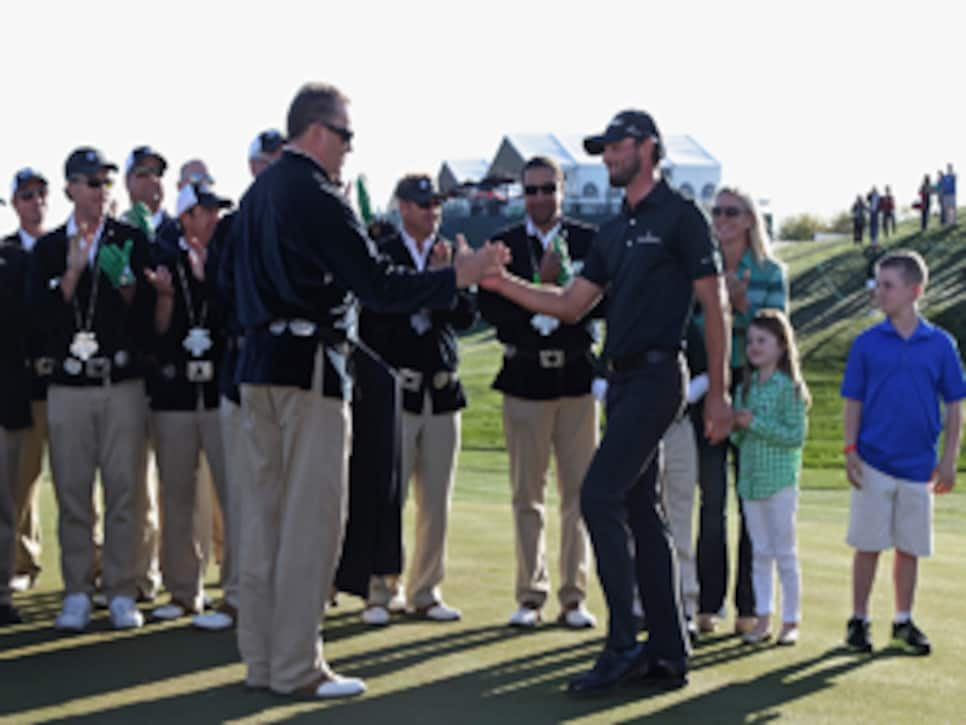 In 23 starts after the win in Phoenix, Stanley missed nine cuts and had a best finish of T-16. He struggled not to judge himself based on results, leading to moments of darkness.
"That's been something I've been dealing with since my junior golf days," Stanley admits. "You know, I've always attached myself to my score, and it's an easy thing to get caught up in."
This intensity started on the ride home from the state high school tournament in Spokane. Stanley had slacked off in practice before the event and played horribly. A talk with his father, Matt, led to what Stanley called an "overnight transformation." He would never be outworked again.
Nor would he go to a party in college, or really get to know his teammates at Clemson. Moving cross country to South Carolina was basically a business decision, made in part because the Tigers' practice ground was a parking lot for football games that could be lit for night practice. In Stanley's mind, it was the best place to prepare for the pros.
"I had no social life, never went out, never partied, never did anything," said Stanley, except, of course, win the 2009 Ben Hogan Award for his outstanding play in college and amateur tournaments. "It was just school and golf, and I don't regret it one bit."
Stanley has a girlfriend now and has moved to Scottsdale so he can split the difference between Seattle/Tacoma and his Southern friends in South Carolina and Georgia. The bachelorette is Morgan Larson, a member of the Teach For America program from the University of Arizona. She will learn, if she hasn't already, that Kyle is pretty much golf 24/7.
Many of the faces from the team that was around him at Torrey Pines and TPC Scottsdale last year have changed. He swapped his caddie (Brett Waldman for veteran Dave Woosley), stopped working with short-game coach James Sieckmann and just last week let go of sport psychologist Julie Elion, whom he had consulted since May.
Whether it was the adjustment to a new team or new equipment -- Titleist to Nike -- he got off to a poor start in Hawaii and missed the 54-hole cut at the Humana Challenge. The word inside the Stanley camp was that it didn't affect him, at least not emotionally. It's a sign, perhaps, that he's slowly learning to keep his obsessive nature in check.
Yet you'll never entirely weed out the competitor. When discussing his return to Torrey Pines this week, I asked what he would do differently now if he had five-shot lead with 18 holes to go.
He looked right at me and said with a smile, "Step on their throat."
Before the Humana Challenge playoff Sunday, David Lingmerth played hockey on the practice ground at PGA West, hitting slap shots with an iron and range balls to his caddie. For just his second tour event, the Swede who played golf at West Florida before transferring to Arkansas appeared incredibly loose. Mind you, that wasn't quite the case when the 25-year-old stood over a hanging lie on the 18th fairway (the first playoff hole), considering his ball flight is a cut. The nephew of former Cleveland Browns kicker Goran Lingmerth knew he couldn't go wide left but did anyway, finding a pond on the Palmer Course. Still, his final-round 62 is one to remember, and the $492,800 put him in a good position for the year's first reshuffle, a rookie's top priority.
As for Charles Howell III, his tie for second at Humana was another reminder of just how close he's come to fulfilling the potential expected of him as an NCAA champion at Oklahoma State. Fourteen times Howell, 33, has finished second in a PGA Tour event, matching the most of any golfer currently in his 30s save Tiger Woods, while winning only twice in 366 starts. There is, however, a bright side to Howell's Palm Springs showing. It followed a third at the Sony Open. Howell has shot no worse than 67 in 2013 and has made only seven bogeys in 144 holes. Such positive vibes will be helpful at this week's Farmers Insurance Open, where he has two career runners-up. In 2005 he came to the 72nd hole at Torrey Pines, hit a perfectly played sand wedge that produced an imperfect result, clanging off the flagstick into the water and finished T-2 to Woods. Torrey is one of four events (along with the Sony, Zurich Classic and Tour Championship) where Howell has twice been runner-up.