News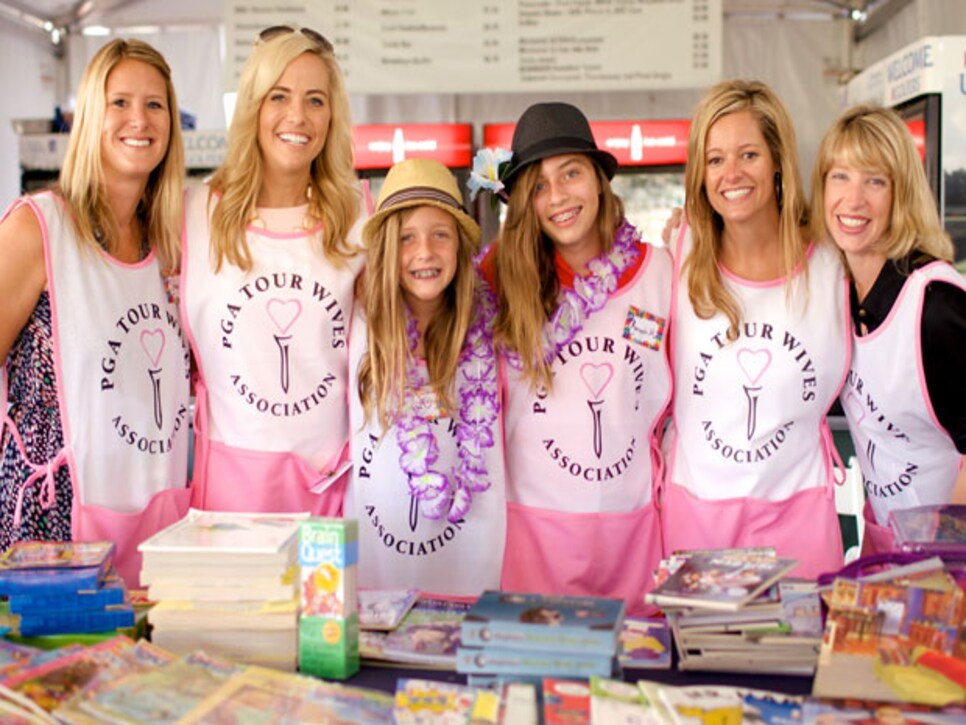 Stereotypes are the shorthand of the shortsighted, a lazy way to stumble to conclusions that are usually incorrect. Frequently victimized by such labeling are the wives of PGA Tour players, pigeonholed by some fans as eye candy whose main occupation is to spend their husbands' money. The truth of the matter, however, is that the PGA Tour Wives Association is one of the most active and effective organizations operating in the charity-centric world of golf.
The PTWA, which marks its 25th year in 2013, has raised more than $5 million for charity, but, just as important, it uses the platform of the PGA Tour to elevate awareness of worthy causes in the communities where their husbands compete. Virtually all tour wives are involved with the PTWA to some degree, and many bring a background in the corporate world to charitable activities. Some, with their husbands, have charitable foundations of their own, including Jim and Tabitha Furyk, and Mark and Amy Wilson.
This year the PTWA hosted events at 16 tour stops, from the Sony Open in Hawaii in January to the Deutsche Bank Championship, 5,100 miles away in Norton, Mass., last week. Most of the programs the PTWA supports help children, such as Blessings in a Backpack, which provides weekend food to children who might not otherwise get enough to eat while away from school.
There is also involvement with Birdies for the Brave, domestic violence programs, projects against human trafficking, food pantries, soup kitchens, habitat construction, healthy snack options for youngsters and children's hospices.
"When you see them interact with these kids, they are just so passionate and just get right into it," says Sara Moores, executive director of the PTWA, who has been involved with the organization since its inception.
"They are there because they want to be," Moores says. "They could be what the image of them out there is: 'Well, I'm sure they just go out and shop.' But they are not. I see the true side of them, which is the side that is so giving and loving."
The PTWA slogan is: "Giving Time to Others; Giving Back to Communities; Giving Through Golf" and that is exactly what these women do. When the PTWA is involved in an event at a tournament, it is frequently helping a constituency that doesn't even know the PGA Tour is in town.
"Most of us are out here traveling 30-plus weeks a year," says Amy Wilson, wife of five-time tour winner Mark, who has been involved with the PTWA for eight years, six of those on the board and the last five as president. "And it's hard to get involved in things at home because you are on the road all the time. The road becomes our home, and these communities become our home."
Wilson says the PTWA has 150 members -- impressive when you consider there are only about 140 fully exempt players -- and 20 to 30 wives typically show up for an event.
Amy worked for Andersen Consulting, now Accenture, for five years and would help transition management changes at major corporations. Her experience at arranging details and interacting with corporate executives has been a huge asset to the PTWA.
The association sprung out of the first tour wives golf tournament, in which the husbands caddied, at the 1987 Players Championship. The event was such a success in raising money for TPC Village, which helps adolescents with substance-abuse issues, that some of the most active wives -- Barbara Nicklaus, Patsy Graham, Vicky Waldorf and Maria Floyd -- decided to form a group for charitable work.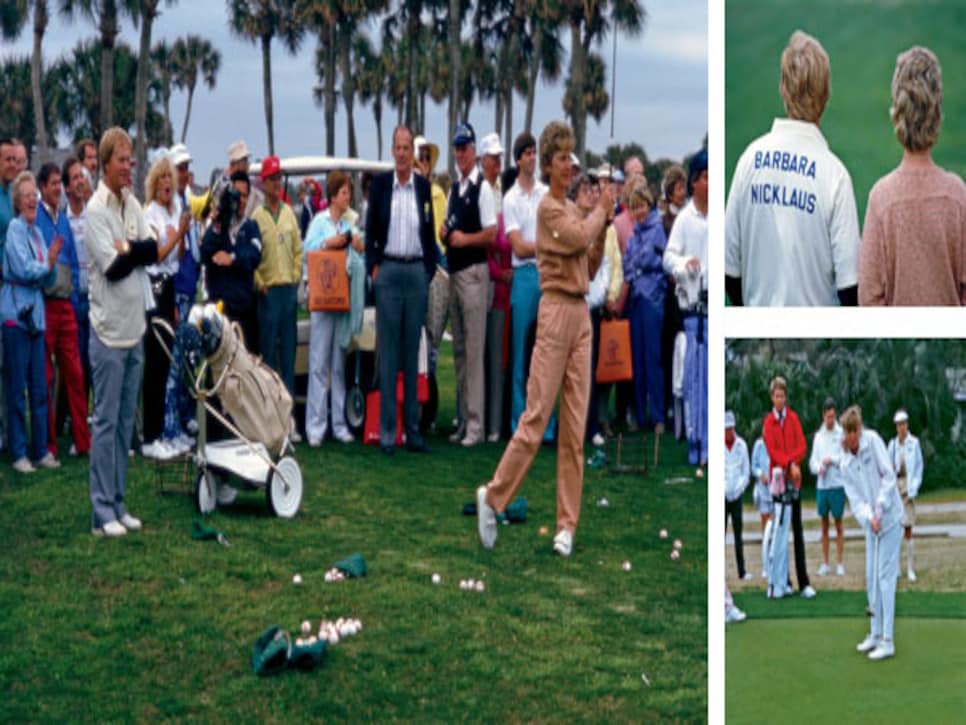 Roots of good work: Jack and Barbara Nicklaus (left) and Davis and Robin Love (bottom right) were part of a successful 1987 tour wives tournament that led to forming a group to help charitable causes.
"Patsy Graham was actually the driving force in getting the first Tour Wives' Association started," says Nicklaus, who was also instrumental in starting the organization, if for no other reason than because her husband was golf's greatest. The Nicklaus name gave the organization instant credibility, and in 1988 it incorporated.
"Quite a few of the husbands caddied [in the first PGA Tour Wives Classic], including Jack," says Barbara. "He appeared in a T-shirt with my name on it and used one of those robot caddie things. It was pretty funny. Jack got the award for the most advice given. He evidently told me 162 things in nine holes."
Barbara, whose involvement with the charitable component at the Honda Classic has helped revive that event, says the PTWA is a win-win situation. Not only do the charities gain financially and in terms of public awareness, but the wives gain as well.
"It was a great emotional boost for the wives," Nicklaus says. "We all thought that we were finally contributing something and [that] it was time well spent. We loved the fact that we were supporting so many charities around the country."
The work of the PTWA is in addition to the $1.7 billion PGA Tour events have generated for charity since 1938 and the overall $3.5 billion the National Golf Foundation says the game generates annually on all levels through charitable activities.
"No other sport gives back like golf does," says Bob Lohman, president of the board of trustees at the Ronald McDonald House in Fort Worth, which was the site of a PTWA event this year during the Crowne Plaza Invitational at Colonial. "The charities are so very thankful. We are in a tough economy, and we are thankful for the generosity of golf. You don't get better alone. What we provide here is a sense of a healing community."
When a group of wives cooked lunch at Ronald McDonald House in Fort Worth this year, it attracted local TV and newspaper coverage. The House, which was $500,000 short in a capital campaign to double the number of families it can help, needed the publicity. What it got was a very moving event.
Children in wheelchairs, on oxygen, hooked up to IVs or with the telltale scarves over bald heads, indicating chemotherapy for cancer, interacted with the wives, who told their personal stories as well as that of Ronald McDonald House to a wider audience. This was about much more than golf. It was about lives.
"For that one day, the focus is there because the PGA Tour wives are there, and it may be a story in the [local paper's] Lifestyle section or the Metro section, but we are lifting that one particular charity up," Moores says.
"Yes, we are bringing world-class golfers into your community, but after that last ball drops Sunday night, the impact of that tournament is here for the whole year," says Moores. "It's really what the PGA Tour is all about -- we're all about giving back. Together, anything's possible, and that's what we are doing."
Blessings in a Backpack, which is helping 62,000 children in 437 schools with its weekend meals program, is one of the primary beneficiaries of the PTWA. This assistance addresses the findings of recent studies: that better nourishment results in better test scores, improved reading skills, positive behavior, as well as improved health and increased school attendance.
At the Players this year, the PTWA staged a fundraiser for the Community PedsCare children's hospice and participated in the Mother's Day Pink Out to call attention to the fight against breast cancer. Depending on practice schedules, some husbands show up for the tournament-week events. In this case Charley Hoffman was at the Wednesday outing near the simulated 17th island green at TPC Sawgrass with his wife, Stacy, as were the Furyks.
"The positive feedback we get from the families and the children is the most satisfying part of this work," Jim Furyk says about the foundation he and Tabitha created two years ago, which ran the event at the Players in conjunction with the PTWA. "We are blessed with two healthy children, and there are a lot of kids here who are struggling. To see them smile and make their lives a little better and see the appreciation their parents have is very satisfying. Things that seem so minute and so small to us and to see how much of an impact it has with them, that makes it all worthwhile."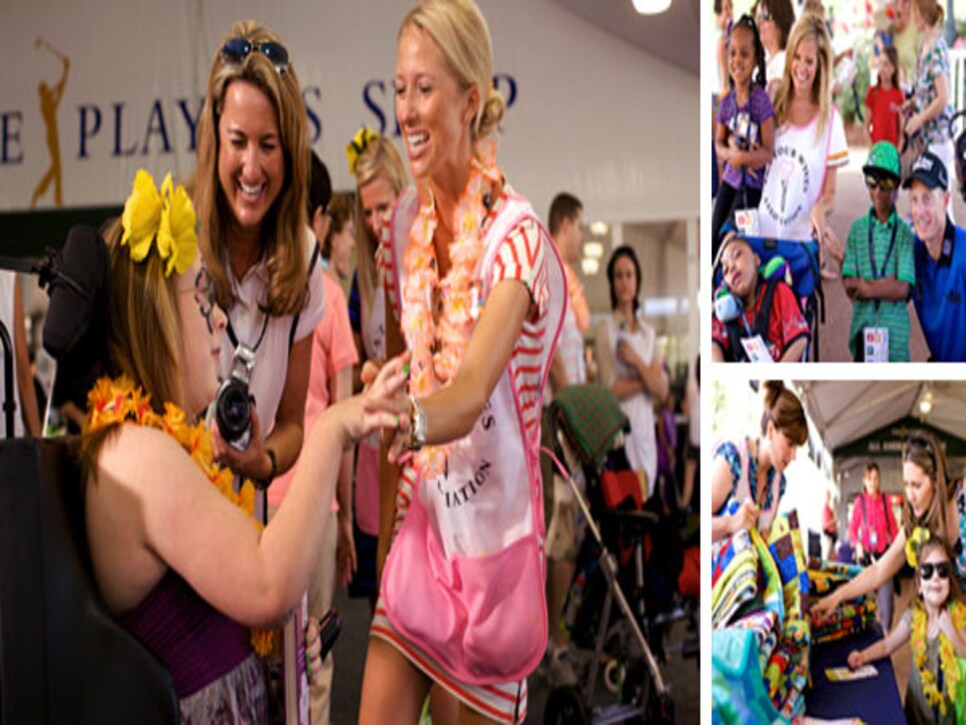 Wives, like caddies, use the pronoun "we" when talking about their players. For the husbands, going into a town means stressing about making the cut and then being competitive on the weekend. For the wives, the work is early in the week -- usually Tuesday or Wednesday -- when an event is held.
"Seeing everyone's face and getting to interact with the families and realizing that you really made a change in their day," is the best part of her involvement, says Meagan Laird, who has been part of the PTWA since her husband Martin arrived on tour in 2008. "It's really special. We are very fortunate with our husbands' platforms and being able to be in a different city every week and to go in and to have different projects and be able to touch different charities."
When Moores was trying to find a project for the PTWA in Fort Worth, she was put in touch with Jay Dill, who is on the board of Ronald McDonald House and is also chairman of the credentials committee for the Crowne Plaza Invitational.
It was a natural fit, and it was representative of the way a lot of the charitable connections work -- networking through the tour's events, its sponsors and those local charities that benefit from PGA Tour stops.
"My background is in PR, so I thought I would be able to come in and help the association get the word out to golf fans -- and those who aren't golf fans -- about all the great work we are doing in the community," says Stacy Hoffman, who is in her fifth year with the PTWA and says she goes to nearly every event Charley plays.
"I love being able to see the families year-in and year-out," she says. "It's really great to see these kids come back year after year. The interaction with the kids and the families is special."
To celebrate the PTWA's 25th anniversary and help make the public aware of its work, Kelly Bettencourt, wife of Matt, and Deanna Pettersson, who is married to Carl, have headed up a project to produce a book that will "take you into the living rooms and kitchens of many tour players," says Bettencourt. The book, which details the evolution of the PTWA, will be released next February by Butler Books. Emeril Lagasse will write a foreword, as will Clint and Dina Eastwood.
Bettencourt, who joined the PTWA in 2009 and is now the vice president of fundraising, says: "From the instant I attended my first community outreach project, I knew this was what I needed to do. We were visiting a school in Hawaii where we support Blessings in a Backpack. When I saw the joy and happiness that we brought to those sweet and innocent children that day, simply by spending time with them and providing the food that so many of us take for granted, I quickly found a huge place in my heart for this organization."
Deanna Pettersson, who has been involved with the PTWA for 10 years and is currently vice president for membership, says the organization "helps to keep you grounded to real life. The PTWA gives me a chance to give back all year long. The events we do also give an immediate gratification and sense of deep satisfaction because we see who the service impacts. It's truly humbling for me every time we go to an outreach event."
Traveling with the wives to these events and speaking with them about the PTWA, it is clear these are words from the heart. Most tour players and their wives lead very comfortable lives. What the PGA Tour Wives Association has done is figure out a way to share that good fortune with those less fortunate. And for nearly 25 years, that's what it has been doing very well.