News
Making A Name For Himself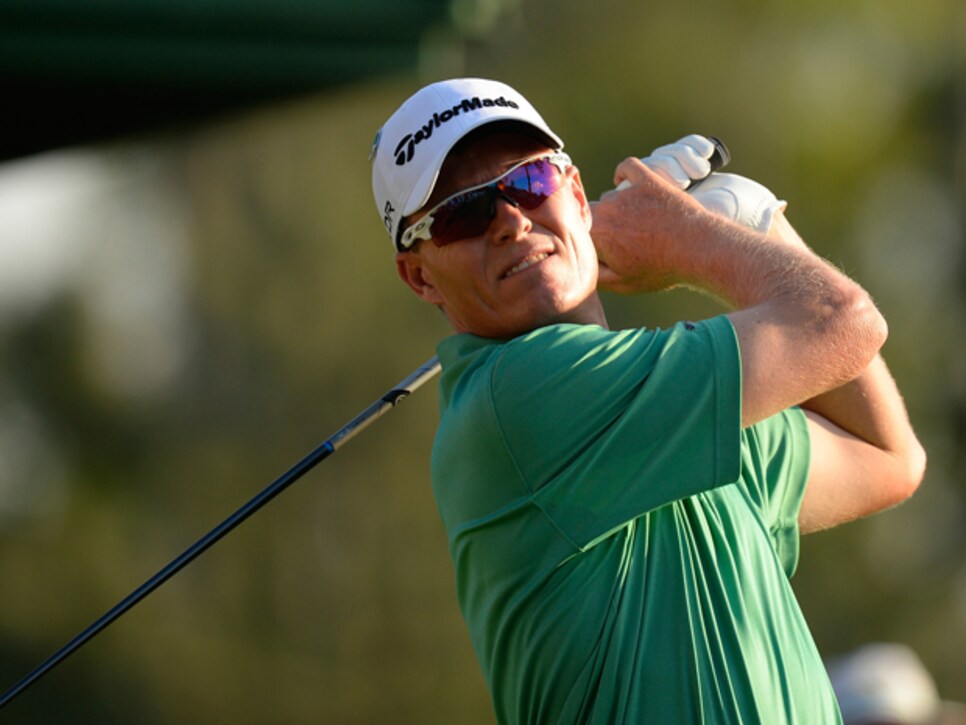 John Senden's Aussie mates compare him to Miguel Indurain, the five-time Tour de France winner from Spain who has a resting heart rate of 28 beats per minute. "Boring is not the right word," says Rod Pampling. "A really gentle, quiet man," says Ian Baker-Finch. "I've never seen Sendo flustered, excited or mad," says Greg Chalmers. "He is Mr. Even Keel."
When Senden chipped in on the 70th hole of the Valspar Championship last month in Florida, he let go with the first fist pump Chalmers had seen in a friendship that dates back to European Tour playing days in the late '90s. When they got together the following week in Orlando to celebrate not only Senden's second PGA Tour win in 345 events, but a Masters invitation, Chalmers jokingly told his friend, "Man, you need to calm down."
At 42, Senden never appeared "flustered, excited or mad," no matter what he was doing over the weekend at Augusta National, whether it was shooting 75 in the last group on Saturday or grinding to a T-8 on Sunday, his second-best finish in a major next to a T-4 at the 2007 PGA. He was low Australian in a year following the breakthrough win of countryman Adam Scott. "He doesn't have to try and be like that," says Pampling, "which is a big advantage for him."
Besides being one of the calmest players in professional golf, Senden may be one of the most publicly anonymous too. Veterans Jim Furyk and Justin Leonard acknowledged his Valspar victory in the locker room at Bay Hill. Greg Norman sent a congratulatory text. Adam Scott invited him to a practice round on the Tuesday before the Masters. Scott's caddie Steve Williams told him, "It's about time you started aiming at the pins." But it did little to improve his Q rating either in America or Australia.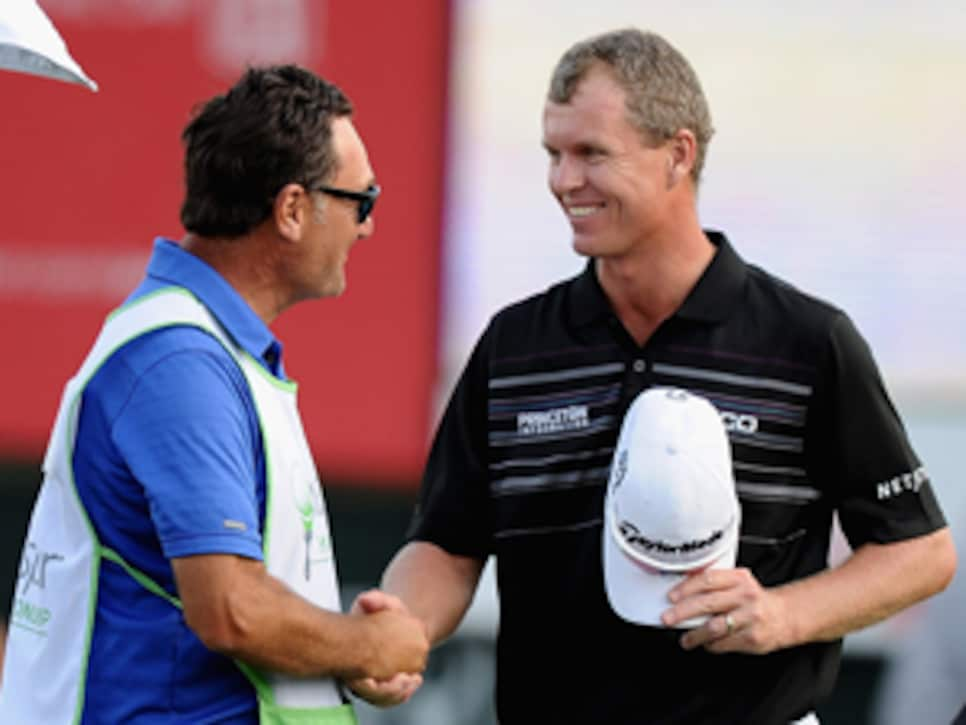 Neither did his play in the final round of the Masters. He shot 73 on Sunday in a wild round that included five birdies, four bogeys and a double -- and received zero face time on the broadcast. It wouldn't matter if he were traveling home to Dallas or through his home country as the son of a cabinetmaker from Brisbane. Mr. Even Keel goes undetected.
"In Brisbane, if I walked through the airport, I wouldn't get noticed," said Senden. "Recognition is great, but to be noticed out there, I'm not in that league."
When it comes to ball-striking, however, Senden has always been a superstar among swing aficionados and a regular near the top of the greens-in-regulation statistical category. His old-school swing has been in play since he and swing instructor Ian Triggs began working together in 1982. "Triggsy works on getting the body correct, letting the body rotate and the arms follow," Senden said. "I'm lucky in that my efficiency has held up over time."
His putting efficacy has not always matched the efficiency of his full swing. Baker-Finch worked with Senden on his putting at Old Palm GC in south Florida before and during the Honda Classic. They originally met when Senden was a 13-year-old caddie for Baker-Finch at Keperra (Aust.) Country GC and have remained friends for almost 30 years. "I've always been a bit of a sounding board for him," Baker-Finch said. "We spent a couple days, had some long chats over a couple beers, and it worked out well."
They worked on getting the 6-foot-3 Senden to stand up taller to the ball, keep his elbows in, and to putt with what Baker-Finch described as "calm, quiet eyes." By slowing down the process, and exchanging video on their smartphones, Senden won two weeks later at Innisbrook.
"He leaves no stone unturned," Baker-Finch said. "As fit and as strong as he is, I see him winning well into his 40s."
Senden does too. He returned to his Flower Mound, Texas, home with a boost of confidence that was perhaps greater than what he experienced at the Valspar. He now has confirmed he has the game to contend in majors. "My motto is never give up," he told me back at Bay Hill. "In some ways it's always hurt me. I've been an over-tryer."
Triggs, who also coaches Karrie Webb, sees Senden finally believing in himself, something that has held him back over the years. "I've spent a lifetime coaching the young man, and we've both gotten old together," Triggs said. "We've been building from scratch but with the beautiful talent he has, not being able to get a score down on paper has been frustrating to all of us."
There was little frustration at Augusta. On the lawn outside the clubhouse after his second round, Senden's family and friends were gathered awaiting the day's final interviews. The 61-year-old Triggs was making the point that Senden was just a slow learner. When Senden's wife, Jackie, heard that, she told everybody that it took John 10 years to propose.
"Ever see him in a hurry?" Jackie said, and they all laughed.
Barry McDonnell left word behind before he passed away in 2011 that Rickie Fowler didn't hear until it became known that he was working with Butch Harmon. That inspired a text from Bill Teasdall, owner of the Murrieta Valley Driving Range where McDonnell taught Fowler during his formative years. When Fowler read it, he felt the blessing. "Barry told me that when the time was right, that's what he should do, go to see Butch," Teasdall said. "He never mentioned it to Rick. He wanted him to make his own decision." Why did McDonnell favor Harmon? Because the way Fowler learned, shaping shots under, over and around trees on the back end of the range at Murrieta Valley, wasn't heavily technical -- which fits with Butch's style. Five months into his relationship with Harmon, Fowler registered his best finish in a U.S. major, a T-5 at the Masters. "Barry felt that Butch wouldn't change Rick that much," Teasdall said. "He wouldn't try to re-create him. He would enhance what he had."
Life within the Kuchar family is always a learning experience, which is why Matt took sons Carson and Cameron to a bowling alley after the final round of the Shell Houston Open. Dad had undergone a tough Sunday at GC of Houston's Tournament Course, but with some time to kill before the family's flight home to St. Simons Island, Ga., he used bowling as a way to show the kids what losing -- or learning how to accept defeat -- is all about. After Kuchar's final-round 74 at the Masters dropped him into a tie for fifth, maybe it was Cameron and Carson who needed to take their father bowling. "It's tough," Kuchar said, after blowing a good chance to win for the third straight event. "You don't get too many chances to win the Masters."