News
'I'm Positive About It All'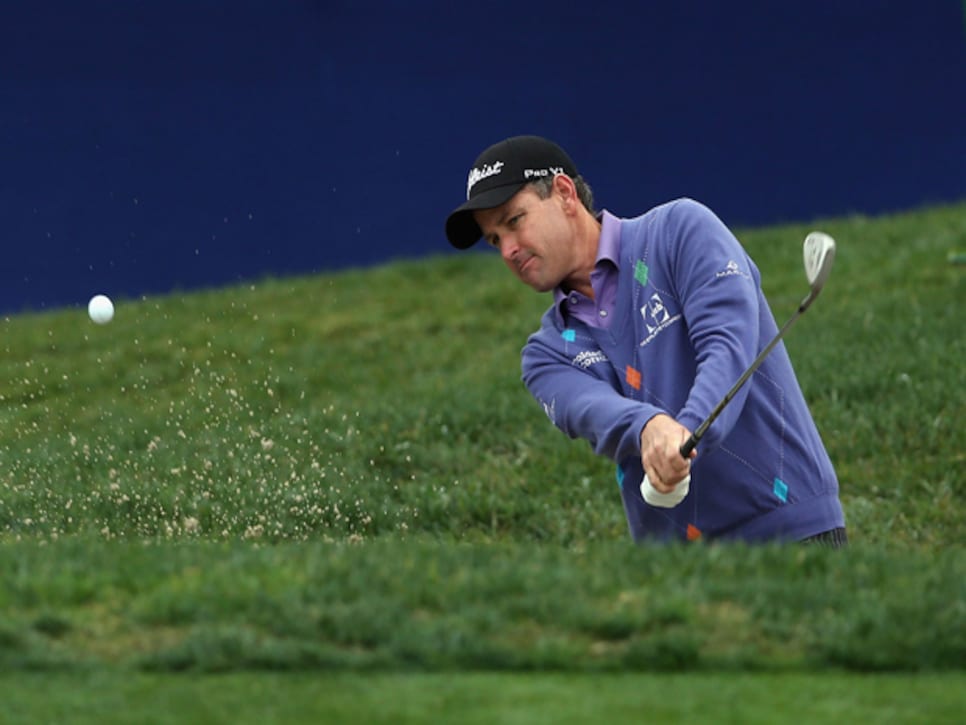 It only seems natural for Jeff Klauk to be at TPC Sawgrass this week for the Players. He literally grew up at the place as son of course superintendent Fred Klauk, raking bunkers, filling divots, cutting greens, being a standard bearer during the tournament. He even met his wife there. "I'll be around," said the St. Augustine, Fla., resident when we spoke last month.
Klauk isn't in the field but the St. Augustine resident has experienced success in the tournament, finishing T-14 in 2009. Klauk admits some guys in his position would feel uncomfortable or out of place. Not Jeff. Not after showing up for the event a year ago just two days after returning home from Emory University Hospital in Atlanta. "You know, I don't take it that way," Klauk said. "I'm positive about it all."
On April 20, 2012, Klauk went through a nine-hour procedure designed to identify the part of his brain that was causing violent epileptic seizures. He spent more than two weeks with 108 electrodes in his head as part of a process described as "intracranial monitoring." Tests showed that the seizures were coming from the brain's left frontal lobe, the area that controls speech and motor skills. The risk of a full craniotomy to remove the tissue, however, was too great. "God forbid, it was just something I didn't want to deal with," he said.
On the one-year anniversary of the procedure, Klauk "celebrated" by missing the 54-hole cut in the RBC Heritage. What hurt that Saturday was it came in the last start of his medical extension to keep his PGA Tour card. What felt good was that the 35-year-old, a pro since finishing up a Division II All-American career at Florida Southern, was able to drive from Hilton Head Island in South Carolina to his home in Florida to spend a day with his family. At least he's behind the wheel again, of automobiles and his career.
A byproduct of suffering seizures is that he was not able to drive his kids -- Jackson, 8 on May 18, and Bridget, 4 -- to their school, practices or games. The fact it derailed his golf career is secondary in terms of Klauk's quality of life. "Obviously it's great to be back out playing, thinking a year ago I was in the hospital for 18 days," Klauk said.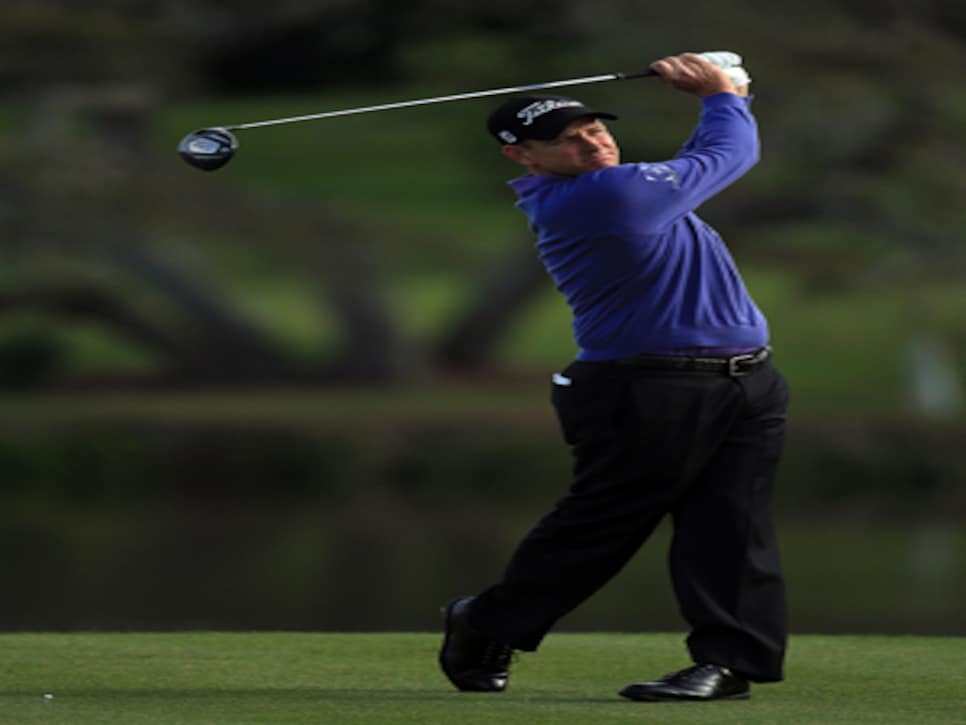 Instead of sitting out the rest of 2012 recovering from his stay at Emory, Klauk found he could return to the course by regulating his seizures through an epilepsy medicine called Vimpat. He played for the first time in a Web.com Tour event in September and made three other starts last fall. He finished a disappointing T-156 in the 2012 Q-school final, but he still had a way to retain his PGA Tour eligibility: make $578,937 in eight 2013 starts via a medical extension.
When the exemption ran out in Hilton Head, Klauk had earned only $149,830, having made four cuts with his top finish a T-16 at the Waste Management Phoenix Open. His best option now to return to the big leagues is playing the Web.com Tour.
The last two weeks have been a test for Klauk's positive attitude. After getting home from Hilton Head, he turned around the next night and drove to Valdosta, Ga., to Monday qualify for the Web.com Tour's South Georgia Classic. Klauk got in but missed the cut on a course measuring nearly 7,800 yards. Last weekend he finished T-37 in the weather-shortened 54-hole Stadion Classic in Athens, Ga.
"I feel like my game hasn't gone anywhere, so good stuff is going to happen soon," he said. "If that means going back down to the Web.com, it's not the end of the world. I have to accept the outcome [of not getting full status back] and move on."
Klauk's wife, Shanna, and mother, Peggy, got together on the one-year anniversary of the procedure while Jeff drove home from Harbour Town. Rather than being down because Jeff missed the cut, they were grateful he has some stability in his life, his current medication not causing the draining side effects that came with previous ones. Shanna and Peggy have come to grips with the fact there's no cure for epilepsy, and that Jeff is one of three million Americans who suffer from it.
"Would he ever be a normal guy again, or the dad he wanted to be? We really didn't know," Shanna said. "[Missing a cut] is not really that important in life."
Shanna had won the first of her two NCAA D-II titles at Florida Southern when she met Klauk in the golf shop at TPC Sawgrass. She noticed that Jeff is happier when he can get up and go hit balls early in the morning -- as he did the Saturday after leaving Hilton Head -- without asking her for a ride. At home he's back to leading a somewhat normal life, although his children are wondering why dad isn't around as much as he was last year. He had spent much of the previous month-and-a-half on the road before heading to Valdosta.
"I could have stayed [home longer], no question about it, but I want to play golf. That's what I'm good at," Klauk said. "As much as I love being at home, that's not what I do. I know I'm good at this. I'll get back out here next year."
It was a week of firsts for Gabe Costa, a former college golfer at Stetson who finished first in the first local U.S. Open qualifier, did his first TV interview and found out what it's like to be semi-famous for the first time. "A lot of my friends gave me a shout out or texted me," said the 24-year-old from Tequesta, Fla. "It's definitely nice to get positive feedback from everyone." It's especially nice when the love comes from Medalist GC members Olin Browne, Richard S. Johnson and Alison Walshe, where Costa is a junior member. Costa shot two-under 68 May 3 at Admirals Cove in Jupiter, a club not far from the water range where he grew up hitting balls. It was a nervous day on a tight course but nothing like what Costa experienced in his first Wolf game with the tour pros at Medalist, or the impromptu 18 holes he played with Tiger Woods before the World Challenge last winter. "That was definitely one of the most nervous moments I've had, but it was awesome," Costa said.
Veteran caddie Billy Foster hopes to be back at work this month at the BMW PGA Championship at Wentworth after being sidelined more than a year with three knee surgeries. Foster was working for Lee Westwood when he tore his right ACL at a charity soccer match (he was attending as a spectator but was down on the field for warm-ups) prior to last year's Wells Fargo Championship. Six months later, Westwood told Foster he was going to make a permanent change to Mike Kerr, which hurt even more. "Lee's moved on but that's golf, that's caddieing," Foster said during a golf vacation with his friends in Spain. "It's been a humbling experience, but I'll be back hungrier than ever." His first bag back could be José Maria Olazábal's; the Spaniard has been supportive during Foster's rehabilitation.