News
Golf Requires The Hardest Thing To Pull Off In All Of Sports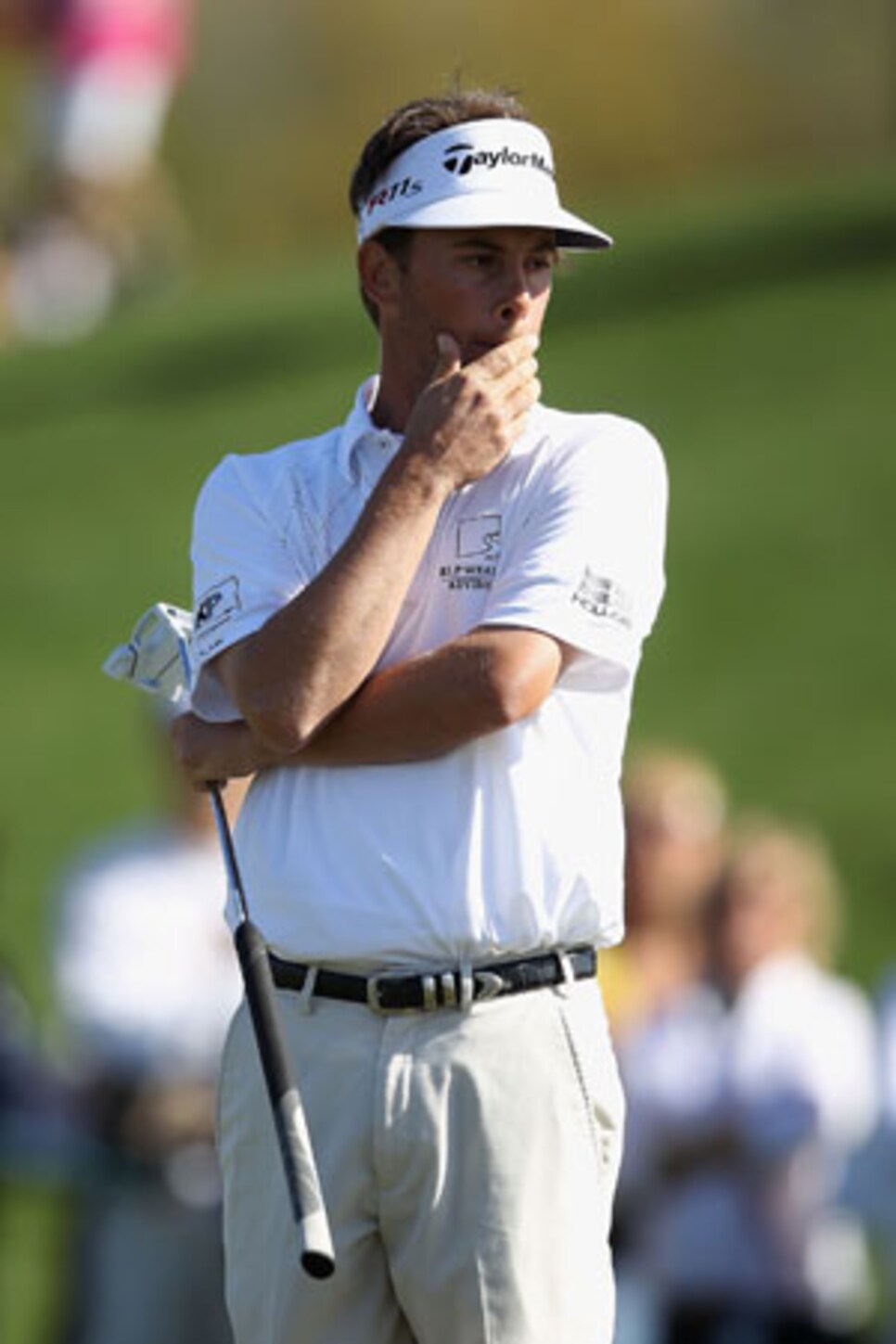 When it all comes apart on a Sunday, as it did for Spencer Levin, a reasonable person should wonder not why it happens, but why it doesn't happen more often.
Anybody really watching a professional golfer close out a tournament realizes more than ever before just how terrifyingly small the basic components of the game really are. There's the tiny ball, the ill-suited and faraway implement at the end of the long shaft and the shrinking hole. Smallest of all is the margin for error.
When stress starts to gum up what seemed automatic, even the pro comes to the grim understanding that the aerodynamic marvel that is so much fun to hit so far might suddenly be going pretty much anywhere. So when it all comes apart on a Sunday--as it did for Spencer Levin in Phoenix or for Kyle Stanley the week before at Torrey Pines--a reasonable person should wonder not why it happens, but why it doesn't happen more often.
It says here that closing out a golf tournament is the hardest thing to pull off consistently in all of sports. Jerry West, Mr. Clutch himself, definitely thinks so. "It's not even close," the NBA Hall of Famer said in 2007, "because golf is the ultimate battle within a battle, and especially at the end when the pressure is highest. To me, Tiger Woods is the most remarkable athlete I've ever seen. His courage under pressure is off the charts."
Woods' career 92-percent closing average in PGA Tour events--going on to win 48 of 52 times when holding or sharing the 54-hole lead--is his greatest record. Since 1980, when the PGA Tour began keeping track, the rate for all players has been just a shade better than 40 percent. When asked once if his ability to close was his biggest advantage over his peers, Woods' answer was a knowing "probably."
But even Woods, like Stanley and Levin, blew it the first time he held a third-round lead, back in 1996 when Ed Fiori passed him at the Quad City Classic. He has also lost the last two times he has been in that position in non-PGA Tour events, most recently last month in Abu Dhabi. Even for Woods, closing occurs on a razor's edge.
Jay Haas knows this fact, both as a player and a father. "When Bill won his first tour event, he told me how he wasn't sure he could get it airborne on the 72nd hole," he said of his son. "I told him, 'That's just how it is.' You learn how to get the ball in the fairway and on the green when you don't even know whose arms are connected to your shoulders."
Levin is still learning. The tightly strung smoker is introspective and open, which makes him interesting and sympathetic. Unfortunately, his traits haven't been the type that best withstand Sunday heat. "It's almost like you're kind of wanting the holes to run out real quick," the despondent 27-year-old admitted after his post-mortem with the media at the Waste Management. "I was trying to rush it to get it over with."
He should look to his peers because there's evidence that meltdowns are lessening. Last year, even with Woods not raising the rate the way he has since 1997, a player who held or shared the third-round lead in the tour's 44 official stroke-play events won 22 times. Rory McIlroy may have blown the Masters, but he went wire-to-wire at the U.S. Open. Darren Clarke, perennially fragile in final rounds, held fast in the British Open at Royal St. George's. PGA Tour player of the year Luke Donald also showed more steel.
So, inspirationally, did Stanley in Phoenix. There is about the kid a narrow-eyed, Clint Eastwood thing that he reinforces by being selectively inarticulate. Inward and non-verbal is traditionally the way of closers.
Still, even after Levin gave away the lead, it wasn't easy for the 24-year-old Stanley. When all he had to do on the 72nd was two-putt from 18 feet, his arms indeed became strangers to his shoulders, and he ran his ball three feet, 11 inches past. The week before, he'd had three feet, eight inches on the 72nd to win.
Who knows what he was thinking as his putter went back, except that surely the hole looked small. Obviously he'd learned something, but the lessons will go on. When it comes to closing, it is best to accept that sometimes you do, and sometimes you don't. Even Tiger knows that.