News
For Faldo, It's Time To Play Again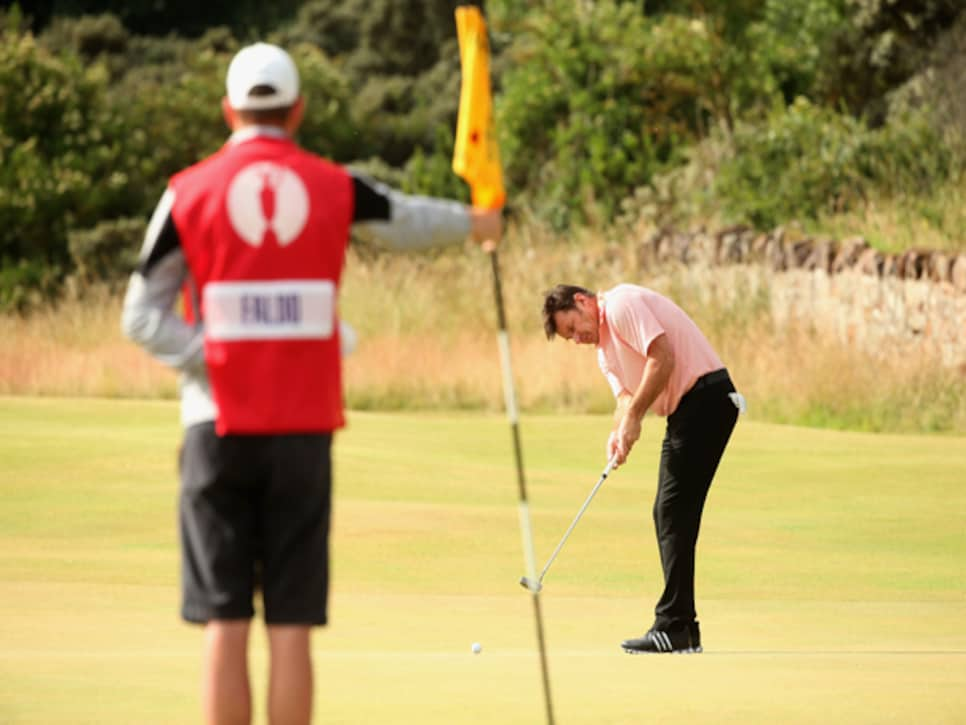 Nick Faldo putting with his son Matthew caddieing at the 2103 British Open.
Nick Faldo's announcement that he is going to start playing some events on the Champions Tour surprised me. Among alpha peers like Ballesteros, Norman, Langer and Lyle, it was the now 56-year-old MBE who most readily stepped away from the competitive stage. In the process, he's gone from introverted player to gregarious personality, busying himself with television work, course architecture, business deals and the good life.
But while the Faldo who won six major championships was a solitary grinder who grunted more than conversed, he could never disguise his passion for the game while peering after a purely struck long iron in the dying moments at Augusta or St. Andrews or Muirfield.
It's the considerable remnants that have led Faldo into the arena once again, his words now indicating that in important ways, he hadn't really left. "It never gets better than performing on a Sunday afternoon," he says. "When you can say, 'I handled the pressure and it made me play better,' that's the best compliment to yourself, and you don't forget that feeling."
It's this heightened state and the purity of its results that champions miss when they move to regular life and its ambiguity. "Tournament golf is constant goals and a factual result," Faldo says. "It's very simple. But when you stop playing, the goals and the results aren't as clear. People can say you're good and give you awards or whatever, but it's basically opinion. So that's been tough in the life after. You lose your goals."
Faldo now has new ones again, though they will be much different. He looks forward to playing not for outer glory, but inner contentment. "The lure of golf -- which when you hit a few good ones, comes back, doesn't it? -- that's now happened to me," he admits. "But I've also had to say, 'Hang on now, things have changed.' Now the mission is 'que sera, sera,' trying my best, yes, but also letting go."
Faldo had an epiphany when he took a leap of faith and played in this year's British Open at Muirfield, where he won two claret jugs. It was the first time he had competed seriously since 2010 at St. Andrews, where by taking the lax approach of unprepared ceremonial golfer he found himself mentally overwhelmed and missed the cut with a second-round 81. "I wasn't ready, and ended up getting scared on so many shots," he says. "It was horrible. I remember very vividly telling myself, 'I really don't want to ever feel like this again.' And of course I thought that might be it for me as a player."
Instead, unconsciously unwilling to say goodbye, Faldo increased his immersion in the game. Last year he radically revised his classic instruction book A Swing for Life to offer a simpler message. As a TV analyst, he became more aware that even the world's best can hit the world's worst shots, a fact he found "liberating." When Muirfield rolled around, he was still unprepared, but somehow ready.
"It was absurd in a way, but I knew I would regret it if I didn't play," he says. "I managed to get in the right frame of mind where I told myself I don't have to be embarrassed if I shoot 84 or whatever. And I didn't fall apart. I made some good swings, didn't hit it in the hay and, crucially, held my nerve on the greens. And playing with Freddie [Couples] and Tom [Watson], I realized, 'Blimey, I'm hitting the ball just as good and as far as these guys,' that I can still play."
Faldo shot 79-78 with his son Matthew on his bag, missing the cut by seven strokes but leaving inspired. "It only took me a few days to realize that I wanted to have a few more whirls," he says.
And so Faldo will enter next month's SAS Championship in Cary, N.C., the first of perhaps half a dozen Champions Tour events he will play through next year, setting up a schedule that meshes with his TV responsibilities. He's working on getting down to a new playing weight and is employing the full extent of current technology to get his driver swing speed up to 112 miles per hour, an increase of 7 mph from his competitively inactive days.
Faldo vows he will take what comes, ready to readjust his goals up or down depending on his results. But his "que sera, sera" mission carries urgency. "Time wiggles by," he says. "It's been more than 25 years since I started winning majors, and looking back it all seems like a mad rush. I have more gratitude now, for what I had in my hands, for what I had in my heart, and that I missed it. Whatever is left, I want to enjoy."