News
Wie And The Next Big Step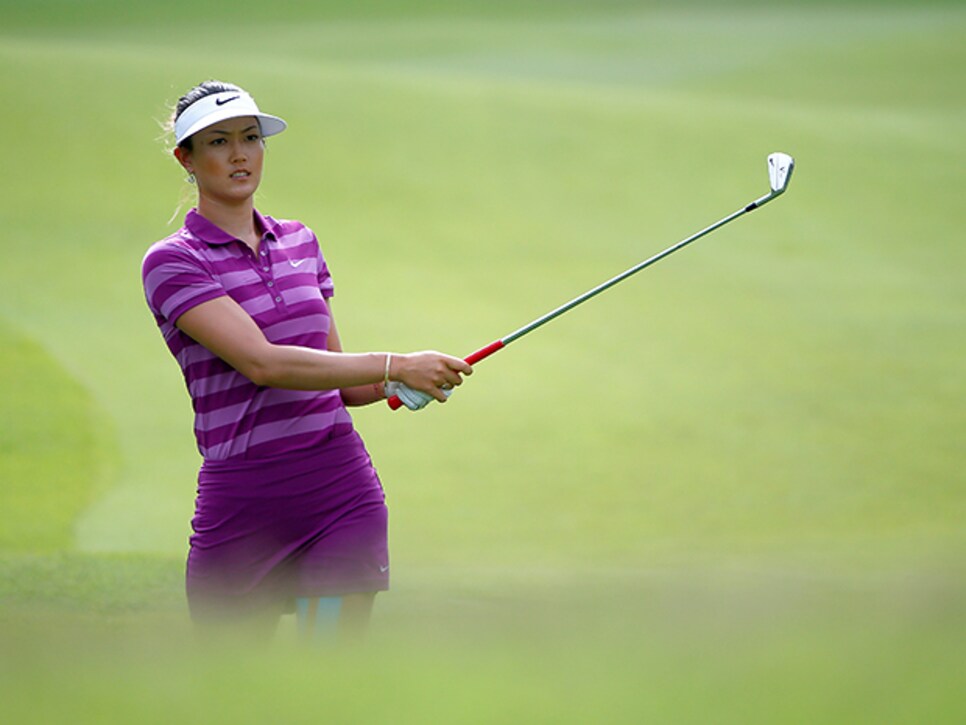 As her breakout performance in winning the U.S. Women's Open at Pinehurst No. 2 proved, golf is starved for Michelle Wie to be great.
When she finally showed that she could bring out the right stuff, that under real pressure she could resist collapsing under a decade's worth of baggage, the game let out a long pent-up cheer.
The reaction confirmed that Wie possesses the star qual-ity -- looks, personality, story, athleticism, je ne sais quoi -- to lift the LPGA and women's golf. She is no longer the polarizing figure who wanted to naïvely but also disrespectfully bypass the women to take on the men, and then couldn't back it up. Instead, there seems to be a collective agreement that at 24, Wie has absorbed enough hits, and that for all her gifts, simply being her has never been easy. Her early missteps have been forgiven, while the comparative grace of more recent years has drawn praise. She's paid her dues, and now people are eager to see her collect her reward. Hers is now a tale of self-dis- covery and gratitude leading to redemption and happiness.
But if Wie stalls, the pendulum will swing back. That's why right now it's crucial for Wie to continue to grow as a golfer.
So far this year, with consistency as her mantra, she has been a force. Before Pinehurst she had a win and was second at the Kraft Nabisco to rival Lexi Thompson. Wie's seasonal stats are good: second in GIR, a surprising fifth in putting average on greens hit. She is beating fewer balls and playing more practice rounds, emphasizing feel over studied technique.
It has resulted in Wie showing more game than ever. The breathtaking speed, the scale of her swing, the sound of the strike -- she's seemingly capable of more than other women, almost playing -- yes -- like a man. The skills extend to her short game, where her strength, technique and club control allow her to hit sharper, more spinning shots than her peers.
But there's a lot to golf greatness. Wie is still far from being the LPGA's toughest competitor. Even as well as she played at Pinehurst, she nearly gave her first major away in the final round with sloppy play on the 16th hole. More than any other shot, the five-footer she made there to save double bogey and keep a one-stroke lead felt like a rite of passage.
There are times when Wie's game seems unnecessarily defensive. Her 3-wood stinger draws oohs and is reliably straight, but it travels at least 25 yards shorter than her driver. Wie's strategy is reminiscent of the way chronic underachiever Laura Davies used to give away her huge distance advantage by hitting 4-irons off the tee. Wie's best moment in the final round at Pinehurst was unleashing her only driver of the back nine on the 452-yard, par-5 10th, following with an 8-iron to 10 feet and an eagle. Now that was the transcendent Michelle Wie that was supposed to be.
Last Sunday at the Walmart NW Arkansas Championship, Wie also underachieved. Leading after two 66s, she fell back with an alarming spate of bad short-putting to shoot 73 on an easy course, tying the highest final-round score among the first 56 finishers.
This is not a screed against Wie's "tabletop" putting style. Though she lacks the easy flow of movement Lydia Ko, Inbee Park and Stacy Lewis possess on the greens, Wie at least is proud of developing her unique method, which has improved her putting attitude. But because she was still on her U.S. Open "honeymoon," Wie got a pass for closing abysmally. No one questioned her excuse that she ran out of gas after a hectic week that included a New York media tour. Meanwhile, the winner, Lewis, and Ko -- both of whom played hard at Pinehurst and are Nos. 1 and 2 on the Rolex Ranking to Wie's sixth -- each grinded out 65s.
Wie may have the most talent, but no one thinks she has the most grit. Indeed, her unofficial coronation as the queen of women's golf has given extra motivation to hardened competitors like Lewis, who, while publicly rooting for Wie's success because of what it can do for the LPGA, will be that much more determined to beat her.
Wie deserves all credit for what she's accomplished, and she should be allowed to be great in her own time. The point is, she is not great yet, and she has to keep improving to get there. If her current reaction to winning her first major is relief at finally having proven herself, she won't advance. But if she has truly rediscovered her love of the game as she says she has, she'll want to prove even more.