News
The Lessons Of The '71 U.S. Open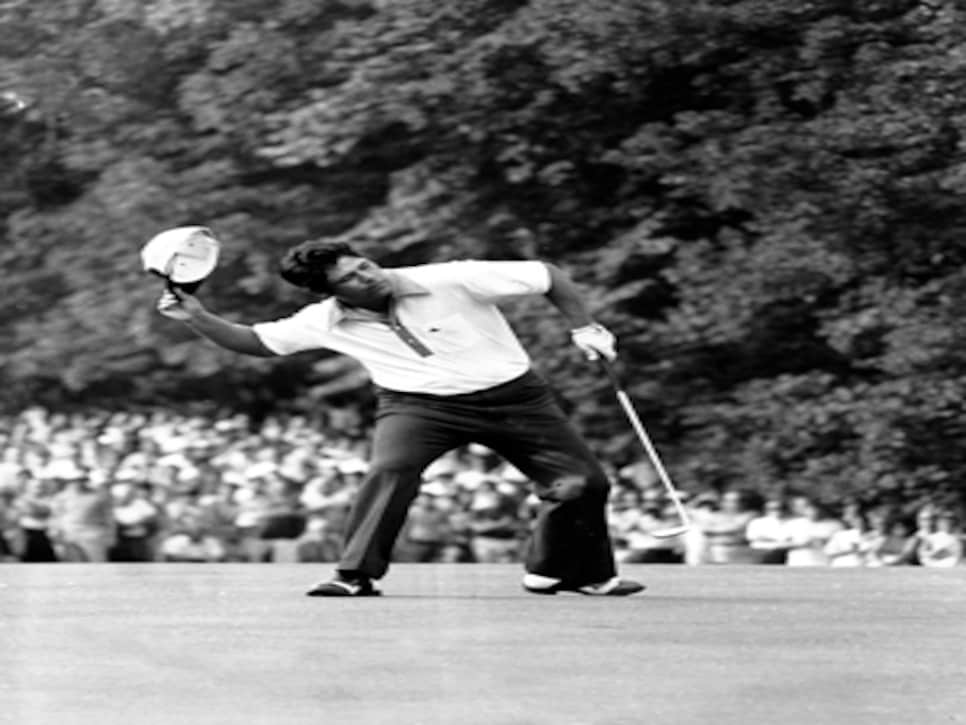 Lee Trevino throws his hat after beating Jack Nicklaus in an 18-hole playoff to win the 1971 Open.
Away from crowds, Lee Trevino favors the introspective over the theatrical, and the present over the past. As he said somberly from his living room in Dallas a few years ago, "I don't look at yesterday."
Along with how a tough life sharpens the ability to move on, it is the way a great golfer stays great. Even at a retired-from-competition 73, going forward remains Trevino's habit. Which is why he's been worn ragged by all the interviews he granted about winning one of the most memorable U.S. Opens ever played at Merion in 1971.
Last week, however, when for the first time Trevino watched the final round and his 18-hole playoff against Jack Nicklaus on Golf Channel's rebroadcast of the original ABC tournament coverage, he surrendered to the power of history and enjoyed the moment.
"Oh man, I didn't remember putting with that style," the familiar voice effused into the phone. "Getting all close to the ball and upright, with my eyes right over it and with my elbows in and my feet pigeon-toed? I guess that was one Wilson 8802 I didn't bend flat."
Trevino made a series of big putts on the back nine of the playoff and recently told Golf Digest that for the rest of his career he searched to regain the feel he had on the greens at Merion. So he could only laugh at how he could have strayed from a method so distinct and successful. "The day after watching it I went right out and copied myself," he said. "My yips went away! Forty years too late, but at least I got rid of the belly putter!"
By contrast, the Trevino swing remains eternal, and save for losing 50 yards, in exhibitions and friendly rounds he remains a relentless machine off the tee. He couldn't hide being proud that modern viewers got to see the driving clinic he put on at Merion.
"All the holes they showed, I never missed a fairway with my driver or my 2-wood," he said. "I told [son] Daniel, on a course with rough, it doesn't matter the name on the tournament, how long the hole is or how great the guy you are playing. If you can keep putting it on the short grass, you have a real shot at winning."
There was much nostalgia to savor in the rebroadcast. The ABC team was knowledgeable and non-invasive, with Henry Longhurst's Cambridge growl best conveying the portent. Aficionados could note the distinguishing brass weight on Trevino's PowerBilt driver and the copper-colored ferrules on Nicklaus' MacGregor VIPs. Those anticipating this year's championship got a preview of how Merion's wicker baskets will provide charm and its fearsome finish will supply tension.
Nicklaus was awesome in full Nordic-hero mode, especially with the putter down the stretch in regulation. In the playoff, despite some maddening wedge flubs early and a dearth of putting luck late, he rose above disappointment to maintain an amazing level of poise and grace.
Trevino was all verve, a genuinely transcendent American character. He bounced more than walked, presaged Tiger Woods not only with a red Sunday shirt but with a club twirl every bit as commanding, and even fought off choking before his drive on the 72nd tee by jokingly accusing his caddie of choking. In all his mannerisms, brisk pace and mastery, Trevino "played" golf with a uniquely hypnotic flow.
On the day of the final round, I was a 16-year-old who'd finished high school two days before. While I revered Nicklaus, I was a Trevino man, also using a black PowerBilt driver, swinging from an open stance and keeping the club low toward the target. I suffered when Trevino missed his eight-footer for par on the 72nd, and turned away from our Zenith when Nicklaus stroked his 15-foot birdie putt for the win. The next morning I played a qualifier for the Big "I" junior tournament, and my hot-putting 76 was the lowest score in the field. Having just passed my driving test, I drove home triumphant, arriving in time to watch Trevino birdie the 12th to go up by two, and win with aplomb. One of those perfect days.
For Trevino, it was the rare yesterday he could look at with wonder and gratitude. "That tournament was when I stepped on the red carpet," he said. "Before that, I never thought I belonged there. But because of the guy I beat, where I beat him, when I beat him and what I beat him for, I finally belonged. Merion was the one."
Thanks to Trevino, it still is.