News
Woods And The Will To Excel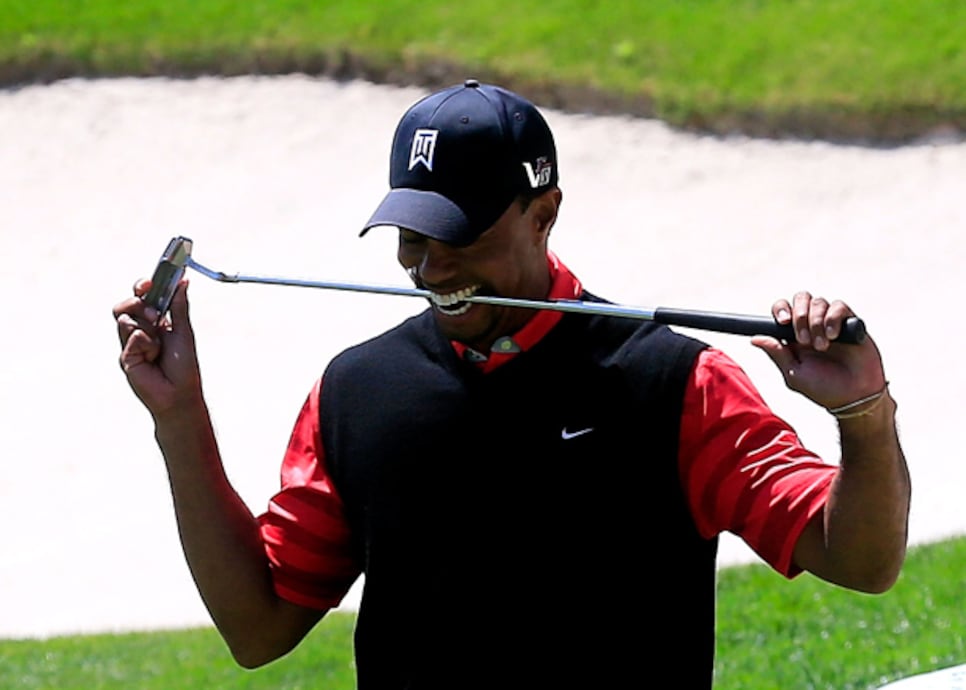 Tiger Woods bites his putter after a putt on the 18th hole during the final round of the Arnold Palmer Invitational at the Bay Hill.
It's been said many times and many ways in the last three years -- Tiger Woods will never be the player he was. The harshest adherents to such thinking believed he would never win again. More generous assessors see him grinding out two or three more major championships but falling short of Jack Nicklaus' 18.
There are plenty of supporting reasons, including: Woods is an "old" 37, his left knee is a time bomb, he's lost his distance advantage, the putter no longer behaves in the clutch, and the other players consider him just another guy.
None of which are far-fetched, even though Woods has barely shown as much as contempt for any of them. His penchant for stubborn denial was on display when he was asked before the first round at Bay Hill if he could be as good as he once was. Even the two wins he had racked up in 2013 couldn't keep his answer -- "I don't want to become as good as I once was, I want to become better" -- from sounding forced.
Now that Woods has grittily made it back to No. 1 in the world, it decidedly doesn't. Yes, Woods again took advantage of the spaciousness and playable rough that Bay Hill -- like Torrey Pines and Doral -- offers, and the victory was his 20th on those three courses.
But Bay Hill represented improvement. Woods' bad shots were better, as, notwithstanding a 72nd-hole bogey, he avoided the late final-round sloppiness and uncertainty that plagued him in his previous two wins. After struggling in his swing transition under Sean Foley with more left misses than ever, Woods seems to be back to managing more controlled right misses.
At the same time, there is evidence that Woods' good shots are also better. While he remains far from a statistically accurate driver (ranking 71st out of 76 players at Bay Hill), as E. Michael Johnson points out, Woods is becoming markedly more efficient in his strike of the ball. Despite losing 4.5 miles per hour in clubhead speed since 2007, under Foley's direction Woods has successfully increased his launch angle and decreased his spin rate, causing him to lose only two yards in average driving distance.
The most dramatic improvement, of course, has come with the putter. For the first 12 years of his pro career, Woods, in the estimation of Nicklaus on down, was the greatest putter who ever lived. But from 2010 to 2012, he dropped to merely being -- by PGA Tour standards -- above average. When Steve Stricker suggested to Woods before Doral he weaken his grip and put his hands slightly ahead of the ball at address, something clicked. Woods began talking about "flushing" putts and followed a 72-hole career low of 100 putts at Doral with being first in strokes gained/putting at Bay Hill.
Still, the fuel for Woods' improvement remains sheer will. In addition to his talent, he simply wants it more than anyone else, and always has. Perhaps his spirit was broken for a period, understandably. But it appears that Woods has sought help with life issues in a manner similar to how he has addressed swing issues.
"You haven't heard about all the counseling he has gotten," an unnamed person identified as close to Woods told People magazine. "He has now been working for three years to become a better man." If so, that process might have only increased Woods' hunger.
On some level, he knows he's not just playing for golf history, he's playing for his legacy as a man. For an immensely prideful person whose life for a time turned into a punch line, that's motivating.
Of course, Woods still hasn't won a major since 2008. Even if one comes, the big argument against him ever catching Nicklaus is that to do so, he would have to have a "Phil Mickelson-caliber" career (four majors) from here on out. But if Woods gets to the point where he can win one major, his trademark consistency, even into his late 30s, will more likely carry him through an extended winning period rather than a Mickelsonian pattern of hit and miss.
Will the icebreaker come in a few weeks at Augusta National? Woods will have to drive the ball better than he has in his three run-up victories and keep the Stricker putting keys working.
If Woods finds a way, it will be because his secret weapon is a new mindset. As he said at his most humiliating moment, "it's not what you achieve in life that matters, it's what you overcome." Such a goal lends a deeper meaning -- and motivation to becoming better.