News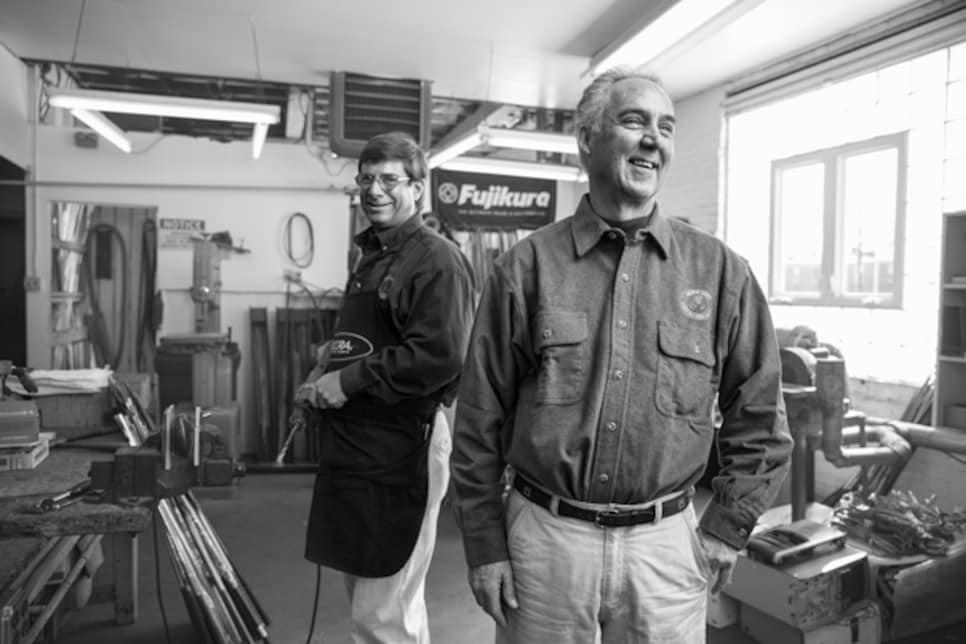 George G. Izett (right) and partner Mike Morrison maintain the attention to detail Izett's dad was famous for.
The year was 1937, and Sam Snead couldn't find a fairway. A siege of the lefts had him shadowed by despair. Henry Picard, Snead's fellow Hall-of-Famer-to-be, understood these things. Watching The Slammer struggle on the range at the Los Angeles Open, he stepped in.
"I've got an Izett driver in my car that might be the answer for you," advised Pic, and if the club—crafted by George Izett, a transplanted Scot who'd set up shop around Philadelphia—fit, he'd make Sam a deal. The stiffness of the shaft and the heaviness of the head were precise remedies for Snead's fast hands and rocket-like movement.
It was love at first swing.
Snead didn't win that week, but he did a week later in Oakland, and again at the Bing Crosby. By then, Snead would have handed Picard the keys to his treasury; Picard accepted the $5.50 he'd paid Izett and called it square. For more than 20 years Snead and that 8-degree driver were inseparable; no nick, crack, bruise—or contract with Wilson—could come between them. Together, they won three Masters, three PGA Championships, a British Open and pretty much everything else.
"That No. 1 wood," Snead later wrote, "was the single greatest discovery I ever made in golf and put me on the road to happy times." Amazingly, so many decades later, that road—at the junction of history and hope a mere traffic light from Merion GC—still leads directly to Izett's door.
As a golfer, I can be accused of many things, but a handle on the equipment I manhandle is not one of them. I cling to my old Hogans like Scrooge, my woods and hybrids are a hodgepodge, and while I once went through a formal fitting, it was 15 minutes out of a cart from a manufacturer's rep who promised Valhalla if I switched to his wares. I didn't.
But a couple of recent encounters with rental clubs suggested I might be missing something. I sought counsel from a trusted Solon in my regular foursome. He never hesitated. "Izett's," he assured me. "They'll fix you." Izett's?
"But they've been around forever," I demurred. "Aren't they, well, old school?" He smiled. "You have no idea."
In my trips around the neighborhood, how many times had I passed the unobtrusive stucco building with frosted windows and the "George Izett Custom Golf Clubs" sign out front? But without truly understanding what the Izett name has signified for more than 80 years, the door was just another door. Until I opened it.
And stepped backward and forward through time.
Near the entrance, there is a display of finished woods—wood woods—so polished I need sunglasses. Around a corner, bins of latent persimmon heads, likely never to be shaped. And there, a box of what may be the last extant ram's-horn inserts—like the one Izett used to repair Bobby Jones' driver on the eve of the 1930 U.S. Amateur—on the planet. And over there, remnants of the wee steel mill once used for casting irons. And there, a bag room of the latest models—from the '30s and '40s. And down there, implements ancient and modern awaiting new life, because over there, on walnut tables that Izett and his partner Wilfred Bailey schlepped to Ardmore in 1946 from their previous shop on Philadelphia's Chestnut Street, are the well-worn vises, drills, protractors and punches of a clubmaker's craft.
All of that spoke of permanence, tradition and even wisdom passed on, but there was more. In another room, the latest graphite shafts—all makes, all models—hang on a wall beside a practice net and a computer connected to two clubs (driver and 5-iron) that comprise a piece of equipment made years ago by True Temper. It's called the Shaft Lab, and for the next several hours, I'm its rat.
Every year about 400 golfers from national champions (Jay Sigel) to dubs (me) come to Izett's, anointed by Golf Digest as one of the 100 best clubfitters in the land, to be assessed, counseled, nursed and tweaked in search of the right equipment. The $150 soup-to-nuts core fitting for driver through putter takes between two-and-a-half and four hours and is unlike most in the world of demo days, fitting carts and launch monitors. Like Izett's, the Shaft Lab is old school, but if the longest continuously running, family-operated clubmaker in the nation stakes its very good name on it, I'll at least pay attention.
"To stay alive," says 63-year-old George G. Izett, son of the founder who took over after his father, George M., died in 1980, "we've had to keep reinventing ourselves."
Spanning the era from hickory to Aldila, George M. Izett was a whiz at reinvention. Born in 1906, he learned his trade at North Berwick under Ben Sayers, one of the game's premier clubmakers, before sailing to America in 1928 to work for Ben's son, George, the head pro at Merion. By 1933 Izett was head pro at Seaview GC on the New Jersey shore. Two years later, he opened Izett Hand Made Golf Clubs in Haverford, tooling lines of implements for Wanamaker's department store and area pro shops—like Picard's at Hershey. After Wanamaker's (Rodman Wanamaker was instrumental in starting the PGA Championship, whose trophy bears his name) opted out of the wholesale golf business, Izett teamed with Bailey, the manager of Wanamaker's sporting goods department, to form Bailey & Izett in 1941 with a shop in Philadelphia's Center City. In 1946 Izett found the building in Ardmore not far from his home; the company has been there ever since.
Lean as a whippet and exacting as a saber's edge, Izett wrapped himself in the game's thrall. "Dad was lucky," says his son. "His work was his passion and his passion was his hobby." A solid player, he wasn't much for small talk. He was a master of his craft who let the quality of his work speak for him.
"He used real good wood"—the hard persimmon with scrumptious grain that grew around Memphis—recalls Tim DeBaufre, former head pro at Philadelphia CC and an occasional PGA Tour player. "He took a lot of care in shaping. He was very particular on balance."
At the height of George M.'s career, from the 1950s through the 1970s, most Philadelphia pro shops carried Izetts beside clubs of national manufacturers. Pros from coast to coast regularly called in the orders still kept in dusty files. In 1959, when Golf magazine sought a clubmaker to build a story around in its debut issue, it went directly to Izett's. As did the tour pros when they came to town. "Everybody knew that George Sr. would do everything he had to do to get it right," says historian Pete Trenham, former head pro at nearby St. David's GC.
Ike used Izetts. JFK so loved Izett woods that he presented them to others. Arnold Palmer bought drivers six at a time. Jackie Gleason once ordered, and received, a set of lofted woods to replace every iron in his bag. "You always got what you wanted from George," attests Bill Kittleman, Merion's head pro from 1969 to 1997. "If a club was supposed to have 11 degrees of loft, you knew it had 11 degrees of loft. If he said the swingweight was D-1, it was D-1."
George G. and his partner Mike Morrison, a former commercial banker who opted for a summer hiatus from finance to hone his jones for equipment in the late '90s and never left, don't make clubs the way George M. did. They could, but those days and those clubs are gone; what hasn't changed is the hands-on care.
"It's the old-world craftsman in us," says Izett, who inherited his father's demeanor, skill and principles.
Consider the folder Morrison calls his bible. In the 1990s Izett realized what he identified as the fallacy to most fittings: There's no real industry standard for flex. A regular in one brand may be the equivalent of a stiff in another, which he verified by testing their frequencies on a meter. Now, every shaft that arrives in the building is tested—and logged. When one is pulled down for a fitting, Morrison checks it in his bible.
"They are a dying breed," sighs Sigel. "They are perfectionists."
Sigel knows. Coming off a shoulder injury several years ago, he went through the Shaft Lab but didn't like what the results indicated—that he would benefit from a softer shaft. Experience told Sigel that meant his swing speed was slowing, and he wasn't ready to accept that. But the Shaft Lab doesn't measure clubhead speed via a launch monitor; instead, it measures the force with which you load the club. When he came back for a retest, the numbers were remarkably similar. Sigel reluctantly tried the softer shaft. And believes.
So do I. Turns out that though I have the swing speed of a waterlogged hippo, I load like a longshoreman, but that's not why I believe. I believe because what Morrison and Izett were telling me—and taking time to tell me—made sense. "Our way of testing levels the playing field," says Morrison, "because it doesn't matter how well you hit the ball"—a distinct advantage in my case. "With a launch monitor, you have to hit a good shot. But on our machine, whether or not you hit the ball well, you are still intending to swing well. You load what you load. The numbers don't lie."
By the time I was through, I'd been tested for flexes in irons and woods and was measured for proper length and grip. As it happens, my clubs were almost an inch too long, hence my overly upright stance and difficulty clearing. The clouds seemed ready to part.
Once we chose shafts, we picked heads, beginning with irons. I could have switched to one of the brands Izett carries—Mizuno, Miura, Adams or Nike—but I like my Hogans. Instead of forcing a sale, they suggested I keep them, assuring me that with the adjusted lies and proper shafts they would work better. A few swings into the net with my remade 6-iron two days later seemed to—yes!—confirm that.
The woods were a bit more complicated. The testing includes the standard launch monitor but supplements the usual readings. A raw-data subscreen adds information like attack angle and effective loft to clubhead speed and spin. For me, an adjustable Nike VRS Covert 2.0 driver—thrillingly red to go with my green Oban Revenge shaft—held out the promise of Christmas everytime I swung.
So, if what I left with wasn't an Izett driver with high gloss and stunning grain, I still left with a driver custom-built for my specific needs by the hands that touched the hands that learned from Ben Sayers and helped Bobby Jones. Maybe, just maybe, it's the beginning of an enduring romance, like Snead's.
In the early '60s, DeBaufre, then a young assistant, joined Snead for a practice round when Snead was in town to film an episode of "All-Star Golf." DeBaufre had just signed a contract with Wilson and proudly showed his partner the new staff bag with his name. Snead, a loyal Wilson man himself, grabbed DeBaufre's driver and removed the headcover. It was an Izett. "That's a funny way to spell Wilson," Snead said.
DeBaufre wasn't sure how to respond. Until Snead pulled out his driver and offered a confession: "I spell it the same way."
My new alternate spelling for hope.