News
Paying His Dues, Enthusiastically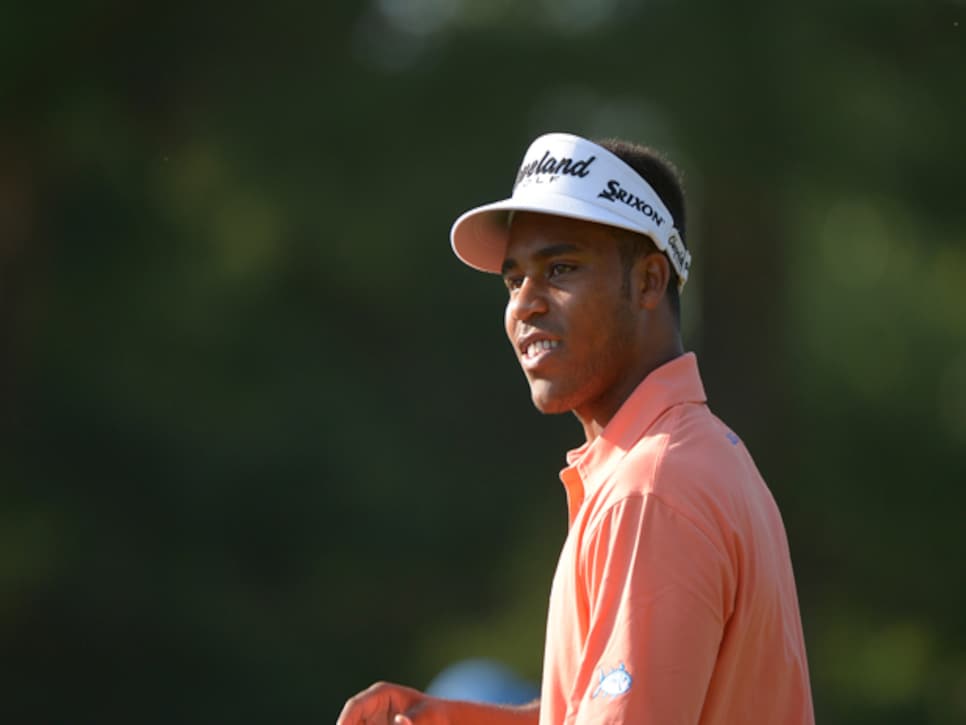 Even at 5-foot-9, Harold Varner III was not hard to pick out in the crowds assembled last week at Merion for the 113th U.S. Open. Besides Tiger Woods, Varner was the only African-American in the field.
But it wasn't just the color of his skin that made Varner stand out. It was his smile. Even after back-to-back three- putt greens Thursday, he looked down from the footbridge overlooking the quarry on the 18th hole and made eye contact with his college coach, Press McPhaul of East Carolina.
"He's been there since Day 1," Varner said. "It was awesome to see him supporting me, and I'd do the same for him. I see him as more than a coach now. I see him as a friend."
Day 1 was the 2006 North Carolina Junior Championship, when Varner showed up on the tee at Highland CC in Fayetteville, N.C., standing next to a golf bag McPhaul recalls was "almost taller than he was," wearing high-top black sneakers and an unforgettable expression."That smile was electric," McPhaul said. "The enthusiasm for what he does is bursting out of his pores. It explodes on his face."
Varner's enthusiasm was tampered Saturday afternoon as he drove down Interstate 95 from Philadelphia to a Monday qualifier for the Web.com Tour's Rex Hospital Open in Raleigh, N.C. When we caught up, Varner was trying to find the positives in rounds of 76-79.
"I had an opportunity not many people get, and I didn't realize that until I started driving," Varner said. "I just kind of look at the big picture. It's all about learning and understanding. I was pretty down on myself yesterday. I'm a competitor, and I want to play good. I don't want to play bad."
Varner, 22, plays most of his golf on the eGolf Tour after finishing his senior year at East Carolina by earning the 2012 Conference USA's player-of-the-year award. He slipped into the Open as an alternate after losing a playoff to Matt Bettencourt at the sectional qualifier in Rockville, Md. Bettencourt was truly impressed, texting me, "This kid has the potential to be a superstar. He is one of the longest hitters I have ever seen. Even more so, [he's] a class act. Look out for him."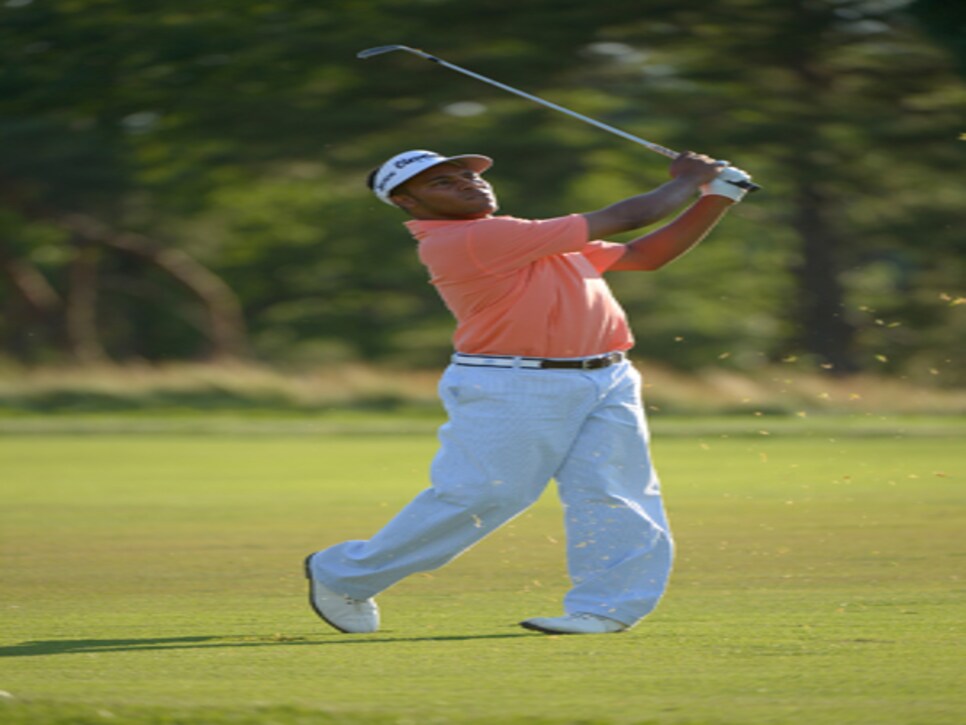 The golf world has been in search of more young African-American golfers since Woods starting winning U.S. Junior titles in the early 1990s. By comparison, the 1981 U.S. Open at Merion had Jim Thorpe, Calvin Peete and Lee Elder in the field, with Thorpe leading after an opening-round 66 and finishing in the top 15 with Peete. Just two black golfers competing in the U.S. Open 32 years later doesn't reflect the impact Earl Woods believed his son would have on the game, nor the promise of The First Tee.
Varner was given the opportunity to play through a $100 summer membership at the municipal course in his hometown of Gastonia, N.C. His father sells cars at a local Chevrolet dealership, and would drop Harold off in the morning on his way to work. At 16, young Varner was picking the range and cleaning clubs at Gaston CC when pro Bruce Sudderth started giving him lessons. "He's got a very simple, compact golf swing," Sudderth said. "He's got barrels and barrels of confidence, has never met a stranger, and the people here in Gastonia love him to death because of that."
Varner wasn't a product of The First Tee, but he did qualify for the 2007 First Tee Open (by winning the Bill Dickey Scholarship tournament in Florida). Varner and Morris Hatalsky won the event, with Varner making birdie on four of the last six holes at Pebble Beach and reaching the 18th green in two shots. Four years later, he was the first black golfer to win the North Carolina Amateur.
"Harold's got that 'It' thing," said McPhaul, who coached Brandt Snedeker and Luke List at Vanderbilt. "This is a special kid."
McPhaul tells a story about Varner in the team van, after playing 36 holes in 98-degree heat of Florence, S.C., breaking the exhausted silence by saying, "I don't know what was wrong with you guys out there today. I was doing what I love doing. Y'all have to start enjoying what you're doing."
At this year's sectional qualifying for Merion, Varner was joined in the field by Joseph Bramlett, Tim O'Neal and George Bradford in what represents the next generation of African-American golfers. Bramlett qualified for the 2010 U.S. Open and played a practice round with fellow Stanford alum Woods at Pebble Beach, but Varner never had the chance to meet Tiger at Merion.
"If I did, I probably would have said, 'Thank you,' '' Varner said. "He just showed me you can do it, that you can be the best in the world. It doesn't matter what race, if you have the drive, the talent, you can be great at this game."
Varner doesn't see himself as a transformational figure. This is not about breaking a color barrier as much as it is about breaking par on a consistent basis -- just like any other professional golfer.
"I don't feel like it's a responsibility," Varner said. "But I do feel I can be a light. I want to be that. That's what it's about. If I can help somebody out, that's awesome, but I don't carry that. I just happen to be black and pretty talented at golf."
David Duval was at Merion, doing TV commentary for ESPN, but he plans on playing in next month's British Open as he continues another phase of his come- back. The 2001 British Open champion has seen positive results working with Chris O'Connell, famous for his one-plane swing reconstruction of Matt Kuchar's game. Duval has missed five cuts in five events this year, but his range sessions have O'Connell enthused. "I've always thought David was possibly one of the best hitters of all time," O'Connell said. "We've got a road map to get him there again." Duval told me at Merion one of the upsides of working with O'Connell is that his left knee doesn't hurt anymore, a byproduct of no more reverse pivoting. Kuchar and sport psychologist Gio Valiante connected Duval and O'Connell. "It's going to be the most fulfilling thing in my career," Valiante said, "when David Duval is holding a trophy again."
He never made mention of it at Merion, but U.S. Open runner-up Phil Mickelson shared a close bond with Miller Barber. Mickelson got to know Mr. X through his son Larry, who played with Phil at Arizona State, and also through their membership at Scottsdale's Whisper Rock GC, where Miller was famous for holding court on the back of the range. Mickelson visited Barber twice in the five weeks before his passing, the last visit coming at the care facility where the three-time U.S. Senior Open champion died. "My dad loved Phil," said Larry Barber, "but boy, did he give him a hard time." Miller particuarly liked to harass Mickelson about his inability to put his tee ball in the fairway. Before the tournament, Larry texted Phil a photo of the two of them together with the message, "X is watching." Mickelson's response: "I know he's helping me."